What would you pay to own a moment of glory? An auction of sports memorabilia curated by Swati and Digvijay Sinh Kathiwada poses that very question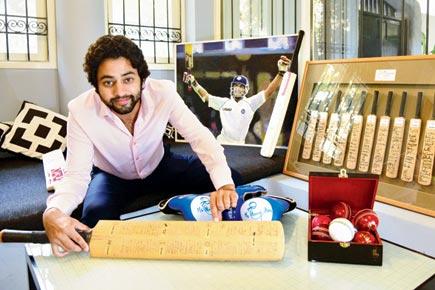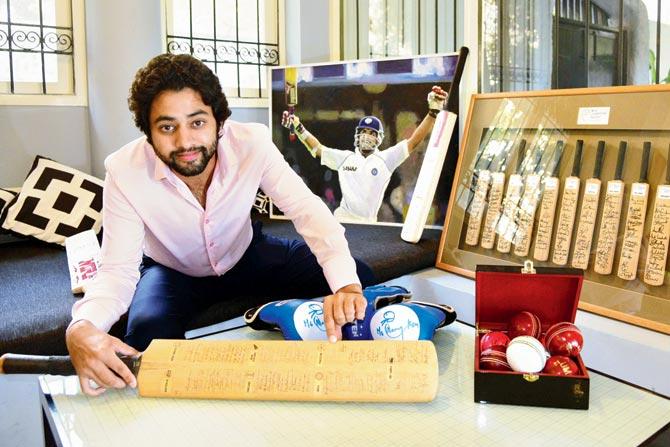 After several years of experience in the art world, Digvijay Sinh (31) prepares for his first public sports auction, a project that's taken four dedicated months to plan. Pic/Suresh Karkera
The year was 1911. (If you're a true-blue cricket buff, you know where this is headed already). It was the first time an all-Indian team toured England, playing county matches against the colonists. An avid cricketer who has played for art and auction house, Osian's cricket team for a decade, 31-year-old Digvijay Sinh, scion of the Kathiwada royal family whose genealogy can be traced back 700 years, relates the story with the zeal of one who actually witnessed the whole thing first-hand. The walls of his cabin are adorned with varied works of art and his desk overlooks a shelf covered with sports trophies. Another room of his office is a veritable sports museum, filled with memorabilia, some pieces that he owns, others that were sourced over four months for the forthcoming auction. 
ADVERTISEMENT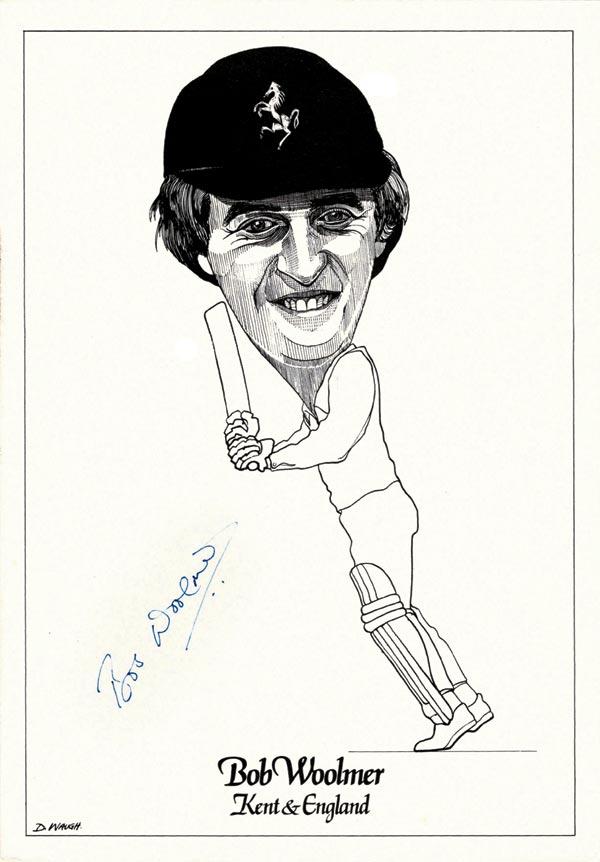 A caricature of Bob Woolmer who played for Kent in 1968
The display seems a fair representation of the young Kathiwada's twin passions. Ask about any of the inscribed cricket bats and sports jerseys or the tour neckties on display and Sinh, who taught the business of art at England's premier auction house, Sotheby's, for two years, rattles off match stories with the energy of a commentator in the last few overs of a close game.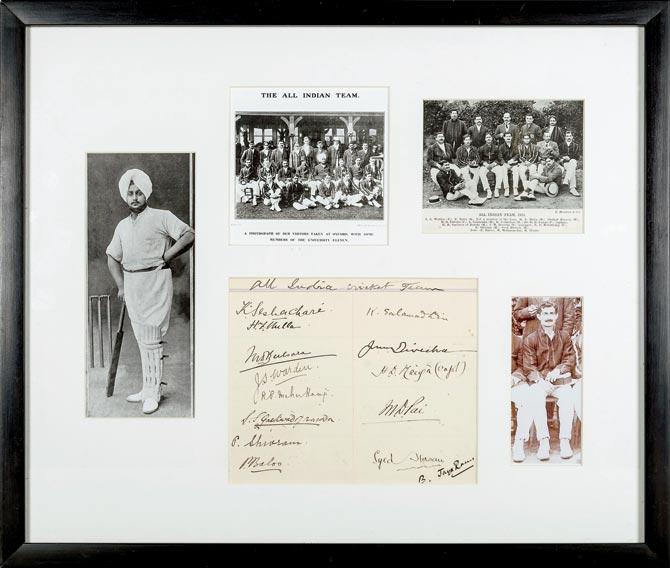 A picture of the first all-India cricket team to tour England in 1911. It comprised the finest players from the community-centric cricket teams of that time
He shows us a framed collage at the centre of which is a leaf that bears the signatures of every team member from that historic 2011 tour. Above the signatures are two pictures of the cricket team. The collage also holds photos of the Maharaja of Patiala who sponsored (and, perhaps not coincidentally, also captained) the team and HD Kanga (after whom was named The Kanga Cricket League) who took charge whenever the 19-year-old Maharaja's attention was diverted to other princely duties.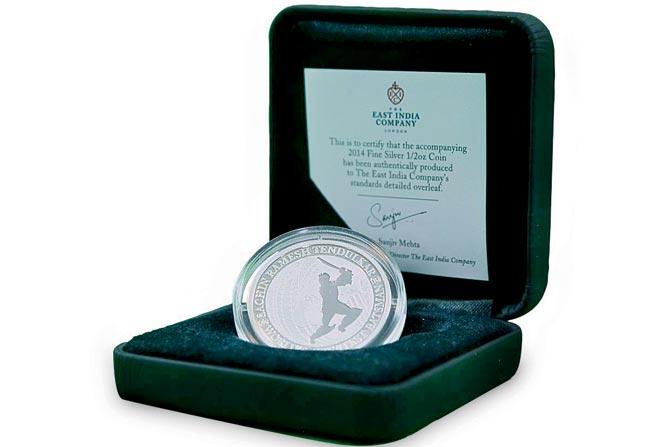 A silver coin minted by the East India Company (now owned by an Indian) to commemorate the 200th and final Test game of Sachin Tendulkar
Bids will start at '80,000 for this lot, though Sinh expects it to fetch upwards of '4 lakh. "A Virat Kohli can still sign a bat and give it to you (incidentally, a signed bat of the celebrated cricketer, one he used in the recent series against New Zealand, does form part of this auction), but this is an exceptionally rare piece — someone has painstakingly preserved the photos of the 2011 team and their signatures."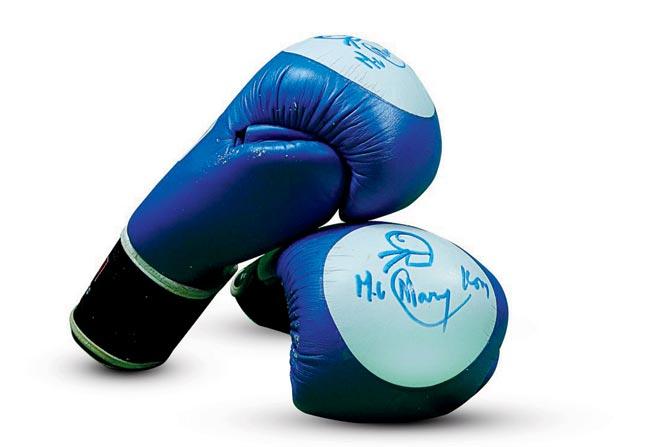 Boxing gloves worn by Mary Kom during the 2012 Olympics in which she won a bronze
This collage and the history behind it hold special significance for Sinh because it was this tour that paved the way for the 1932 series, India's first ever test-match. Sinh's great grandfather, Prince Ganshyamsinhji Daulatsinhji Jhala of Limbdi, also known as KS Limbdi, was Vice Captain for that series played against England. "Neither my great grandfather, nor the Maharaja of Porbandar, his brother-in-law, upon whose instance he was made part of the team, played a single game on that tour," he chuckles. "By 1932, the Maharaja of Patiala was 40 and not in his prime. But, he was still a big sponsor. So, he was to captain the team and the Maharaja of Vizianagram (Vizzy) was supposed to be his deputy. But, Vizianagram was also a big state and that guy refused to go as deputy. So, the two had a falling out that stirred much panic in the camp. Hence, the Maharaja of Porbandar was approached to lead the team, but he said he'd only go if he could take his brother-in-law, my great grandfather, as Vice Captain. Now, these two johnnies had never played a proper game before. They were essentially paper tigers. So, they appointed CK Nayudu to lead the team." Sinh is reminded of a happy coincidence: "Incidentally, this auction will take place at the CK Nayudu Hall of The Cricket Club of India."
Sixty-three lots will be up for grabs at the auction, some priced as low as R10,000. "There are souvenir booklets from the 1950s (West Indies' tour of England), limited edition memorabilia such as match programmes and tickets from 1967, autographed photos of sporting personalities which really are the only real record of the electric atmosphere outside a match back then. These things are of tremendous archival value. We also have commemorative coins: one lot was minted in 2001 as a tribute to Donald Bradman and another that was minted in honour of Sachin Tendulkar's retirement by the East India Company — long defunct, the infamous company was bought over by an Indian in the UK in 2005 and his company minted these silver coins. Bids for these will start at about R10,000."
The highest bids are expected for items such as a pair of boxing gloves signed by Mary Kom, which were actually used by her — "These were from her training kit for the 2012 Olympics, where she won a bronze medal" — Erapalli Prasanna's jacket from the 1974 West Indies tour of India, a jersey that Sachin Tendulkar wore during the 2003 World Cup and a chessboard inscribed by chess grandmaster, Viswanathan Anand.
Some items have been contributed by actor Rahul Bose and the proceeds from those will go entirely to his NGO. "But, this auction is partly professional, partly for charity," Sinh says. "When you have an auction that's purely for charity, there will be people who will write out cheques just for the sake of it. But, here, you'll have real fans and collectors stepping forward to invest in these pieces. That will decide the value of these collectibles and establish an authentic market for such items.
Perhaps, it will even pave the way for the establishment of sports museums here."