Jeanette was not exposed to the world of Influencers and the aspect of social media monetization before she came to Bangalore.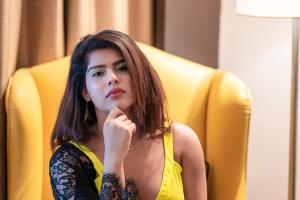 Jeanette Mesquita
We sat down with Jeanette Mesquita, a fashion influencer with a community of over 200K followers to ask her how the life of an influencer is really like. Jeanette has been an influencer for about 4 years now and we asked her how it all started off. "I began my journey as a blogger in 2016, and it was a hobby back then; I never thought it would become my full time job someday." Jeanette studied Law undergrad at Christ (deemed to be University) where she realized this was not her true calling and she needs to pursue something else. "Around my third year of college I fell super sick and had to be hospitalized. After I came out of that is when I realized that we only have one life and I was going to live it to the fullest."
Jeanette was not exposed to the world of Influencers and the aspect of social media monetization before she came to Bangalore. "I stumbled upon Santoshi Shetty's profile one day, I remember and I stalked her, obviously! And while I was scrolling I thought to myself : I can do this too!" Styling was always my go-to stress buster and turning that into a job was a dream come true. What started off as an escape from my then monotonous life at Christ University then became a full blown profession!
We asked Jeanette how taking up a whole new profession felt like after investing so many years into pursuing Law. "I get this question quite often and people ask me how I feel about wasting almost half a decade of my life on Law since now I don't want to practice it anymore. I mean, what's longer half a decade or the rest of your life? I didn't want to carry the weight of one misguided decision I took during my teenage on my shoulders for the rest of my life."
Jeanette tells us how being an Influencer is a blessing as well as a bane at times, it is not all rainbows and sunshine like we see on their profile. "People only see the upside of social media influencing but I really wanted to shed some light on the negatives as well. First, as an influencer you work ALL the time. This can affect your personal relationships because no matter where you are, you have to keep clicking pictures and dividing your time between things which is a big adjustment for not just you but your family as well. Second, negativity and hate received from trolls on the internet affects us in ways I think the audience doesn't quite understand. Third, posting content for influencers is their job just like you might go into office everyday, we create content. And when a post does not do well, it obviously affects us. So all of this combined gets very emotionally taxing because life completely flipped all of a sudden after I embraced this profession and I hope knowing both sides of the coin helps the audience empathize a little with social media influencers."
Jeanette Mesquita says that though this life has it's ups and downs, she would never trade it for anything in the world and loves it with all her heart. We hope to see more of her content in the future!
Catch up on all the latest Crime, National, International and Hatke news here. Also download the new mid-day Android and iOS apps to get latest updates.
Mid-Day is now on Telegram. Click here to join our channel (@middayinfomedialtd) and stay updated with the latest news.
This story has been sourced from a third party syndicated feed, agencies. Mid-day accepts no responsibility or liability for its dependability, trustworthiness, reliability and data of the text. Mid-day management/mid-day.com reserves the sole right to alter, delete or remove (without notice) the content in its absolute discretion for any reason whatsoever