A festival of Urdu poetry will celebrate the rich literary tradition of the language and the composite culture it stands for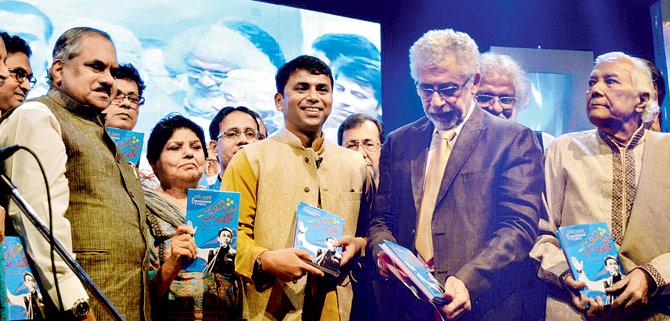 (Second from left) Quaiser Khalid with Naseeruddin Shah at one of the editions of Izhaar
Forâu00c2u0080u00c2u0088a busy IPS officer in a metropolis like Mumbai, pursuing a passion beyond work calls for undying zeal and initiative. But when it comes to literature, Quaiser Khalid, Special IGP, Protection of Civil Rights, doesn't mind going that extra mile. An award-winning Urdu author, Khalid has been closely involved with the language since he was a student — Urdu was one of the subjects in his civil services examination. Also active in literary circles, Khalid, however, felt that what was being presented to the public in the name of Urdu was a far cry from the rich, secular tradition of the classics by Ghalib, Faiz and Mir.
ADVERTISEMENT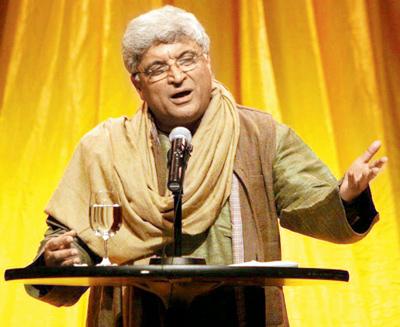 In 2011, Khalid joined hands with other litterateurs and founded Pasbaan-e-Adab (defenders of literature), a socio-cultural organisation committed to strengthening the composite culture of India through literature, music and art. It organises events through the year in Hindi and Urdu, and also hopes to start a literary festival in Marathi by the end of the year. Izhaar, an international Urdu poetry festival, is one of its annual events, which is entering its sixth edition this year. To be held in the city this Friday, it will see participation from stalwarts of the language from across India.
"Javed Akhtar sahab is one of our guests and he will be conferring the Pasbaan-e-Adab award on Professor Shameem Hanafi, a laureate of Urdu literature from Delhi University. Other guests include renowned poets like Mohammad Alvi from Ahmedabad as well as poets from Kashmir," informs Siddharth Shandilya, vice president of the organisation, who is also the head of IT at a multinational company. "Of late, language is being divided on religious lines, which is opposed to the very idea of literature. This is why the role of literature in national integration is the topic for one of our discussions," he adds.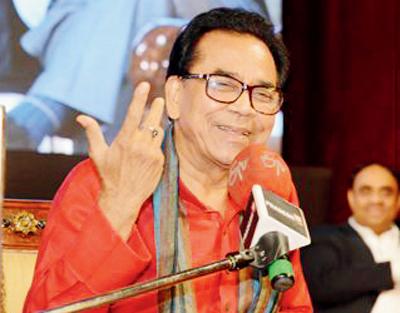 Well-known poet Dr Ashok Chakradhar at one of the organisation's events
"Urdu is a language, where even if you don't know the meaning of a word, you enjoy listening to it. It is, in fact, a way of life with no room for harsh words," says Kunwar Ranjeet Singh Chauhan, a well-known Urdu poet and Hindi satirist, who co-founded Jashn-e-Adab in Delhi, an organisation based on a similar philosophy. Chauhan, who was conferred with the Aman (peace) Award by Pakistan for bringing the people of India and Pakistan closer through literature, is one of the participants of the festival.
For Khalid, literature, which he says is nothing but a narrative of human relationships, finds a reflection in his work too. "Literature doesn't vilify anyone; it speaks the language of love, compassion, unity and harmony. Our investigation is often focussed on who did it and how. But only when we begin to wonder why can a change be brought about."