Award-winning filmmaker Anand Gandhi is two months away from launching India's first mega virtual reality lab. Want to take a tour?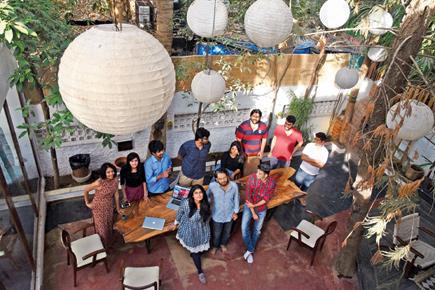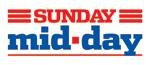 The conversation at the Memesys Culture Lab's studio in Versova oscillates from space — "That's what Elon Musk's plan is, to take plants and drop them on the surface of the Red Planet," says Vinay Shukla — to if monogamy is finally redundant. "It's a vestigial emotion. It's like the tail bone," Anand Gandhi declares.
And, of course, politics.
ADVERTISEMENT
"You know, there is this regular at Delhi's AAP rallies who always has an act going — one of his dentures popping. When we first saw him, we thought it was funny. Then, we realised, he does it everywhere!" says Khushboo Ranka. The 30-year-old and Shukla, 30, are makers of a film titled, A Proposition of a Revolution, that examines the workings of the Aam Aadmi Party.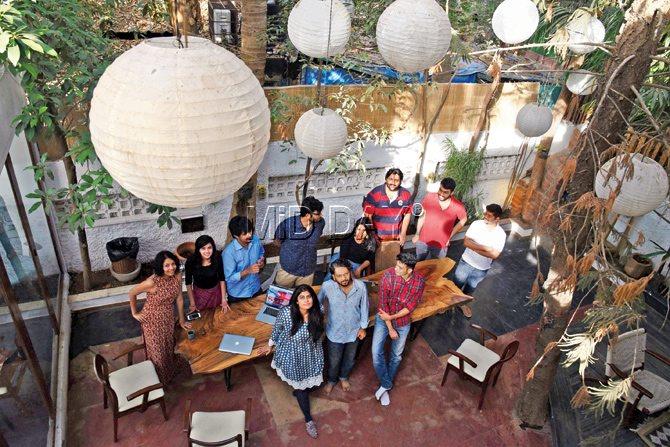 Anand Gandhi (front row, centre) and the Memesys Culture Lab team at their studio in Versova. Pic/atul kamble
The lab's founder, writer-director Gandhi says it's a venture that brings together several of his passions — science, ancient wisdom, technology, news and creating conversation.
Gandhi has met with success in the past, whether it was with scripting the hugely popular television soap, Saas Bhi Kabhi Bahu Thi, or directing the critically acclaimed in the 2013 film, Ship of Theseus. A look at organ donation, it won him a National Award for Best Picture, among swooning critics.
The lab, says Gandhi, will use virtual reality to transform the landscape of narrative fiction. It is funded by Round Glass Partners, who pitched with an initial investment of $2.5 million last year. "We are the biggest studio in India yet to provide end-to-end virtual reality/augmented reality/mixed reality solutions and helming the largest projects. We are also creating holographic content, so in a sense, we are future-ready," says Gandhi.
To prove it, he shares a pair of virtual reality headsets attached to a cell phone. Suddenly, we are on a cricket pitch in the middle of the action. Snap to us standing on stage beside vocalist Tipriti Kharbangar of Shillong's Blues Rock band Soulmate, watching a stirring audience. Snap to being one with the crowd surrounding rights activist Trupti Desai, who is animatedly arguing for women's entry into all temples.
We take off the headsets and are handed a phone to point at a sheet of paper. Mahatma Gandhi is seen doing a few stretches as a holographic character.
"It's all in the developmental space, but it can also be used in education. Imagine opening a text book and watching a holographic Mahatma Gandhi walk out, and sit beside you for a conversation," says Zain Menon, the inhouse technical wizard. "You open a biology book and watch a heart float out. It slices open to reveal itself and hangs there in mid-air as you watch how the ventricles and auricles receive and expel blood."
The lab's core team is working towards the ambitious goal of creating content that is intelligent and cutting edge, not 'viral'; something that helps you find meaning in everything you do, see and feel. "Why is it a joy to work with Anand?" Ranka asks in mock wonderment. "He finds science, even in everyday situations, and whether he is worried or happy, he is speaking in scientific references."
The group, which aside from Ranka, Shukla, Menon and Gandhi, includes Neil Pagedar and Pooja Shetty, have as striking a backstory as what they have set out to do. Except Shetty and Shukla, everyone is a college dropout. "I dropped out after Class 12," says Menon. Suddenly, squeals of "me-too" pour in.
"I am a dropout, too," says Gandhi, who hails from a Gujarati Jain family from Mumbai. All of us here have self-designed our education. What's common to us is that we are curious."
If, like us, you are wondering whether it takes a life of privilege to drop out of college and dream a holographic Mahatma, Gandhi will quote a scene from Sylvia, a film based on writer Sylvia Plath's life. After poet Ted Hughes is snubbed by Plath's parents' rich friends, her mother pacifies Hughes with, "Don't judge my friends, as they haven't had your privilege — the privilege of working for what you want".
"That's what I have done," Gandhi says. "I have had to work hard for what I wanted to achieve. And now the plan is to showcase information, science and life in an easy, accessible way."
The Memesys website will be up and running in two months, he hopes, and will feature content that he terms thought provoking. Coming up is a science comedy, OK Computer, on the lines of the Hitchhiker's Guide to the Galaxy and 30 Rock. There is also a science show that will tackle one Indian historical or scientific subject in every episode. "For example, why and how has the Sanjeevani booti, which finds mention in the Ramayana, become attractive to scientists?" Gandhi asks. "Texts like the Ramayana are treasure troves of botanical information," Ranka joins in.
There is also a web magazine featuring narrative non-fiction and gets the viewer right in the middle of news, much like the virtual reality clip we experienced of Trupti during the Maharashtra temple row. The lab will also be manufacturing its own cardboard virtual reality headsets, which you will need every time you watch their content on the web or your phone. A holographic app is under deliberation, which explains the stretching national leader.
And keeping with a profit-making model they envisage, the group plans to use the 'branding' route. "We will provide virtual reality solutions for all kinds of brands from start to finish. This includes getting into sports which includes cricket and kabbadi, and even music," says Gandhi.
The first Memesys release though is A Promise of a Revolution. This happens next month.
But all of this is hardly taking Gandhi away from what he is also bloody good at — movies. He is wrapping up his last film, Tumbad, and says he is working on the next idea, which will be a virtual reality production. "It's about those south Indian women scientists whose picture went viral after the Indian Mars mission put a satellite into orbit around the planet. Aren't they amazing?"
Just then Ranka decides it's time to put the Memesys motto into words. "When Round Glass Partners decided to fund us, they said they did it because 'they wanted to change the world'. And we said, that's the plan!"
"Exciting news! Mid-day is now on WhatsApp Channels

Subscribe today by clicking the link and stay updated with the latest news!"
Click here!