Jogeshwari resident Haleema Momin is known as 'Hijabi Beast' on Instagram and has a gold medal in martial arts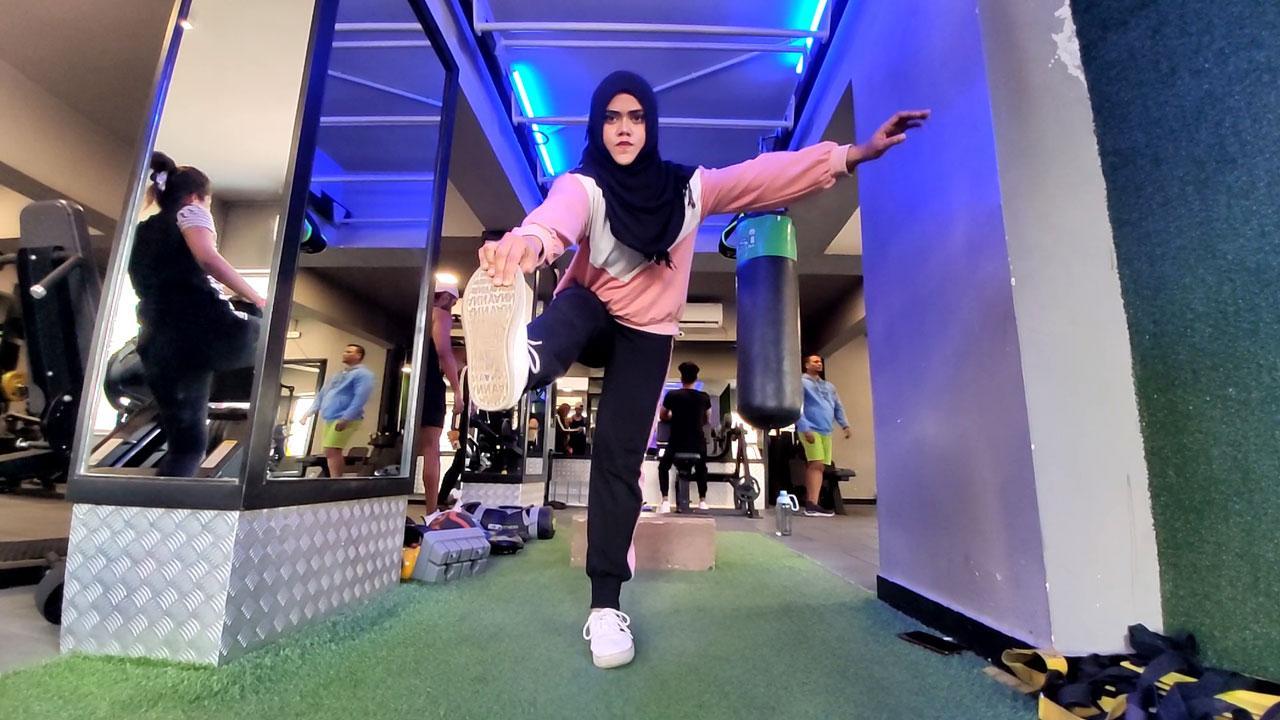 Haleema Momin
She was 13 when she was inspired by her sister to get into fitness. Now, at 20, she is balancing her studies as well as following her love for fitness. Sounds like any other youngster? However, Jogeshwari resident Haleema Momin has not just been setting fitness goals; she has been breaking stereotypes about women in hijab.
A confident Haleema says that she never saw the hijab as a hurdle in her path. "Hijab is always been part of our lives since childhood. Soon fitness became my passion; and now for many years I have been practising a lot of different sports activities while carrying my hijab gracefully."
Haleema's achievements include a gold medal in martial arts and silver in powerlifting state-level. The callisthenics enthusiast goes by '@hijabibeast' on Instagram – where she has over 5,000 followers. From videos of her performing bike stunts, taking the bottle cap challenge to executing flawless one-arm push-ups.
Talking about her foray into fitness, she elucidates, "After getting inspired by my sister I joined martial arts with her. And there I trained for almost three years. Once I started college, I got the chance to participate in powerlifting championships. And that gave a start to my career."
She credits her sister Saima for being a pillar of strength in her life. Her parents have also been supportive of her dreams but like any concerned parent, her mother had dreams of her child following a traditional career path. "My mother is someone who will want her child to become a doctor or teacher but she is not very comfortable with the thought of me pursuing something untraditional or not very commonly done by girls in our society. She still always tells me ki "log kya kahege" "Shaadi kaise hogi teri".  But sister has been supportive in every aspect," she says.
Over the years, she has received a lot of compliments for her achievements, but when asked about something that stands out, she answers, "There have been a lot of compliments and all of them are special. I can't point out just one." When asked about how she deals with negative comments or social media trolls, she says, "I have many things to pay attention to; so I never pay attention to these negative comments. I simply ignore them." She believes, "Don't let anyone's negativity affect your vibe."
Haleema also shared some words of encouragement for women who get discouraged to follow unconventional passion because of their gender. "Every person might get discouraged in her/his journey in some or other way. But they can be successful only if they keep trying and working hard towards their goal." She adds, "Women are capable of achieving the impossible. All they need to do is set a goal, keep working hard, keep grinding, pray on time and Inshallah they will achieve whatever they want."
For the collegian, Women's Day is not just about celebrating but also acknowledging strong and successful women who paved the way for others to follow their dreams. And, as far as her future plans are concerned, she wants to represent India at the Olympics for Taekwondo.
(Inputs by Supriya Nair)