Abhijeet Sinha is pioneer in the field of technology commercialization and pilots. Over the vast experience that he has developed and excelled in pilots, Abhijeethas always made his mark on innovations he lays his hands upon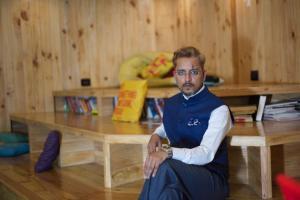 Abhijeet Sinha
The Program Director at Ease of Doing Business at Advance Servicesfor Social and Administration Reforms (ASSAR), Abhijeet Sinha is pioneer in the field of technology commercialization and pilots. Over the vast experience that he has developed and excelled in pilots, Abhijeethas always made his mark on innovations he lays his hands upon. A technocrat turned policy entrepreneur as many would put in words as his models have turned to be financial utilitiesfor innovations and their magnificence that simply lure one's intellect at its best. His speeches at various public forums and several remarkable news channels can be described as no-frills straightforward solutions for complex policy paralysis obstacles for technology adoptions. The best among all his contemporaries, Abhijeethas made his way in policy vending and climbing the path of success day by day! A former banker with cross-domain experience has done it all from banking to encouraging the youth to pave grassroot level reforms, he has been omnipresent in the run to drive the country towards a better place to do business. An enthusiast and accomplished individual, the youth are particularly attracted to his work and chase his accomplishments every now and then.
His achievement list does not stop at the Pilot of linking National Population Register (NPR) with AADHAR in 2011. But his achievements take him way too far with several small-big tech-pilots to commercialise technologies and innovations at block level to bilateral levels! The Project Director of National Highway for Electrical Vehicles (NHEV), Abhijeet Sinha has proven a competence in solving funding issues of Electric Mobility sector with his unique propositions of policy entrepreneurship in Annuity Hybrid E-Mobility (AHEM). This makes him forerunnerand entrusted with the responsibility to create more space in infra sector for the youth coming with new technologies and reaching out to him for actual Ease of Doing Business on ground.
He firmly believe that only when people of a country are prospering in their trade, a country is prospering in all senses! Not only is he the Project Director at NHEV but, he is also the innovation Leader for Annuity Hybrid E-Mobility (AHEM) from Ease of Doing Business program of his venture under the aegis of reform centric leadership of Prime Minister Narendra Modi. His efforts and enthusiasm to Reform, Perform and Transform are simply remarkable and worth celebrating. It is his methodological approach to witness the transformation of New India highways into E-highways has started its journey from India Gate with TEC-Trial Run of India's first E-highway on Yamuna Expressway and world's longest E-Highway to be recorded in Guinness World Records on its completion.
When it comes to his leisure activities, his interests are inclined towards Spiritual travelling, Urdu Poetry and fond of historical artefacts. An ecstatic person by nature, his optimism is all his team needs to start their day with a smile on their face. Such is his influence on others. A man of words and prodigious works, he is truly a youth inspiration for hard-work in New India.