The colonial masters may have left the small state more than 50 years ago, but their influence still continues in various forms of art, culture and lifestyle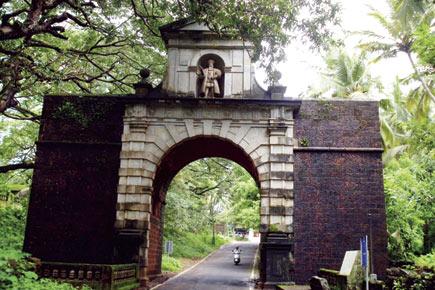 Every monsoon a group of Goan Catholics from Taleigao, a suburb of Panjim, march through their rice fields, led by a priest who cuts the first sheaves of paddy (with a silver sickle), and after blessing them, offers them to the state's Governor who resides nearby. Nothing wrong with that, you might say, but it's a tradition which began with the Portuguese conquest of Goa in 1510.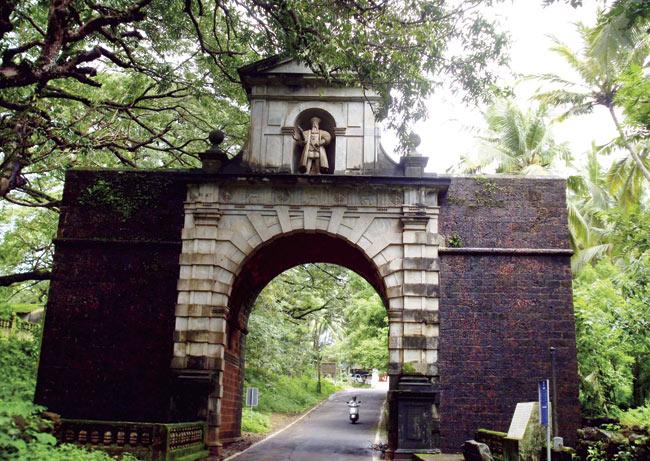 The entrance to the city of Goa now Old Goa from where the Portuguese Governors ceremonially entered
Historic tale
The story goes that the Portuguese Alfonso de Albuquerque first attacked Goa then ruled by Adil Shah of Bijapur in the spring-summer of 1510, only to be repelled. The defeated Portuguese then attempted to rebuild their force and were awaiting reinforcements, when the monsoon arrived.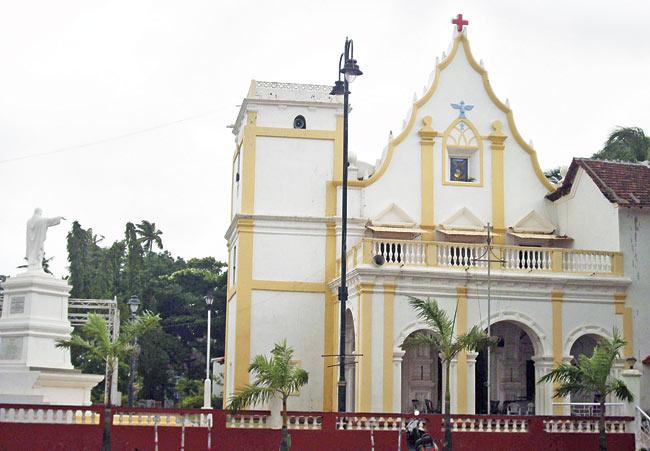 St Michael's Church in Panjim, Goa
Thus, they were stuck in the Mandovi River area, all through the monsoon and were on the verge of dying of starvation, when the residents of some surrounding villages gave them some rice from their monsoon harvest. The Portuguese then went on to conquer Goa in November 1510. As a mark of gratitude, the Portuguese conferred the honour of cutting the first harvest of rice on these villagers, who still enjoy that privilege, even today.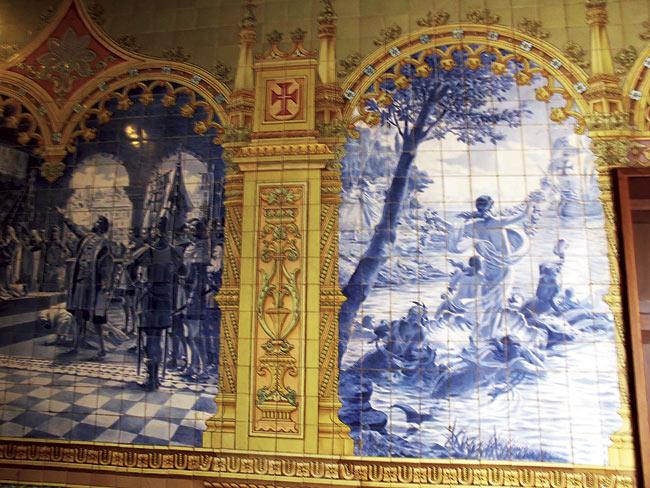 The 'Azulejos' are painted tiles, an art introduced by the Portuguese into Goa, and which is still practiced
The Goans do not find anything strange in continuing with that tradition. In 1510, there were nine families (gauncars) in Taleigao who were given Portuguese surnames. John Falcao is a descendant of one of those families. He says the feast, being a tradition, is celebrated by one of those nine families in rotation. Falcao's family celebrated it last year.
"It's celebrated on August 21 (feast day of St Michael Church in Taleigao), and on the 24th, after the paddy has been made into pressed rice (locally called fov), we go to Old Goa to offer the fov at the Se Cathedral (which is dedicated to St Catherine, the patron saint of Goa during Portuguese rule).
From there we come to the Archbishop's Palace and offer fov and then we offer it to the Governor. Last year, I also went to the Chief Minister's house and offered him fov. But that was not liked by the other gaunkars who raised a big hue and cry. What does it matter if it's a BJP chief minister?" he says.
No, he says, the tradition will never end. There are now hundreds of descendants of those nine families. "The Viegas family alone has more than 400, so many of them will never get to celebrate the feast. I first celebrated the feast 36 years ago; my next chance will come in 36 years," says Falcao. Explaining the reason why the festival still continues, Vasco Pinho, a Goan historian, says, "It's a privilege which has become a tradition."
Changes over time
Of course, after Alfonso de Albuquerque captured Goa, a lot changed. It was the first European colony in Asia, and Albuquerque was so taken up by rice that he took it back to Europe and introduced rice in European cuisine.
In the summer months, that he spent rebuilding his bruised forces, he took a fancy to mangoes, native to India, and ordered that the Portuguese agro experts, who came to Goa with their grafting skills, should develop the best possible mango, which was named in his honour as the 'Alfonso' yes, the same hapus.
So it's really difficult to find fault with the many Goans who still unabashedly celebrate all things Portuguese. Or with the many Indians who seem fascinated by the unique 'Portuguese' culture of Goa. Like Falcao and those nine other families, there are many Goans who strive to preserve and celebrate their unique heritage.
There are also many who are aghast that such things are still going on. Nagesh Karmali, a freedom fighter who spent five years in jail for opposing Portuguese rule, is one of the more vocal critics of the vestiges of Portuguese rule, and had once launched a campaign to change the Portuguese names of roads and cities in Goa.
"There are some people who say there was nobody better than the Portuguese and that Indian rule is bad. This is too much. They don't know what the past was like. During Portuguese rule, the common man could barely afford one meal a day. It was only the elite who were well-off. You look at Portugal today it is in economic trouble.
Goans are queuing up to acquire Portuguese passports and go to Europe, while the Portuguese themselves are acquiring Brazilian passports and migrating there because it's the country of the future," he says. Goans are entitled to Portuguese passports, and many are taking this route to settle down in Europe.
Karmali says the Portuguese ruled by intimidation, and claims that more than Hindus, it was the Catholics who suffered, especially during the infamous Inquisition. (The Inquisition was established to punish new Christian Indian converts who were thought to have returned to their original ways.)
"The slightest infringement of the rules would invite brutal punishment. It is because of this that many of the early Catholics fled Goa to places like Mangalore where their descendants still live. I would say only about 10 per cent of those affected by the Inquisition were Hindus," says Karmali.
Fight for freedom
Recounting some incidents from Goa's freedom struggle, Karmali says the Catholics and there were a sizeable number of them who were fighting alongside other freedom fighters, were treated with more harshness than Hindu freedom fighters.
"The Portuguese would say the Catholic freedom fighters should be with the Portuguese because they were made Catholics by the Portuguese, and because of that they would get more punishment," he says.
Many Catholics, though, have a different viewpoint. Historian Vasco Pinho, who is the author of the four-volume Snapshots of Indo-Portuguese History, gets agitated when he talks of the past and present.
"I wrote these books in English so that people from the rest of India know the facts as all earlier records were in Portuguese," he says. "For many of us today Goa is a gone case. (Catholic) Goans are today running away from Goa," he says.
He, too, says it was the Catholics who suffered the most during the Inquisition. He adds that there are many reasons why the conversions happened and why the converted stayed Catholic. For one, those were medieval times, he says, and the sword was the rule. "In Europe, they used to follow certain principles. One, the subjects must have the religion of the king. There was a belief that only a Christian can go to heaven.
Then, they gave a choice: either you convert or you will be punished. That was the stick. But there was a carrot — if you convert you will get property. And who doesn't want property?" He points out that Alfonso de Albuquerque was actually headed to the Persian Gulf when he was persuaded by some Hindu adventurers to attack the Muslims in Goa because the Hindus were being persecuted by the Muslim rulers.
"People converted in the belief that the Portuguese would go back in three-four months and then they would get back to their old religion, but they stayed on, for 450 years. All these have led to the situation in which we are," says Pinho about the dilemma of the Goan Catholic community.
Ironically, Karmali himself, being educated during Portuguese rule, speaks fluent Portuguese and has even translated Portuguese books into Konkani. "In Angola (another Portuguese possession) they changed all the Portuguese names after independence.
But here 50 years after Liberation, people are opposing the renaming of roads and villages. Some of the roads are named in honour of Portuguese personalities who committed brutalities on Goans. Shouldn't we change those names?" he queries.
Portuguese passion
However, with Goa today being a tourist attraction, in part because of its 'Portuguese' culture, there is a reluctance to do away with that legacy. With the Portuguese Civil Code still being used in Goa, all old property documents are in Portuguese.
Five years ago, a group of Goans nostalgic for the old Portuguese years, formed the Semana de Cultura, to 'Maintain and encourage our unique, confluential Goan identity'. "We have cultural exchange programmes through music, art and cuisine," a senior member said. There are also others like the Fundacao Oriente which also supports such exchanges.
But it may all be too little, too late. Soon after Goa's liberation in 1961, the first Chief Minister Dayanand Bandodkar, attempted to merge Goa with Maharashtra. The attempt met with opposition, and an Opinion Poll conducted in 1967 voted for retaining Goa's separate identity.
Much water has gone down the Mandovi since then, and today the Catholic community is only 25 per cent of the total population, down from 40 per cent in 1961. This in turn has spurred even more Catholic Goans to seek Portuguese passports.
"Goa is finished," says Vasco Pinho. What he means is that the Goan Catholic culture is fast vanishing. Others have learnt to live with the times. "Today nobody converts," says Nagesh Karmali.
"Even when a Hindu marries a Catholic, they both retain their religions. We're living in a modern world." It's one of those big "ifs" of history. What if the monsoon hadn't stopped Alfonso de Albuquerque from resuming his journey to the Persian Gulf?