Bid & Hammer is India's pioneer multi-category auction house established by the over 100 years old Dadha Group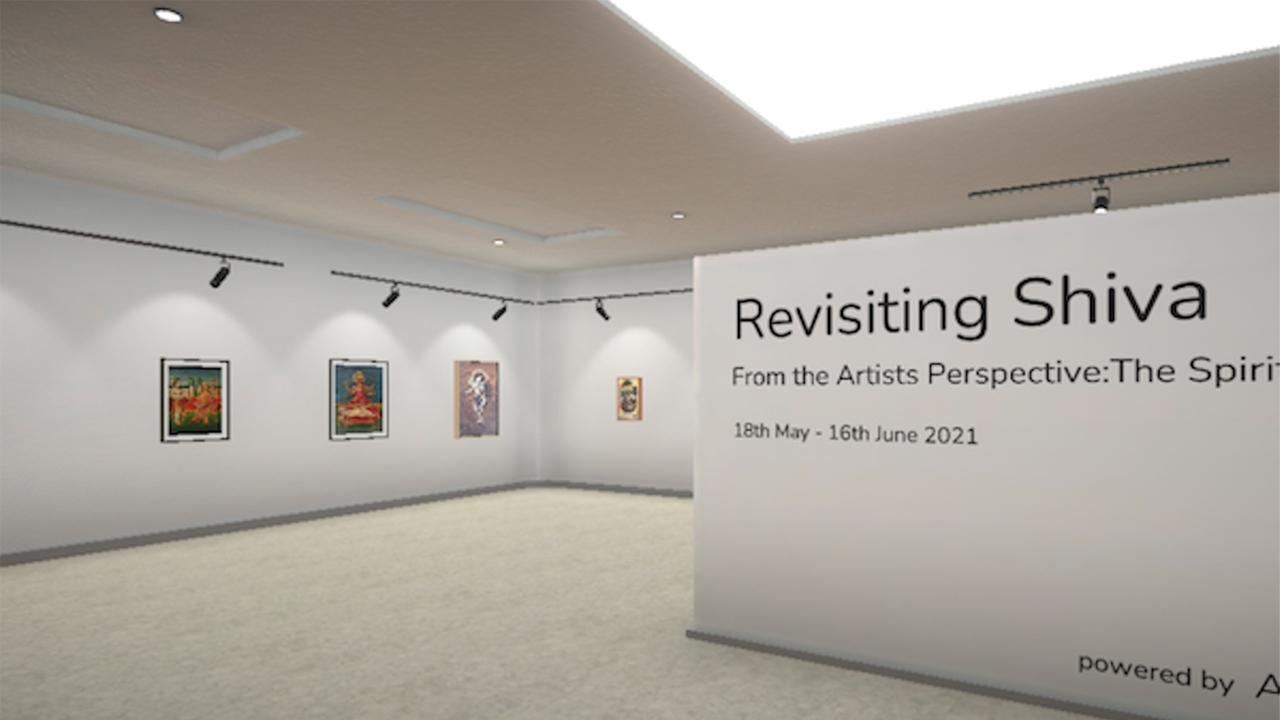 Amalgamated Healing of Art & the Divine
Lord Shiva is one of the principal deities of Hinduism. In the Shaivism context, Shiva is the supreme being who creates, protects and transforms the universe. Taking this as the exemplar, at a time like this when the world at large and India in particular battles the second wave of covid-19, cyclone tauktae and all the cascading effects, with the objective of inspiring people to re-connect and keeping the faith alive, Bid & Hammer has put together a thoughtfully curated virtual exhibition as an ode to Shiva; an anti-dote to these difficult times through the amalgamated healing of art & the divine.
From a 10th century, Rashtrakuta School, sculpture of 'Shiva seated in Lalitasana', to Early and Dutch Bengal School depictions of the deity, to more modern renditions starting from Raja Ravi Varma's famous 1903 painting of 'Shiva as Dakshinamurthy', Prof. Sanat Chatterjee's 'Sagar Sangam (Shiva & Sati)' of 1957, M F Husain's 1972 'Shiva on Nandi against the background of Mount Kailash', to a minimalist contemporary depiction by Manish Pushkale and a 2018 Bundi & Kota School style painting of the Shiva Temple in Vrindavan by Shan Bhatnagar, the works are highlights from past auctions as well as new lots, all presented in a superb rendition of a walk-through in a real gallery like feel, complemented with augmented reality options of viewing the artworks on a wall in your own home, office, in a hotel, restaurant or any setting of your choice.
The artworks cover a gamut of mediums comprising Basholi school Ragmala miniature, handwoven carpet from Kashmir, silver ware, grey stone sculpture, Kalighat pat & Tanjore school, prints by18th century European artists in India to Bengali masters of folk art like Jamini Roy, Manindra Bhushan Gupta and Sudhir Ranjan Khastgir.
To delve deeper into the exhibits, there are three tempera on board by Jamini Roy - one of Shiva with Nandi, another of Shiva with Ganesha on his shoulders and the third one with Shiva, Parvati & Ganesh flanked by attendants. Other highlights include a unique early Bengal painting of three-eyed Shiva in Tandav, wearing a garland of skulls - which is quite uncommon. There is also a significant watercolour by Gauri Bhanja, the illustrious daughter of Nandalal Bose, representing Shiva's iconic form as Rudra - the "Fierce God". 
Each of the subjects has a fascinating story behind it, whether it is Parvati, in the form of Annapurna, giving alms to Shiva, or Shodasi lying on his supine body, or the deity's third-eye being invoked in a beautiful impasto rendition by Sohan Qadri, the exhibition has something that every devotee, art-lover or mythology enthusiast can relate to. In fact one of the main exhibits is a large Tanjore Painting covering all the sixty-four avatars (forms) of Shiva.
When asked how this was all conceptualized, Ankush Dadha, Director, Bid & Hammer stated "This wasn't planned in advance like most of our auctions are. The concept evolved with the current situation prevailing in the country. The purpose of the exhibition is to offer respite through the healing touch of art by invoking Lord Shiva, a deity universally revered and one that artists have beautifully interpreted in myriads of styles. We simply chose the visually most powerful and relatable subjects and curated them with the aid of dynamic modern technology for a lively virtual experience". Even in the past Bid & Hammer had hosted a spectacular lecture-cum-exhibition and Bharatanatyam event 'Cosmic Dance of Siva' by Padma Shri archaeologist Dr. Sharada Srinivasan.
Titled 'Revisiting Shiva from the Artists Perspective: The Spiritual Antidote for times like this', with 30 lots over 30 days the open-to-all exhibition is expected to palliate fear, give hope to desolate spirits, reinvigorate those in need of strength and provide solace to one and all via colours, forms and visions of the divine. Commenced from 18th May and on till 16th June 2021, to view visit www.bidandhammer.com
Bid & Hammer is India's pioneer multi-category auction house established by the over 100 years old Dadha Group. The most recent auction by Bid & Hammer from 14-17 April 2021 was a tribute to Francis Newton Souza. Aptly called 'Souza: The Enfant Terrible', it was a monographic sale from the collection of K. B. Goel, art-critic and a close friend of the artist, and had some of the finest chemical alterations, personal letters and books by the modernist Indian painter.