Mumbai-based Gutslit are ready to embark on the biggest international tour that any Indian metal band has ever been on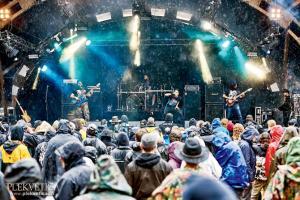 Gutslit at a gig on an earlier international tour. Pics courtesy/ plekvetica.ch/
We have reached a place in the evolution of Indian indie music where it's not uncommon to hear about international tours. Bands across genres do it, and playing packed gigs in cities like, say, Los Angeles isn't the sole preserve of Bollywood personalities anymore. Still, the scale of Gutslit's upcoming Asia tour seems so big that the metal outfit's members will have little time to breathe for a while. It kicks off with Dubai on September 21 and then covers 12 cities and 11 countries, with gigs in places as far-flung as Taipei and Tokyo, before it finally ends on October 7 at Bangkok.
But how did the whole idea for it come about? We ask Gurdip Singh Narang, the band's bassist, and he says that the members of Still Death — the German metal band Gutslit will be touring with — got in touch with them about the possibility of coming over to this part of the world. "We had met them in Germany about four years ago, and have toured in Europe together. So when they wanted to travel this side, we designed a route and went ahead with the plan," he adds, making the whole process sound deceivingly simple, when it was anything but. The first hurdle that they had to take into account, for example, is travelling to a different time zone.
The clock will keep moving further forward the more they travel east. "So there are nights when we seriously don't see ourselves getting eight hours of sleep, considering we have back-to-back shows. And it's not like we are travelling business class. So, we'll have to get as much rest as we can cozying up in our economy seats, and I don't know what we are going to do if one of us falls sick, since we won't even have time to get over a cold," he tells us.

The band's members
Then there was the fact that they will be financing their flight tickets. The gig venues are only going to sort out stay and food, with an appearance fee also a part of the deal. "So we had to keep redesigning the route we will take, keeping an eye on our budget. Which is why if you see it as it stands now, you'll find us travelling in a straight line from Jakarta to Tokyo, with Bangkok being the most convenient place for us to end the tour since both bands can fly back to their respective countries," Narang says.
There was also a lot of back and forth with the venues about other logistical issues. But now that all the nitty-gritty has been sorted out, the musicians are geared up for what will be the biggest tour by an Indian metal band that we have ever heard of. Gutslit released an album last year — Amputheatre — which they will now introduce to audiences abroad.
"The metal scene in these countries is huge, and the individual event pages are already showing a lot of traction. But honestly, we expect to make losses on this tour. Asia doesn't pay you much, unlike Europe. But this is an expense that the band needed to make, I think, because I don't see us travelling to Indonesia and Philippines again. It's a once-in-a-lifetime tour."
Log on to: gutslitindia.bandcamp.com to buy a physical or digital copy of Amputheatre
Catch up on all the latest Crime, National, International and Hatke news here. Also download the new mid-day Android and iOS apps to get latest updates