If new-year, new-hair is an idea that resonates with you, check out these seven trends that experts say are set to dominate 2022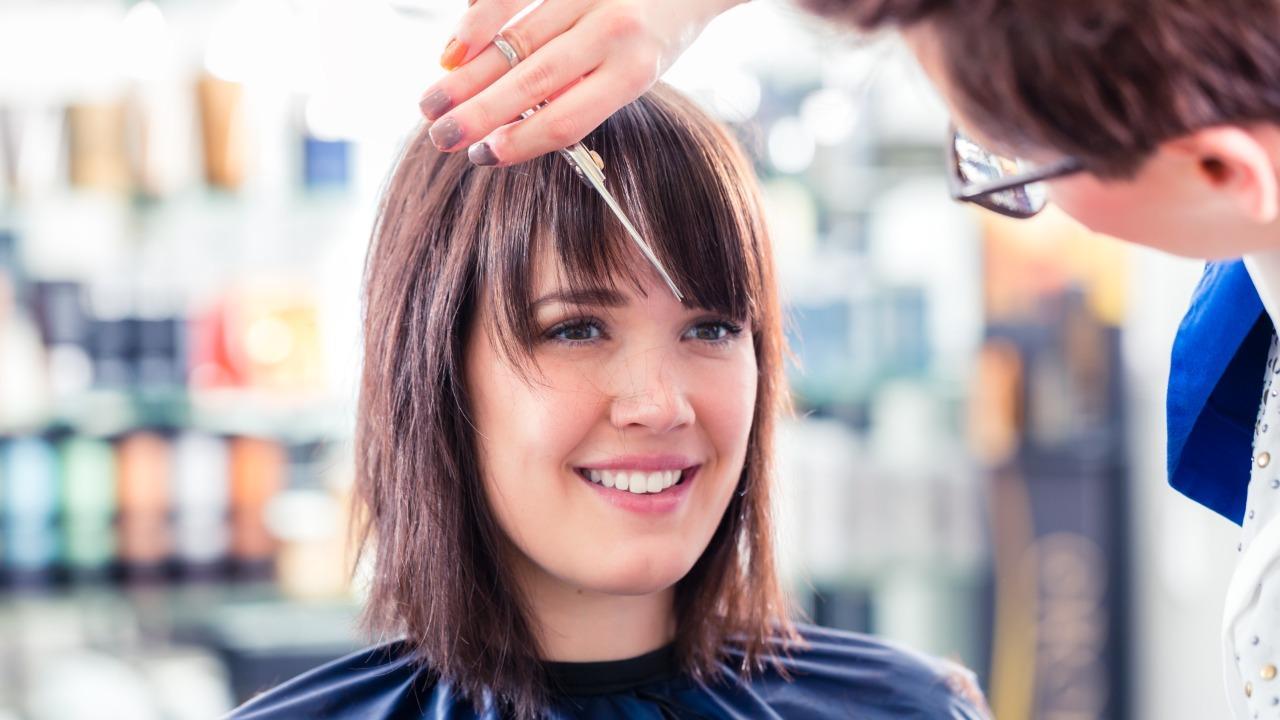 Choosing the appropriate kind of fringe is the responsibility of the hairdresser. Image for representational purpose only. Photo: istock
"Going natural will be the biggest trend in 2022. My prediction for hair colour in the new year is natural hues with bright pops," says Sareena Acharya, artistic head - hair, Enrich. "You'll see an extended version of French balayage with more colour tone visible, including warm tones like copper while keeping it natural, glossy, and shiny. That means woody brown, rustic copper tones with a beautiful blend of balayage placement which complements individual skin undertones," she adds.
Below, Acharya outlines seven hair trends that are set to dominate 2022. 
The 90's big volume blow-dries
This glamorous supermodel look – of the voluminous, wavy hair – is surely going to make a big comeback. Who does not like volume? Especially after the pandemic has got us into the easily manageable hairstyle trend. The bigger, bouncier, and glossier the hair, the better it is for the upcoming season. 2022 is going to revolve around this big hair concept – layered haircuts, volume, and textured hair for styling.
Layered bobs
Bobs can never die.Our love for bob has ranged from the classic clean bob to the tousled layered bob. We expect 2022 to be big for the bob and all its variations. Shaping up the bobs to layer it further and add more body and volume will be the key requirement. More texture, more layers, more movement, and going away from blunt sharp lines will be loved.
Exaggerated natural colour
2021 called for natural colour tones. With French balayage being in trend, 2022 will be an extended version with more colour tone visible, including warm tones like copper but keeping it natural, glossy, and shiny. Woody browns, rustic copper tones with a beautiful blend of balayage placement will be in rocking demand. The trend compliments all personalities and can be customised to each one's needs. No strong money pieces for face-framing, instead the balayage would contour the face shape enhancing the features. 
Fringe forward
The fringe is here for good— be it solid bangs or a layered fringe. Choosing the appropriate kind of fringe is the responsibility of the hairdresser. However, curtain bangs are the most-loved fringes for the season, and this will continue for 2022 too. The centre split bangs, blending in the layered hair cut will work perfectly for the coming season, keep the layers long or keep it bob, curtain bangs can complement and mould into any haircut, customising the look made for you.
Mullets
One of the most iconic men's hairstyles of the '80s, aka the mullet, is still going strong and will continue in 2022. This look is all about business at the front, party at the back. If you find yourself on the wilder side and you like experimenting with new haircuts, then this is for you. Short at the front, shorter at the sides, and long at the back, the mullet hairstyle stands out for its eye-catching shape and laidback vibe.
Natural Curls
The next season of 2022 is all about embracing a natural look to an otherwise classic hairstyle. Men with natural curls can show how cool curly hair can be. Whether you prefer short sides and back and curly hair on top or a curly hair mullet, remember to build volume up top. Don't worry, ladies, the trend is for you as well so go bold with your natural curls.
Shag
Famous celebs and rockstars of the '70s embraced this hairstyle because of its effortlessly cool retro feel --among others, David Bowie, Bob Dylan, and Mick Jagger. The men's shag hairstyle is predicted to be huge in 2022 and it will come in different variations including short, long, layered, or tousled with bangs, waves, curls, or sideburns.