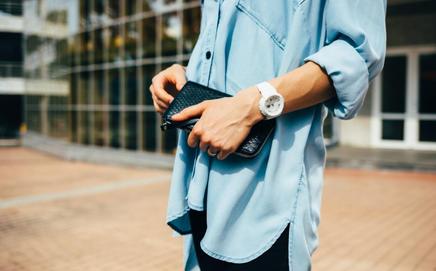 Fashion is a personal choice but if there's one aspect that everybody can agree is one's love for oversized clothing. It not only means extra comfort but also a lot more room to move around. It is also one that doesn't have a particular style and is neutral to body type. It shatters the stigma of having a perfect physique to look good in what you wear. What awaits the youth is streetwear fashion. "For a very long time, unisex clothing and footwear have been quite well-liked in the market. But because they were branded and expensive, they were frequently out of reach for the majority of people" says Gagandeep Singh, founder of A Skating Monk. "Making oversized clothing also helps us be gender neutral and makes beautiful, good-looking clothing for everyone. The inception of oversized clothing and streetwear happened through skateboarding culture. As one needs apparel that is easy to maneuver in, perform tricks, and ride for longer periods of time. This further caught up and spread around the world as the streetwear we know and the streetwear culture that ASM is a part of." Gagandeep shares the right way to style oversized clothes: Contrast clothing: There has to be a contrast in what you wear. So if you wear a very baggy upper, your lower should be towards the fitted end and vice versa. If you wear a very vibrant upper, your lower should be of a more muted colour and vice versa. This will make the look more appealing and easygoing. It is perfect for an outing and gives you a sharp look. Wabi-Sabi: The Japanese aesthetic of Wabi-Sabi, should be followed while styling what you wear. This is based on the acceptance of transience and imperfect. Streetwear could never be in perfect symmetry, which we should embrace. This is a comparatively very new trend in India but a highly popular one among the youth. It is all about roughness, simplicity, modesty, and appreciating the ingenious integrity of neutrality. Footwear: A free hand with shoes could be taken as even if your whole outfit is muted, your shoes alone can pick it up. We at ASM currently are into chunky technical shoes. This makes it a combination of aesthetics and performance. It's also not a bad idea to occasionally tuck your lower in your shoes to make them more prominent. The perfect pair of sneakers will lift up the mood and tone of the outfit. A monochromatic look with vibrant footwear can spice up the entire game. People often hesitate from experimenting with their footwear but now the trends have changed with oversized clothing. Celebrities are often spotted wearing funky sneakers at gala events and with their airport looks too. Overshirts: Another piece that has caught the attention of many is overshirts. These can easily be worn with vests and individually paired with shoes as a dress too. GenZ is highly catching up with this fashion trend by pairing it with shorts or even overalls. These breezy dresses are easy to carry and perfect for summers as well as monsoons. Even during winters, one can pair it with sweaters and hoodies.Also Read: What is Y2K fashion and why is it back in 2022? This story has been sourced from a third party syndicated feed, agencies. Mid-day accepts no responsibility or liability for its dependability, trustworthiness, reliability and data of the text. Mid-day management/mid-day.com reserves the sole right to alter, delete or remove (without notice) the content in its absolute discretion for any reason whatsoever
17 August,2022 03:17 PM IST

| New Delhi

| IANS
The Parsis are among the most prominent migrant communities that made Mumbai their home centuries ago. Every year, they celebrate Navroz, commonly known as Parsi New Year, in July or August. This year, it falls on August 16 and calls for a reason to cheer amid the Covid-19 pandemic, which has been dampening spirits in the city — and the world — for the last year and a half. While Parsi delicacies like salli boti, patra ni machhi and lagan nu custard are popular, there are many aspects of the Parsi lifestyle, which may be unknown to people outside of it. Just like every Indian community has its distinct attire, women in the Parsi community have the gara sari, which is worn during celebrations. This Parsi New Year is an opportunity to get to know this important part of the community's wardrobe. The sari, which is usually worn during the wedding season and bigger occasions, has a rich history that can not only be traced to China but also Persia, before it reached India, says Delhi-based fashion designer Ashdeen Lilaowala. Lilaowala, originally from Mumbai's Nepean Sea Road area, has been living in the capital for the last 16 years. Being a Parsi, the textile designer has been enamoured by the sari for as long as he can remember and has been studying its history since his days at National Institute of Design in Ahmedabad. He informs, "I grew up around the Parsi gara because it was worn by my mother and sisters." The sari is unlike any other worn in India, as it is evocative of its journey not only through the fabric but also the motifs, which showcase the influences picked up while trading outside of India. Ashdeen Lilaowala works extensively with the Parsi gara designs through his label Ashdeen, which he started in 2012. Photo: Ashdeen Lilaowala "The designs on the sari are inspired by nature with flowers, flora and fauna and have Oriental roots, which represent the time the Parsis were trading with China. It is these elements which differentiate it from other saris, which are more in the abstract form," he explains. Inspired by nature's beauty, the saris worn by the women in the community often bear motifs of the chrysanthemum, peonies and birds of different kinds. These designs, which feature embroidery in intense shades of pastel colours, are expressed on a variety of fabrics including pure silk, organza and georgette, which is commonly preferred today. "It is more realistic and that is why it is like a painting done with a needle," says Lilaowala. It is this love for the aesthetics of the sari which translated into his very own label, 'Ashdeen', in 2012. "It was a craft that was always evolving," says Lilaowala. The evolutionary nature of the sari throughout the ages is also what made him want to reimagine the designs instead of copying old designs. He also believes that the popularity of the hand-embroidered sari can help do more for the artisans, who can benefit from it. Ask him if the sari has caught the eye of people outside the community and his reply is in the affirmative. "There is a popularity beyond the community and beyond the repertoire." The trained textile designer's love for the gara has gone beyond the traditional sari form as he replicates its embroidery on jackets, pants and kurtas now. The new silhouettes have found their own following because one does not always have to wait for an occasion to don the gara aesthetic. Also Read: How two Mumbaikars are saving an East Indian sari from obscurity
16 August,2022 04:14 PM IST

| Mumbai

| Nascimento Pinto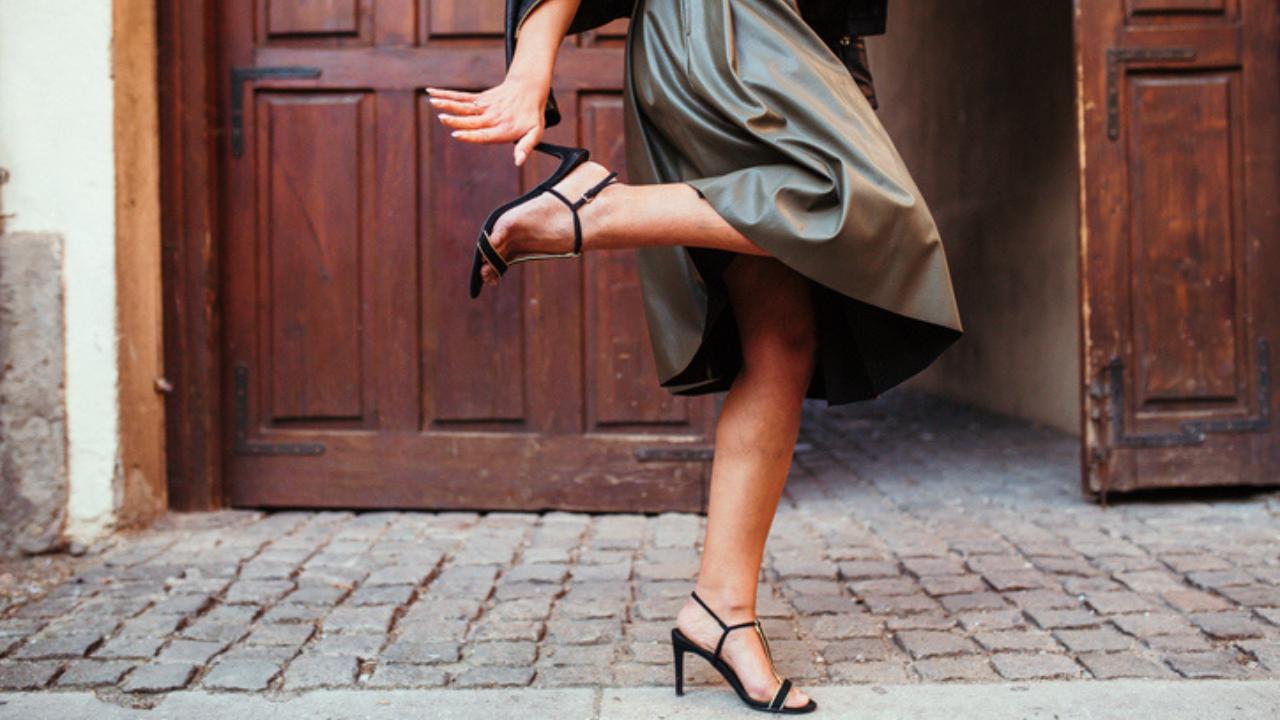 Women have worn heels for many years, and they have now firmly established themselves in both western and Indian wardrobes. According to recent studies, up to one-third of women experience chronic issues as a result of wearing high heels for an extended period of time. According to a recent survey, one-third of the women who wear it at least three days a week (one in 10) experience ongoing issues."Wearers of high heels experience altered gait patterns. Compared to those who regularly wear flat shoes, the average person who wears heels walks with shorter and more pronounced strides," says Manan Vora, Orthopaedic Surgeon, Sports Medicine Expert and Content Creator."With habitual wearing of heels two inches or higher, the Achilles tendon and calf muscles can face changes in shape. As the shoe heel pushes up the human heel, the Achilles tendon and calf muscles are facing increased pressure. The tendon may shorten, and the muscles can stiffen and reshape. This can occur in individuals who frequently wear heels, and can create pain in the body's lower extremities," Manan adds.If you are feeling the consequences of constantly wearing heels, Manan shares steps you can take to help combat the aching and discomfort. These suggestions can help decrease the pain you are feeling from wearing high heel shoes.* Change your shoe choice -- Go for flat shoes, or shoes that provide more support and cushion* Switch up your exercise routine -- Reduce frequent stress on your knees, hips and lower back while exercising. Rowing, swimming and the elliptical are low-impact types of exercises that are easier on your joints* Minimise the amount of days you wear heels -- Try adding flats or wedges to your shoe selection* Go for a shorter heel -- Heels two inches or less put less pressure on joints* Stretch your calves before and after wearing heels -- Allow yourself time for lunges or other calf-stretching methods* Place cushions in your shoes and heels -- Make your shoe choices more comfortable for your feetWhile completely stopping to wear heels isn't feasible, here are a few tips that you can keep in mind while purchasing and wearing your favourite heels.* While purchasing heels, make sure you buy the right size that fits you well. If you buy a bigger size, you can fall. If you buy a smaller size, it can be tight thereby causing pain* Some of us have narrow feet, some have wide, some have smaller toes, while some might have long toes. There are so many variations. If you have wide feet, do not wear closed tapered shoes, wear wide front closed ones or open toe ones. Even those with smaller toes should opt for closed wide front shoes. The pointed front shoes will pinch your toes and make it very uncomfortable. Heels that cramp your toes will cause pain when walking and increase the possibility of getting bunions, corns and developing hammertoes and even arthritis later in life* Wearing heels puts more pressure on your feet, especially the balls of the feet. Before purchasing that coveted pair, check that they have proper padding and cushioning in the area that supports the balls of feet. High heels with excellent cushioning and padding provide great support and comfort to your feet* When choosing high-heels, check where the heel is placed. The heel should ideally be placed under your own heel. Remember, thicker the heel, the greater the support it provides for your body. Look for platforms that will distribute your weight across the entire foot evenly instead of concentrating it at the ball of the foot or the heel. So, go for wider, thicker heels if you want to decrease the risk of sprained ankles* High heels that are 3 cm to 9 cm high are the most comfortable to walk in. Heels more than that height put more pressure on your lower back, knees, ankles and do not give any support for balancing* Give your feet a break. When wearing high heels, the best advice you can take to prevent pain is just to sit down whenever possible! This will give your feet a break and will stop any pain or discomfort from building, keeping your feet fresh.Also read: Festive wear: Experts share tips on sporting a simple yet stylish ethnic look This story has been sourced from a third party syndicated feed, agencies. Mid-day accepts no responsibility or liability for its dependability, trustworthiness, reliability and data of the text. Mid-day management/mid-day.com reserves the sole right to alter, delete or remove (without notice) the content in its absolute discretion for any reason whatsoever.
16 August,2022 01:18 PM IST

| Mumbai

| IANS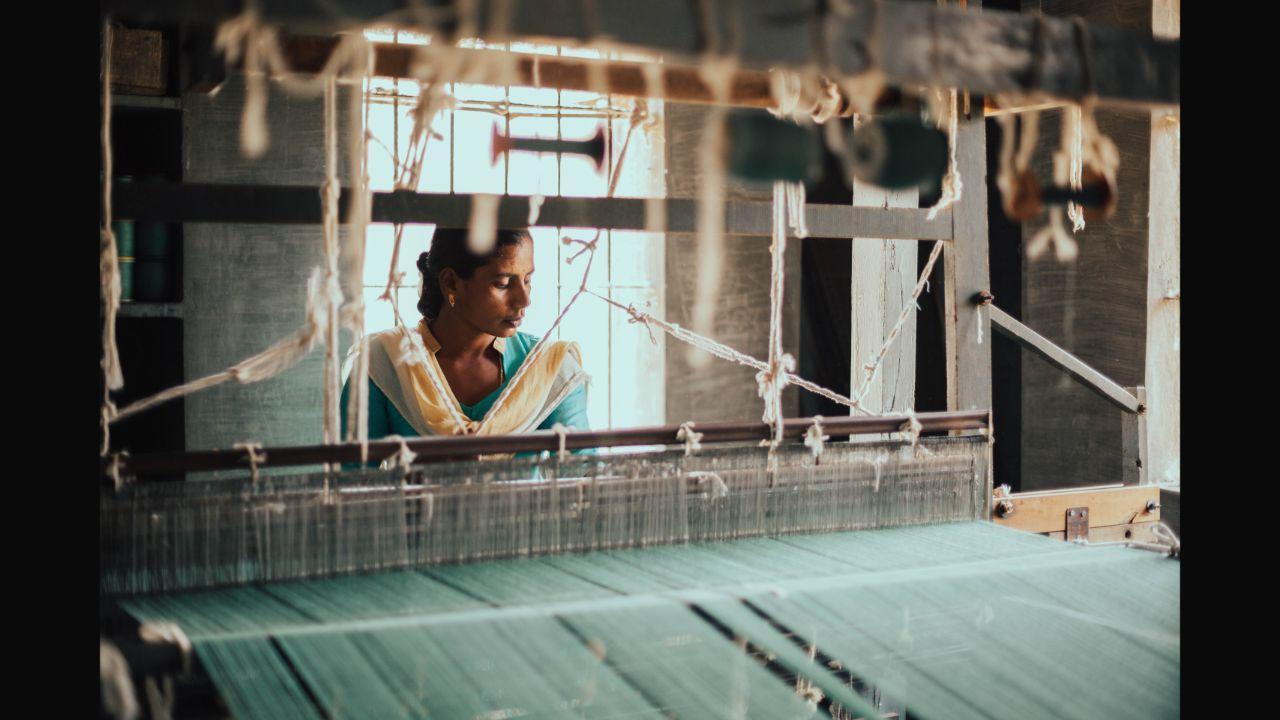 When one talks about khadi, the Indian fabric made from cotton, it immediately brings to mind Mahatma Gandhi and the freedom struggle. Gandhi coined this term for the handspun cloth, which signified self-reliance, more than 100 years ago in 1918. The Indian flag proposed a few years later by the leader also featured the charkha—the spinning wheel used to make khadi—before the symbol was replaced by the Ashoka Chakra at the time of Independence. It is no surprise then that by law the flag has to be made from khadi. Even with such a rich past, many khadi loyalists argue that the true essence of the word has been lost over the years. They say the label is being tossed around because of its new-found appeal in the fashion industry but many brands are using this as an opportunity to sell adulterated khadi. "Since khadi comes under the Khadi and Village Industries Commission, which is a part of the Ministry of Micro, Small and Medium Enterprises (MSME), people require a licence to sell it. The licence is easily obtainable if you have Rs 50,000. However, not all people who get the licence actually sell khadi products," explains Savita Suri, heritage textile expert and president of the Women's Indian Chamber of Commerce and Industry (WICCI) Maharashtra Handloom Council. "There are not enough checks and balances done by the Khadi and Village Industries Commission (KVIC) to see what is being sold in the name of khadi." This is one of the many issues plaguing the khadi industry today. The term khadi was trademarked by the KVIC in 2014. However, those who love khadi for its true meaning and the freedom it represents aren't happy with the fact that one has to buy a certificate to use the word, which has existed long before the agency was formed in 1956. The certificate means giving up independence while juggling with the difficulties of bureaucracy, when all one wants to do is create local Indian cloth. It is not only the introduction of the certificate but also the issue of people buying the certificate and selling inauthentic khadi, which has made the situation worse. The need to make khadi 'independent' againHowever, they aren't giving up just yet. Some have been attempting to create an independent ecosystem, which exudes the original Gandhian purpose and principles of the cloth, and also trying to get it into the market. Sumanas Koulagi is among the few who still uses khadi production as a means to create a self-reliant society. He is a third-generation Gandhian from Karnataka, whose grandfather set up the Janapada Seva Trust (JST) in Melkote to take the idea forward. Khadi is one of their many initiatives and Koulagi has been trying to put theory into practice once he took over the reins two years ago, after completing his PhD in the concept of 'Development as Swaraj (Self-rule)'. Koulagi observes, "Khadi was used by Gandhi as a medium to create a non-violent society to achieve Swaraj. But after Independence, the meaning of khadi took a turn and lost its spirit of Swaraj and just became a fabric." Interestingly, many may think Koulagi's passion for this subject comes because of his strong Gandhian influences. Surprisingly, it was his love for the environment, which led him to understand the true meaning of the Gandhian teaching, which he had so often heard in his house. Now, it is his quest to strive and achieve the concept of Swaraj in his village, through the making of khadi. "Swaraj and the production of khadi is a sustainable way of making cloth and, in the process, protecting the environment," he adds. Koulagi's Janapada Seva Trust is recognised by the Khadi and Village Industries Commission (KVIC) but it does not avail of the subsidy from the government ministry and that is why it tends to be more expensive. There are three reasons, he says, why they don't opt for the subsidy. The fact that that creates a dependency on the state is one of the main reasons, as it goes against the concept of Swaraj, which indicates self-reliance. The financial support received from the ministry would further mean the loss of freedom in the decision-making process. Lastly, KVIC represents centralised control, which also goes against what khadi stands for, which is decentralised power. He recommends that the agency should ideally only work as a monitoring agency for quality-checking the khadi that is produced and sold. "Almost 90-95 per cent of the khadi in the market is fake because instead of being traditionally made with cotton, most of those being sold at the khadi bhandars are actually spun with polyester," claims Koulagi, based on his observations in Karnataka while researching for his PhD. He is clear about the route he wants to take, and will not compromise on it. Khadi, for him, is beyond the making of cloth. The activity is a means for every person who is a part of the collective to be involved in its decision-making process at every step of the way. It is also the reason why the workers who make the khadi have equal ownership in the process, along with the coordinator and the JST equally shares the profit and loss achieved through the sale of khadi. Bengaluru-based designer Ravi Kiran, founder of the label Metaphor Racha, shares Koulagi's sentiment on how khadi is being perceived today. He explains, "Spinning khadi is supposed to be done by villagers after they finish their field work or their day job as a leisurely activity. The meaning of making khadi now has changed. It is a labour-intensive process but today the market is driven by the consumer and not the production, which needs to change." Kiran has been running his label, which includes creations made out of khadi sourced from Shirahatti among other places, for 12 years now. However, he has refused to buy the 'khadi' certification because he believes one should not have to pay to use the word, especially when such a certificate is beyond affordability for many. The refusal means he has had to remove the word from his label entirely. This may have affected sales but he is happy to have stood by the decision. How awareness, transparency can help meet demand Among the many Indian cities who purchase his creations online, the Bengaluru designer reveals that Mumbai has a big affinity to khadi as almost 35 per cent of his sales come from the island city. "At all the exhibitions I have been to in the city pre-pandemic, the people who visit me immediately know it is khadi. I am often left surprised and upon asking them, they tell me it is something they recognise as being worn by their parents or grandparents," he adds. Still, the designer isn't too happy with the lackadaisical attitude of the khadi bhandars all over the country. Many informed customers tell him that when they ask the representatives at the bhandars for specifics, they aren't able to explain much. Their reluctance to understand the source of the khadi and take effort in its sale is directly linked to the lack of incentives, Kiran informs, as they aren't paid much. The lack of proper knowledge among those selling isn't the only problem for Kiran. Earlier this year, it was reported that the KVIC had experienced a highest-ever turnover of Rs 95,741.74 crore, which is a 7.71 per cent increase from Rs 88,887 crore in the financial year ended March 2020. In an interview to Financial Express, KVIC chairman Vinai Kumar Saxena said the increase in government orders, online sales and aggressive marketing had supported growth. Kiran and Suri both say that this turnover figure can be misinterpreted by many to be the sales of the khadi fabric itself. "The KVIC does not only include khadi, as there are many other village industries. So, only a part of the turnover actually represents the khadi sales," Mumbai-based Suri points out. In fact, KVIC reported a drop in sales of khadi fabric to Rs 3,527.71 crore in the financial year ended March 2021 from Rs 4,211.26 crore the previous year, as production units and sales outlets were affected. Even though many issues still ail the industry, Suri has a suggestion for its growth. She cautions that since making the cloth is labour-intensive, it should not be made in bulk. Instead, entrepreneurs should opt to first secure the number of orders based on the demand before going ahead with production — a method she has practiced to help revive the East Indian lugra in Mumbai. Khadi is handwoven and depends not only on the weaver but also on the carpenter, who makes the charkha, and various other people in the village, who are a part of the supply chain and responsible for the final weave. This will not only help businesses sell all their khadi products but also help the artisans get paid in time and make the khadi successfully. Also Read: How two Mumbaikars are saving an East Indian sari from obscurity
15 August,2022 11:31 AM IST

| Mumbai

| Nascimento Pinto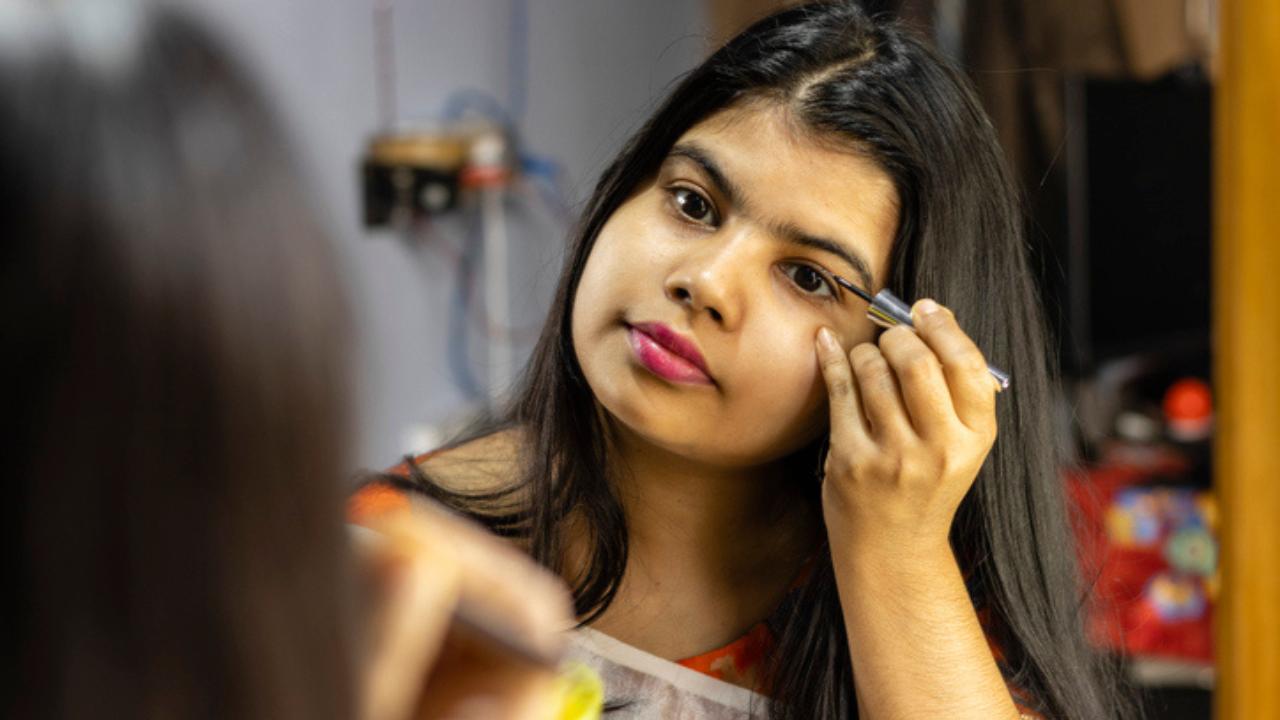 Premium
It doesn't hurt to use makeup at times, when the occasion calls for it and the month of August is full of festive events. From Raksha Bandhan and Janmashtami to Independence Day and Ganesh Chaturthi, people are gearing up to celebrate the most of these days and make up for the pandemic's long-lasting blues. While looking all glammed up is not necessary and not preferred by some, one can definitely go for a minimalist look with the right choice of dress and makeup to compliment it. Moreover, in Mumbai's humid weather, a dewy makeup look would really help to feel the day in your best look. If you are someone who is new to makeup and looking to enlighten yourself on the most suitable way to do it, Asha Hariharan, education director and celebrity artiste at Enrich and digital content creators Simran Jain and Muskan Chanchlani provide a detailed guide on how to achieve a flawless dewy look for this season. Must-have tools in your beauty armour:1. Invest in good serums, moisturisers, toners and sunscreen to get the perfect base. Skin prep is utmost important for a good makeup look and to avoid any undesirable effects on the skin.2. A primer is really important for the festive season because we tend to wear heavy makeup for longer hours and primers act as a barrier between our skin and the makeup, so our skin stays protected and makeup stays fresh.3. Foundation, full-coverage or lightweight depending on the preference.4. One can use a concealer to only cover what needs to be covered.5. If you don't have time to wash your hair, a dry shampoo is your go to.6. Kajal, eyeliner and mascara accentuate your eyes beautifully and are a must for Indian looks.7. Lipstick- Red tone is the most common and goes with many outfits. Secondly, have nudes as well if you are going with heavy eye makeup then nude lipsticks would be sorted.8. Highlighter and blush to get the shine. Some glitter for your eyes also enhances the festive look. Here's a step-by-step by Hariharan for a dewy makeup look: Prep the skinBegin with prepping your face. Use a recommended cleanser to clean your face. After that, use a suitable moisturiser. Lastly, apply a primer to prep your skin for makeup. Prior to using your skincare products, Chanchlani suggests dunking your face in a big bowl of cold or normal water twice or thrice for a few seconds. This, she says, helps with puffiness and in shrinking the pores and feeling rejuvenated. Ace that baseThe base is very important to get a dewy glow. It's vital to make your base light and glowing. Use a liquid or cream foundation for that natural look. Apply a full-coverage liquid foundation on your face and neck. Followed by this step, apply a concealer to cover the blemishes and dark circles on your face. Chanchlani suggests using a little cream bronzer just below the cheekbones to add some warmth to the skin so it doesn't look flat. To set all this in place, she says one can use translucent loose powder just under the eyes and around the mouth with a soft tapered brush, because that's where makeup creases the most and for the rest of my face, a big loose brush and very little powder to just lightly set it. Brows on fleekEyebrows can define this entire dewy makeup look. Making your eyebrow game strong is essential. Use an eyebrow pencil to define and fill up the gaps in your eyebrows. This will give a clean and sleek makeup look. Applying an eyebrow gel on your brows will make your eyebrows bushy. Let your eyes talkLess is more. This method applies to the eyes. Begin with an eyelid primer. Prep your eyelids for eyeshadow application with a primer and concealer. Pick a nude or peach shade of eyeshadow to apply on your eyelids. According to Chanchlani, one can also use a light brown or pink base eyeshadow for the eyelid, a darker shade of the same colour family for the crease and glitter for the centre part of the lid. This can be followed by small winged liner and lots of mascara for big voluminous lashes. Next, use black kohl to define your eyes. Lastly, use waterproof glossy mascara to add volume to your eyes. Applying 2-3 coats on your eyelashes will add a little drama. Use the mascara on your top and bottom lashes for a captivating eye look. Jain adds, "Remember to keep the shadows light toward the inner corner and dark outside. Also make sure to brighten the corner of the eyes if you are doing a smokey look, you can use white kajal to make eyes look fuller." Accentuating your lips and cheeksUse a tint to get those natural pink lips and cheeks. It adds a fresh touch to your look. Apply a tint to flaunt those peachy lips and cheeks. A lip and cheek tint is a must-have for this festive dewy makeup look. Chanchlani suggests applying a liquid or a cream highlighter just above the cheek and under the outer corner of the eye to beat the direct sun hits. Additionally, one can also go with a cream blush on the cheeks and the tip of the nose for a fresh youthful look. How to make it last?Beat the monsoon blues by applying a setting spray to make this dewy and glowy look last for a long time. Do not forget a setting spray on your face to make your makeup last. Lastly, wear a black bindi to complete your festive makeup look. That's it! Voila, you are all set to slay this festive season.Also Read: Festive wear: Experts share tips on sporting a simple yet stylish ethnic look
13 August,2022 04:44 PM IST

| Mumbai

| Sarasvati T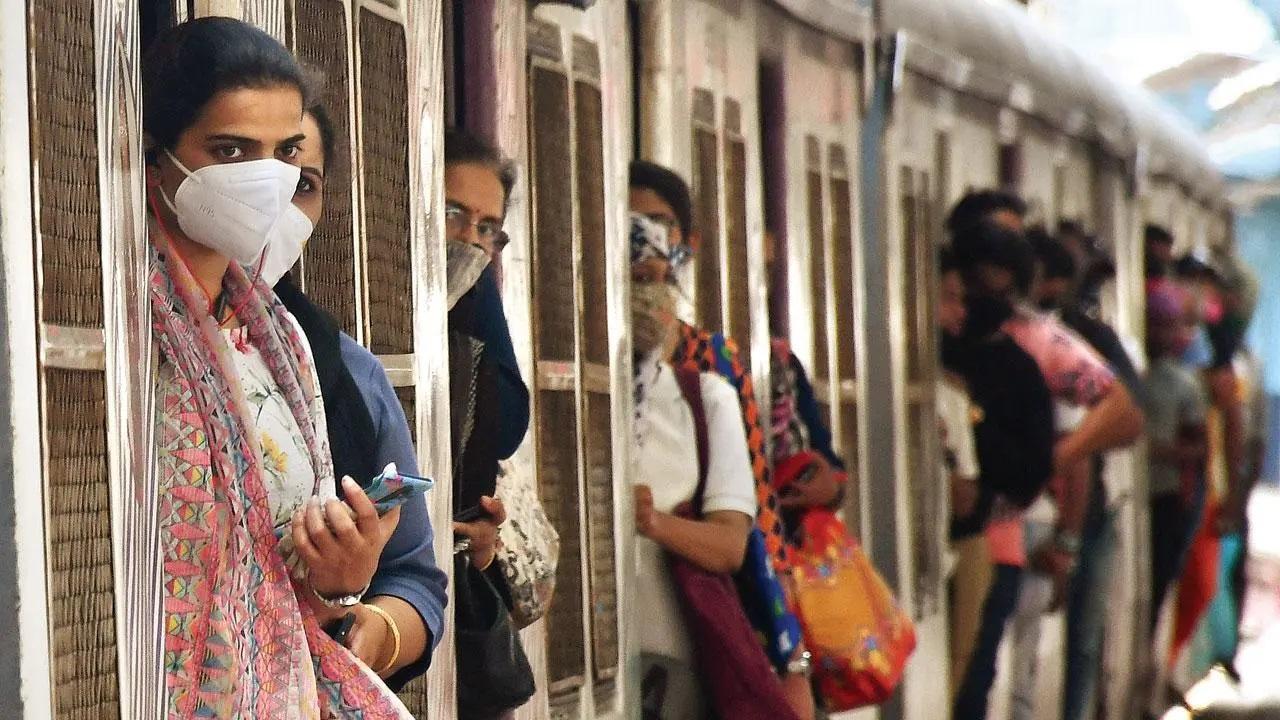 Premium
Borivali-based Shreeya Namjoshi is very particular about looking professional when she reaches work. This means dressing to not only be fashionable but also formal in the workplace. Being a city-based publicist, her job entails spending time in the office setting as well as travelling to meet clients in and around the city. But there is one big challenge: the 26-year-old travels from Borivali to Andheri by a crowded Mumbai local train — which usually arrives packed from Vasai or Virar — every day. Looking fashionable is a task if you are travelling by train, especially in a city like Mumbai which is infamous for its overcrowded trains with people packed like sardines. With the summer here and the trains operating in full swing, that means crumpled shirts, creased coats and hair all over the place. However, Namjoshi is one of many in the city, who have had to figure out ways around this and use inventive techniques to maintain their style quotient while commuting. Scarf to the rescueSince Namjoshi prefers to wear her hair loose at work, she has to go the extra mile to manage her tresses. "Since I like to look professional when I reach work, I tie my hair in a bun in the train," she explains, "I not only wrap a scarf around my head but also my face from the start to the end of my journey." This practice helps protect her from the sweat, dirt and stickiness. She notices that many women in the ladies' compartment do this. Once she reaches her workplace, all she has to do is add a touch of lipstick and powder to her face. She has bought at least six to seven scarfs and always has a spare one with her at all times for her hair. Shreeya Namjoshi (left) likes to dress professional every day to work; Vishaka Chakrapani (right) always covers her hair while travelling in the Mumbai local train. Photo Courtesy: Shreeya Namjoshi/Vishaka ChakrapaniThane-based Vishaka Chakrapani is another commuter who swears by the scarf method. She learnt this from experience. "I used to straighten my hair sometimes during my college days, for special events." On one such occasion, while travelling in the train, Chakrapani was standing near the door with a lot of wind and that didn't end well. "By the time I reached college, my straightened hair actually looked like I had got out of a cat fight," shares the 29-year-old content writer, who used to travel daily from Bhandup to her college in Churchgate. A step ahead Once she started working, the city-based content writer realised that reaching the office the same way wasn't an option. Echoing Namjoshi's sentiment, she says, "I cultivated my scarf habit during my office travel years to look good when I enter the workplace and also to feel good about myself." Chakrapani, who used to travel to her workplace in Goregaon, says she has another hack which has proved useful over the years. She also carries a pair of footwear like heels or shoes to wear once she reaches her location. "Travelling by the second class coach promises zero luxury. After a few stamps on some of my precious shoes, I decided that if I'm travelling by train, I'm going to wear flip flops and carry my heels or fancy shoes in a bag. This way, the flip flops are also thin enough to keep in my handbag the rest of the day," she explains. Plus, she always kept an extra pair of shoes at her workplace just in case her footwear snapped while travelling in the train, which is always highly likely. Over the years, Namjoshi has also figured out other hacks to look spiffy once she reaches her workplace. She dresses up in a shirt and trousers and packs her jacket away. "Travelling in packed trains leads to creases on my blazer. So, I pack it in my bag and put it on once I reach work." This is a handy trick, she says, especially when one has meetings. Like Namjoshi and Chakrapani, Jogeshwari-based Aysha also ties her hair and uses a scarf when needed. However, the city-based teacher also has a few fashion hacks of her own, which she began using while first going to work in 2016. Travelling in one of the most crowded suburban train networks in the world, Aysha realised that looking presentable was impossible unless you get creative. The Mumbaikar started wearing a shrug (external cardigan-like garment) over her clothes, which has helped her since then. While this is a good option during the summer, she simply uses a hoodie or jacket for the winter. The practice, which she used to follow more often earlier when travelling by train to and from Jogeshwari to Santacruz, has reduced now because she takes an autorickshaw to her destination. "Using the shrug has saved my clothes from a lot of creasing, unexpected stains or just simple dullness due to the dust settling on them," shares the 27-year-old. The owner of quite a few shrugs says wearing a light scarf between her collared shirt and neck is another hack to avoid getting the collar dirty. It is one that can work wonders especially if looking your best is very important on a particular day.
12 August,2022 04:21 PM IST

| Mumbai

| Nascimento Pinto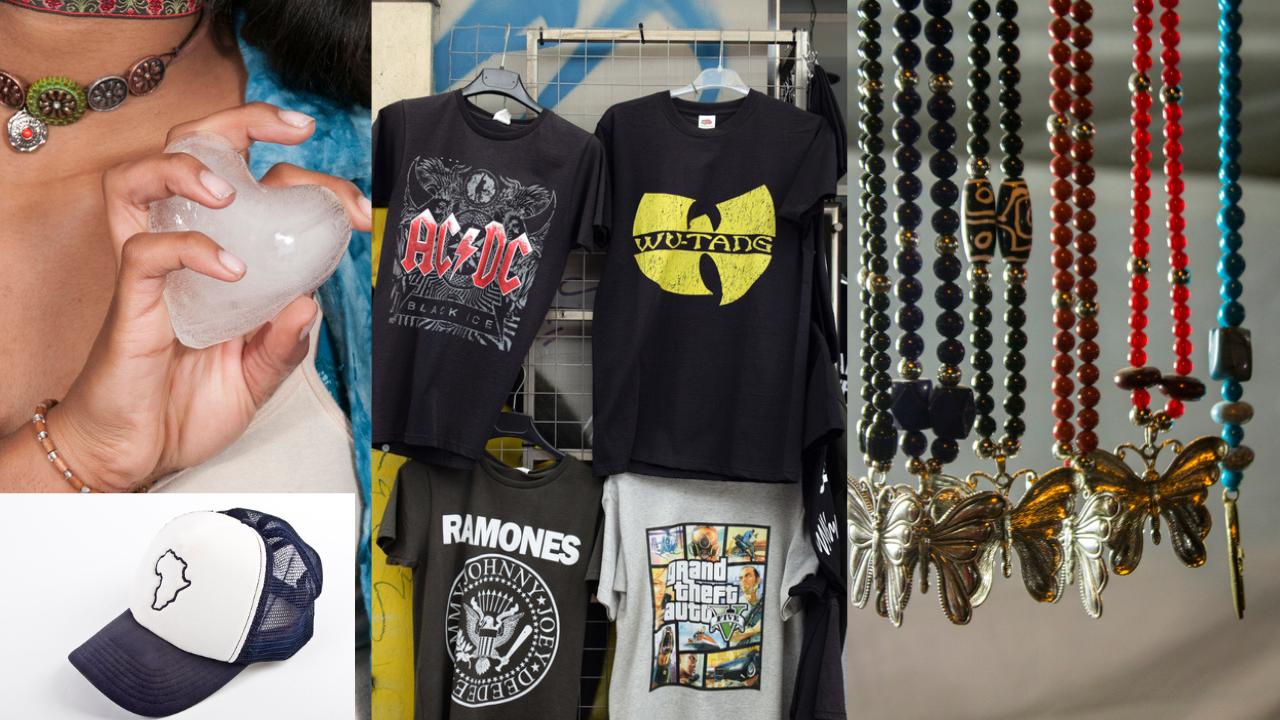 Premium
"You hear Y2K, and you get nostalgic. That's how dramatic and fancy Y2K was – from shiny materials to faux jewellery, it's all back in vogue again," says Anand Singh, fashion design manager at DaMENSCH, a men's fashion brand. "Two decades and a bit after its appearance, the Y2K comeback proves once again the cyclical nature of fashion." 'Y2K' or the 'Year 2000' style, known for defining the trends in clothing during the late 1990s and early to mid-2000s, has once again become a buzzing topic in fashion discourse in the past three to four years. The term Y2K, which infamously referred to a potential tech bug which would create a complication in the date-settings of a computer, is also popularly used to describe the aesthetics of that time, which represented the radiant optimism of the young teens and adults of the 90s as they stepped into a new millennium. From cut-off vests and silver leather pants to glittery eye-shadows and pigtail hairstyles, the Y2K era was defined by artists such as Britney Spears, Christina Aguilera, Paris Hilton, Regina George of Mean Girls, Backstreet Boys and Eminem, among others, who dominated pop culture. With similar themes of new-age tech and the digital boom, Y2K fashion has made its way into 2022. From being hopeful about the early tech innovations of the 2000s to embracing overwhelming digital milestones, discussions about crypto fashion are now gaining momentum. Shiny bomber jackets, low-waist Ed-hardy jeans and buckled belts. Image credit: DaMENSCH Is Y2K aligned with the crypto boom? Considered to be a futuristic trend, the roots of Y2K fashion lie in the merger of technological developments and daily life activities in the early 2000s, when people across countries were looking forward to the internet boom. The CDs, walkmans, flip phones and desktops of the past have now evolved to cloud drives, smartphones and laptops, a change that has manifested itself in fashion too, which is an inseparable part of human personality. In 2022, though it is common for fashion trends from the past to be back in the scene 20 years later, experts suggest the revival of Y2K aesthetics in fashion coincides with yet another technological or digital revolution. "I think digitally, the pop of colours is one of the trends that incorporates 'tech' in fashion where the aesthetic of this trend is used in the digital world in terms of photography, art and content and graphic creation for all digital platforms," says Aaina Mahajan, founder and creative director of MellowDrama, a clothing platform. Embellished tracksuits. Image credit: MellowDrama In terms of cryptocurrency movement and the metaverse being the new big area of exploration, there is a lot of scope for fashion enthusiasts, millennials and GenZ alike, to experience a retro futuristic vibe in the fashion world. At a time when technology is the binding force between the 2000s and the present, Singh believes the current Y2K trends indicate advancement of fashion towards elements of crypto and metaverses. "AI innovations of today do not just accumulate data but also accelerate the creative process and help in every aspect of manufacturing and distribution — starting from capacity planning to automated production and delivery. The pandemic has led technology to step in and give momentum to the industry which was on the verge of an existential crisis," says Singh. Y2K with a 2022 touch Nostalgia coupled with digital innovations and the pandemic-induced urge to prioritise comfort with style has encouraged the return to Y2K aesthetics, a trend that experts believe is here to stay for a while. Think oversized graphic tees and low-waist jeans or flared pants coupled with statement earrings or a trucker hat; a characteristic combination of streetwear and Y2K fashion in 2022. Crop tops with chunky sneakers and pleated hair. Image credit: iStock Similar to the original Y2K era, noted for excessive styling with influences of pop artists and ultra-consumerism, Singh explains the current fashion trends are mainly inclined towards a convergence of logomania-led (logo printed or stitched all over the clothes for branding) fashion, the crossover between streetwear and luxury, and the impact of social media influencers. Monogrammed T-shirts, psychedelic prints, pleated skirts, mini-skirts with animal or abstract prints, crocheted clothing, tracksuits in flashy colours, wide-legged or boyfriend jeans, baguette bags, pants with bold and bright coloured patterns are some of the major trends in the online fashion market today. Stylish sunglasses in oval or rectangular shapes, tie-up tops, and denim-on-denim and heavy chain necklaces are some of the most sought-after styles today. As Mahajan points out, the use of velour fabric, an important part of Y2K fashion, in track-sets, many of which are even popularised by Bollywood celebrities, is also in vogue. Baby tees, which are now called crop tops are available in different patterns, from ribbed tanks to full-hand pullovers with a pop of pastel colours and, sometimes, even shimmering graphics. Glittery combos In addition to clothing, footwear and accessories play an important role in statement fashion trends. It's mainly about going all-out with the choice of small yet flashy and eye-catching accessories and adding an element of colour to your clothing. May it be heavy and shiny footwear, colourful earrings, bucket hats, cute bags or body chains coupled with bright makeup, these present day trends speak volumes of the 2000s fashion. Colourful slides. Image credit: Melissa India According to Ruchi Sally, managing director at Melissa India, a footwear brand, bubble technology that has enhanced the use of chunky sneakers has gained momentum in recent years and is a new feature topping the original Y2K aesthetics. Besides, bulky slides with or without graphics, block platforms and sandals and military or zip-up boots are also some of the styles in demand indicating the revival of Y2K fashion in footwear. In terms of accessories, faux jewellery, beads, colourful pieces with glittery metallic accents and quirky designs of earrings, hairclips, bracelets, anklets, etc. characterise the trend. Baguette bags, body chains and buckled belts are some of the add-ons to the outfit. "Specifically, rhinestone butterfly jewellery, pastel bucket hats, body chains, big hoops, acrylic/charm necklaces, funky hair clips and barrettes," says Aryaki Joon, a fashion content creator. Shiny military boots. Image credit: Melissa India Ready to sport a Y2K look? Fashion experts Mahajan, Singh, Sally and Joon share tips on how to incorporate Y2K fashion aesthetics in your everyday look: 1. Pair an oversized t-shirt with large typography with faux silver chain, relaxed jeans, a polyester varsity jacket, and a cap - probably with a colour block - and your Y2K look in 2022 is ready. 2. Micro skirts have made a huge comeback with the Y2K trend back in this season. They are dominating the runways this season. These can be worn on their own with an uneven hemline or can be teamed with tights or leggings. They can be dressed up or down as one can team it up with a crisp white shirt, layer it with a summer blazer or a tucked in tee shirt depending on the occasion. 3. A great denim-on-denim look with a crop jacket and low widelegged pants are always a no brainer to rock this trend. For monsoons one can get a nicewater resistant jacket in a pop colour to add an element of this trend. A nice velour track set is always a good option for monsoons and is on point with this trend. 4. One can also start by pairing a strappy top or a cute cropped tee or baby tees in terms of Y2K with low-waist jeans or white mini skirt. If you have some graphics with bling on your tees, it's a perfect one! 5. One can pair shiny chunky sneakers or bubble platforms with futuristic oversized flared pants. Wear gumboots or platforms with a skirt, a bright coloured jacket and a bucket hat to be ready for the weather while still looking like an early 2000s quirky rom-com character. Long knee high boots with micro skirts give a more edgy look and are empowering and bold. 6. Other than that, makeup also plays a big role in creating the Y2K look -- with glossy lips, bright eyeshadow, lip liners, glitter and a glowy-dewy base, you're all set. Additionally, one can also try hairstyles such as space-buns or pigtails with flared or boot-cut pants.
12 August,2022 01:38 PM IST

| Mumbai

| Sarasvati T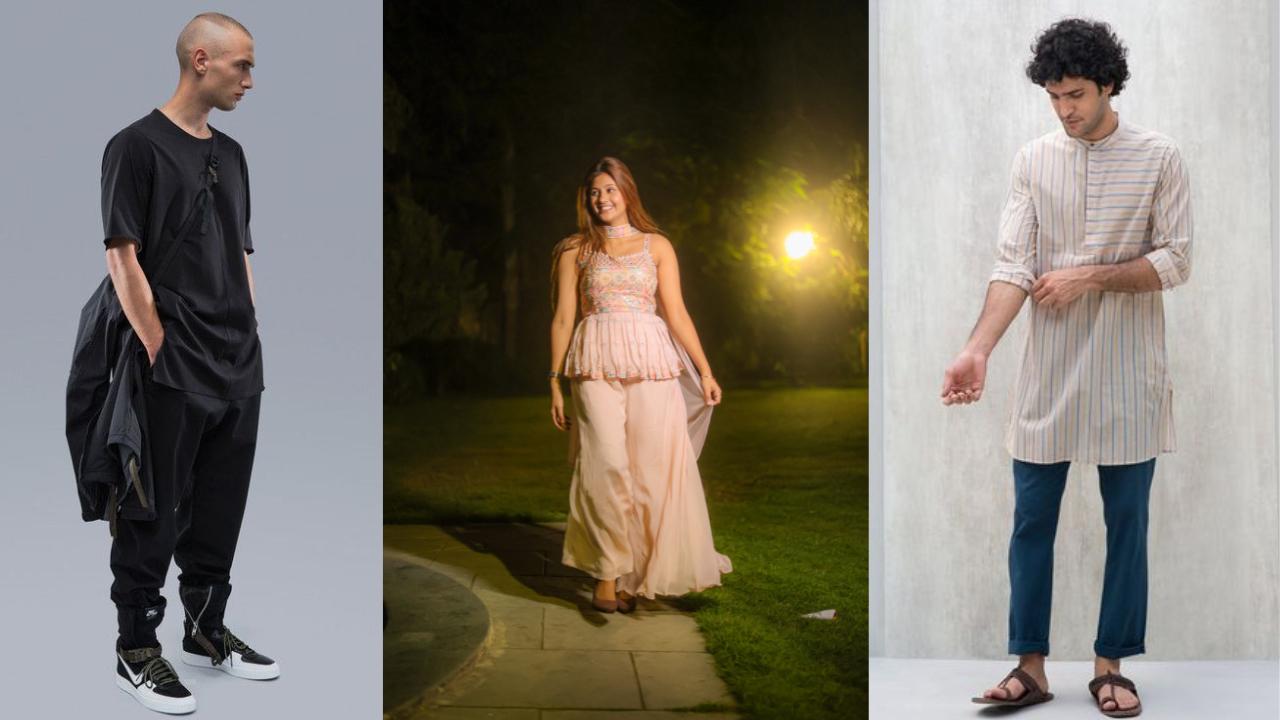 Premium
With Raksha Bandhan, Independence Day, Parsi New Year, Janmashtami and Ganesh Chaturthi round the corner, August is an eventful month calling for some impromptu grooming sessions and experiments with different fashion trends. While sticking to one type of look may get boring, it is better to innovate by mix-matching items from western and traditional Indian styles. From one-piece short and long dresses to kurta-sets, sarees and skirts, the fashion market is replete with a collection of fusion pieces in a plethora of prints these days. Moreover, it's an age when people are embracing comfortable fashion trends to tackle weather discomfort. This has further introduced new derivatives from historical styles to our wardrobe. May it be palazzo pants, kaftans; versions of legging pants, wrap-around sarees, ethnic lehengas and cigarette pants and many more, one can take the liberty to style these apparels according to their fashion sense. As it is no longer necessary to be all gaudy on festivals, here are some expert-recommended trendy outfits one can choose during celebrations, while beating Mumbai's humid weather. Flowy dresses: As August is mainly going to be humid along with rains in Mumbai, digital content creator Anjali Arora recommends wearing breathable clothes like flowy dresses with a dash of ethnic features for festivals. These can be handcrafted long kurtis paired with palazzos or leggings, salwar kameez in vibrant colours and even gowns. These can be paired with jhumkas or suitable accessories for a festive look. Lucknowi/chikankari dresses: A personal favourite of many, a Lucknowi kurti set is an essential when it comes to ethnic dresses. As digital content creator Alina Namazi puts it, they are timeless, elegant and her choice of ethnic outfit for a humid day. While these come in a variety of colours, style and materials, one can pick an embellished cotton or georgette dress as they are incredibly light, comfortable and can be styled using accessories in different ways. A Lucknowi outfit can be a best option for Independence Day and Janmashtami. Kaftans: Kaftans are emerging as one of the popular fashion fads with a variety of them available in the markets for different occasions. From kurtis to short and long dresses, they can be styled in multiple ways depending on the event. Due to their relaxed silhouette and availability in breathable fabrics like cotton, linen, georgette or chiffon, Kaftans can be a suitable option for comfortable fashion even during festivities. Designer Gautam Gupta suggests pairing them with palazzos and a pair of wedges; a hand-painted or colour-blocked long kaftan can go well with nude stilettos and a clutch. Tie-dye kaftans and ombre hues also make the outfit stand above the basic look. Wrap-around sarees: If you love sarees, but find it too much trouble to handle the fuss that follows, then wrap-around sarees are something you must consider checking. Sarees are timeless and can offer a complete traditional as well as a modern look. Wrap-around sarees save you the time and effort of wearing a traditional one, while giving an effortless festive look. The best way to style them is to know your colour and not make go overboard with it. Experimenting with blouse can also be a great add one. Ruffle sarees: Ruffle sarees are one of the most trending saree-styles these days. Characterised by ruffled or trimmed borders, they come in different materials and are known for their casual and modern look. Not very festive looking, but, according to Gupta, one can definitely pick a floral or Mughal era print ruffle sarees for Raksha Bandhan and Janmashtami. Plain sarees styled with a jewellery print blouse also gives a festive look with appropriate accessories. Short kurtas and mandarin shirts for men: Designer Anand Singh, DaMENSCH says the market is buzzing with short kurtas and button-down/mandarin shirts that can be paired with pants, denims and harem pants. Sleeveless vests and Nehru jackets can be added to give the ethnic touch. With humidity being the key parameter deciding what to wear or not, cotton is the king. And if not cotton, then linen and chambrays can be your next choice. Going all out to dress-up during festivals is one's choice; those who believe in the mantra 'keep it simple yet stylish'. Follow these expert-tips: 1. Go for a nice Indo-western outfit and light makeup. Use a bold coloured lipstick and long jhumkas or a neck piece with traditional footwear. One can never go wrong with these- ever! 2. Choose light pastel colours reflecting the type of occasion. Floral prints, printed or hand-stitched also look great. 3. Accessorising is key to balance out the elements. A simple kurti set paired up with heavy jewellery, nude coloured footwear and a small solid coloured bag would best suit the rest of your outfit. 4. Singh highlights it is important to compliment the scenery the monsoon showers bring. Men can go for motifs, paisleys, tropical leafy prints, floral conversational prints, stripes, self-textured, bright solids and pastels for their kurtas. 5. Embellished toe-band flats, kolhapuri chappals, mojdis serve the best ethnic look. However, one can even experiment using sneakers and crocs with a simple kurta-denims outfit for comfort and an Indo-western look. Also read: Monsoon fashion: Rock a sporty look with this quick athleisure wear style guide
10 August,2022 09:00 AM IST

| Mumbai

| Sarasvati T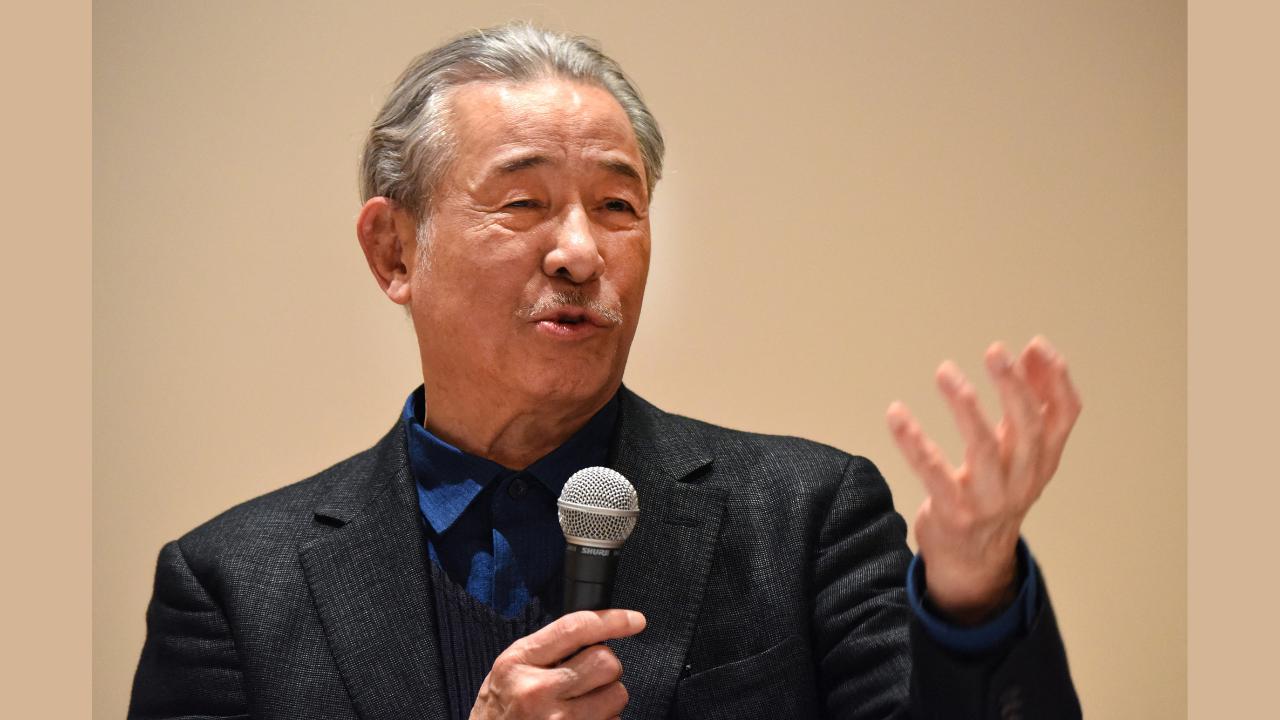 Japanese fashion designer Issey Miyake, whose global career spanned more than half a century, has died at the age of 84. Miyake was best known for his style of blending technology and fashion and his best-known fragrance product L'eau d'Issey. "He died on the evening of August 5," an employee at Miyake's office told AFP over the telephone, declining to be named and without giving further details of his death. Miyake's funeral had already taken place, with "only relatives participating" in line with his wishes, and there were no plans for a public ceremony, she said. Public broadcaster NHK and other Japanese media reported the news of his death. Miyake was part of a wave of young Japanese designers who made their mark in Paris from the mid-1970s. He pioneered high-tech, comfortable clothing, side-stepping the grandiosity of haute couture in favour of what he called simply "making things". Born in Hiroshima in 1938, Miyake was just seven years old when the United States dropped an atomic bomb on the city in August 1945. He survived the blast, which killed an estimated 140,000 people on impact and led to the end of World War II after the bombing of Nagasaki three days later. He established the Miyake Design Studio in Tokyo in 1970, and soon afterwards opened his first Paris boutique. By the 1980s, his career was in full swing as he experimented with materials from plastic to metal wire and even artisanal Japanese paper. Also read: Monsoon fashion: Rock a sporty look with this quick athleisure wear style guide This story has been sourced from a third party syndicated feed, agencies. Mid-day accepts no responsibility or liability for its dependability, trustworthiness, reliability and data of the text. Mid-day management/mid-day.com reserves the sole right to alter, delete or remove (without notice) the content in its absolute discretion for any reason whatsoever.
09 August,2022 03:59 PM IST

| Mumbai

| AFP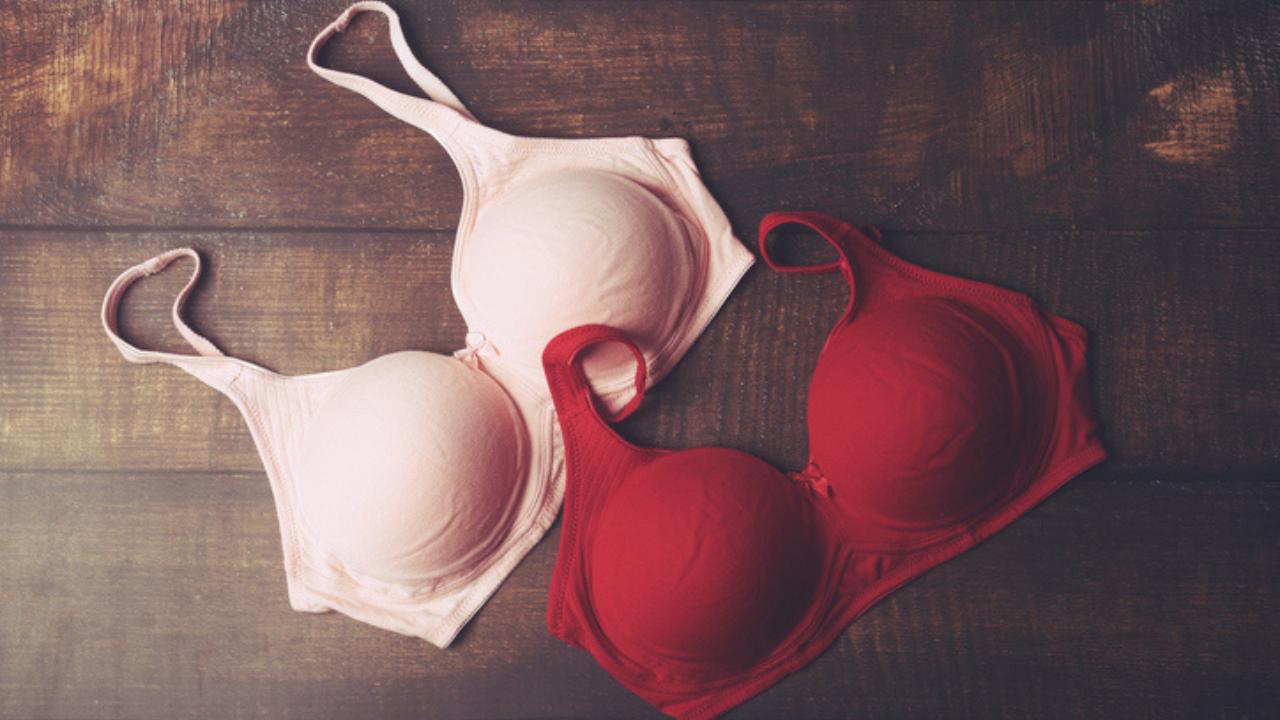 Fashion trends are dynamic and with women embracing comfort over fashion fads have led to the emergence of new experiments, not only in outfits, but also in the innerwear industry. The lingerie industry in India is thus making concerted efforts to meet the consumers' growing but diversifying demands. The players are attempting to design comfortable underwear without compromising on style. While meeting this demand, the industry is rapidly expanding. As a result, now is the time to update your lingerie and get your hands on the latest trends, as businesses are offering new interpretations of what comfy fashionable innerwear should look like. When it comes to lingerie shopping, there is a huge variety available in the market as per age, occasion, clothes and many more. Groversons Group, recently conducted a survey where the brand got a peek into the customers' psyche with reference to their lingerie preferences and how they vary as per the age. Comfort is the priority In today's times, women particularly in the 25-45 age bracket view lingerie as a way of expressing their true self. Hence, comfort is of utmost importance. As per the survey, 85 per cent of the females prioritize comfort and demand lingerie that is skin friendly as well as breathable. Experimenting with variety Females consider lingerie as an accessory that they adorn to accentuate their look. Hence, this lingerie ensures coverage as well as being voguish is just as important as our outfits being stylish. The report states that 90 per cent of females while buying innerwear have parameters such as coverage, comfort and style in this very order. It further highlights that the women are open to experimenting with their lingerie. 75 per cent of females are keen to try and explore colours, styles as well as types of bras and panties. Also read: Ditching jeans this monsoon? Experts share tips on styling different types of bottom wear Bra Tops and Layering Earlier we had bras and we had tops. Now, we have a new category- bras that can be used as tops! In fancy terms, known as bralettes, they are a shorter version of a crop top combined with a bra. They are comfortable and stylish and hence are preferred by young females in particular. As per the survey report, 50 per cent of young females prefer bralettes over simple tees and crop tops due to their style and manageability. They are so versatile that they can be worn as it or even layered with jackets, blazers, plain shirts, etc. Neutrals meet the softest cotton Cotton based lingerie can never go out of fashion! Whether it is stepping out for a brunch, or even if there is a usual day at work, cotton lingerie is cozy, breathable and comfy. And nude shades in cotton innerwear are becoming the new favourites of the females. According to the study, 50 per cent of the females own cotton lingerie in neutral shades for those easy-going days. However, 75 per cent of females do opt for vibrant colours and 85 per cent demand variety including sports bra, wireless, T-shirt, lightly padded, non-padded, t-shirt lacy bras. As far as panties are concerned, cotton hands down is the winner! 90 per cent females prefer cotton based underwear. Women particularly in the 40-45 age bracket usually opt for high waist panties. However, 60 per cent females of 25-40 years of age prefer low waist and mid waist panties. Variety in terms of bikini, thongs, prints, colours, among others is also the demand. Choosing neon over other bras Even if nudes occupy a significant position in the lingerie wardrobe; colours can never take a backseat. Women today want to make a statement with neon lingerie that colour blocks, compliments and dazzles the outfits. Whether it is hot pink, coral blue, or fluorescent green, neon lingerie will certainly add a splash of colour to your ensemble! Siddharth Grover, Director, Groversons Group, sharing his viewpoint as to how lingerie purchasing trends have changed in accordance with age over the years, said, "As the times are changing, inner wear preferences are also evolving. Nowadays, women do not prefer wearing underwire push-up bras or only white coloured lingerie. They have moved on to more comfortable yet voguish styles and designs. Females today demand variety and are even open to experimentation. Elder females do want neutral shades but also desire variety in styles and designs. The young women on the other hand are keen to experiment. This is why bralettes, layering lingerie with shirts, blazers, etc. are preferred as they add boldness and vogue to their outfit." He further adds, "Today, females across age groups have different requirements and they are vocal about it. They view lingerie as an accessory that not only enhances their look but also boosts their confidence." Also read: Monsoon fashion: Rock a sporty look with this quick athleisure wear style guide This story has been sourced from a third party syndicated feed, agencies. Mid-day accepts no responsibility or liability for its dependability, trustworthiness, reliability and data of the text. Mid-day management/mid-day.com reserves the sole right to alter, delete or remove (without notice) the content in its absolute discretion for any reason whatsoever
08 August,2022 01:27 PM IST

| New Delhi

| IANS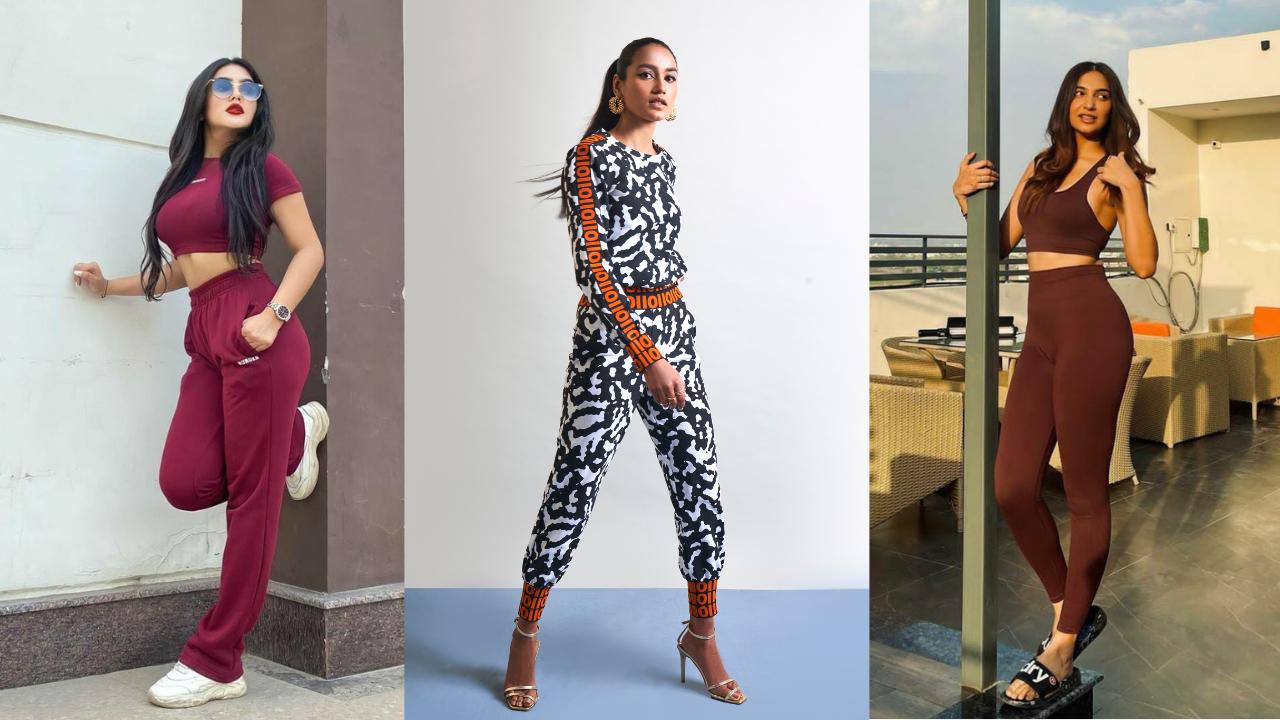 Premium
Seasonal changes in the weather and mood call for suitable wardrobe fixes. In a city like Mumbai, where monsoon becomes a major inspiration for people to shop for new clothes and footwear, which can help them battle the potholes, local-train crowd and humidity with ease. In recent times, this definitely has encouraged people to sport active-wear look or athleisure apparel outside their gyms, gymkhanas and homes too. Athleisure wear refers to apparels meant for athletic activities, but can be turned into casual yet stylish everyday wear, which are comfortable and aesthetically appealing. Think street style, Y2K look, rock and pop effect or an old-school touch; athleisure can be effortlessly blended into timeless fashion trends. It's one of the fastest growing fashion fads currently and is in vogue with a number of Indian and western celebrities sporting such looks in their music videos, at events, gyms and at airports. From Justin Bieber and BTS members to Janhvi Kapoor and Ranveer Singh, the list is extensive. Joggers, tracksuits, diverse types of tights, leggings, crop hoodies, basic tees, tank tops, sports bralette tops, biker shorts and all kinds of sports shoes and countless combinations of these with numerous shades, colours and catchy embellishments are currently driving the athleisure trend worldwide. "I think we as a society have started embracing relaxed fits into modern fashion from the biggest fashion brands like LV, Gucci to all our celebrities have incorporated sporty looks into newer fields. The boundaries of fashion are getting less rigid and the athleisure trend is a product of that," says digital fashion content creator Khuski Karki. Aaina Mahajan, founder of MellowDrama, believes the trend caught up in India due to the growing health and fitness consciousness among people, which has also fostered the culture of wearing the attire even outside their work-out spaces. "Moreover, brands are making and designing athleisure clothes in a more fashionable way, and this can be worn casually or even dressed up with heels and accessories for the evening," she adds.Coordinated track suits. Photo Courtesy: MellowDramaExperts Mahajan, Karki and digital content creator Sapna Malik provide a quick style-guide to incorporate the following active wear in everyday outfits: 1. Yoga pants:Yoga pants may not look very style-able but it is a myth. Pairing them with a push-up bra or tank top is a common choice, but baggy T-shirts and printed tees also go well with it. It can also be worn with a cropped hoodie, a loose jersey, crop-tops and finally, jogging shoes or sneakers for a sporty look. 2. Plaid pajama pants:These are great as relaxed outfit and work well with jackets, drop-shoulder T-shirts and tank tops. They may look very informal and home-wear type, but, if styled right can go well with solid coloured tops. Add a cap for a cool look. For a formal look, wear it with a solid-colour racerback tee-shirt tucked in. 3. Tights and leggings:These serve versatile multiple looks and can go with windcheaters, specific tank tops and crop tops or hoodies, or you can totally switch it up for an ethnic look with a kurti! They can also be styled like yoga pants with loose T-shirts or push up bras. Additionally, biker shorts, considered as a version of tights, are really in vogue this season. They can be worn casually with a long tee shirt or formally with a crisp shirt. 4. Joggers:The most trending athleisure apparel, joggers work best with crop hoodies, sports jackets, team jerseys and tank tops. They are great for everyday wear and can go with any occasion. Pairing joggers with flannel shirts is in trend, while jackets, oversized tees, crop tops, a nice sweatshirt with sneakers also look cool. With sport coats, crop tops with flare pants, they work as formal wear these days. 5. Crop hoodies:Crop hoodies can give a cutesy touch to any outfit and go well with joggers, jeans, tights, jackets, biker shorts and sneakers. For a formal outfit, one can go about wearing cropped hoodies under blazers and coats. One can also wear them under white shirts with tights or jeggings and pair the outfit with heels or boots for a work look. 6. Tank tops and sport bras:They are great for a sporty look and perfectly compliment the yoga pants and leggings. One can also wear a sporty jacket on top with sneakers or training shoes for a rejuvenating look. Tank tops can be worn with denims too. Bonus tip:When it comes to shopping for athleisure wear during monsoon, experts suggest one must go for darker shades as lighter colours can lead to unwanted wardrobe situations during rains. "Muted colours go well with the monsoon season. Track-sets in neutrals or fun prints are also a must-have wardrobe staple. Black, white and greys are classic colours that go all season long for athleisure attire," adds Mahajan.Also Read: Here's how to plan your wardrobe for the Mumbai monsoon
04 August,2022 11:43 AM IST

| Mumbai

| Sarasvati T