Yoga increases body awareness, reduces muscle tension, sharpens attention and concentration, and calms and centers the nervous system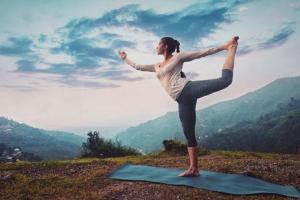 This picture has been used for representational purpose
Yoga in particular is extremely good for mental health. Yoga brings you to the point of stability because when you get into postures you anchor with gravity. When you anchor with gravity a sense of mental relaxation happens although physically you are tied in a posture. There is some kind of mental release that happens. Your focus from your anxieties, from your tensions, from your worries, from emotional hurts moves in the posture. While in the posture as you breathe in a rhythm and as you circulate well in the body all your anxieties are released.
Emotional hurt pain is released. With circulation and rhythmic breathing, you begin to see solutions and as the positive hormones oxytocin, endorphin, serotonin is released in the body. Your confidence grows, your inner strength grows, mentally you become upbeat, emotionally there is buoyancy.
So sitting in yoga posture in silence, to begin with 'sukhasana' and simply letting the breath go and breathing in slowly is good. Being in a meditative pose it has relaxing effects and also works to build a physical and mental equilibrium. The asana is very helpful in reducing stress and anxiety.
Thereafter getting into postures like 'bhujangasana' is very good for mental stability and also helps relieve stress and fatigue. Then doing a posture of double 'pavana muktasana' is also very good because you breath out all anxieties from your stomach and between your stomach and heart from the mani pura chakra from the vacuum, the solar plexes.
'Tadasana' is very good as that gets stability to the spin and firmness in the ground being anchored feeling sense of security.  It increases awareness and steadies breathing to strengthen the respiratory system. And Chakras as in, halasana, sarvangasana they all help blood flow into the head and calms the brain. So they improve neural activity and the blood flowing in a regulated way into the brains will open up facets of the brain.  Which in turn open up facets of confidence and build your personality, boost your personality bring about conviction, improve your creative thinking process just by improving your neural firing and improving the connection of your synapsis.
Yoga walking is good to free mentally or liberate mentally, liberate emotionally. But make sure you're walking out in the open on the grass, under the trees, the open sky near the sea taking the breeze releasing all the knots of the body knots of the mind knots of your spirit let go, let go, let go is the lesson of yoga. Detach, detach, detach with everything outside, attach and connect everything inside move your reference inside to bliss peace your fragmented pieces will translate into peace.
Overall yoga increases body awareness, reduces muscle tension, sharpens attention and concentration, and calms and centers the nervous system.
By Dr  Mickey Mehta, Global leading holistic health guru, and a corporate life coach

Catch up on all the latest Crime, National, International and Hatke news here. Also download the new mid-day Android and iOS apps to get latest updates
This story has been sourced from a third party syndicated feed, agencies. Except for the change in headline, the story has been provided "AS-IS," "AS AVAILABLE, without any verification or editing from our side. Mid-day accepts no responsibility or liability for its dependability, trustworthiness, reliability and data of the text. Mid-day management/mid-day.com reserves the sole right to alter, delete or remove (without notice) the content in its absolute discretion for any reason whatsoever.