Dr. Gaurav Gupta is an accomplished surgeon who performs Liver Transplant in Mumbai. He has nearly 10 years of exclusive practice in the field of Liver Transplant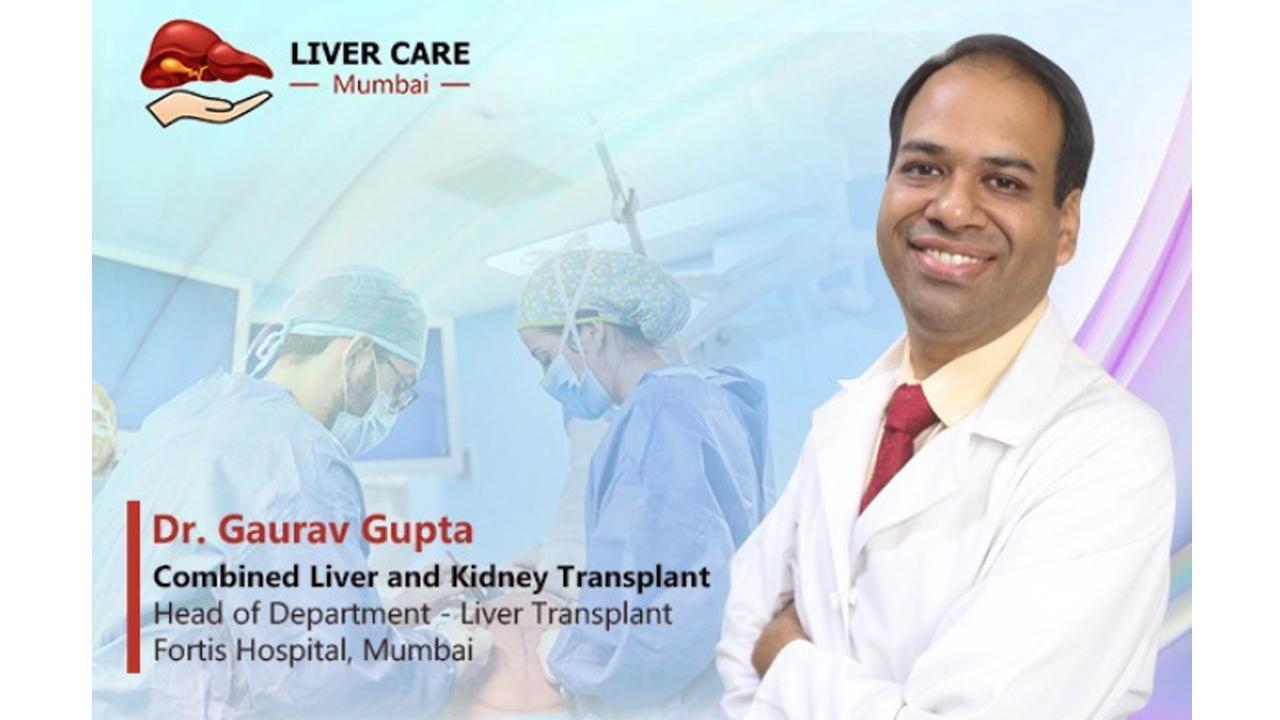 Dr. Gaurav Gupta
Damage or disease to the liver requires utmost medical attention as it is one of the key organ of the human body that performs more than 500 functions. Thanks to advanced medical research, liver transplant is possible which gives a new lease of life to patients with Liver Failure. Some of the patients are suffering from dual organ failure i.e. liver and Kidney. Multiple organ transplant or combined organ transplant like combined Liver and Kidney transplant is a possibility with very good success rate.
Dr. Gaurav Gupta is an accomplished surgeon who performs Liver Transplant in Mumbai. He has nearly 10 years of exclusive practice in the field of Liver Transplant.  During these ten years, he has led and performed nearly 500 liver transplant surgeries.  He is credited with leading the combined Living donor liver and kidney surgery (among the first few performed in Western India). He has successfully performed Pediatric Liver transplant in small babies of 5.3 Kg.
ADVERTISEMENT
Along with liver transplant surgeries, he also performs critical surgeries such as pediatric liver transplant, pancreas transplant, Complex HepatoBiliary surgeries which are done under the purview of liver cancer treatment, gall bladder cancer, and pancreatic cancer.
He shares the case of a 56 year old lady who got a new lease of life through a combined Liver and Kidney Transplant. The patient was detected with liver failure and was on dialysis for the past 6 years. Dr. Gupta states, 'Performing a simultaneous Liver and Kidney Transplant is always a challenge. We have to be very careful about bleeding in such patients. Since their Kidney is not working maintaining fluid and electrolyte balance is very tricky. We first completed liver transplant and after that the kidney transplant was performed. It took nearly 8 to 10 hours to perform both the transplants.' The surgery was a success and the patient was fit to go home on the eighth day after the transplant.
In conversation with Clinicspots, a healthcare marketing company, Dr. Gaurav Gupta shares his views on liver health and transplant in India during his practice years. Liver Transplant has yet to gain pace in India. Currently, approximately 3000 liver transplants have been carried out in the country while the need is to carry out approximately 40,000 liver transplants annually.
Over the years, he has performed liver transplants for Acute Liver Failure (ALF), Acute on Chronic Liver Failure (ACLF) patients. He states there has been a gradual shift in causes of Liver Failure. More and more patients are having liver failure due to NASH - Nonalcoholic steato hepatitis. NASH being a lifestyle disease caused by Diabetes, Obesity, Hypertension, High Cholesterol and Thyroid dysfunctions.
He further states, 'It is a blessing that the liver is the only organ that can regenerate itself which helps us to perform Living donor Liver Transplant. These transplants are the only hope for liver failure patients. My advice is to take care of your liver  by exercising in moderation, consuming fibre-rich foods, limited intake of alcohol, and maintaining good health overall.'
Dr. Gaurav is a certified member of the American Society of Transplant Surgeons (ASTS), Liver Transplant Society of India (LTSI),Indian Society of Transplant Surgeons (ISOT) and Association of Surgeons of India (ASI). As one of the best Liver Transplant surgeon in Mumbai, Dr. Gaurav Gupta is attached with Fortis Hospital Mulund, Fortis Hospital Vashi and S L Raheja, Mahim hospitals. He is also available for consultations in Surat, Ahmedabad and Rajkot in Gujarat.
"Exciting news! Mid-day is now on WhatsApp Channels

Subscribe today by clicking the link and stay updated with the latest news!"
Click here!