Risky sex also known as unprotected, unsafe sex i.e. sex without condoms especially among, teenagers or younger adults is a global issues. Researchers and studies throw light on the various causes behind this...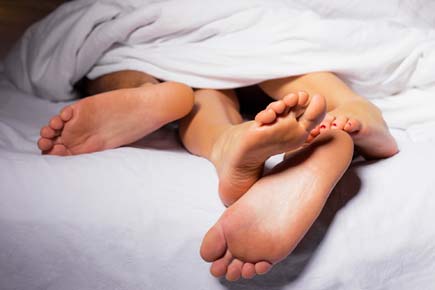 Risky sexual behaviour
Believe it or not, it's your memory! Researchers at an American university reveal that weaker working memory can increase the risk of both early sexual activity and unprotected sexual involvement during adolescence. Working memory, the system in the brain that allows individuals to draw on and use information to plan and make decisions, develops through childhood and adolescence.

Representational picture
Adolescents with weaker working memory have more difficulty controlling their impulsive urges and considering the consequences of their behaviours. Adolescents, who have difficulty with impulse control may be more prone to risky sexual behaviour. The study followed 360 adolescents (ages 12 to 15) for two years, examining the effects of working memory on changes in the youth's self-control and sexually risky behaviour.
Youth with weaker working memory reported larger increases in impulsive tendencies over the follow-up period, which in turn boosted their likelihood of early and unprotected sexual activity. In case of such teens, the desire to have sex always outweighed the risks of longer-term consequences, such as sexually transmitted infections and unintended pregnancy.
Prenatal drug use by mothers linked to early sex in teens: A recent study conducted in the US has found that teenagers whose mothers used cocaine while pregnant are 2.2 times more likely to likely to have sexual intercourse before age 15. The team studied mothers - some who used cocaine while pregnant and others who did not - since 1994 to understand how the drug affected their children's cognitive and social development. The study focused on sexual activities of 354 adolescents (180 prenatally exposed to cocaine and 174 who were not). Children at 6, 12 and 18 months, and at ages 2, 4, 6, 9 through 12 and 15 were tested.
Compared to 23 percent of non-cocaine exposed (NCE) teenagers, 29 percent of prenatally cocaine exposed (PCE) teenagers living in foster/adoptive care and 42 percent of PCE teenagers living with their birth mothers reported having sexual intercourse before age 15. Cocaine-exposed teenage girls who reported having behaviour problems during their preteen years were more likely to have early sexual intercourse. As many as 64 youth (37 PCE and 27 NCE) reported having sex as young as 13. Levels of lead in the blood during preschool years was also related to a greater likelihood of early sexual intercourse.
Abusive relationships can spur risky sexual behaviour: Women who have sex with physically or sexually abusive partners are at greater risk of being infected with sexually-transmitted diseases, American researchers warn. The level of sexual risk among females escalates along with the abusive behaviour in male partners. Conversely, men who were not physically or sexually abusive but who used controlling behaviour such as dictating who their partners could see or what they wore were no more likely to engage in risky sexual behaviours than men who were otherwise.
The team looked at patterns of risky sexual behaviour among heterosexual men aged 18 to 25, including some who self-reported using abusive or controlling behaviour in their relationships and others who did not. The participants, recruited from Facebook and classified advertisements website Craigslist, were asked about the number of intimate partners and whether they paid for sexual services.
The study uncovered "disturbingly high" rates of abusive and controlling behaviour. Nearly 37 percent of the participants reported using physically aggressive behaviour toward their partners and almost 29 percent said they had used sexual coercion in their relationships.
Young, educated urban men at higher unprotected sex risk: High-risk, unprotected sex is more likely for young men than women - even among educated urban populations - reveals a study, suggesting that males are at least 10 times more likely to engage in high-risk sexual behaviour than their female counterparts. Researchers at an Ethiopian University, studied the sexual habits of nearly 85,000 young people in order to understand how the practices of young men and women differed.
They found that males aged 15-19 were 27 times more likely than females the same age to indulge in high-risk behaviour like having unprotected heterosexual sex with non-regular partners. They results also suggested that living in an urban area and being well educated made a person more likely to go for unprotected sex.
They researchers concluded that the generally younger age of marriage for females as well as the fact that males have higher rates of substance abuse, are more likely to have multiple partners and first have sex at younger age may all play a part.
Avoid drug-incuded sexual intercourse: The growing popularity of "chemsex" - sex under the influence of illegal drugs - may be putting users at risk of HIV and other sexually transmitted infections as well as serious mental health problems through drug dependence, reveals a recent study. Chemsex describes intentional sex under the influence of psychoactive drugs, mostly among men who have sex with men. It refers particularly to the use of mephedrone, gamma-hydroxybutyrate (GHB), gamma-butyrolactone (GBL), and crystallised methamphetamine.
These drugs are often used in combination to facilitate sexual sessions lasting several hours or days, with multiple sexual partners. Of crystal meth and GHB/GBL users, most reported using them to facilitate sex, with around three quarters reporting injecting drug use.
Marijuana, binge drinking lead to unprotected sex among collegians: Undergraduate college students are more likely to have unprotected sex on days they use marijuana or binge on alcohol. A study by a reputed US university revealed that drinking and being in a serious dating relationship were linked to less condom use, putting young adults at risk for sexually-transmitted infections and unplanned pregnancies.
Having sex without a condom is considered risky behaviour because condoms are the only way to protect against STIs, including HIV. For the purposes of the study, binge drinking was defined as four or more drinks for women and five or more drinks for men.
Researchers recruited 284 college students who reported their marijuana use, alcohol use, sexual activity and condom use every day for 24 consecutive days.One goal of the study was to examine marijuana use, which rarely has been studied in relation to risky behaviour. The team also compared the sexual behaviour of college students who were single versus those who were seriously dating someone.
Two findings stood out. Students in serious relationships had almost 90 percent of the sex. But serious partners used a condom only a third of the time, compared to about half the time among single students, the researchers said.