Stress, exposure to the sun, use of cosmetics, diet, smoking and drinking alcohol play a very important role in ageing. Experts say ageing is inevitable. However, anti-aging products do help in delaying the ageing signs of the skin. Here is everything you need to know about anti-aging and ways to look young for a long time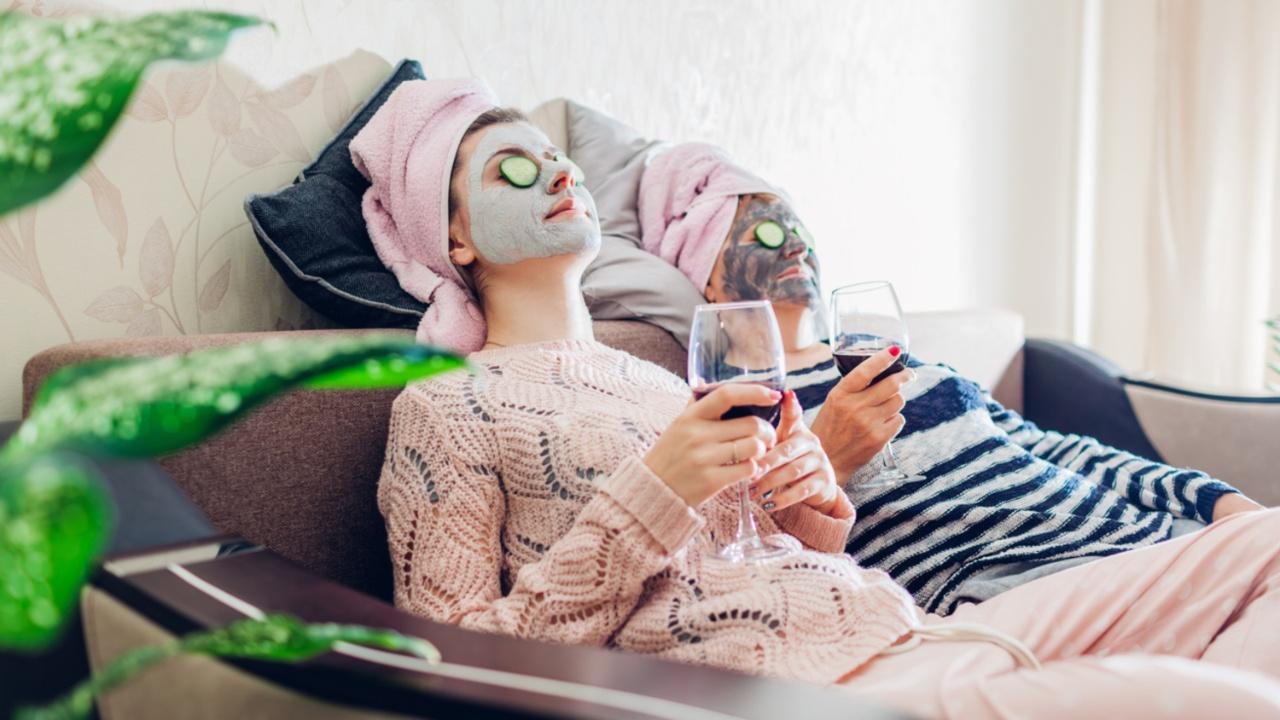 Every single day from birth we try to use the right product to keep the skin hydrated and glowing. However, many people start noticing signs of aging in their early 20s itself. Photo Courtesy: iStock
Everyone wishes to age like a fine wine. As unbelievable as it might be, recently we read of a 45-year-old father injecting the blood of his 17-year-old son into his body in pursuit of looking young. While this man went overboard, there are many others who seek help of either surgeries or treatments. Anti-aging products, however, are the easiest option people opt for when wanting to look young and flawless. 

Though there are a variety of anti-aging products available in the market, there is significant uncertainty and lack of knowledge about the benefits, effectiveness and safety of these products. Many who look for ways to prevent the aging of their skin often find themselves asking one question, "do anti-aging products really work?" 
Mid-day online spoke to Dr Shefali Trasi Nerurkar, MBBS, MD Dermatology, Consultant Dermatologist, Dr Trasi clinic and La Piel skin clinic and Dr Anupama Bisaria, MBBS, MD, Dermatologist, Skin & Hair Destination to seek answers to some common questions people have about using anti-aging products. 
ADVERTISEMENT
What are the common skin-aging issues people face? 
Trasi: The common skin-related problems that fall under aging include fine lines and wrinkles, dullness of skin, sagging of face or laxity of skin, age related skin growths such as lentigines, seborrheic keratosis, acrochordons and any other disease-related skin problems like diabetic dermopathy etc. 

Bisaria: Pigmentation, skin tags, wrinkles and seborrheic keratosis are among the common aging-related skin issues. 
What are antiaging products? Do they really help in reversing or delaying aging of the skin? 
Trasi: Antiaging products mainly aim at hydrating and rejuvenating the skin. Depending upon the skin type and the ageing sign one can choose the ingredients of the antiaging products. This will keep the skin healthy and glowing despite the age. Aging of the skin is inevitable. However, these products do help in delaying the ageing signs. 

Bisaria: Anti-aging products are actives that either slow down or reverse the signs of ageing by maintaining healthy skin, collagen induction and skin repair. When applied religiously from late 20s, it can help delay the signs of ageing by decades. 

How do anti-aging products work on the skin? 
Trasi: As we age, collagen and elastin break down in the dermis of the skin. This makes the skin lose its elasticity and more prone to wrinkling. Exposure to ultraviolet (UV) light, stress, and lifestyle habits like smoking and drinking alcohol are some major factors that break down the collagen further. Repetitive facial expressions over a period of time also make the skin more prone to developing wrinkles.  Anti-aging skin care product kits contain everything from moisturizers to cleansers to day and night serums. These slow down the signs of aging and improve the skin's appearance. 

Bisaria: Anti-aging products like Vitamin C Retinoids and Bakuchiol reverse sun damage by inducing collagen production and increasing epidermal cell turnover. They repair the damage caused by oxidative stress and help in cell repair. 

At what age should people start using anti-aging products? 
Trasi: Skincare starts from birth and that is the first step of antiaging. Every single day from birth we try to use the right product to keep the skin hydrated and glowing. However, many people start noticing signs of aging in their early 20s itself. Hence, many dermatologists recommend the use of more targeted skincare products into the routine at this age. 

Bisaria: Ideally everyone should start using anti-ageing products in the mid-20s. 

For those wanting to start using anti-aging products, which one should they invest in initially? 
Trasi: Depending on the skin type, one must choose the product. Always start with a good moisturiser, cleanser and sunscreen. If the skin is oily, use a water-based, gel moisturiser and a gel-based sunscreen. If the skin is normal to dry, one can use creamy moisturisers containing hyaluronic acid, vitamin E, ceramides etc. Gentle, non-soapy cleansers can be used to prevent dehydration of the skin. 

Bisaria: Those with dry skin can start with vitamin C and bakuchiol while those having oily skin can use retinoids. Sunscreen is the most important anti-aging agent and is absolutely non-negotiable. Start with a low percentage of vitamin C like 5 to 10% and mile retinoids like retinol or retinaldehyde. 

Is there a skincare routine one needs to follow for anti-ageing skincare? 
Trasi:
- For individuals in their 30s: Use cleanser, moisturiser and sunscreen for the morning routine. It hydrates the skin and protects it from UV light and visible light damage. Use a night cream or serum containing vitamin C, alpha hydroxy acids (AHAs) or gluconolactone. This will brighten the dull-looking skin and protect it from environmental damage, such as pollution, free radicals, and UV rays. 

- For skincare beyond the 50s: Introduce hyaluronic acid in the morning routine. It acts as a humectant, binding moisture to the skin to plump up the skin's appearance. Also use retinoids and growth peptides at night. These stimulate the production of collagen and elastin in the skin, reducing the appearance of fine lines and wrinkles. Peptides work as good antioxidants and promote collagen production in skin. 

Besides this, the consumption of nutraceuticals containing omega-3 fatty acids, coenzyme Q10, glutathione, and betacarotene also plays an important role in an anti-aging skincare routine. This helps in promoting collagen and elastin production and reduces oxidative stress. 

Bisaria: 
The perfect routine for beginner on anti-ageing involves: 
- AM: Vitamin C and sunscreen (daily) 
- PM: Retinol (3 times a week) 

Many people hesitate to use anti-ageing products. Do these have any side effects? 
Trasi: Some anti-aging products may contain certain ingredients which should not be used in pregnancy and lactation. Certain skincare can also cause acne or allergic reactions on the skin. Overuse of retinol too, can cause dryness of the skin. 

Bisaria: These products are very safe and effective for long-term use. Some patients can face dryness and irritation which is temporary and can be overcome. 

Can both men and women use anti-aging products? 
Trasi: Yes, anti-aging products can be used for both men and women. Both genders have specific hormones which determine the type of skin and the ageing pattern. Men have more sebaceous glands, which makes their skin oily. The added moisture makes them less prone to developing wrinkles as they age. They also have a higher density of collagen helping to keep skin taut. Females lose their skin-protecting hormones much faster than men especially when they experience menopause. The skincare products may not change much for them. However, skin type definitely determines the various ingredients in the products. Lifestyle choices too, have a far greater impact on how our skin ages. 

Bisaria: The products like other skin care products are the same for both genders. Any differentiation done on the basis of gender is just a marketing gimmick. 

Can the use of any natural herbs on the skin help with aging? 
Trasi: Aloe vera boosts the production of collagen and hyaluronic acid and reduces wrinkle production in the skin. Turmeric too helps reduce oxidative stress due to curcumin present in it which aids in reducing ageing of the skin. Ginkgo biloba, green tea extract, polyphenols, and saw palmettos are other herbs and plants that act as antioxidants and help in anti-aging. 

Besides anti-ageing products, are there any lifestyle habits and diet one needs to adopt to delay ageing? 
Trasi: A diet full of foods rich in antioxidants is excellent for good skin. Avoid smoking and consumption of excess alcohol. Visit a dermatologist to know the right skincare for your skin. 

Bisaria: Yes. Staying stress-free, sleeping well, avoiding direct exposure to harsh sunlight, exercising daily, consuming good amount of protein, raw seasonal vegetables and fruits, and food rich in antioxidants like nuts and seeds go a long way in keeping the skin healthy. It is essential to quit smoking and consuming alcohol.

Also Read: 'Farted in public': After Priyanka Chopra's 'oops' moment, understand the importance of gut health