Good weather conditions, multiple recharge stations and camaraderie made the 18th edition of Tata Mumbai Marathon an unforgettable comeback for runners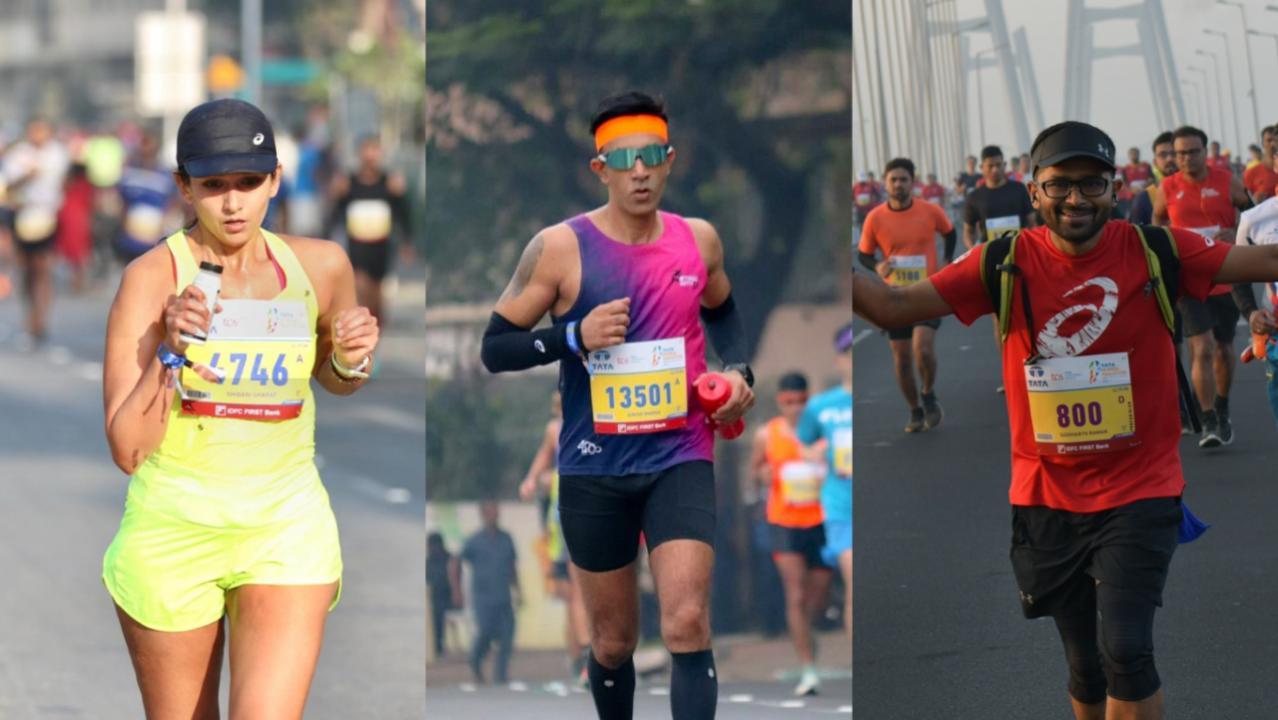 In photo (L-R): Shibani Gharat, Girish Bindra and Siddharth Raman
The Mumbai Marathon held on January 15, was a testament to the daunting spirit of the city. It celebrated the resolute runners who despite the pandemic, continued to train and work on their mileage steadily. The 18th edition of the Tata Mumbai Marathon saw the participation of 55,000 runners from across the globe with Hayle Lemi winning in a record time (2:07:32).
As the city chilled under low temperatures, athletes showed up in the wee hours and stirred a whirlpool of high-energy octane through the streets of South Mumbai. Amongst them was Shibani Gharat, a city-based runner who finished the marathon in 3:59:33. 
In a conversation with Mid-day Online, she shares: "The run was fabulous. I have always looked forward to running at the Tata Mumbai Marathon as it feels like home. It brings me a sense of comfort to wake up in my home city, do my morning routine, and head to the start line. And it was cathartic to live that again after three years of break!"
An anchor with CNBC TV18 and a runner by passion, this was Shibani's 10th year of running a marathon. As she began her stride, she looked forward to the home crowd, family, and friends cheering for her throughout the route. "I had my sister and my mother waiting to see me on the route near my home. One of my dear friends from Mahim boosted my spirits with the drink that I enjoy on the run."
Girish Bindra, the head coach of the ASICS running club from Mumbai, ran with fervour to complete strong at 3:38:07. His team also managed an energy station, a snack station, and an ASICS cheer zone to amplify the zest on the marathon route. He shares, "I had an outstanding experience running the marathon after three years. I managed to clock in my second-best timing in my 14th full marathon here at TMM 2023! An early start, cool weather conditions, and excellent route support with proper water and energy stations helped us a lot."
"Meeting runner friends and many outstation runners gives us a high and keeps us motivated. We all had trained well for this big event and were determined to finish the distance comfortably and strongly. I am also looking forward to participating next year with much more zest and enthusiasm."
Next up is Siddharth Raman, who missed the process of running across the iconic avenues of Mumbai with diverse people from different parts of the world. "I was ecstatic to see a lot of old friends at different parts of the run and also, managed to make new friends. The collective energy was magnificent as the crowd turned out into huge numbers to pump us up. People carried sweets, and juices and even sang for us while we marched towards the finish line. I was grateful to see senior citizens who cheered for us and young kids waving at us for a hi-5. Their dedication to wake up early on a Sunday morning and show up for us raised the combined energy and made the run incredible."
Read More: Mumbai marathon returns to claim the roads after three years of pandemic