Body butters have emerged to become promising skincare products. Besides treating dry skin, they offer multiple other benefits which are worth exploring if you are planning to invest in one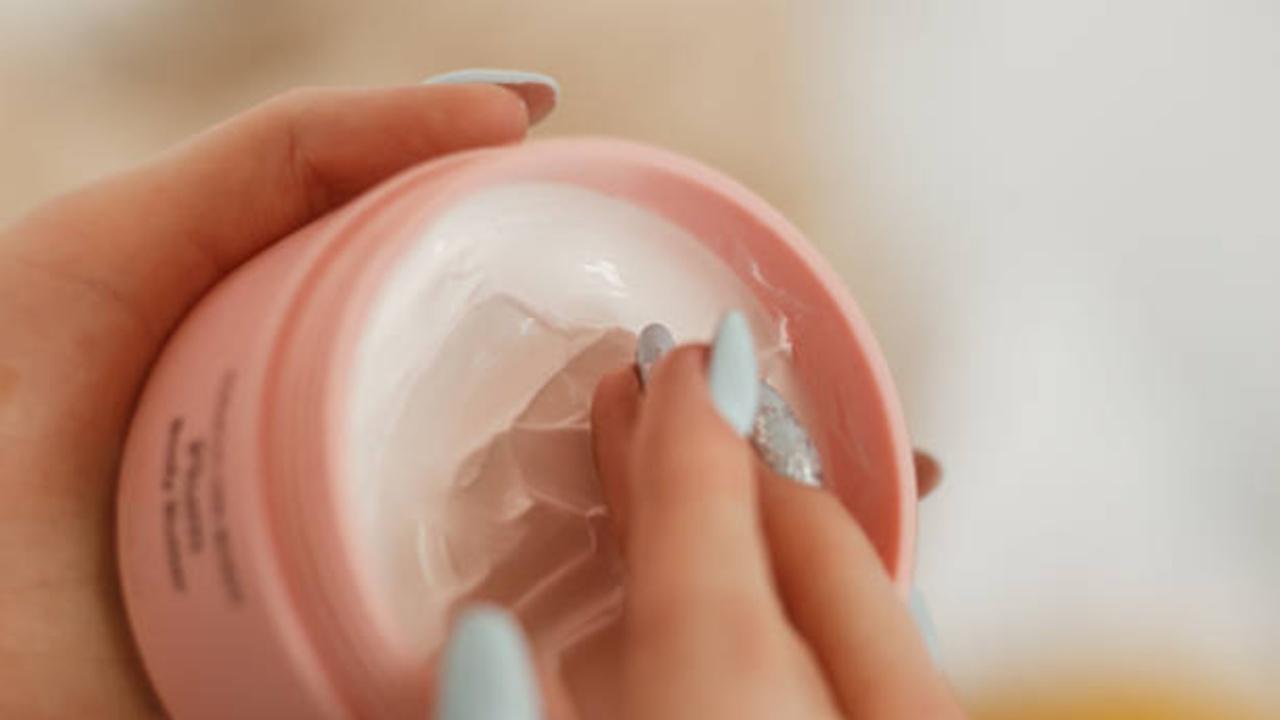 While the benefits of body butter are promising, understanding how it helps one boost their skin health is essential. Photo Courtesy: iStock
Listen to this article
Skincare tips: What you need to know about body butter and why it is effective in treating dry skin
x
Body butter is a thick and creamy skin moisturiser made from natural oils and butters
Due to its high oil content it often provides long-lasting moisture
Experts suggest purchasing natural body butters as they contain good antioxidants
Packed in aesthetic boxes and marketed as premium products that promise to help moisturise and protect the skin, body butters are appealing to those who love taking care of their skin. Moreover, skin care experts are endorsing it too. 
While the benefits of body butter are promising, understanding how it helps one boost their skin health is essential. We spoke to Dr Batul Patel, celebrity dermatologist, founder and medical director, The Bombay Skin Clinic and Dr Shefali Trasi Nerurkar, MBBS, MD dermatology, consultant dermatologist, Dr Trasi Clinic and La Piel Skin Clinic, who delve into the application and benefits of body butters. 
ADVERTISEMENT
Firstly, what is body butter? "Body butter is a thick and creamy skin moisturiser made from natural oils and butters, such as shea butter, cocoa butter, and mango butter. It often contains essential oils or other natural fragrances for added benefits," says Patel. 
In addition to this, Nerurkar says body butters are of two kinds. "They are either made from natural ingredients like extracts of nuts, seeds and plant oils, or are formulated chemically." 
They are different from body lotions
The key difference is in their texture. Body butter is always thicker than creams and lotions. It contains very little water content. Besides, these products have a higher concentration of natural butter and oils. 
Due to its high oil content it often provides long-lasting moisture.  Further, unlike creams and lotions that get absorbed into the skin faster due to their water content, body butter takes more time.
Benefits of body butter
1. Body butter is an excellent skin moisturiser for extremely dry skin. Its thick texture and natural formulation contain the essential vitamins that make the skin soft and supple.
2. Body butter also contains essential fatty acids and antioxidants to help increase collagen formation. Further, they protect your skin from free radicals that are responsible for premature ageing of the skin.
This skincare product is also great for cracked hands and feet. It seals the cracks and hydrates the skin. This said body butter can largely benefit those suffering from skin conditions like eczema, psoriasis, or dermatitis although professional guidance is recommended. 
Body butters can also also help fight lip dryness as they as excellent lubricants and will help restore their natural softness.
Though body butters have their own set of advantages for the skin, those who have naturally oily skin and are prone to developing acne must refrain from using body butters. Further, any person with an active skin infection should avoid using the butter temporarily till the infection subsides. 

Also Read: Ultimate bridal skincare guide: Say 'I do' to radiant skin on your big day
Best time of application
Since body butter is thick and creamy, it is best to apply it after having baths. 
After the bath, pat the skin dry. Then apply the body butter on the slightly wet skin, which helps in the easy spreadability. Further, since the skin's pores are open after showers, applying body butter will seal the pores and prevent any water loss from the skin. It will also help in locking the skin's moisture. 
For the complete benefits of the product, experts suggest purchasing natural body butters as they contain good antioxidants and nutrients for the skin as well as the hair. 
There are many body butters available in the market that you can try. These include:
1. Shea Butter
It is derived from the nut of the shea tree native to Africa. It consists of essential fatty acids like oleic acid, linolenic acid and palmitic acid that ensure deep moisturising for dry skin. It also has potent anti-inflammatory properties which aid in decreasing irritation, swelling and redness in the skin.
2. Almond Butter
Derived from almond nuts, it contains vitamin E and omega-6 fatty acids. It has intense emollient properties to repair dry and damaged skin. It also helps in maintaining skin elasticity to significantly fade the visibility of stretch marks, cellulite and dented folds and tissues.
 
3. Cocoa Butter
Obtained from the seeds of the cacao plant, this thick creamy concoction is a boon for dry skin. Additionally, it is also great for dry scalp and dandruff. It helps stimulate hair follicles for a strong and silky hair texture.
While these three are the most common ones, you can also try palm butter, mango butter, kokum butter, soy butter, avocado butter and aloe vera butter.
Always opt for reputable brands whose products are free of chemicals. Check the ingredients before making a purchase. Be cautious if you have allergies, especially to tree nuts or fragrances.
Patel suggests the following products: 
1. The Body Shop: It is known for its wide range of options and natural ingredients.
2. Josie Maran: It offers high-quality, organic argan oil-based body butter.
3. Alba Botanica: These offer vegetarian and cruelty-free options and is good for sensitive skin.

Also Read: Acne scars: Skincare experts share effective home remedies to get rid of them
"Exciting news! Mid-day is now on WhatsApp Channels

Subscribe today by clicking the link and stay updated with the latest news!"
Click here!