Jobaaj is one such startup that managed to increase its output and revenue generation in exponentially in the pandemic period.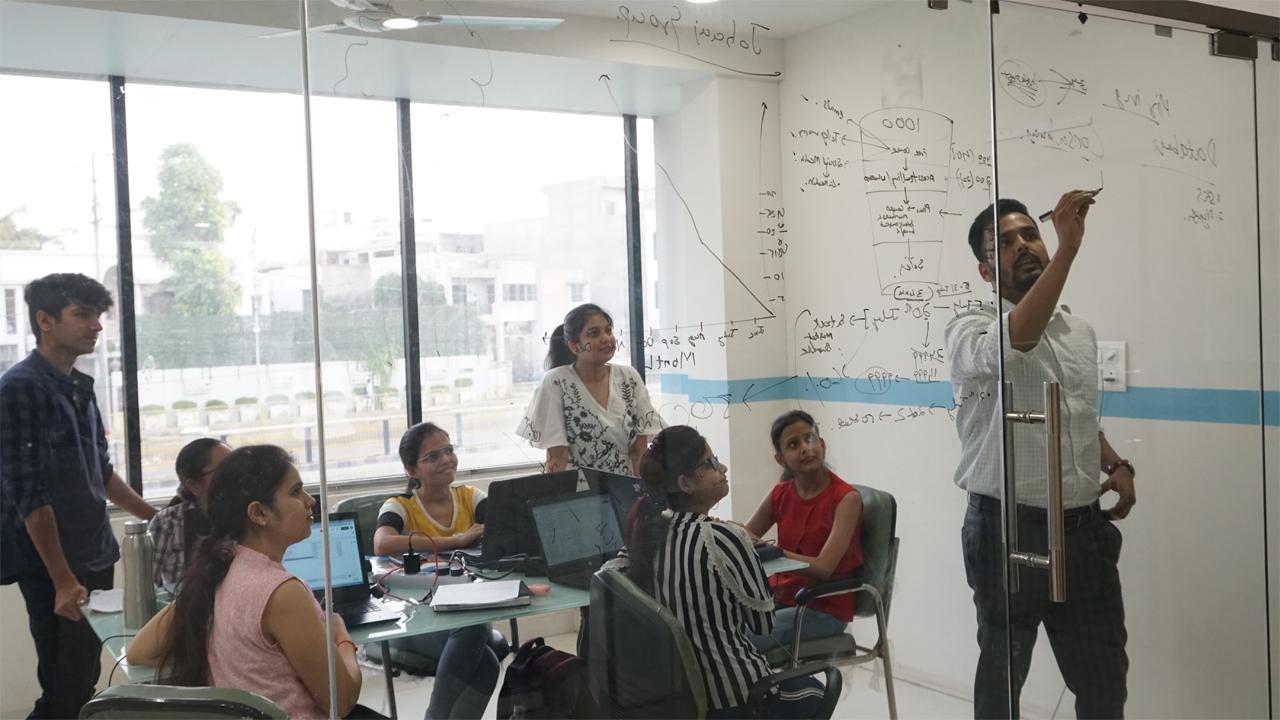 Team Jobaaj
The Covid-induced Pandemic proved to be a bane for professionals and sectors all over the world. Many businesses were hard-hit, some were wiped out, some even managed to profit from it, but the commonality was that everyone was impacted by it.
The commonly seen trend was that sectors related to the field of IT or software have sustained their growth and even recorded an increase in it due to people's reliance on digital technology now.
It can even be said that many day to day tasks have been optimized and modified to be adjusted in the digital mode, online schooling is a great example of this.
Jobaaj is one such startup that managed to increase its output and revenue generation in exponentially in the pandemic period. In the current time set, it wouldn't be wrong to call jobaaj the best and
This growth can be owned to Jobaaj's digitally oriented services and learning resources.
About Jobaaj
Jobaaj is a job portal as well as a job consulting firm with core competency in the accounting and finance field (Chartered Accountants, Certified Financial Accountants, Company Secretaries, Certified Public Accountants, Cost & Work Accountants, MBAs (Finance), Lawyers, etc.)
Thriving under the mentorship and guidance of CA Aaditya Jain who is considered to be one of the best faculty for CA final Strategic Financial Management (SFM), and under the leadership of the managing director CA Saksham Agarwal a qualified Chartered accountant holding numerous certifications from various SEBI established institutes, Jobaaj has come a long way since its inception and has helped more than 10 lakh students in its wake.
A big part of it was due to the fact that the very people behind it are those who have already been in the teaching and training fields associated with finance and accounting for many years and thus they bring massive and valuable experience to the table.
Growth factors
The company's astonishing growth rate can be owed to several factors, the most prominent of which is the mini-recession created by the Covid-catastrophe.
Here are some factors that presumably contributed to the company's upsurge growth rate:
Decline in Employment
Functioning as a job portal and job assistance service provider, Jobaaj saw massive growth in its user base as more and more people found themselves at the mercy of the job market. It was at a time when the layoff rate was off the chart for most companies and so job-seeking had become an intensive process.
Job portals like Jobaaj.com and Naukri.com came to the rescue for many job seekers at such a time.
Furthermore, Jobaaj's edutech arm Jobaaj Learnings also helped job seekers in getting professional training and development required to bag stature jobs in good companies.
Edutech boost up
The pandemic saw a dramatic boost in the edutech sector as more and more people jumped at the opportunity of building skills online from home.
Jobaaj's edutech arm, the 'Jobaaj learnings' saw a massive consumer base at this point in time.
Courses curated and taught by mentors like CA Saksham Agarwal and Er. Shiva Vashishtha are made available at the Jobaaj Learnings platform.
Professional courses like "Python programming", "Python for finance", "Stock Trading tutorial" were greatly and enthusiastically received by the learners.
These courses were highly coveted because of their relevance in the market and their built-up hype.
For example, the pandemic saw the opening of more than 24 lakh Demat accounts. This was a time where a lot of the Indian youth were exploring the Indian stock market.
At a time like this, Jobaaj's stock market course took a hit and soon became a coveted learning resource for a lot of trading beginners.
Jobaaj's post-Covid initiatives
Jobaaj in its efforts to help job seekers negatively impacted by the Pandemic launched a number of initiatives. These initiatives were launched under the umbrella of #jobaajcares, a non-profit venture in which jobaaj provided its learning resources to students free of cost so that they could upskill themselves and strive to find a job in this competitive market.
The initiative made Jobaaj massively popular among young job seekers and thus added to its marketing expansion.
Courses like "Essential Excel Formulas" and "Linkedin Workshop" that could help students prepare for a corporate environment have been given absolutely free of cost.
Jobaaj has also been actively promoting anti-Covid vaccinations through its social ventures.
Conclusion
Thus, taking all these factors into conclusion, Jobaaj's tremendous growth doesn't seem all that surprising.
In fact, it actually comes as a relief. In the current scenario, when the Indian economy is still in the process of stabilizing itself after the covid crisis, and the job market is still reeling from the Covid impact, it is assuring, that there are corporate sectors like Jobaaj which shall ensure the continued sustenance of the job market and consequently the economy.