CEO of iBrandox Online Pvt Ltd, Rachit Chakarwarty has shared his experience of seeing the failure of web development projects in the initial stages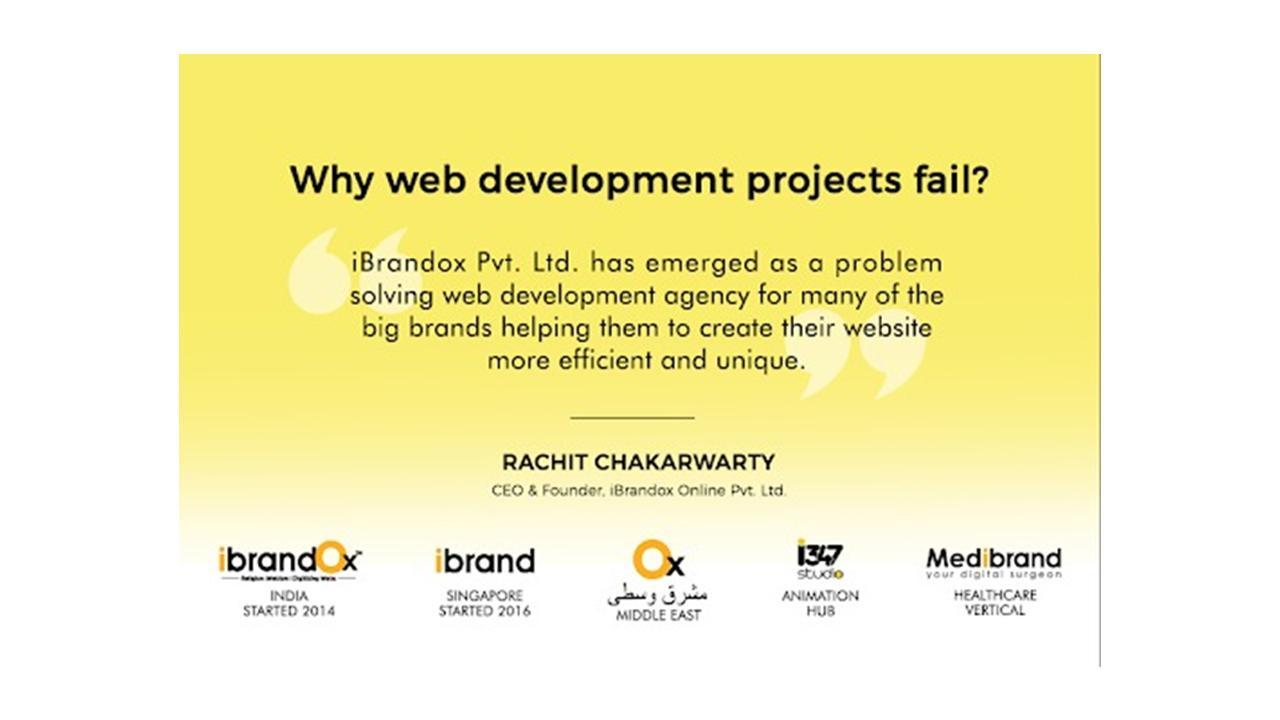 Representational Image
Beginning a web development project is an exciting step for any company. Successfully finishing a web development project can significantly improve the business and add to the customers' experience. Whether it is a new website, a web application, or a SaaS-based project model, an interactive online presence accounts for a credible name in the industry. However, if you think that your web development project is not standing up to the mark then not one but numerous reasons could be responsible for the malfunction.

Working with a seasoned web developer or firm can help a brand enhance their image in the market correctly. There still stand several factors that can cause things to go awry. Knowing what they are can help you avoid them and ensure that both you and your development partner win at the conclusion of the project.

Having years of expertise in the designing field, CEO of iBrandox Online Pvt Ltd, Rachit Chakarwarty has shared his experience of seeing the failure of web development projects in the initial stages. This exemplary entrepreneur has emerged as a problem solver for many of the big brands helping them to create their website more efficient and unique.

Guiding companies and professionals, he has highlighted the reasons why web designs often fail. Knowing them will help you avoid making these mistakes when you design and develop your own website.


1) Scope Understanding

Everyone is eager to get started, but they don't consider how everything will work out or what will happen in different scenarios. This is particularly true when a business goes online for the first time. The majority of customers believe they know exactly what they want, but there is a lot more that goes into the details.
Before you start building, make sure you do a thorough planning exercise. Make sure you're creating something that your customers want and need, rather than something that you want. Customers should always be your first priority.


2) Lack of Stakeholder Contribution

To accomplish business objectives and maximize ROI, management always seeks a new website. Following which when important decisions are being taken, management does not take the time to get involved and lacks project planning which eventually leads to failure.
When management tests the Beta version themselves and discovers that it isn't what they expected, major internal issues can occur. If changes are made near the conclusion of a project rather than at the beginning, they can be exceedingly costly in terms of both time and money.


3) Pricing Factor

As a client, you want to know that the money you invest in a web development project is working for you and that you're getting a good return. However, it is also critical to be open, honest, and realistic about your budget and the scope of your project. It is not always a smart idea to go with the lowest bidder when it comes to web development. You get what you pay for, as the cliche goes, and that isn't always a good thing. A web development project with a lot of bespoke functionality, complicated integrations, and other features will cost you money. It isn't easy to start a business. It requires a lot of funding and it acts as a pillar for any company's foundation.
While capital investment is an important point to keep in mind, what leads to a project failure is the amount of sales pressure from management as well to build a business at any cost. Due to this pressure, the business development teams take up businesses from the market using methodologies that are not up to the mark. There arises a need to bridge the gap between the project coordination teams and client requirements in order to fulfil the project deliverables. Considering these points, iBrandox deems to deliver the best at very affordable pricing, keeping all processes transparent accounting for client retention in the long run.

There may be ways to cut costs depending on what you need to accomplish with the project. At the same time, there will be aspects of the project where you cannot cut corners without the project failing or giving you problems later. An excellent development partner will be able to talk to you about these issues.


4) Lapses in Communication

Regardless of the project's nature, authorization and communication will be required in order for it to continue and launch. Communication breakdowns can cause a web development project to miss deadlines and be stuck in limbo.

Communication expectations should be established before the project begins. Anything on your end that could obstruct project communication should be communicated to your developers. At the same time, as the customer, you should be aware of what is expected of you in order for the project to proceed successfully.

All of the above-mentioned points must be effectively addressed in order to create a successful website. Failure to accomplish any of these prerequisites can lead to stalling a very effective project in the long run. When you choose iBrandox to assist you in your work, their developer double-checks that they can handle all of these issues before you begin.
Projects that are completed correctly can be a huge advantage to a company's success. Web development gives a brand the opportunity to express themselves creatively on the internet and understanding what it takes to avoid the fall is the sure way that takes a brand a step further on the ladder of triumph.