Flamingos migrate via the west coast from Gujarat. After breeding in the Great Rann of Kutch between Khadir & Paccham islands, they arrive in Mumbai to embrace the mild winters that the city offers
Just before high tide flamingos fly back to ponds and can be spotted easily in the following locations. Photo courtesy: Neeraj Chawla
Mumbai's bird expert, Neeraj Chawla is gearing up to camouflage in nature. The nip in the air is ripe for his adventure to go flamingo spotting in the city's swampy lands. In his opinion, one must merge with the landscape to gaze at the spectacular beauty in harmony.
Flamingos are one of the most distinctly identifiable, wading birds in the world. Marked with pink feathers, slender legs and curvy necks, they indulge nature enthusiasts in a saga of elegance. "Flamingos migrate from their breeding site at Gujarat to Mumbai via the west coast. They reach the shorelines in November and turn into the city's residents till May. For birdwatchers, December and January is a peak time to spot the marvel of these winter friends", remarks Neeraj who has captured more than 55 bird species over 12 years at Charkop, Kandivali.
ADVERTISEMENT
Booting up for Flamingo spotting
Almost 20 years after his first visit to Sewri, Neeraj has a checklist ready before he embarks on a journey to catch their glimpse. In a telephonic interview, he shares the pointers with us:
1. As a birdwatcher one must carry a good pair of binoculars (7x40) (Magnification factor 7x to 10x range or higher) to spot and study the behavior of the bird.
2. In case you are a beginner, hire a field guide to the area you are visiting to identify flamingos.
3. Carry a notepad and a pencil to note down important observations for record-keeping and research.
4. A birdwatching hat is a must in the outdoor sun and the dress code should be light colours in brown, grey, or green shades to camouflage with nature. It is advisable to avoid wearing bright colours like white and red to avoid distracting them.
5. Warm clothing is also important as it is an outdoor activity and takes hours of waiting to observe the orchestrated dance of flamingos. A jacket with big pockets comes in handy to carry useful paraphernalia.
6. A backpack with water bottles and other personal belongings to stay hands-free is a must.
7. A keen twitcher (a serious birdwatcher) also carries a spotting scope and audio recording equipment to spot and record the peculiar sounds of the bird.
8. Grab your hands on a good DSLR with a telephoto lens (Minimum 300mm focal length) to capture their stunning appearances.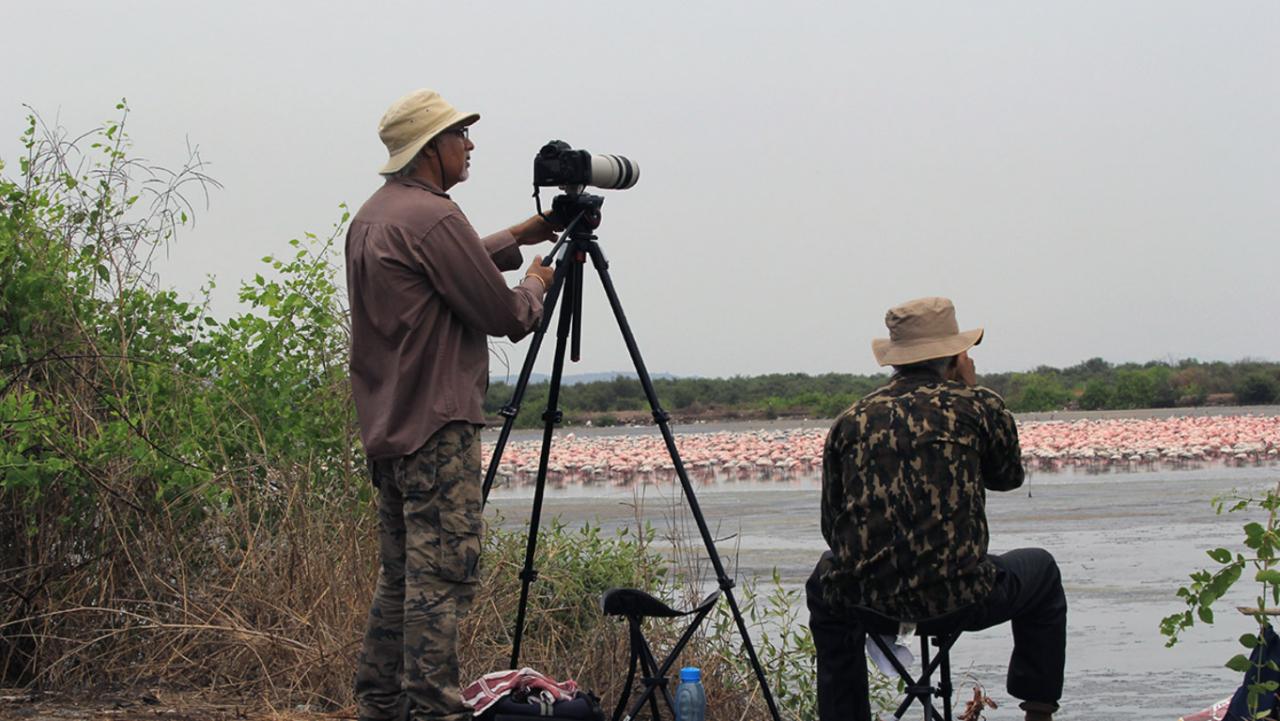 Ornithologist Neeraj Chawla in his element, capturing Flamingos at T.S. Chanakya (Indian Maritime University) Nerul, New Mumbai
Iconic places to spot the pink beauties
Thane Creek Flamingo Sanctuary
Each year, thousands of flamingos arrive at the Flamingo Sanctuary from Rann of Kutch, Gujarat. During low tides, the vast marshy land gets covered with fresh algae which serves as a meal for the winged visitors. Notably, it is the consumption of algae that imparts the pink colour to their body. Thane creek is a designated spot to watch flamingos and is accessible via road. Upon arriving here, birdwatchers can embark on a boat safari which starts at the Coastal Marine Biodiversity Centre in Airoli and runs up to a stretch of 10 km offering a wide vantage point to observe the flock.
Sewri Mangrove Park
Flamingos were spotted at Sewri mudflats in early 1990 for the first time. Bombay Natural History Society performed an extensive study on the subject and began conducting regular tours for wildlife enthusiasts. Now, BNHS runs Flamingo sighting tours, beginning at the railway crossing at Sewri. Neeraj recommends carrying a pair of binoculars to get a closer look and study the behaviour of the birds. For photographers, a telephoto lens (400 mm and higher) works wonders to capture their poised movements. 
Tawale Wetlands, Nerul, New Mumbai
Flamingos paint the wetlands pink with their harmonised postures that seem no less than choreography. To witness this wonder, birdwatchers can arrive at the Tawale Wetlands via road as well as barefoot.  It is important to note that the right time to spot them in the lake is either early mornings or evenings. These timings are also apt to capture photographs as per the lighting conditions.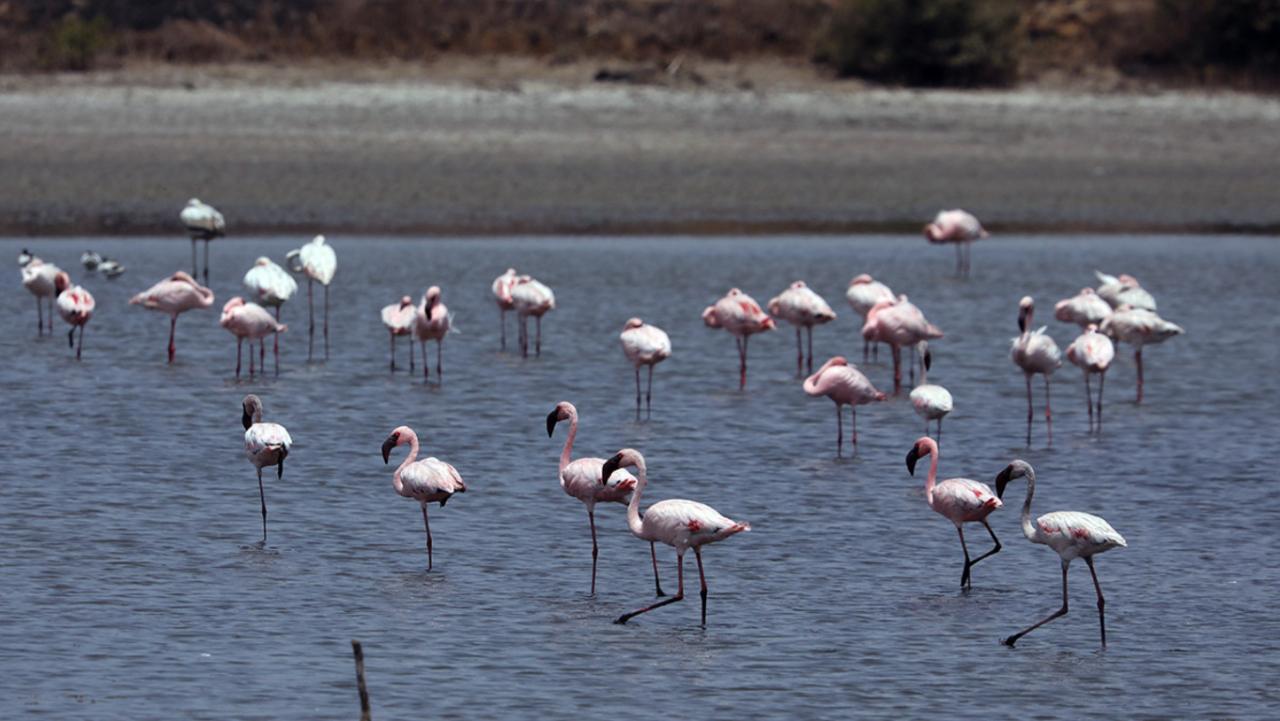 Flamingos spotted in their natural habitat at Navi Mumbai. Photo courtesy: Neeraj Chawla
Bhandup Pumping Station 
Wildnest curates wildlife safari and birdwatching tours in and around Mumbai. One of their offerings is a flamingo sighting tour in boats that offer a close-up vistas of the winged birds. Upon reaching here, visitors are greeted by the Wildnest team members at the meeting point. Next up, they proceed to Bhandup Pumping Station where they receive a brief introduction about flamingos as well as other birds that can be spotted. Later, they embark on the boat ride where the team helps spotting flamingos and other shore birds found there with binoculars.
Flamingo species and their ritual dance
Out of a total of six species of flamingos in the world, only two species have been identified in India. Two species that visit Mumbai from Gujarat state are:
. Lesser flamingo ( Phoenicopterus minor): Small in height (80-105 cm), shorter neck, bill smaller, and black-tipped dark red colour.
. Greater flamingo (Phoenicopterus ruber):  Tall in height (125-145 cm), with a longer and thinner neck, bill larger and pink in colour with dark tip.
Neeraj observes that both the species exist in harmony.
A social breed, flamingos can be spotted synchronising a ritual dance in the swamps of Mumbai. With a knack for theatrics, they display collective postures and orchestrated whirls that are a delight to nature and wildlife enthusiasts. Some of the postures that can be witnessed in and around Mumbai are:
Head-Flag: This pose involves the bird stretching its neck and head upwards while moving the head from one side to another in a rhythmic pattern.
Wing-Salute: An iconic posture, it involves the bird spreading its wings, revealing the contrasting shades of pink while its neck stretches out.
Twist Preen: It entails the bird twisting its neck back and appearing to preen quickly, with its bill behind a partly open wing.
Read More: IN PHOTOS: Look for flamingos at these nature hotspots in Mumbai
"Exciting news! Mid-day is now on WhatsApp Channels

Subscribe today by clicking the link and stay updated with the latest news!"
Click here! Do you like birdwatching?