Two travel enthusiasts are keen to stoke the wanderlust of the visually impaired by curating sensory-based itineraries, starting with Kamshet next month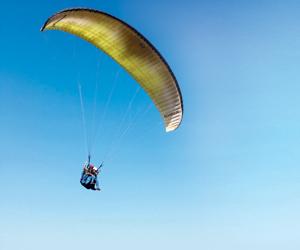 Two travel enthusiasts are keen to stoke the wanderlust of the visually impaired by curating sensory-based itineraries, starting with Kamshet next month
When Divya Saxena and Ritu Sinha, friends for eight years, planned a Eurotrip in June, little they did know that the sojourn would spark the idea of a travel venture. "At the Trevi Fountain in Rome, we spotted two visually impaired gentlemen. Ironically, that's when we realised that we had not come across unsighted travellers at any other popular destination," recalls Sinha. On their return, the two quit their advertising jobs and immersed themselves in giving shape to the idea. They're now ready with Bat Travels, focused on designing tours solely for visually impaired travellers. "The idea is to curate itineraries that are sensory in nature. Having said that, sighted travellers can also join in as travel pals, assisting the unsighted, making new friends and experiencing travel in a different way," adds Saxena.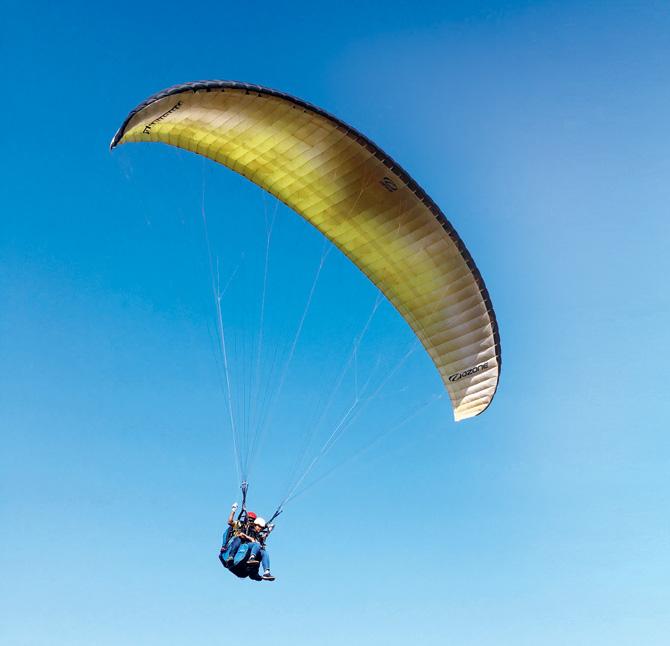 Travellers can enjoy paragliding sessions in Kamshet. Pic courtesy/Bat Travels
Whiff of nature
The first destination on their list is Kamshet in Pune, where they've curated a two-day trip next month. The hill station may be known for its undulating terrain and lush green cover, but there are a myriad smells, sounds and thrills that promise to be a treat for all senses. And that's what they plan to focus on. The itinerary includes a visit to a hilltop to feel the rush of wind, a jungle trek, an evening by the lakeside wh-ere travellers can dip their feet in the cool waters, a bonfire night, tent accommodation as well as para-gliding. "The feeling of flying is exhilarating, while walking through a jungle without depending on your family offers a sense of freedom. Small things, like the smell of burning wood, with a few eucalyptus leaves thrown in, the changing temperatures in the night and the sounds of critters and birds at dawn will bring the tour alive, especially for urban dwellers," says Saxena.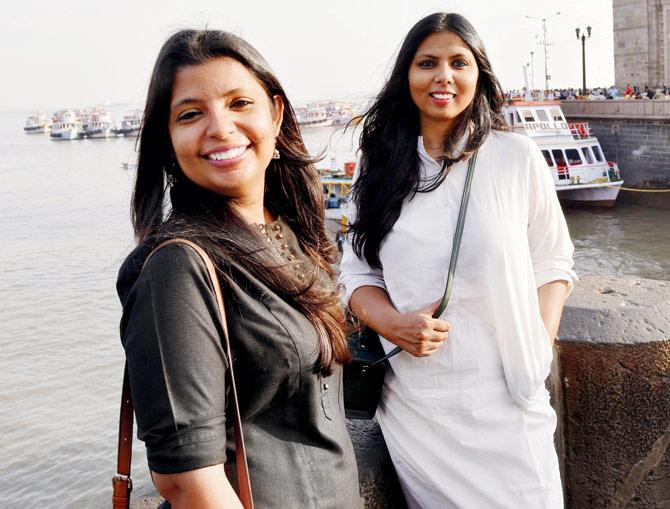 Ritu Sinha and Divya Saxena flanked by the yachts at The Gateway of India. Pic/Pradeep Dhivar
Test and recce
Recce is an important part of planning, they say. "We choose properties that are accessible. Logistically, it has been challenging to sensitise certain vendors to the travellers' needs," says Sinha. Case in point: Several paragliding agencies in Kamshet dismissed the founders when they learnt that visually impaired persons would sign up. "We had to convince them that they are able-bodied, and since paragliding is done in tandem, it's not any different for them than it's for us."
Now, the duo is also in talks with a professional surfer in Goa, to conduct a three-hour surfing course during a three-day trip to the sunshine state, slated in January. Apart from parasailing and jet skiing, the Goa itinerary also features soaking in live music by local bands, the susegaad experience of sitting at a beach shack, a cooking session of Goan and Portuguese fare, savouring curated meals at family restaurants and staying in a five-star property.
Travellers will also get to visit the churches. "We will create their 3D models, so they can touch and feel the Portuguese architecture to get a sense of the space," informs Saxena. They plan to design such models, in Plaster of Paris or cardboard, for architectural marvels that will be part of their future tours, in India and around the world.
TRIP DATES: December 2 to 3
AT: Kamshet, Pune.
CALL: 9920058200
LOG ON TO: battravelsonline.com
COST: Rs 8,000