From species of dinosaurs to names of Indian presidents, boost your child's brain development with life-like quantum cards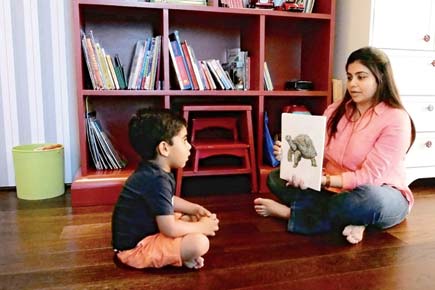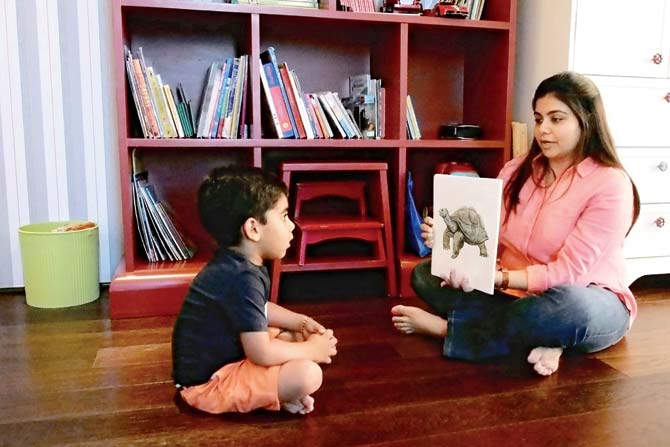 Tejal Bajla flashes a set of quantum cards before her son
In a video uploaded on YouTube, 34-year-old Tejal Bajla asks her son, Armaan, to spot the flag of Australia. Skipping past a variety of large, colourful flash cards strewn on the floor in their Prabhadevi home, the four-year-old picks the blue-red-white flag with the seven-pointed star. This is a no-brainer for the kid, who started learning to associate countries with their corresponding flags when he was all of eight months. His mother would sit at an arm's length from him and flash the cards before him, pronouncing each name loud and clear. 
The large 11x11 inch cards are known as quantum cards. "At the age of two, he was able to identify the flags and world leaders. The cards have been a great bonding exercise too," says the 'mumpreneur', who has launched 55 sets under Brainsmith, a venture that she co-founded with engineer Akshay Jalan, this September.
The back story
A four-year-long research to find engaging material to stimulate her child's mind along with courses such as 'How To Multiply Your Baby's Intelligence' at Glenn Doman's Institute in Philadelphia, led Bajla to launch Brainsmith. "Contrary to popular belief, babies are capable of absorbing complex information as long as it is provided in a factual and joyous manner. The first six years of a child's life are the most important. As an early brain development tool, quantum cards are aimed at stimulating the visual and auditory pathway to the brain. Using them frequently helps build your kid's photographic memory," says Bajla, an ex-banking professional, who also comes armed with an MBA degree.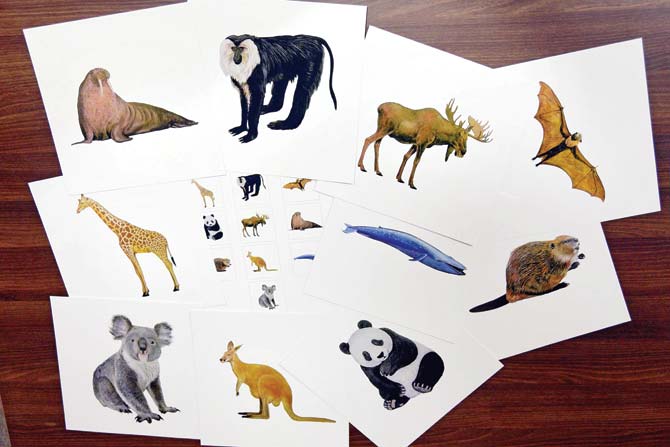 A 10-card set on mammals includes koala, beaver, walrus, giant panda and blue whale. Pic/Suresh Karkera
Quantum quotient
Suitable for kids from the age of one to 10, the sets feature a range of topics — from mammals and endangered species to construction vehicles, art and culture, world religions, geography, personalities, fruits and vegetables, butterflies and world monuments. The team has also designed India-specific cards including states, monuments, presidents, prime ministers and musical instruments.
"We have categorised the topics age-wise. For instance, fruits and vegetables work well for infants since they are visually more appealing while older kids can learn about more complex topics like Impressionist paintings and inventors," informs Bajla, who roped in professional artists from Sir JJ School of Art to hand paint life-like images, which were later digitally enhanced.
Trivia talk
The back of each card is printed with interesting facts about the image, collated by a three-member content team roped in by the founders. For instance, did you know that koalas are the only animals, besides primates, to have fingerprints or that a blue whale's tongue alone weighs as much as an elephant? "This not only gets the child accustomed to the word but also the details around it. It helps them hold interesting conversations. We have also provided a phonetic break-up for words in sets with complex pronunciations, like the dinosaurs," informs Jalan.
Apart from metros, the team has also sold the product in smaller towns like Ropar in Punjab and Siliguri in West Bengal. "It can also work as learning aid for teachers and library resource material. We plan to create them in multiple languages — both vernacular and foreign," he sums up.
Cost '699 plus taxes (per set)
Log on to www.brainsmith.in