It is never too late to be a poet and a 96-year-old, whose self-published anthology of poems went viral recently, proves that. City-based poet Rochelle Potkar shares how to get started with the literary form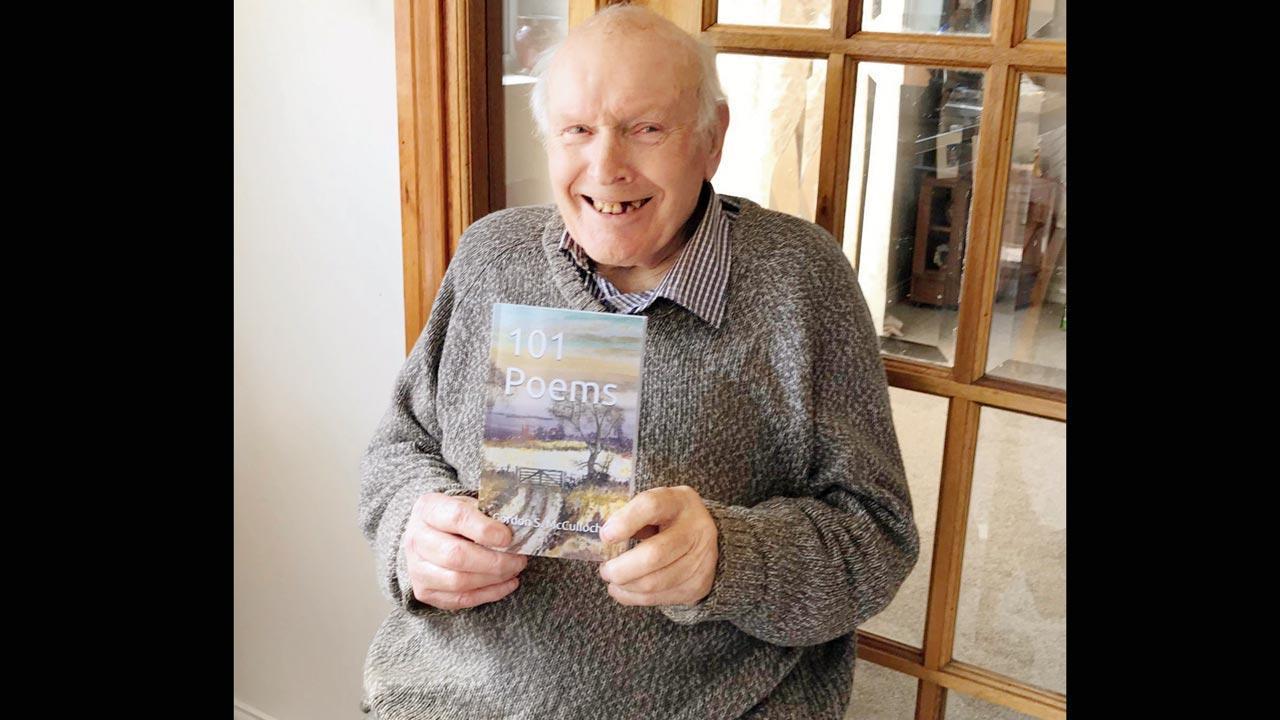 Gordon McCulloch with 101 Poems, a collection of his life's works. Pics/@jessica_keachie/twitter
English essayist William Hazlitt famously insisted that "Poetry is all that is worth remembering in life." And Gordon McCulloch seems to have taken note early on in life. Last month, the 96-year-old from Braidwood, Scotland, self-published an anthology of poems he had written through the years, titled 101 poems. Sharing the news via Twitter his granddaughter Jessica put in a request to her followers: "A review would make him so happy." The tweet notched over 290K likes and led to the book taking the first spot on Amazon's best-selling list of poetry anthologies. So, if you're keen to delve into poetry yourself, Mumbai poet Rochelle Potkar guides you on how to navigate the literary form with ease.
Reading over writing: Although you may want to put pen to paper, as a beginner, you may not have the vocabulary for poetry. "The more you write, the more refined your writing gets. But if you want to enrich it, read a lot of good-quality poetry that is freely available online," she says. These resources can be found in international magazines such as Poetry Foundation's Poetry Magazine, The Paris Review and The New Yorker. Another way to ensure you get your daily dose of poetry is to subscribe to newsletters that guarantee a poem in your inbox every day; Potkar vouches for the one offered by American poetry magazine Rattle. 
ADVERTISEMENT
The anthology was ranked first on Amazon's best-selling chart for poetry after McCulloch's granddaughter tweeted about it
Develop your worldview: Read beyond poetry, too, and don't restrict your reading to a particular region either. Know what's happening around the world. Potkar explains, "As your worldview develops, it furthers philosophical seeking. A poet is finally a philosopher, a seeker. This is the only form that is not to do with absolute realism. Short stories, for instance, are so rooted in time and place. But poetry needn't be."
From a haiku to a ghazal, poetry can take different forms. Potkar advises devising a self-learning syllabus, by browsing extensively through poetry platforms to discover new repertoire.
Don't shy away from editing: Potkar stresses on the importance of the practice: "New poets often say, 'How can it be? We write down our emotions, so how can we edit it?' This is art and craft. You must chisel it."
Rochelle Potkar
Pay attention to rhythm: Potkar considers rhythm to be the fulcrum of writing poetry. To improve it, you need to work on your vocabulary. "If you look at one delicate line of a poem, and change a word with its synonym, the rhythm of that sentence changes. So keep a dictionary or thesaurus nearby and try to learn 10 to 20 new 'rhythmic' words a day," she advises. Remember that poetry is a delicate form. So, words that go hand-in-hand with journalistic or short story writing, may not suit poetry. "Take words like 'irises', 'zenith', 'nestled' and 'risks', for instance, and see the rhythm in them. You'll notice that there are words that are inherently softer; they fall like snowflakes, and poetry thrives on them," she elaborates.
Essential reading
Potkar recommends the following titles to acquaint yourself with different kinds of poetry:
. Early Indian Poetry in English: An Anthology 1829-1947, by Eunice de Souza
. The Vintage Book of Contemporary World Poetry, edited by JD McClatchy
. The World That Belongs To Us: An Anthology of Queer Poetry from South Asia, edited by Aditi Angiras and Akhil Katyal
. Red River Book of Haibun Volume 1
. The Bloomsbury Book of Great Indian Love Poems, edited by Abhay K