Bombay Jayashri Ramnath is keen to get more people tuned into Classical music, and has just curated a course on digital platform, Classle. Learning, sharing and teaching music has become her joyous passion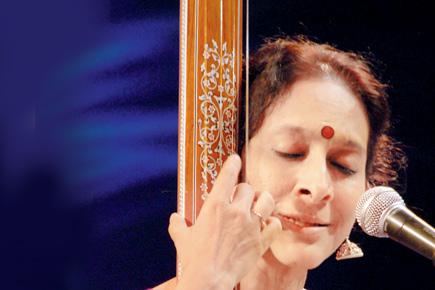 Bombay Jayashri
Q. You've forayed recently into teaching in the digital space; how did that happen?
A. For a while now, I've known and interacted with the core team of Classle, an online social media platform for students to "collaborate, share and learn from subject experts". They have been keen for me to use the platform interestingly to create a course on Classical music. I didn't agree instantly; for one, my knowledge of this space is very limited and secondly, I wanted to create something that was genuinely unique and user-friendly. In my attempt to understand how teaching and learning happens here, I signed up for a three-month course in Wealth Management on Classle. Plus, I wanted to study something I was neither very good at it nor was I not particularly interested in. That course not only gave me insights on the subject but also offered a good sense of how the technology and the platform work.

Pic courtesy/s Hariharan
ADVERTISEMENT
Q. Tell us about the course you've curated for Classle…
A. When I was designing the course, I was certain I didn't want it to end up being another Skype-based learning session; I was also particular in creating something that was already not being offered by any university, in any part of the world. Fortunately, after a great deal of research, we realised that the idea that was forming in my head was a one-off. The course, titled Rhythm and Patterns in Music Through Notes, is unique because of its experiential element — it is meant for anyone who is curious but not necessarily initiated into the Classical form; it is ideal for anyone who is already initiated and is looking to re-visit it and use it as reference material. It is also apt for someone who is merely keen to be, and remain in the Classical space.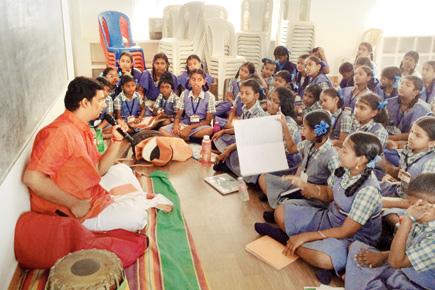 A mridangam session in progress as part of Hitham Trust's teaching project at Manjakkudi, Tamil Nadu
Q. What inspired the name of the course?
The content. The entire learning, the hundred students who are experiencing it right now, will agree that it is very visual in its approach. It has been layered such that it allows varied dimensions of an experience that enable holistic learning. Yet, in its core, it is simple and straightforward.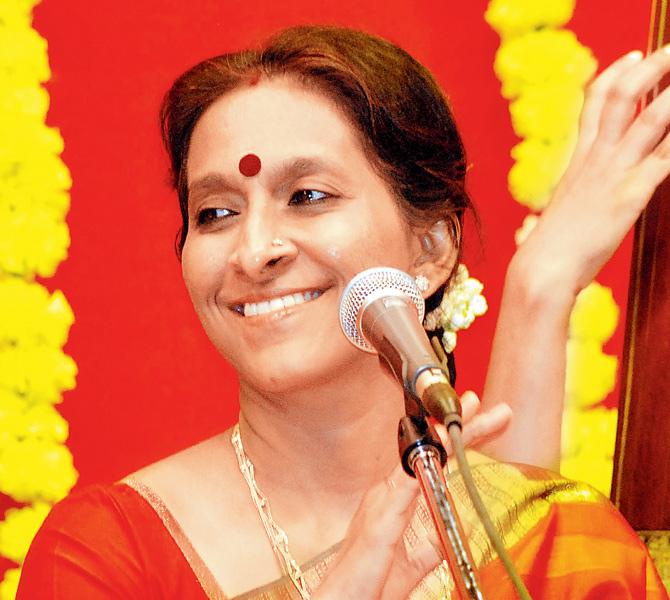 Bombay Jayashri
Q. Do you meet with students online?
Yes, and no. I respond to their queries, monitor progress and keep the communication going but I was very particular I didn't want, at any point, my physical presence, to distract the experience.
Q. Has this experience triggered your imagination in the field of digital learning?
A. Absolutely! I'm already thinking of what we can do next; it has opened my mind in more ways than one. For instance, as a child I never enjoyed learning the Thiruppugazh (a 15th century anthology of Tamil religious songs dedicated to Murugan, son of Siva written by poet-saint Arunagirinathar). But now, as an adult, I can appreciate where its beauty lies, and can sing it through the day. I think it may be interesting to unravel its beauty to young minds.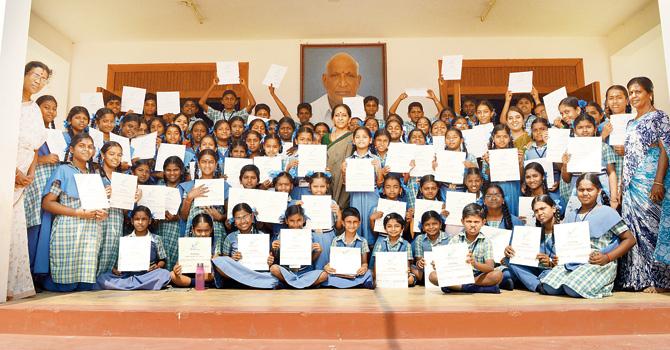 Bombay Jayashri (centre) with school children from Manjakkudi
Q. Over the last few years, teaching has assumed significance in your life, right?
A. I'm convinced that more and more people must be made aware of Classical music; it is not about a performance, it is about creating awareness. More people need to know that it exists and mediums like Classle offer immense possibilities in making that happen.
Q. We also heard about how your students and your Hitham Trust, in collaboration with the Swami Dayananda Educational Trust, teach rural students, music. Tell us that story...
A. For nearly a year now, every Friday, my students — a handful of girls — and I alternate our travel to a small town in Tamil Nadu called Manjakkudi, to share our music with a big group of students. The idea here is not to sensitise students to hearing and enjoying music. Classes are structured well in advance keeping in mind the ability and level of the group but more often than not, the students' wide-eyed enthusiasm and willingness to learn and absorb, astounds us. It has been a joyous process.
Q. But how do you teach Classical music to such a big group of students? Doesn't it need a great amount of training?
A. Let me clarify — we teach music and not just Classical music to these students, and in a way that is fun and engaging. In the process, I believe that they will get sensitised to Classical music. The entire content for Manjakkudi has been designed to allow students to learn songs that they would love to sing for themselves, on their way home in a bus, to their families, by themselves, and feel a sense of joy. Recently, a young boy told me that he aced his Mathematics exam after an introductory class we conducted on Korvais (rhythm patterns in Carnatic music). Another girl told me that her parents are constantly quarrelling, and every time they do, she starts singing as a means of healing. So, Manjakkudi has been that; it is about allowing students make connections with music that are deep and long lasting.
Q. Is it your mission — to make learning and singing, joyous?
A. Mission is a very big word and I don't like using any tag to describe the path I'm on right now. It's a process, and it has been a gratifying one.
Log on to: www.bombayjayashri.com for details on Hitham Trust