We learnt to swirl our cupcake garnish and make eggless lemon curd with Anjani Rawat at her newly refurbished studio cum bakery in Breach Candy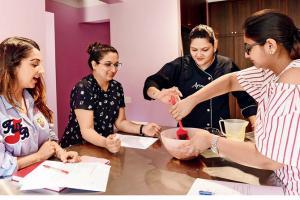 Nikita Dalal (extreme right) uses the cut and fold method to mix the brownie batter. Pics/Bipin Kokate
In a bowl, we mix sifted flour, sugar, baking powder and cocoa power and fold in butter and yogurt. We struggle with the spatula to mix the wet and dry ingredients for our brownie batter when Anjani Rawat suggests the cut-and-fold method: Rawat teaches the method to us, and we have a blob of brownie batter with enough air holes for a dense result. It gets easier, and we actually begin to enjoy the process.
We are in her newly furbished three-month-old baking studio in Breach Candy that has been her workspace since 2014. Done up in soft pink walls, it has a central work table with a platform on the side is lined up with measured requirements for our baking class.
ADVERTISEMENT
The founder of Apron Patisserie at Breach Candy started baking as a passion after she quit her job at a textile firm six years ago. The Malabar Hill resident says, "Once you have had a full-time job, its difficult to remain idle all day. During my sabbatical, I found myself in the kitchen cooking for the family. I am a Marwadi-Jain, and we do not consume eggs. So, that was a challenge when I baked but I realised that friends and family began ordering my desserts," says Rawat, who started following YouTube and Instagram bakers like Yolanda Gammp, Nick, Icing Artist, Katherine Sabbath, Zoe Clark, Bets from Magnolia Kitchen, Ivy and Stone. She took her passion to the next level by enrolling for a cake decoration course at Le Cordon Bleu in London.
Bake your way
In another bowl, she mixes oil and maida and brushes it on the tin bottom. "This is cake goo — to ensure the brownie releases easily," says Rawat, who has preheated the oven to 180°C. We shove the tin in and turn to the cupcakes, in a one-bowl recipe that will hopefully curb the mess when we try them at home.

Anjani Rawat suggests folding the  piping bag up to half way for easy transfer of butter cream
Throughout the class, Rawat shares tips and information nuggets. While your baking content can go into heat shock if you open the oven mid-way, vanilla essence, we learn, is added to cut the smell of eggs. It is necessary to learn to gauge the perfect baking temperature for your oven; most recipes are suggested at 180°C. Her cupcake baking tin tray has a layer of rice grains, which will absorb the oil from the cupcake lines.
We follow a creaming method where we fold in wet ingredients of butter and sugar into the dry ingredients of all-purpose flour, cocoa powder, baking soda and salt. While we struggle to fold the batter, she suggests we use our wrist movement and not burden the arm. It works, as we happily scoop the batter into the moulds using an ice-cream scooper.
While they, too, go off into the oven to bake, we turn our attention to making a lemon curd for our lemon vanilla cheesecake parfait without gelatin.
The smell of lemon zest fills the room, and we mix it with sugar, lemon juice and butter on a pan and stir it for five minutes before folding in corn flour, which has been dissolved in water. Once it thickens, we take it off the heat and add condensed milk.
Finishing touches
This dessert needs no baking and we beat cream cheese and heavy cream to form soft peaks. In a jar, we sprinkle a layer of crust prepared from Marie biscuit and butter, add a dollop of the cream mix and top it with lemon curd which has set in the fridge.
We finish the brownies with chocolate ganache and the cupcakes are swirled with red floral patterns made using butter cream.
Verdict: The class had easy-to-make eggless and gelatin recipes and focused on garnishing and presentation. But we wish our brownie had a gooier consistency and found a slight grainy texture in the chocolate ganache. The lemon curd was the star lesson of the class.
AT Apron Patisserie, 205, Rajneelam, Dr Rajabali Patel Lane, Breach Candy.
CALL 9833126116
Cost Rs 3,000 onwards
"Exciting news! Mid-day is now on WhatsApp Channels

Subscribe today by clicking the link and stay updated with the latest news!"
Click here!