Bowled over by Benne Dosa! It's what happened to Jonty Rhodes when the cricketer had a meal at Juhu's newest veggie restaurant. Is it worth his recco? Read on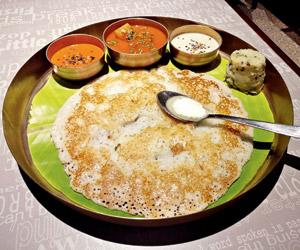 It's a photograph posted by former South African all-rounder Jonty Rhodes on his social media handle that makes us believe that Ten One merits a visit. On a 40-hour trip to Mumbai last month, he visited the restaurant, located opposite JW Marriott in Juhu, and called it his "favourite vegetarian cafe" where he had polished off the Benne Dosa. A phone call to its landline reveals that Rhodes has visited the three-month-old restaurant twice already. We also learn that Ten One stands for October 1, celebrated as World Vegetarian Day.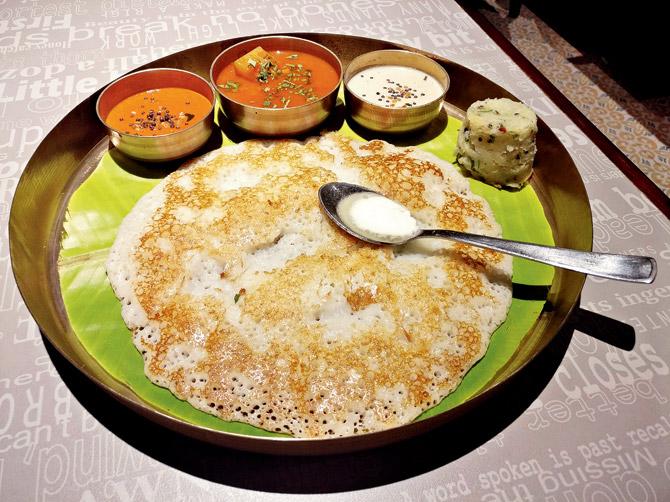 Benne Dosa
ADVERTISEMENT
We drop by on a weeknight to find the two-level, air-conditioned space packed with diners of all age groups, mainly Gujarati, sitting on mahogany-hued stiff benches with back rests, with a wall caricatured with Mumbai's street food scene as the backdrop. Our ears catch strains of conversations. A couple in their 60s checks with the waiter to ensure the kadhi is "mithi", a young lady explains Bisi Bele to a friend as "the khichdi of South India" and another diner urges his family to pick the dishes, saying, "Menu ma bau badhu chhe [there's lots on the menu]."
And he's right. The menu is extensive, starting with salads and shorbas, moving on to tandoori and north Indian fare, and deep-diving into Gujarati, Rajasthani and South Indian specialties. It also includes global flavours, from Sicilian-style savoury crepes to pizzas, sliders, risotto and Greek Gyros!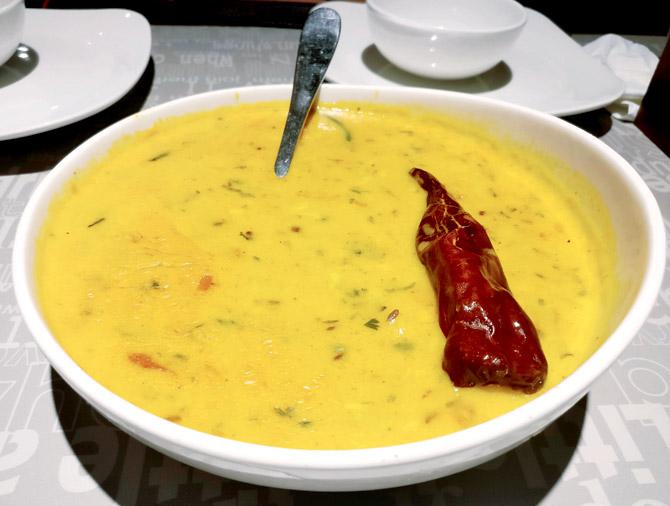 Gatta Sabzi
Thankfully, we know where to start, and order Rhodes' recommended Benne Dosa (Rs 195). Plated on a banana leaf, the dosa is accompanied by two types of chutneys — tomato-garlic and coconut — along with sambhar, Aloogadde Palya (potato fry) and a spoonful of clarified butter that we spread over its circumference. A bite of the soft and fluffy, mesh-patterned dosa and we can hear strains of Carnatic music that drown the chatter. It tastes even better with the pungent tomato-garlic chutney tempered with mustard seeds and crunchy urad dal, and the ginger-spiked coconut variety. We avoid the sweetened sambhar and polish off the dosa with the perfectly mashed potato fry, making for a hearty meal.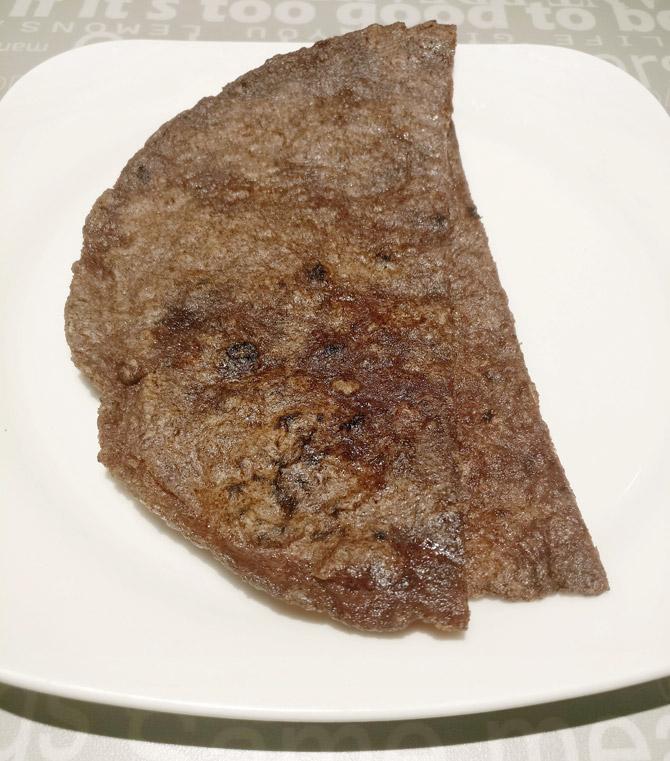 Naachni Bhakri
From the Clay Oven section, we pick Zaffrani Rath Aloo (Rs 275). The flavours of roasted sweet potato, with charred edges, cut through the hung curd marinade tinged with cloves and cinnamon. However, they leave a dry taste in the mouth, as it's insufficient. We wash them with the Kokum Sherbet (Rs 125), a blush-hued concoction with a tangy kick from the fresh fruit, rather than kokum syrup, interjected by nutty flavours of toasted cumin seeds.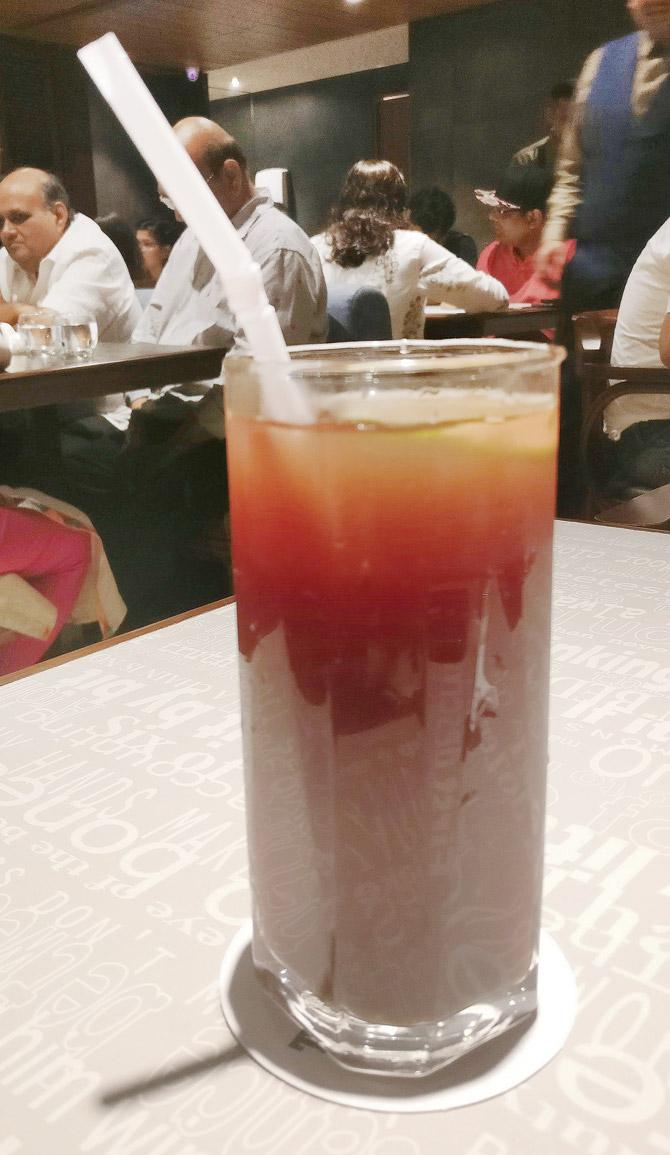 Kokum Sherbet
Next, we call for Rajasthani-style Gatta Sabzi (Rs 275), with portions enough for three. The tiny barrels of chewy gram flour dumplings swim in a thick and well-cooked sour-and-spicy curd-based gravy, tempered with ginger, garlic, jeera and green chillies, thankfully without any grainy texture of gram flour greasing our palate. We enjoy it with the rustic and crisp Naachni Bhakri (Rs 75).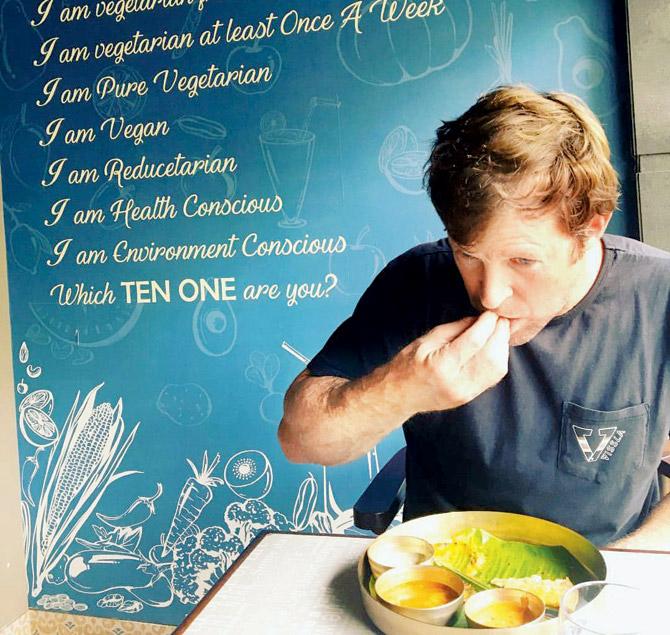 The cricketer enjoys Benne dosa at his "favourite vegetarian cafe" on a visit last month. Pic courtesy/Jonty Rhodes; Instagram account
Having had a safe ride so far, we decide to try the Texan Burrito Bowl (Rs 395), which promises rice pilaf, cottage cheese and avocado. We realise that the order was a mistake at the first bite. The pilaf is cloyingly sweet with kidney beans thrown in the mix much before they even turned al dente, and the avocado is bitter. The bowl is abandoned, and we decide to leave, making a mental note to stick with Rhodes' choice the next time we come here.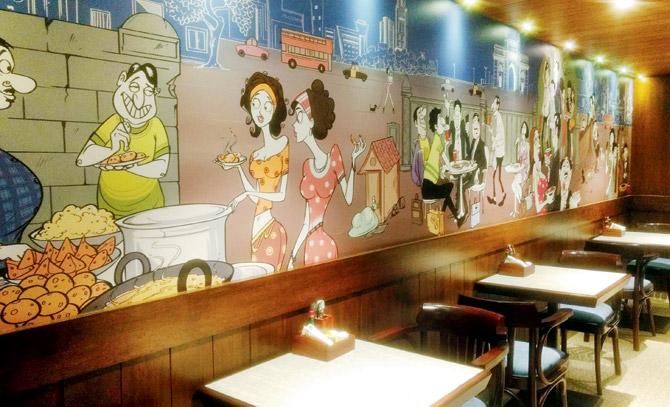 Review
FOOD Flavourful
AMBIENCE Vibrant
SERVICE Efficient
COST Reasonable
VERDICT 

TIME: 8 am to 12.30 am
AT: Near Melting Pot, Juhu Tara Road.
CALL: 33716083