Spread over 14,000 sq ft, the rooftop restaurant is the latest offering of Kabir Luthria and Gaurav Dabrai — the folks who run Kino Cottage in Versova and Copa in Juhu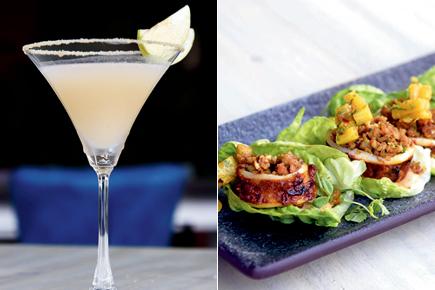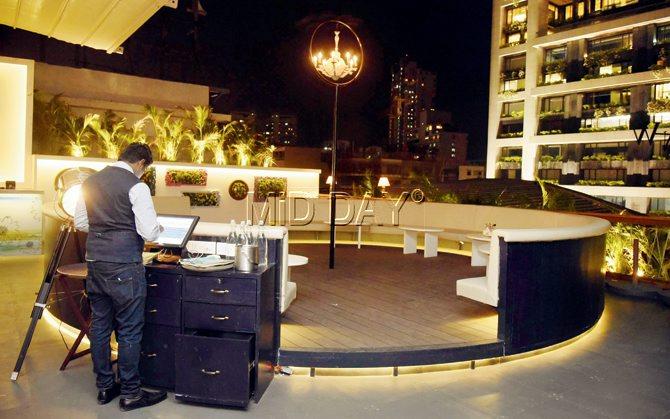 Take your pick from the variety of seating arrangements that include cabanas, sofas, laidback chairs and bar stools. PICS/Shadab Khan
It's a little before sundown when we drop by at Swey, nestled on the terrace of Atria mall. We exit the lift, make our way through a narrow passage, and without warning, find ourselves in a space that's at least 14 times larger than the most spacious restaurant we have been in lately.
Spread over 14,000 sq ft, the rooftop restaurant is the latest offering of Kabir Luthria and Gaurav Dabrai — the folks who run Kino Cottage in Versova and Copa in Juhu. The Worli venture, which opens to the public tomorrow, brings the two for the first time to south Mumbai.
Swey, we learn, is an acronym for Sip Wine and Enjoy Yourself. "We wanted to get rid of the pretentious tag that most rooftop bars are associated with, while still giving people an up-market niche experience. We want people to drop by without bothering about what they're wearing," says Dabrai, a painfully camera-shy 36-year-old. The 300-plus seater has an unmistakable Goa vibe what with the cozy seating arrangement and cool sea breeze.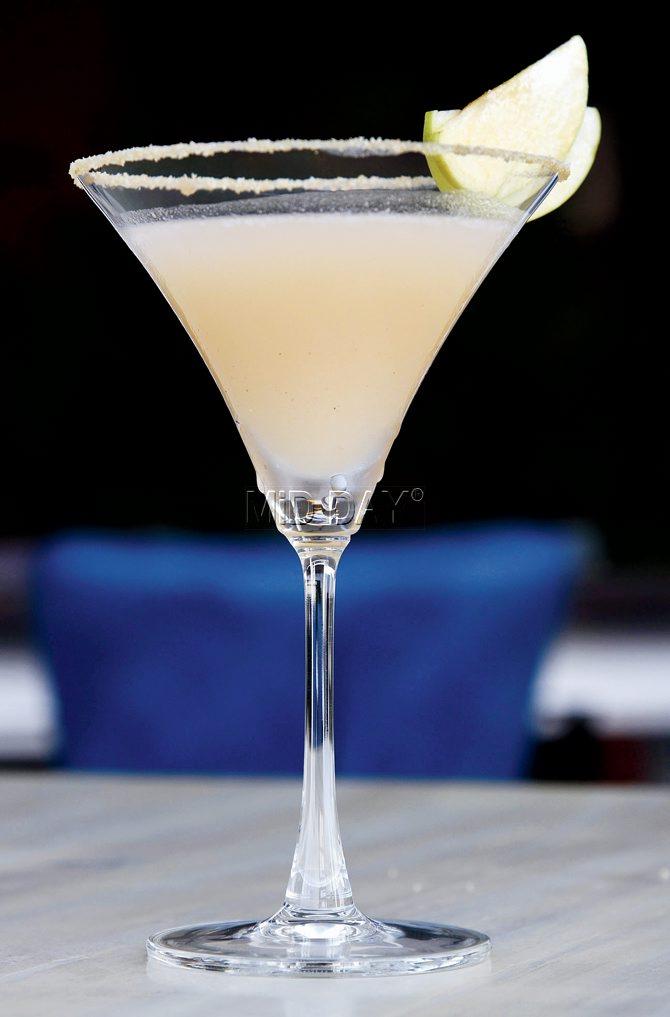 Keep the doctor away with Apple A Day (Rs 550), a Demerara vodka based drink, with homemade apple butter and a cookie crumble rim
Despite being large, the space doesn't overwhelm. With well spaced out seating arrangements for different group sizes including cabanas, sofas, laidback chairs and bar stools, there's something in it for everybody. Curiously, there's also a soundproof phone booth in case you need to take a quick work call on a day you've called in "sick". The music will be House and Tropical, but Luthria promises it won't come in the way of conversation.
We take our seat in a cabana-style seating, ideal for a group of 10, and get an unobstructed view of the restaurant. Alternatively, if you're looking for a sea view, there are two sections meant for groups of 30-40 with separate bar counters.
First up, we start with the Kale & Hearty ('500), vodka mixed with freshly made mix of spinach, kale and an in-house citrus and ginger syrup. Ideal for a summer drunch, this even works its magic during Mumbai's blink-and-you-miss-it chilly evenings. You don't need to worry about mixing your alcohol with Apple A Day. A Demerara vodka based drink, with homemade apple butter and a cookie crumble rim, it's the dessert we were planning to end the night with. The evening's chakna is the Bar Trail Mix which includes Sri Lankan spiced almonds, Mexican spiced pumpkin seeds and soy and wasabi cashews, (all spice mixes sun- dried on their terrace and blended inhouse).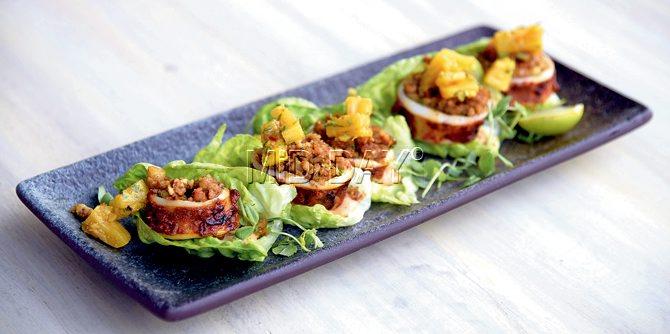 Try the East Indian style stuffed squid with chilli aioli and pineapple salsa (Rs 445)
Chef Clyde Comello's menu is heavy with European influences and there's enough to please vegetarians. But, we are meat lovers. Our first pick is the teriyaki chicken slider — chicken teriyaki (prepared in-house) with pineapple salsa wasabi mayo on homemade brioche loaf. This works only if you don't mind the sweet element in it. If you don't mind a bit of indulgence, there's deta beignet, cubed feta deep-fried with tomato jam and balsamic. What tickles our Mangalorean tastebuds, however, is the East Indian style stuffed squid with chilli aioli and pineapple salsa. The absolute must-have is the pizza, fresh as it could be, as the bread is prepared in-house from scratch. We have the mushroom pizza with button shiitake, portobello mushrooms sauteed in butter garlic and thyme with white cheese sauce and truffle oil.
As we near the end of our gastronomical binge, we realise the vibe has curiously transformed by sundown, for the better, that is. The cutesy lamps lend a golden glow to the space and that's when the real magic of Swey is revealed. Biting into the decadent hazelnut entremet with layers of hazelnut dacquoise, caramel sauce and amaretto spiked Chantilly, we realise we have spent almost four hours here. And that's what this place has the potential to do — make you forget all about time, even if it's only for a couple of hours.