A Japanese couple is creating authentic maki-sushi rolls at a Bandra seafood store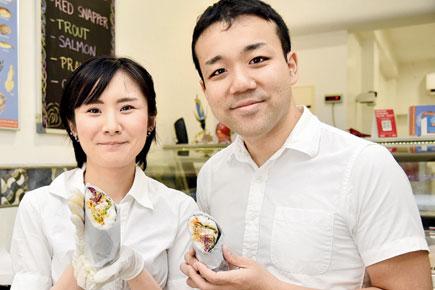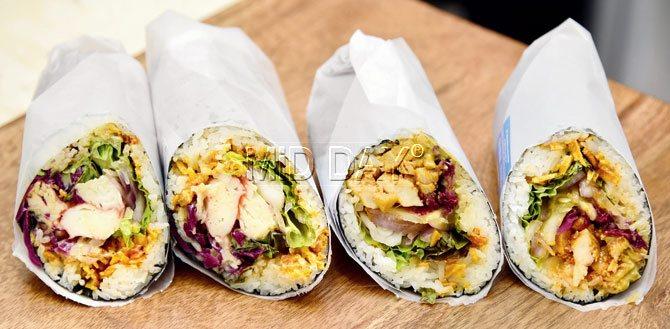 The menu includes Yakinuku Paneer Sushi, Chicken Maki-wala Sushi and Tandoori Maguro Sushi. Pic/Shadab Khan
When Tokyo-based video game developer Yugo Tokuchi first came to India on a work trip four years ago, he frowned at the Japanese food being served here. It was a more westernised version, he felt. His thoughts resonated with city-based Japanese expats, who were craving authentic food from their homeland.
In October, he not only packed his bag and moved to a home in Santacruz (W), he even convinced his long-term girlfriend, Martha, to marry him and become his business partner. Together, they set up a bento box meal delivery service called Tokuya in February this year. The Japanese expats felt at home, once again.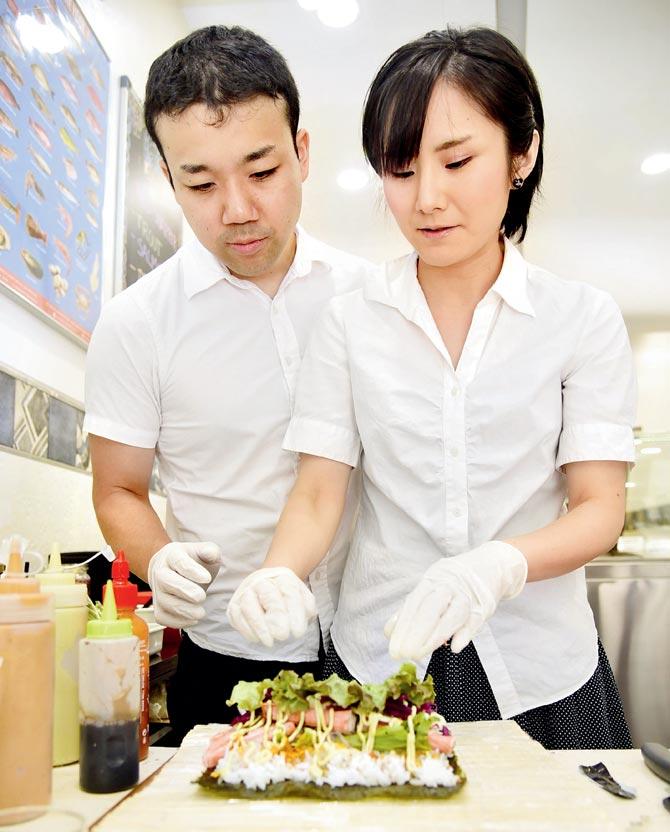 Yugo and Martha Tokuchi
The duo began deliveries in Andheri East, Bandra Kurla Complex and Lower Parel, locally sourcing basmati sticky rice, vegetables and meats, and importing soya from Japan. Soon enough, they were feeding 25 happy clients per day, charging Rs 350 per box.
Until one day, when their seafood supplier Junaid Daruwala, the founder of Off The Hook in Breach Candy and Bandra, tried their food. "I became their fan at first bite. People in Bandra love to try new things, and I realised why not let them set up a live counter of maki-sushi rolls that can even be enjoyed on the go for a few weekends. This way, they can test waters and tap into the local market too," says Daruwala.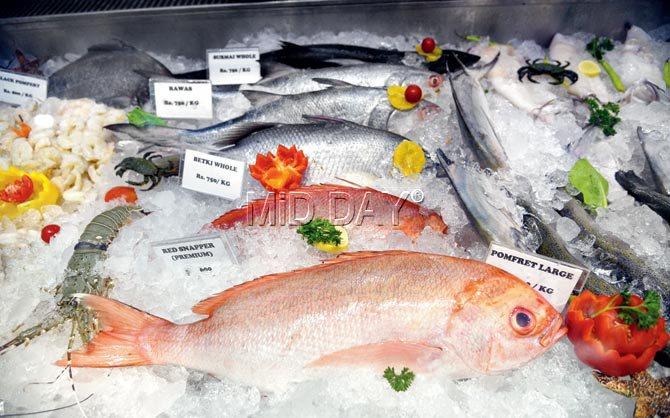 Fresh catch on display at the store
A slice of Nippon
The whiff of fresh seafood greets us when we drop in at the four-month-old Bandra outlet, to check out Yugo's Maki Sushi counter. The display counter is laden with stone-eyed red snapper from the Andamans, Himalayan trout, and soft-shell crabs, prawns and lobsters from all over the country. As regular buyers stock up on their seafood supply for the week, they curiously stop to take a look at this new inclusion.
While Yugo is on his way, we chat with Martha, who was studying English and music in the UK before moving here. "I was shocked to see the aggressive vehicular traffic in Mumbai. It is different here, but exciting," she smiles, moving on to tell us the difference between maki and sushi. Maki is a verb, which means 'to roll', and sushi is a noun, leading to the name of the dish, explains the 30-year-old.
Their menu includes Yakinuku Paneer Sushi, Wasabi Surimi Sushi, Chicken Maki-wala Sushi and Tandoori Maguro Sushi, all priced between R350 and R700. This week, they'll do a fresh salmon and a tandoori twist too.
In a few minutes, a smiling Yugo walks in. "I forgot the wooden board," he laughs. The jovial 31-year-old gets into action, helping Martha prep: placing the seaweed sheet on a bamboo mat, on which she spreads an even layer of Basmati sticky rice they have treated with vinegar and sugar. She adds a chunk of — wait for it — butter chicken, which Yugo mastered from online recipes and his house help's cooking.
"We love butter chicken and are always dropping in at Butter Chicken Factory next door. Sushi doesn't have strict rules. You can use the ingredients you have at home," says Yugo.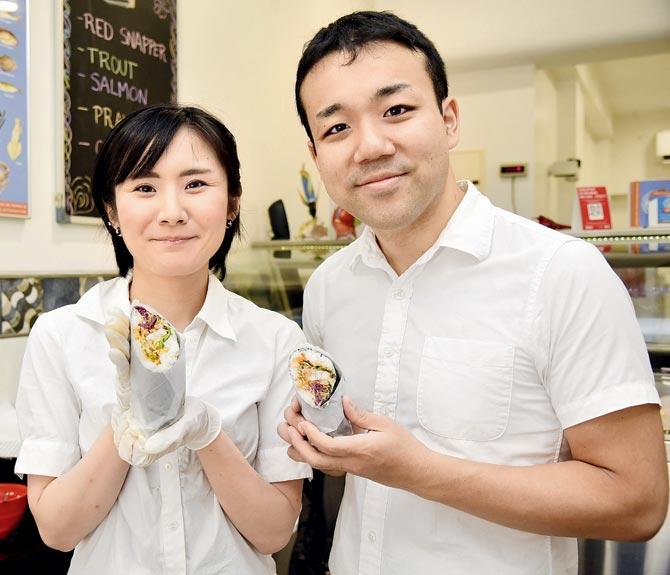 Taste drive
Martha has three bulky rolls for us to try. The butter chicken roll, surprisingly, blends beautifully with the tangy vinegar rice, and the curry is sweet and slow-cooked, throwing up tender chunks in every bite. We also try a paneer version, which has a barbequed sauce, shisho (a Japanese herb) and lots of soy. The crab sticks have been paired with a wasabi mayo, which tingles our palates without making us cringe.
Our mouths full, we show a thumbs up sign to the couple. Yugo confesses that when he thought of setting up shop here, he was only following his heart. "I was happy to see so many young people in India. Take a train in Japan and you will, of course, see the cleanliness, but you'll also see a lot of old people. India is different. The energy is vibrant here because of so many young people with dreams," says Yugo.
With 15 recipes up their sleeves, the duo's bento boxes containing rice, a main dish and starter are available from Monday to Friday. On Wednesdays, they serve Donburi or Japanese rice bowls.
"Our buffalo rice bowl, with imported spice from Japan, tastes similar to the one served at a famous rice bowl chain, so our Japanese customers love it," says Yugo, who hopes to further explore the maki-sushi delivery from home, food festivals and pop-ups.