Long-time friends and collaborators Vinay Pathak and Rajat Kapoor lament the paucity of good scripts, and celebrate the refuge that is theatre, over khow suey and sushi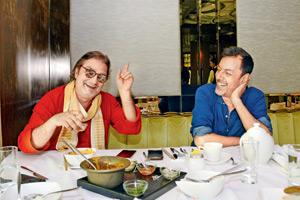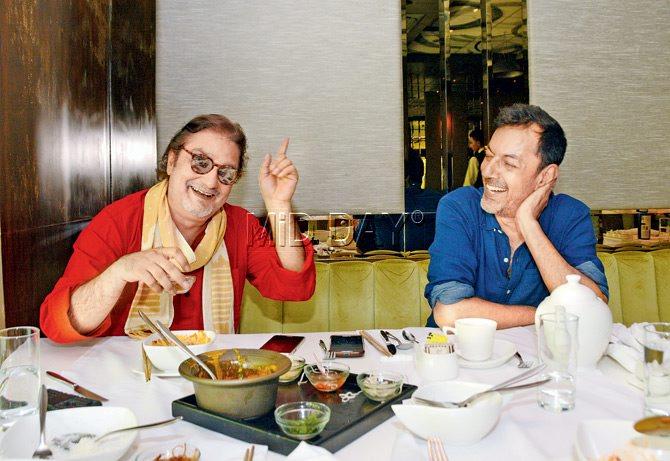 Vinay Pathak and Rajat Kapoor enjoy an Asian meal at Joss. pics/satej Shinde
The term "good friends", when used often, tends to lose its meaning — a phenomenon all too common in the film industry. But there is a friendship that goes back to one's salad days, and decades later, if there's still candour, aligned sensibilities, and endless laughter flowing over a shared love for sushi, it has perhaps stood the test of time.
Meeting Rajat Kapoor and Vinay Pathak over lunch at Joss in Santacruz is just that, except that you don't feel like the odd one out between two best buddies. They take you along on the ride, cracking you up, giving you touché moments and serving you like gracious hosts. There's applause for the chef, as he completes the theatrical serving of his signature dessert, and a young fan's request for a photograph, lovingly obliged.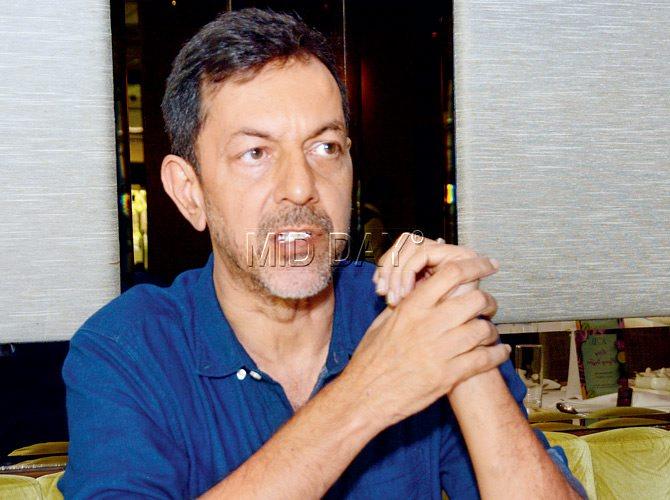 The two have also been long-time collaborators, and have forged a career in films and theatre that agrees with their worldview. While Pathak's upcoming film, Khajoor Pe Atke, is a dark comedy, Kapoor has decided to take the crowd-funding route for his directorial venture, RK/RKay. The artists speak of staying true to their work and what it takes:
Snigdha: How did you come to collaborate over so many projects?
Rajat: We were friends before we started working together. It was sometime in 1995 that Vinay had moved to Bombay from New York. We were a group of five to six people and none of us had work. So we used to hang out a lot, cook and watch movies together. Our first collaboration was the play C for Clowns that I was making and we never stopped. It's rare to find people and actors as generous as Vinay. So, for me, there is no reason not to work with him. In fact, I seek out joyous times to spend with him.
Vinay: When we met, there was an international film festival going on and there were so many movies I watched for the first time — Pulp Fiction, a Fellini retrospective. These are films that left a great impact on me, for I didn't have much knowledge of cinema. It was these guys who taught me all about it. I would ask Rajat, so and so is asking me to work with him, and he would say, 'No, don't be silly!'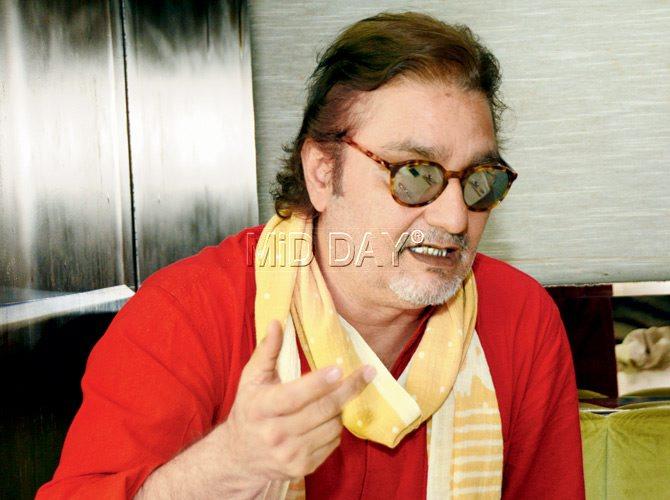 Snigdha: How much have films and theatre evolved since the time you started?
Rajat: I am not sure if cinema has done well for itself in these years, but theatre sure has. In the last 10 years, there is a huge growth in theatre audiences, and especially in cities like Raipur, Guwahati and Bhopal. Conspicuous consumption is driving people to spend, which is good for theatre. Any show at Prithvi goes house-full, which is quite encouraging. But it's not become any easier for an independent film. Crowd-funding is not the best way of doing things, it's a desperate way. And that's the tough part; looking for money and waiting for it. Otherwise, everything else about filmmaking is enjoyable.
Vinay: Ditto hai, ji. Theatre was never mainstream, but in the past few years, it has become so. It's as if a new profession has emerged. Most importantly, the younger generation is aware of plays. In our time, unless you were trained in theatre, you wouldn't know which plays are being made and who the artists are. You see young talent launching productions left, right and centre. Even half the experimentation happening in theatre today — good, bad, ugly, whatever it is — is not happening in cinema.
Rajat: Having our face a little known is a boon. Some people may come to watch a play because there is Vinay, Konkona, Ranvir and Kalki in it. But then they get something else and still have a great time. We are grateful for that.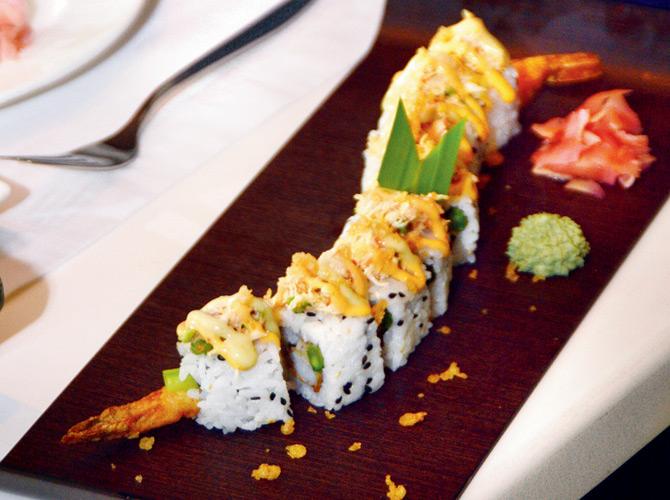 Sawadee ka, a pineapple and basil mocktail, platters of assorted veg and non-veg sushi and dumplings, and Burmese khow suey arrive.
Rajat (taking a sip): Too much! This doesn't look as good as it tastes. I am going to dig in some of your veg sushi. Mazedaar!
Vinay: I know a lot of people who prefer veg sushi because they don't like fish.
Snigdha: What are some of your favourite on-set food memories?
Rajat: In the last seven to eight years of travelling with our plays, Vinay making green tea has become such a big ritual. The whole team gathers at night and several rounds of tea in all flavours are served.
Vinay: It brings a lot of peace to the heart. We exchange our worldview and tales from our travels. We recap and relive the whole experience of staging the play.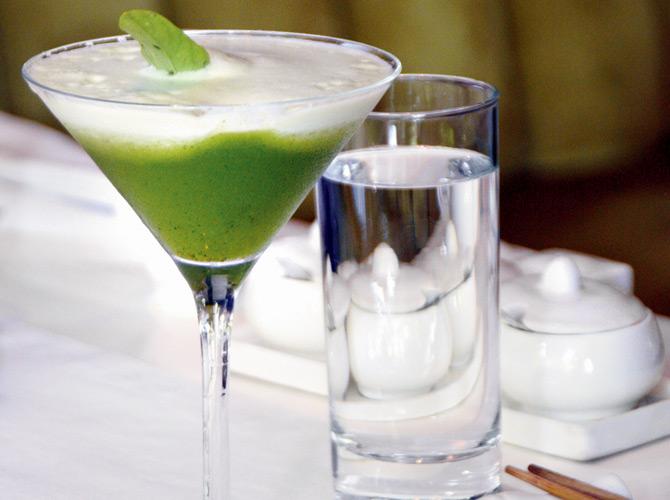 Snigdha: Are good scripts hard to come by?
Rajat: To act in? Yes, writing in India is generally bad.
Vinay: It is the most difficult part. From an actor's perspective, the offers, fortunately, haven't dipped. But you like 1.5 out of 15 scripts. After the success of Bheja Fry, many people tried to make something similar: an under one-crore project shot in one bungalow. Our understanding of the small film is distorted. Good cinema doesn't come from just the money and the set-up but from good writing. It's as simple as that.
Rajat: But [saying no to a script] isn't an issue. When you align yourself with a certain kind of sensibility, it's not difficult to say no to what doesn't match it. We didn't come here to make films or do theatre for the money. That it happened on the side is great, but that was not our intention.
Quick takes
A thing you would like to change about the film industry:
Rajat: Except production and distribution, everything is good.
Vinay: Our film industry needs to be more daring than it claims to be.
Artistes you find promising:
Rajat: In films, Chaitanya Tamhane is someone I am excited about. On stage, Sheena Khalid, Puja Sarup. Jyoti Dogra, Mohit Takalkar and Sujay Saple are doing great work.
Vinay: Pankaj Tripathi is my new favourite in films. What a delightful actor to watch.
Mumbai is...
Rajat: A magical city. It has really been the dream city for the rest of India, just like America has been the aspirational place for the rest of the world.
Vinay: For me [the sense of wonder] hasn't diminished. Catching a film being shot in Lokhandwala still fascinates me.
Catch up on all the latest Crime, National, International and Hatke news here. Also, download the new mid-day Android and iOS apps to get latest updates