A new takeout in Bandra gets most of its pan Asian flavours right as it whips up a storm in a Buddha bowl, hailed universally as the dish of the year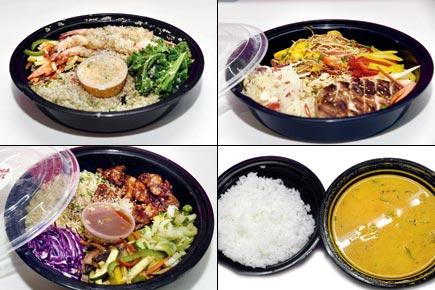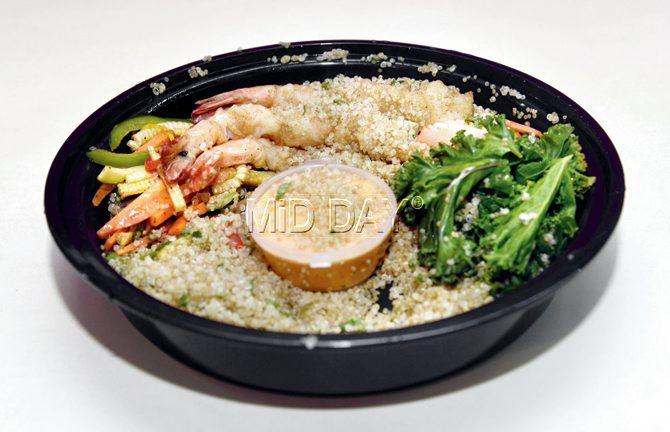 Bento Bowl
A medley of purple, yellow, green, red and brown hues danced in front of our eyes as we took the lid off of Bong Chong Buddha Bowl (Rs 390), half expecting a cute, laughing Buddha to pop up too. It had been sent over by a new takeout joint that opened in Bandra last weekend. Launched by foodpreneurs Jay Goradia and Dilip Lakhani, Buddha Bowl derives its name from the dish that has been hailed as one of the top food trends of 2017. Buddha bowls are presented in large-mouthed bowls filled to the brim with versatile flavours - a mélange of vegetables, grains, protein, greens as well as a dressing - offering healthy, balanced one-bowl meals.
ADVERTISEMENT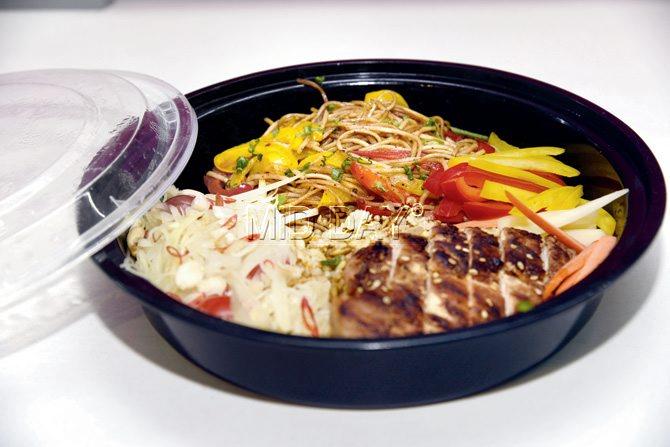 Som Tam Bowl
Meet Mr Chong
Like a few other variations we sampled from a menu that packs in pan Asian flavours in variations of Buddha Bowls, Rice Bowls and Noodle Bowls, Mr Chong had arrived in a sturdy microwave-able bowl with no spillage. It held strips of grilled chicken, sautéed vegetables, curls of purple cabbage and a mound of quinoa pilaf, laid out in sections. We poured the accompanying dressing, tossed all the ingredients and took a bite. The tangy-peppery flavours of the Asian-style dressing wreaked havoc on our palate, but in a good way. It complemented the tender meat while well-seasoned veggies added a nice crunch. Though apprehensive initially, we warmed up to quinoa pilaf too, spiced with spring onion.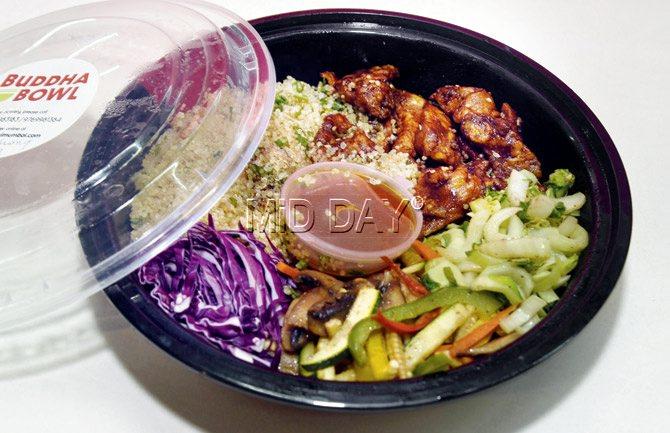 Bong Chong Bowl. Pics/Pradeep Dhivar
Japanese delights
Next, we tried Som Tam Bowl (Rs 390) - the quintessential Thai raw papaya salad with stir-fried noodles, grilled chicken strips and sliced bell peppers and carrots. Though a looker (more colours = more nutrients), the bowl was unimpressive with its dry noodles and overcooked, tough chicken. The saving grace was the tangy raw papaya salad laced with crunchy peanuts and bits of red chillies, which came close to the Som Tam we've tried on Khao San Road in Bangkok.
We found solace in Bento Bowl (Rs 450). As the name suggests, it was a bowl version of the popular Japanese bento that came packed with long, peachy pink shrimp tempura, seasonal vegetables, kale and again, quinoa. It was served with a deceptive dressing that looked like mayo but packed a punch with its garlicky, sriracha flavour. It went well with the slightly moist but fried-to-perfection shrimp. Note to self: best to demolish as soon as it arrives or re-heat to relish the crunch. Our only grouse about this almost perfect dish was the quinoa, which could have been replaced with any other desi-yet-healthy grain that India treasures.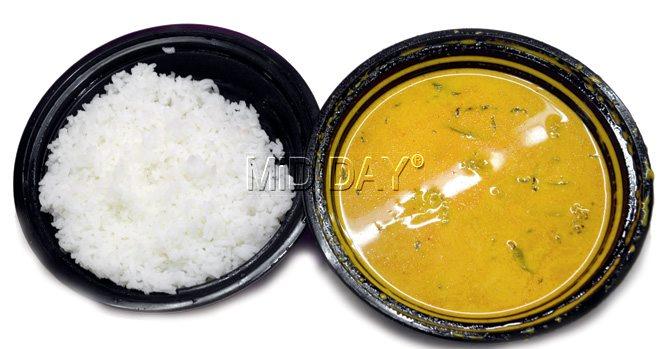 Jasmine Rice and Cari Chay
Cari calls
While the menu offers a list of Asian curries in Rice Bowls, including Redang from Indonesia, Ceylon Stew and Jungle Curry from Northern Thailand, we opted for Cari Chay (Rs 410) - a spicy Vietnamese preparation offered with jasmine rice. The vegetarian version came with thin bricks of coated and fried paneer that we dunked into a summery yellow curry. Laced with diced vegetables, it comforted us with hint of kaffir lime and galangal while the cotton soft cottage cheese soaked in the flavour too. It was one of the best vegetarian Asian curries we've had in a while. Is this what 'inner peace' is all about?
"Exciting news! Mid-day is now on WhatsApp Channels

Subscribe today by clicking the link and stay updated with the latest news!"
Click here!