Vegan pizza, carrot cake smoothie, jhal muri salad, wholewheat pastas. Joanna Lobo scours the city for the healthiest tiffin services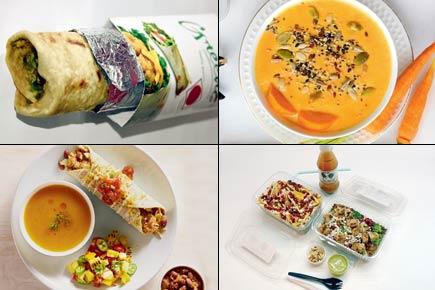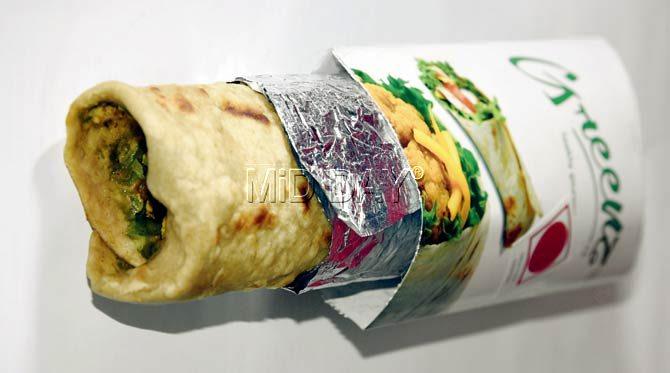 Minced Chicken Wrap. Pics/Pradeep Dhivar
High-protein lunch
It's been a year since chef Hansmukh Asrani, 25, founded Greenz, to offer people healthy meals. "The food has been customised to the local palate, and is rich in protein, low on calorie and big on taste," says Asrani.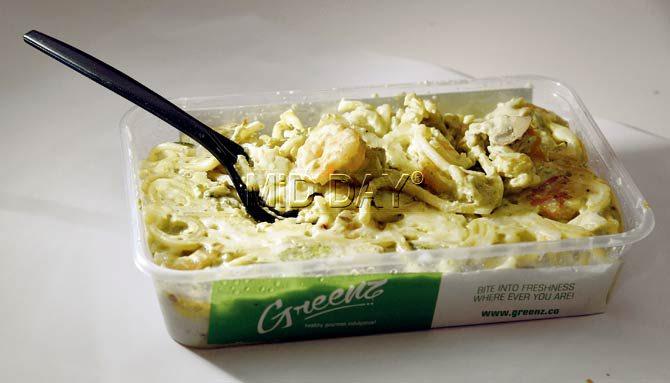 Prawns Pesto Pasta
Greenz offers a la carte meals and a tiffin service. The food includes healthy brown rice meals, soya and wheat wraps, healthy mocktails, multigrain sandwiches, and salad boxes. The chicken and fish (basa, prawns) used are grilled.
The vegetables and meat can be paired with 10 to 12 sauces (curries).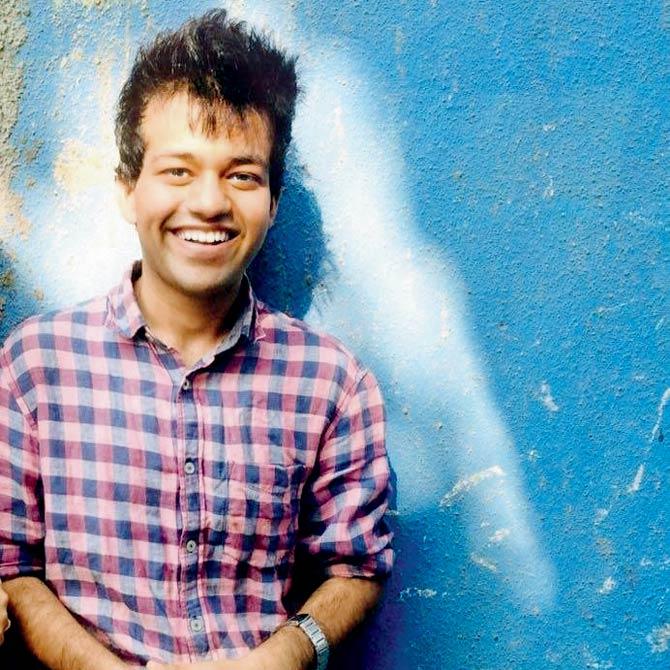 Hansmukh
We tried the Minced Chicken Wrap (Rs 150) — a wholewheat wrap with spicy minced chicken; Prawns Pesto Pasta (Rs 270) — slightly bland but crunchy prawns mixed with creamy wholewheat pasta and mushrooms, babycorn and zucchini; Grilled Chicken in Thai Curry (Rs 280) — a wholesome, flavourful meal with chunky bits of chicken and brown rice; and the Peanut Butter Banana Sandwich (Rs 140) — sweet and not altogether healthy.
The subscription model offers one main course and one salad. Greenz also has an app, available on Android.
Delivery: A 7-km radius from Powai and Worli
Time: 10 am to 12.30 am; open daily
Call: 9004354907
Cost: Rs 175 (vegetarian), Rs 220 (non-vegetarian)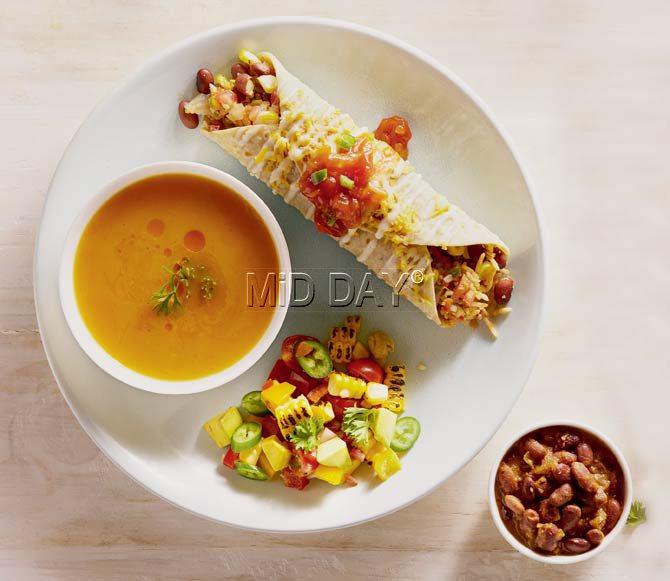 Mexican Carrot Soup and Jalapeno Peppers and Corn Salad
Gourmet world food
Eight years back, Bela Gupta, 55, turned vegetarian. Back then, she found that most menus were heavily favouring the non-vegetarians. "There was a gap in the market for people looking at eating healthy but really good, gourmet world cuisine," says Gupta, who started Herbivore this May to offer just that.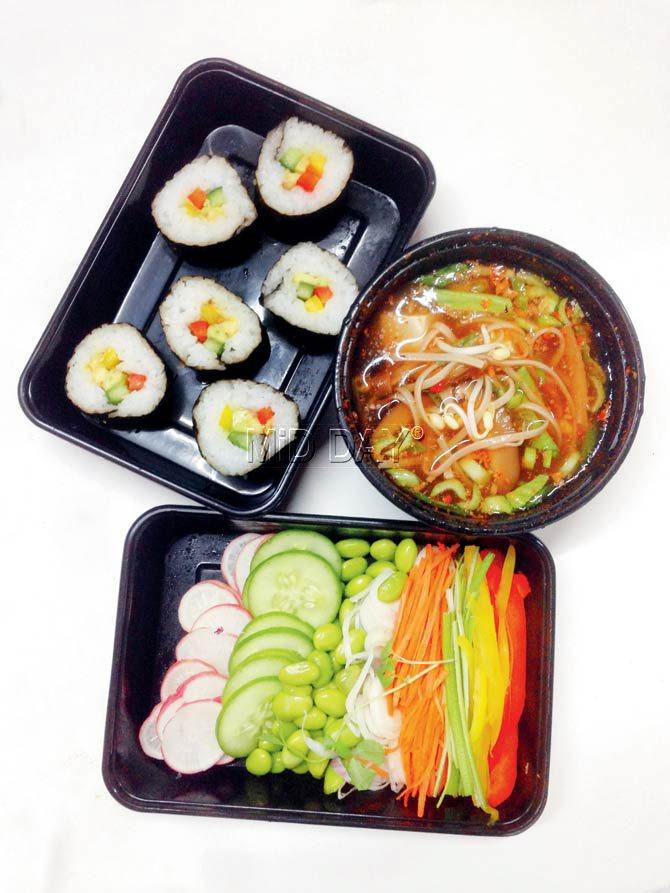 Japanese Spring Salad, Maki Sushi Rolls and Shoyu Ramen

We tried the Japanese meal. The Japanese Spring Salad was a colourful bowl of neatly cut veggies with a spunky mirin dressing; the Maki Sushi Rolls were delicious but the Shoyu Ramen was under-seasoned and watered down soup. On other days you can try Jhal Muri-inspired salad, Falafel Wrap, Sindhi Kadhi and Tuk.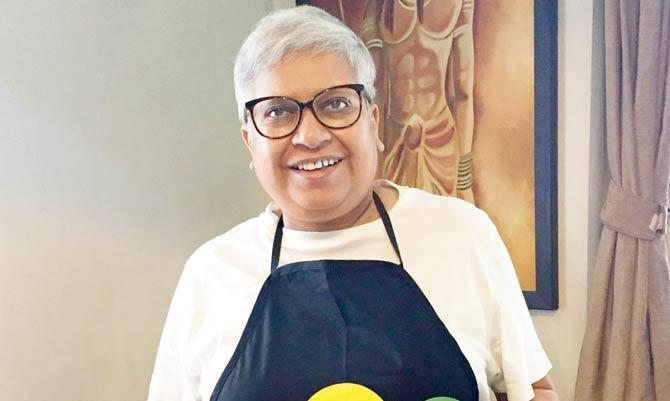 Bela
Delivery: BKC and South Mumbai; Rs 5 per km for beyond
Time: 12 pm to 1.30 pm (lunch), 6.30 pm to 8.30 pm (dinner)
Log on to: www.iherbivore.in
Cost: Rs 2,000 to Rs 8,000
Super breakfasts
Your wait for a healthy breakfast ends here. Avni Bathija-Wittke and Myraa Raheja started Avni & Myraa's Kitchen in May. "A lot of people want to eat a good breakfast. There's a growing awareness about healthy eating; we though why not start an early morning service," says Bathija-Wittke.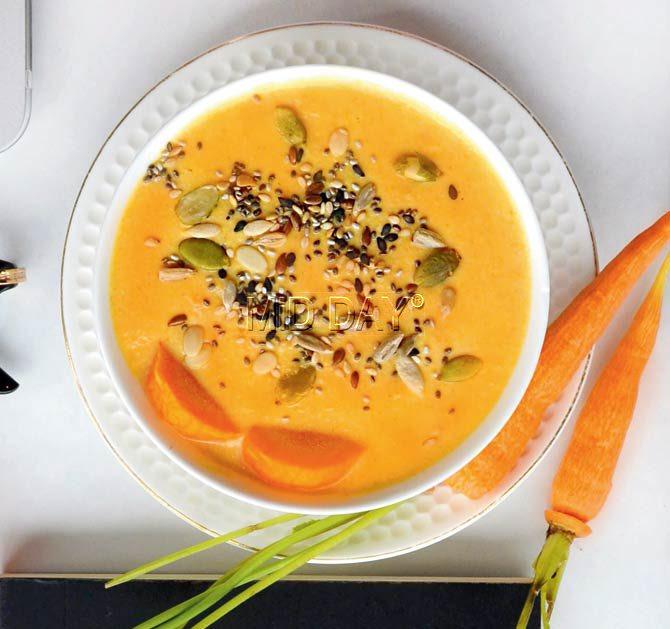 Carrot Cake Smoothie Bowl
They serve smoothie bowls, smoothies, oat meal, chia puddings and granola jars that are raw, and free of gluten, sugar and dairy. They use natural sweeteners like raisin or date syrup, almond and walnut milk.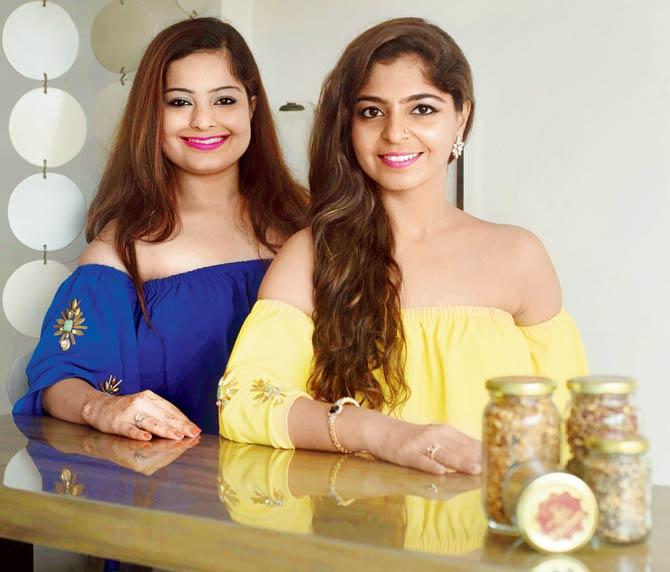 Avni and Myraa
Options include Acai Berry Smoothie Bowl with blueberries and homemade granola, Grandma's Apple Pie, Coffee-flavoured Oat Meal and a Cacao Chia Pudding. We tried their Carrot Cake Smoothie Bowl — a creamy, porridge-like smoothie sweetened with raisins; the Custard Apple Oat Meal — a nutty mixture of custard apple topped with sunflower seeds with a chocolatey centre; and Black Magic Cooler — a light black charcoal activated drink. They offer a seven or a 30-item subscription packs.
Delivery: From Goregaon to Cuffe Parade
Call: 7738995585 (24-hour pre-order)
Cost: Rs 350 (Smoothies), Rs 375 to Rs 450 (Smoothie Bowls), Rs 325 to Rs 400 (Oat Meals), Rs 225 (Coolers), Rs 350 to Rs 450 (Chia Puddings)
Salad to snack
Anchit Palta, 30, is a follower of food coach Haylie Pomroy's Fast Metabolism Diet. "It inspired me to come up with food that is healthy and tastes good," says Palta.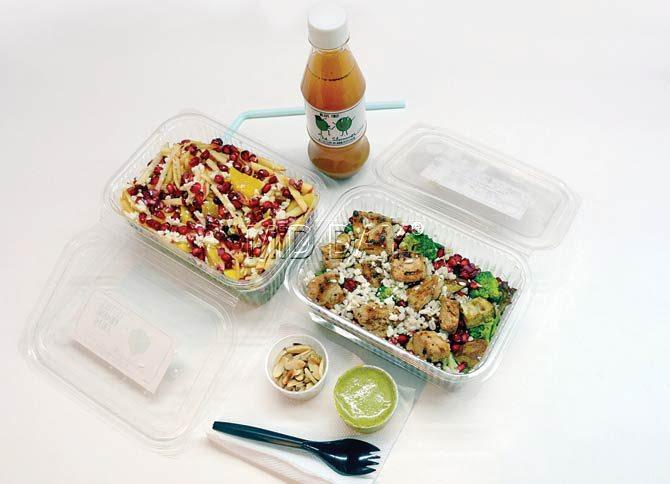 Superfoodz Salad, The Slimmer and Gangster. Pic/Satej Shinde
He started Superfoodz Kitchen a month back, offering juices, salads, soups and wraps — they use olive oil, and no sugar or refined flour.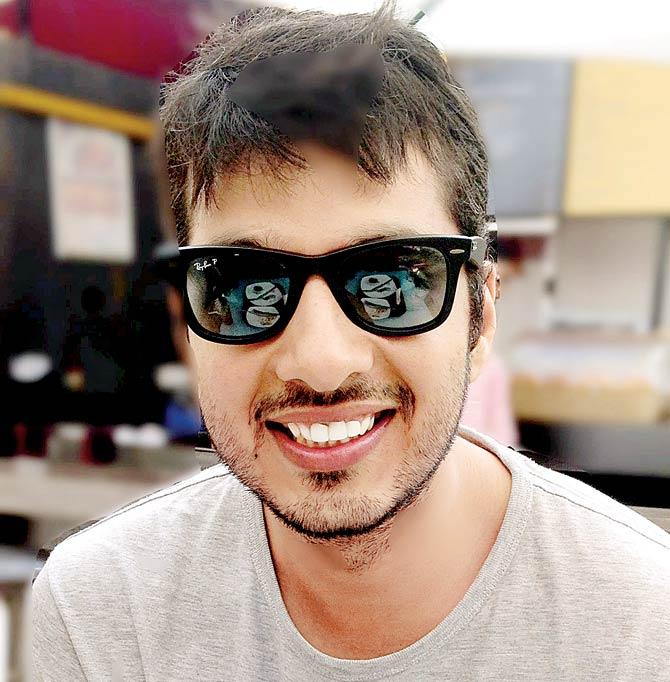 Achint
We tried the The Slimmer (Rs 140) a sour combination of orange juice, apple cider vinegar and honey; Superfoodz Salad (Rs 210) — a healthy mix of chicken paired with sweet potato and barley; Gangster (Rs 190) was a healthy fruit salad with a lovely warmth and nuttiness from walnuts and crumbled cheese.

Delivery: Bandra, Santa Cruz, Khar, BKC, Mahim
Time: 11.30 pm to 6.30 pm; Sunday closed
Call: 8291599848
Cost: Starts at Rs 2,000