Over one week, mid-day ordered a meal off various apps to bring you a frank postmortem of the city's most popular food apps. Here are the results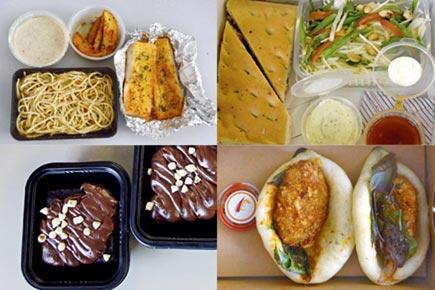 Food App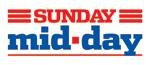 Five out of seven days, 31-year-old Shivli Bembey logs on to Hola Chef when she is hungry. A creative conceptualiser with an events firm, she says cooking every day isn't an option. "I cook a lot, but my hours are erratic. So, when I come home late, I opt for the light meals from the app," says the Khar resident. As regular customer, she has one piece of advice for the proprietors: "They should give better descriptions to dishes."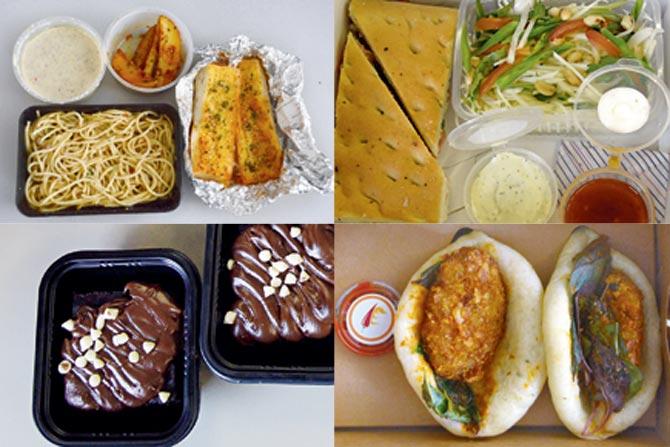 Last week, chef Bhakti Mehta, launched her food delivery service Little Food Daily. "This, we launched, out of personal experience. We order from restaurants often, but realised that they cook in full fat. Where are the healthy options?" says Mehta, who has launched a mobile-friendly website for her service, which is available only in Andheri for now.
The comforting bit is not having to talk to someone while placing an order. We received her Vietnamese rolls and hummus bowl on a day we reached home at 10 pm. It has a crunchy filling of veggies wrapped in paper-thin rice paper. The falafel bowl was filling with creamy hummus, pita and fresh salad.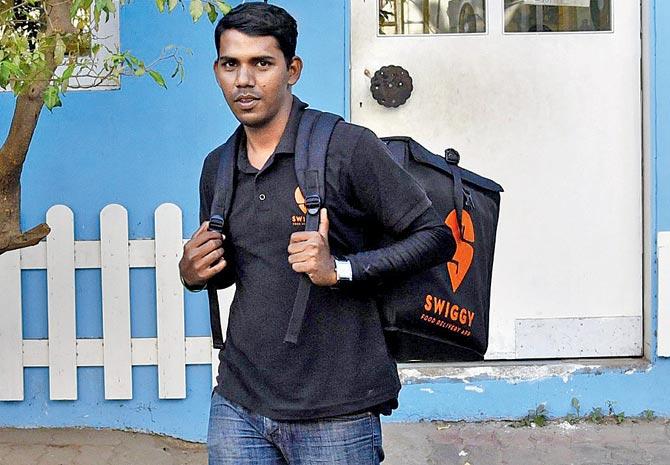 Dr Vishesh Agarwal, a consultant physician from Juhu, got hooked to food apps while he was studying medicine and living out of a hostel. "Now, I am back home, but still end up ordering two to three times a week. I try and pick healthier options. There are some apps like Swiggy that let you order something for as little as Rs 50. Tiny Owl used to be a favourite, but it bit the dust too soon. There are so many more to try," he says.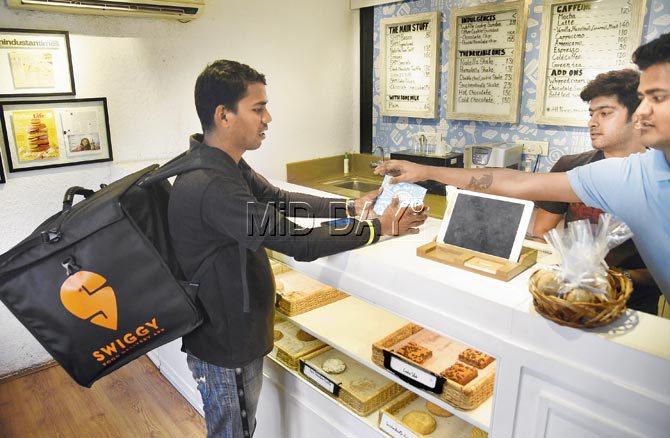 Delivery executive Sujit Pawar picks up an order for Swiggy from Sweetish House Mafia, Lower Parel.  Pic/Atul Kamble
APP: Hola Chef
Order: Spaghetti in mushroom sauce with garlic bread and chilly potato wedges
Delivery time: 45 minutes
Rating: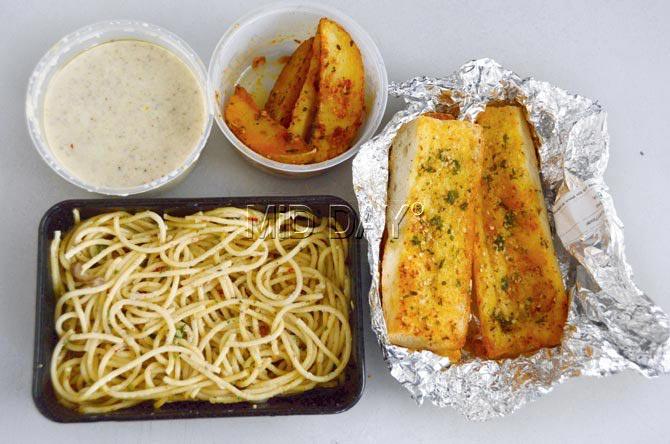 Spaghetti in mushroom sauce with garlic bread and chilly potato wedges from Hola Chef. Pic/Atul Kamble

We signed in to Hola Chef at 1.15 pm. The app opened without hassle after we keyed in a phone number and password. This time, their special Baisakhi and Navratri special menu appeared first. We scrolled down for Italian. Navigation is simple but no segregation between vegetarian and non-veg meals.
We picked spaghetti in mushroom sauce with garlic bread and chilli potato wedges (Rs 250) by chef Nitesh Pawar, lured by the impressive pictures. There is the option of checking chef reviews before ordering. Opt for it.
We chose the 1.30 – 2.30 PM delivery slot, and the food arrived after 35 minutes at 2.05 PM in a crimson coloured recyclable bag with microwavable containers. We liked that the mushroom sauce arrived in a different container, so that we can pour in the quantity we thought right. The creamy sphagetti with mushrooms cooked with fresh parsely, garlic and olive oil was delicious. The potatoe wedges with chilly flakes set our tongues on fire but we don't stop at one. The garlic bread, however, was an epic failure. It's a fall-back app on a rainy day.
APP: Swiggy
Order: Shahi paneer (Rs 150), two phulkas (Rs 16) and fresh fruit cream (Rs 60) from Crystal, Marine Drive
Delivery time: 10 minutes before estimated time of 55 minutes
Rating: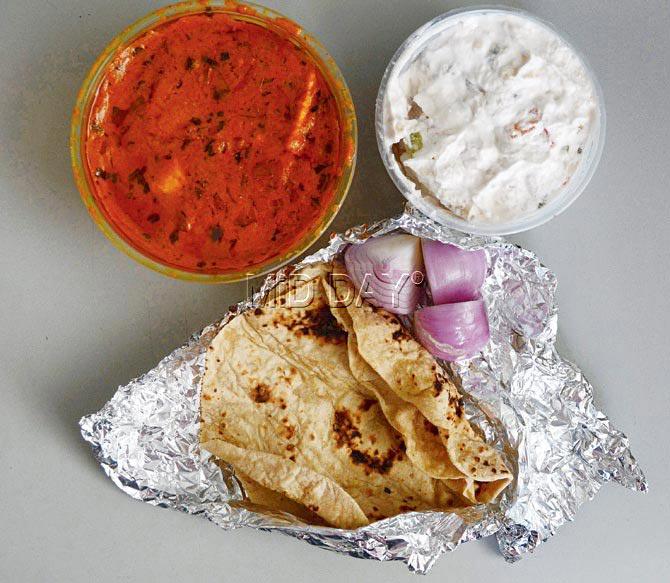 Chicken wrap from Box 8. Pic/Satej Shinde
We tapped on the app, and it took five seconds to fire up. Summer offers greeted us, as well as a R100 off for referring a friend. Not overtly hungry, we took the chance and earned R100 off each on our next order.
We scrolled to check what was trending and new. Movenpick ice-creams have just come on board. But it was lunch time and we were craving Indian khana.
Below every listed restaurant, the user rating and delivery time was mentioned, making it easy to skip Cream Centre (67 minute delivery time). 
One grouse. We wish we could have placed multiple restaurant orders instead of the app asking us if it should forget the previous order. An easy three-step sign up (telephone number, email id, and address) and we could place
the order.
We received an instant SMS and email confirming the order and bill amount (Rs 226). In the next minute, we heard that our delivery executive Rupesh Chavan was on his way to the restaurant to confirm the order. And within 15 minutes, the food was on its way. The message "Our delivery executive Rupesh Chavan is en route, delicious food incoming" made us smile. We don't have to wait long. The order arrived in 40 minutes, 10 minutes before estimated time.
The food was piping hot, and the rotis reminded us of home. The only downer: absence of disposable spoons.  
APP: Foodpanda
Order: The XL Combo (Rs 199)
Delivery time: 25 minutes before estimated time of 60 minutes
Rating: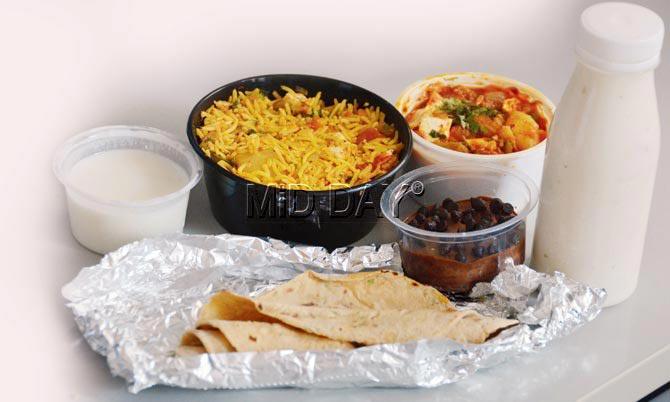 XL Veg combo from Foodpanda. Pic/Satej Shinde

The app is a smart one as it tells us which restaurant is offering a discount as soon as soon as we log on. But since we have a roving eye, we decide to check out our options before going for the cheapest one.
It asks us for our location and suggests from restaurants closest to us, that include all types of food — right from fast food to desserts to Chinese to continental. Every restaurant has an indicator of the estimated time it will take to deliver. For example, the one we pick, Metro Tawa and Retro Bites, promises to deliver in 60 minutes. We did get it only in 35 minutes though. Each restaurant also has a feature that tells us what are its most popular dishes, and that helped us make our selection. If it's popular, it will be half decent, right?
We made our selection and hit the "place your order" button. It's a simple registration process, which requires email, restaurant and a phone number. What we did wish was that it had a "cash on delivery option".
The food was hot on arrival. The Tawa Paneer Pulao lacked salt but the Mix Veg Paneer was healthy and filling. The parathas were soft. We didn't approve of the tiny spoon they sent us though, and would have preferred more tissues and disposable cutlery. All in all, a satisfying experience.
APP: Box8
Order: Chicken wrap
Delivery time:  45 minutes
Rating:


Chicken wrap from Box 8. Pic/Satej Shinde

We logged onto the Box8 App a day before the food poisoning fiasco, where 400 students at an Indian International Model United Nations event fell ill after consuming food from the delivery on April 14.

To be fair, our experience was nothing to complain about. We were promised delivery within 38 minutes and we got our Roasted Chicken Wrap on the dot. The app is easy to use, and the menu is well segregated (all-in-one meal box/pizzas/wraps/sandwiches etc). Since Box8 prepares its own meals, options on the menu are limited.

The well-shot photographs make zeroing in on an order tricky. You can choose your breads (whole wheat or otherwise), and extra fillings too. A personal message to the chef listing specifications, we thought, was a heartening surprise.  Feeding in information is cumbersome but the conformation SMS arrived quickly.

Our meal came to us wrapped in a silver foil, neatly packed in a carton. Slightly peppery, but tasty anyway, the wrap could have come to us hotter. For a meal priced at Rs 150, it was perfect. A feedback message followed later. So we know that Box8 is keeping an eye on what's being served.
APP: Innerchef
Order: Salmon panini, egg roll, nutella brownie
Delivery time: 60 minutes
Rating: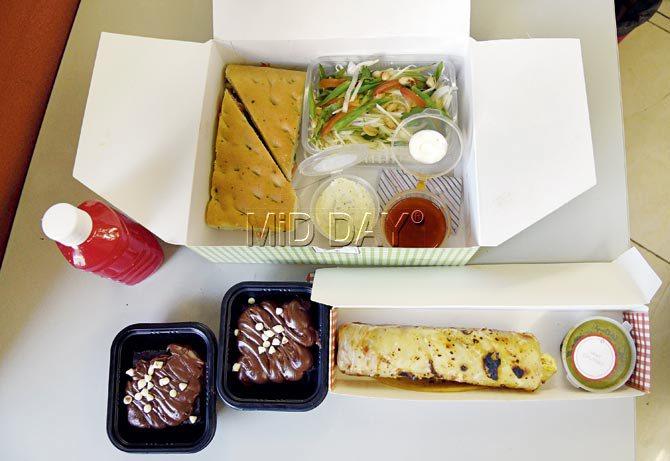 Salmon panini, egg roll, nutella brownie and watermelon juice from Innerchef. Pic/Attul Kamble
The food gets a 5/5 but the app loses points on the app-user experience. We like that the app has a website feel on the mobile, with subheads in horizontal – featured, salads, paninis, combo snacks and drinks stand in a row, promptly giving a neat and easy feel.But the app crashed on our phone twice, and many of the pictures didn't load at all, while some took extra time to load. 

The app, which serves European, Mediteranean and modern Indian dishes charged us R65 as VAT and our bill shot up from R520 to R585. We were heartbroken.  The food, is a different story altogether. Our Salmon Panini had a subtle smoky flavour and the moist fish fillet melted in the mouth with the mustard and pepper dip. The bread was buttery and the som tam salad added a zing of tartness to the meal.

The egg roll with spiced onion was comforting warm in our mouth. We had ordered a Nutella brownie, but we got two. A black forest jar and watermelon juice was complimentary too. We will definitely order again, but we hope the app lightens up a bit.
APP: Zomato Order food online
Order: Laksa
Delivery time: 45 minutes
Rating: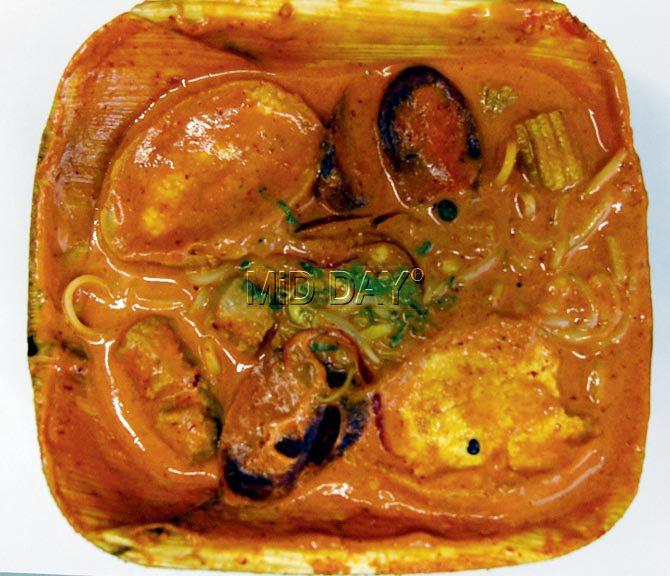 Laksa from Wok This Way. Pic/Atul Kamble
The godfather of apps, it gave us the best offers, including straight 15 to 50 per cent offs on minimum orders between Rs 200 and Rs 300. The green discount tags are attractive. Every restaurant reflects delivery time and minimum order, helping you take a quick call.
But, when we were asked to fill in a code, an incorrectly typed one changed to the correct one. Is there a problem, Siri? The online support did not respond to our online chat query. Thumbs down.
Zomato does not look into the delivery leg and simply connects app user to restaurant, who in turn ties up with the food delivery service. We ordered a laksa from Wok This Way which came packed in biodegradable cutlery. While it spilled a little when we tore the foil, we were impressed with the packing.
This dish is likely to become a weekly staple. The red coconut gravy was thick, tangy and sweet. The mock meat was juicy and the portion was enough for two.
APP: Scootsy
Order: Sweet Potato Bao from Bao Haus Co
Delivery time: 1.5 hours, (10 minutes late)
Rating: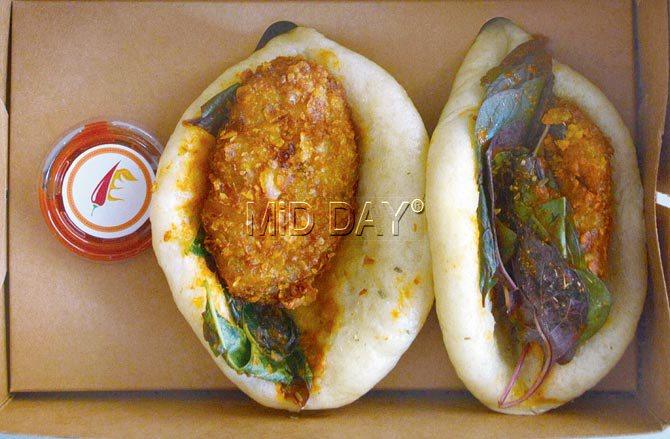 Sweet Potato bao from Bao Haus Co. Pic/Satej Shinde
Having seen Scootsy's deliverymen zip across town, we were riding high on hope. But, some experiences are best archived, and not returned to.

At 1 pm, we log in to place an order, and while we were entranced by the many options (Restaurants, Food Stores, Sweets and Cakes), we hit a dead end. The app's response can be thus summarised: we are still in the works, so visit the website in the meanwhile. The website is easy to navigate, and we chose Bao Haus Co. From here, we ordered a sweet potato bao made with a cottage cheese croquette, fennel and amaranthus salad, roasted bell pepper relish and pretzels. We chose the 2 pm to 2 30 pm delivery slot, but it was unavailable. We picked 2.15-2.45 pm.

Ordering ahead is recommended. Our parcel arrived 10 minutes after the outer limit. And if you thought the baos, which cost us Rs 200, would make up for lost time, that wasn't the case. They looked delicious, but were far from the warm comfort food we imagined.

On a happier note, Scootsy's Food Stores tab lists preserves, cured meats, condiments and sauces.