As CSMVS celebrates its centenary year, a consciously curated display for children that opened yesterday will hold their hand through Mumbai's past, present and budding future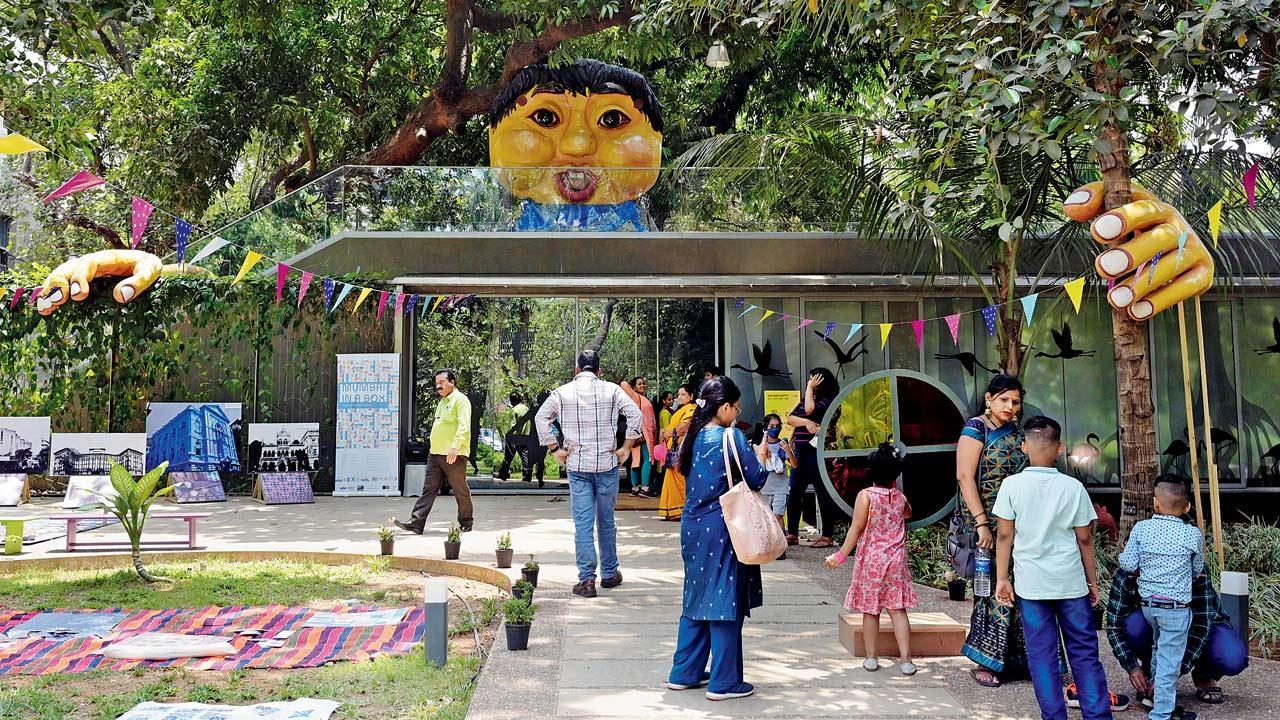 Exhibition mascot Pao holds the show together. Pics/Bipin Kokate
A colossal yellow-coloured head is too preoccupied to spot us. Little Pao is a true-blue Mumbaikar, named after his favourite pillowy bread. As his giant-sized papier-mache-head lords over the Children's Museum, we look around to map his posture. Pao's one hand holds on to the museum wall, the other clutches a tree, and opposite his beaming face is a stretched out foot.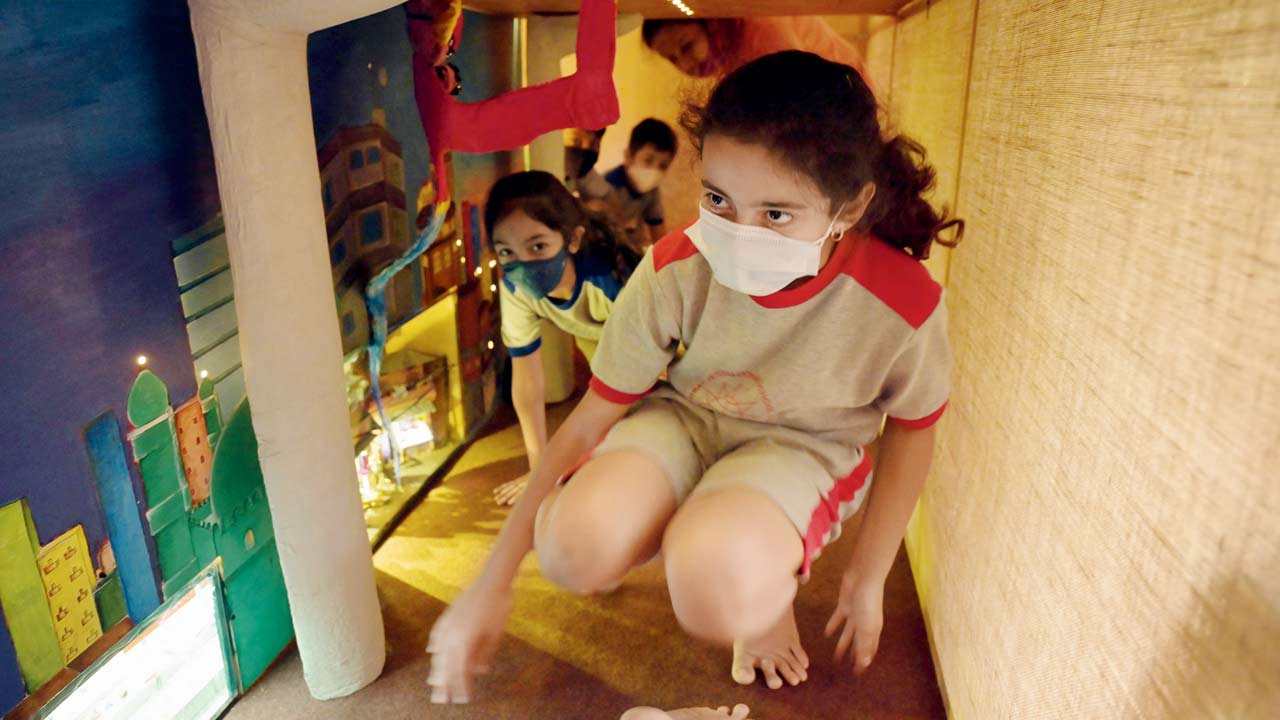 Wriggling through Bhendi Bazaar
ADVERTISEMENT
Pao, the mascot for Mumbai in a Box, a new exhibition at Chhatrapati Shivaji Maharaj Vastu Sangrahalaya (CSMVS), is playing with a sandbox. The sensorial display envisioned by puppet theatre company Katkatha, found a home at the museum that is in the midst of their centennial celebrations. "We wanted to do something special for children to celebrate the occasion and what better way than a tribute to Mumbai that has nurtured us over the years.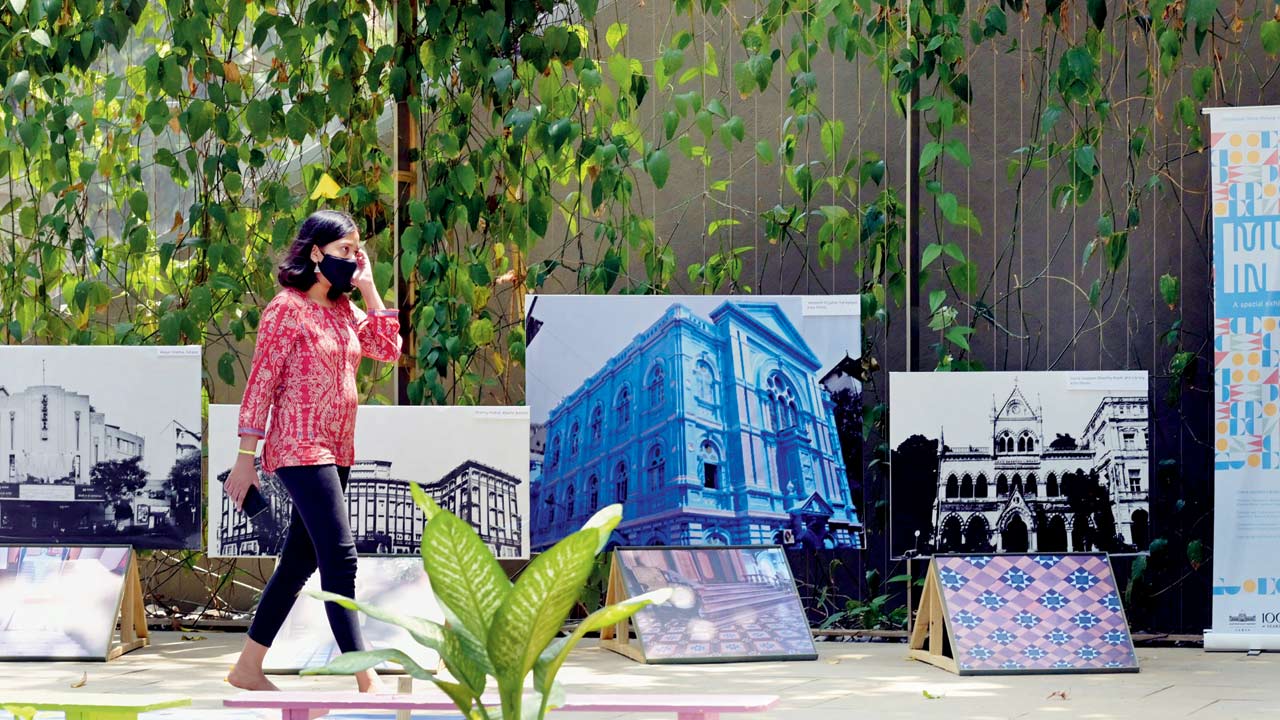 A comparative visual where tiled floors contrast skylines
Children across age groups, who visit CSMVS, are from different walks of life, speak different languages, and have diverse interests. Our idea was to create an experience that would resonate with every single child," shared Vaidehi Savnal, head, Children's Museum, adding that it was meant to be a sensory experience after kids were deprived of physical interaction for over two years.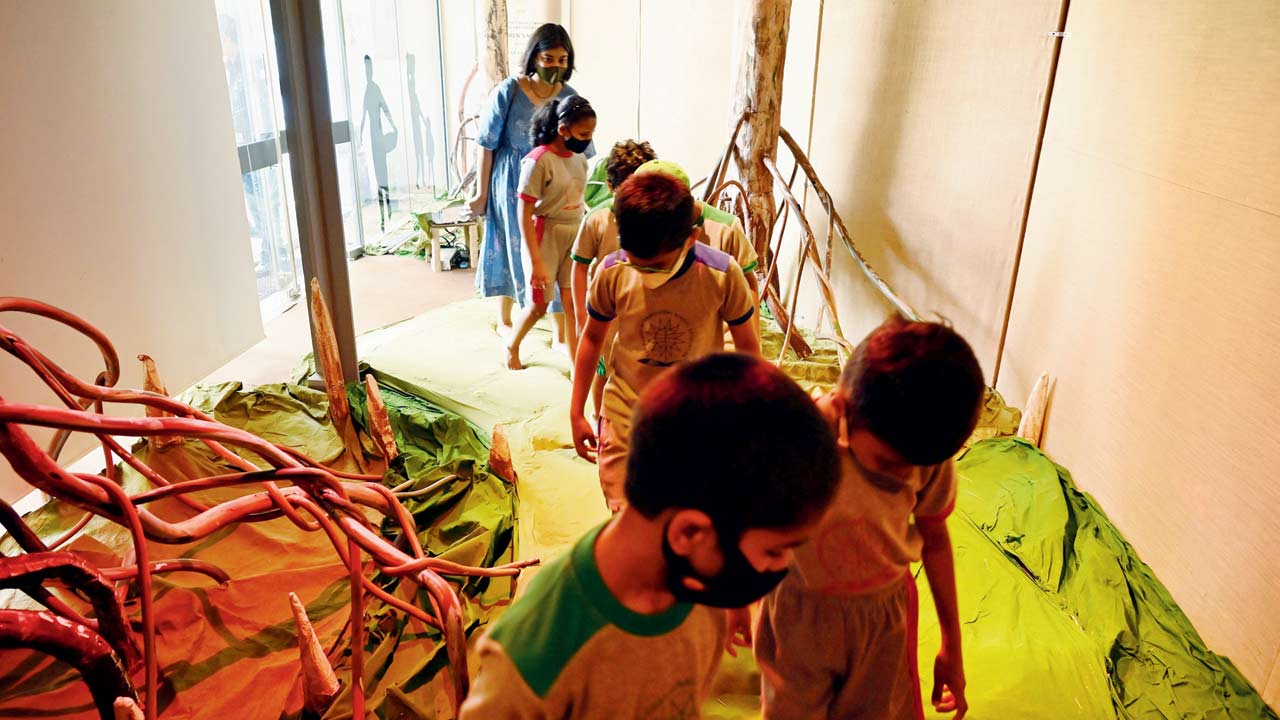 Children walk down the sensorial mangrove-bound pathway
Leaders of tomorrow
Who decides if a tree should be cut down? Who rules that forestland should be used to realise dreams of concrete? Anurupa Roy, art director at Katkatha, shares, "It is sad that children are not made part of such crucial decisions. We should ask them if they are willing to embrace temperature extremes and floods. Being alive to the city is a process that happens through accountability; the life-size drawing board is a sponge for a child's ideas for the city that would be."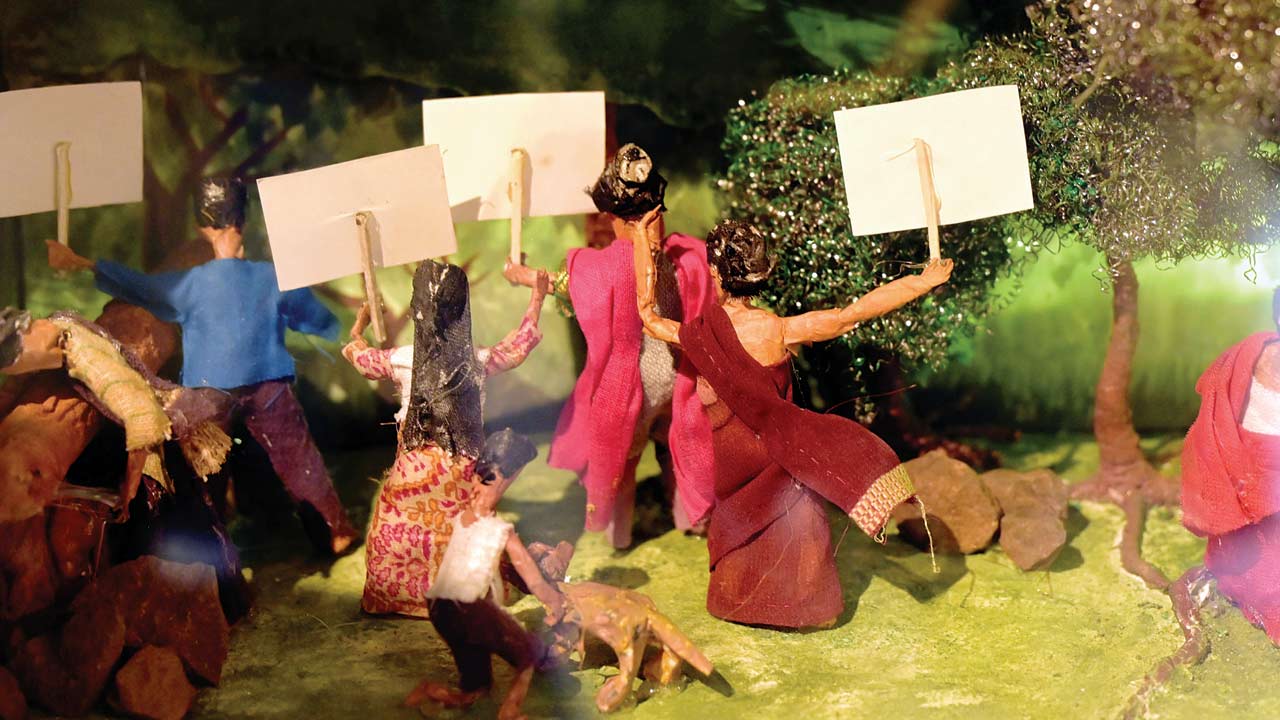 A display unit sporting trees made up of waste aluminium scrubs
A black board with one-inch square tiles and colourful doodles strewn across its surface abridges how kids wish to build their island city. Once inside the gallery, we follow a trail that pieces devices of kinesthetic learning together. The snaking path begins with mangroves that have Mumbai breathing. Our feet sink into a make-believe bumpy stretch where dried leaves, twigs and pebbles hoist their arch. The next stop is a textured wall where a plastic lizard, a tiny puppet and a knobbly façade await us.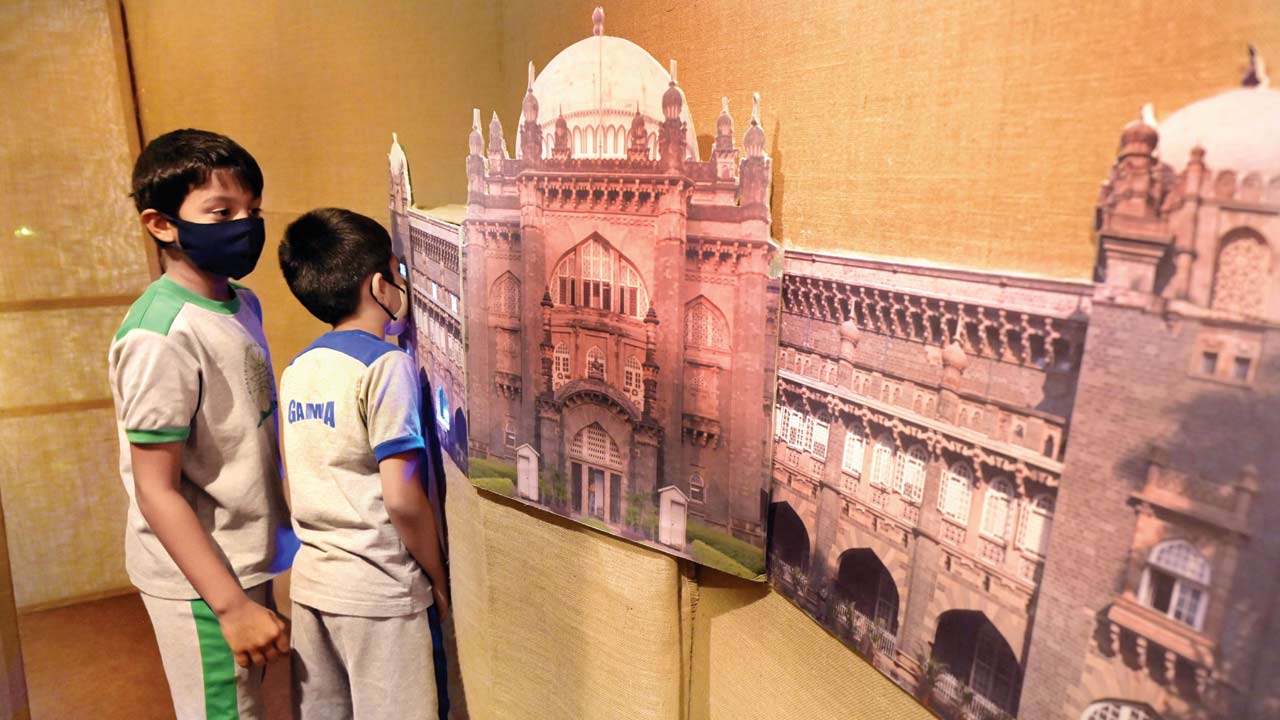 Kids look at miniature departments of the museum
Because touch has a memory
"It's hard to develop an interest in intangible heritage after a certain age. So, start young. Our team decided to deliver that effect keeping in step with body intelligence," Roy reasons. As we crawl down a narrow passage only to land in Lilliputian Bhendi Bazaar, miniature seekh kebabs, handi biryani, ornate hand mirrors grab our eye. Further, glass cabinets with mini ittar displays merge with the call to prayer (azan). Before we could find a handy tape recorder hidden in the folds, we are prompted to rub our finger on a white speck. And lo! We smell mogra. We could have missed lots had we not crawled under JJ Flyover. In the colour wheels attracting natural light or the turn-handles and switches orchestrating moods and shades, the show has successfully parcelled a lesson in elementary physics.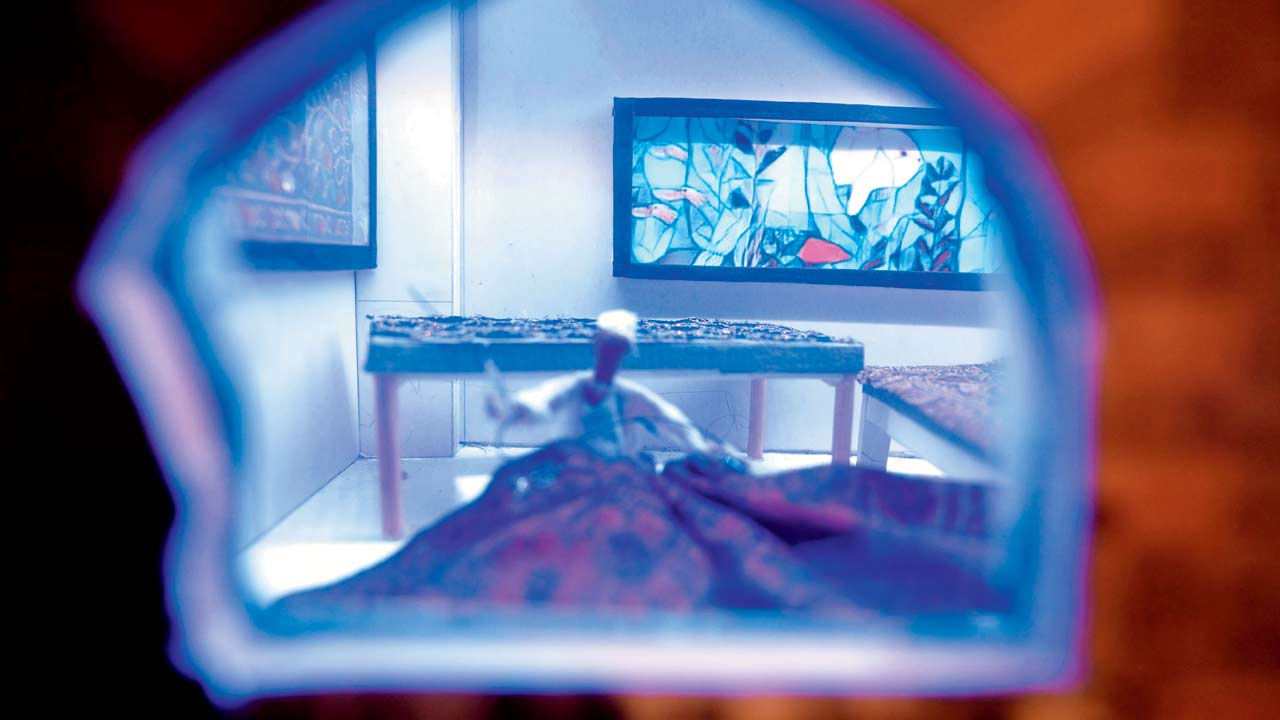 CSMVS' tiny conservatory
History heralds the future
This new exhibition, their first in nearly a year, also takes us through the annals of time. While one of the walls tells us how the dargah named after Pedro Shah Baba came into being, another segment takes us through Lady Hardinge Hospital (CSMVS was once called this), and a small alley features Fearless Nadia and a prop movie set. While a chaiwallah is distracted by the set's goings-on elsewhere, kids peep through miniature versions of the museum's CCTV room, conservatory and restoration unit. Filled with childlike thrill, we end our adventure after meeting underwater creatures. Like Mumbai follows the ocean, we too meander on land to dip our feet into the sea.
Time: 11 am onwards
Till: August 2022
At: CSMVS, MG Road
Log on to: @csmvsmumbai