An innovative project by a city-based art gallery aims to make fine art accessible to all, by installing works on public bus stops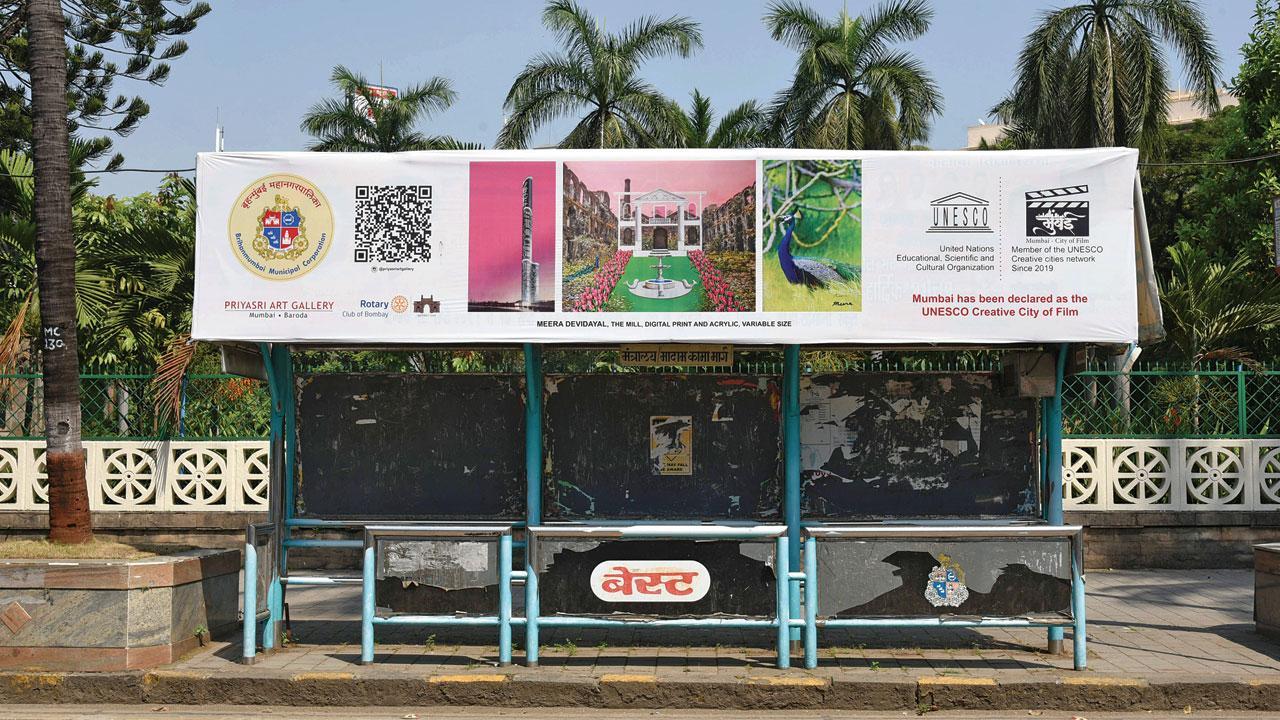 Art by Meera Devidayal at Madam Cama Marg. Pics/Suresh Karkera
Driving past Worli Sea Face on a Sunday evening, this writer's gaze fell on a rather unusual billboard perched atop a bus stop. A space that's typically reserved for flashy advertisements, the billboard was a black-and-white photograph of a Koli fisherwoman, and the accompanying text indicated that noted director and screenwriter Sooni Taraporevala had captured it. This writer later learned that the billboard is one of the 15 selected for Worli-based Priyasri Art Gallery's Billboard-Bus Shelter Project. These billboards dot the stretch from Worli to Mantralaya, in Nariman Point and, as Priyasri Patodia the gallery's founder explains, feature works by established and young artists whose lives have been carved in the city of Mumbai.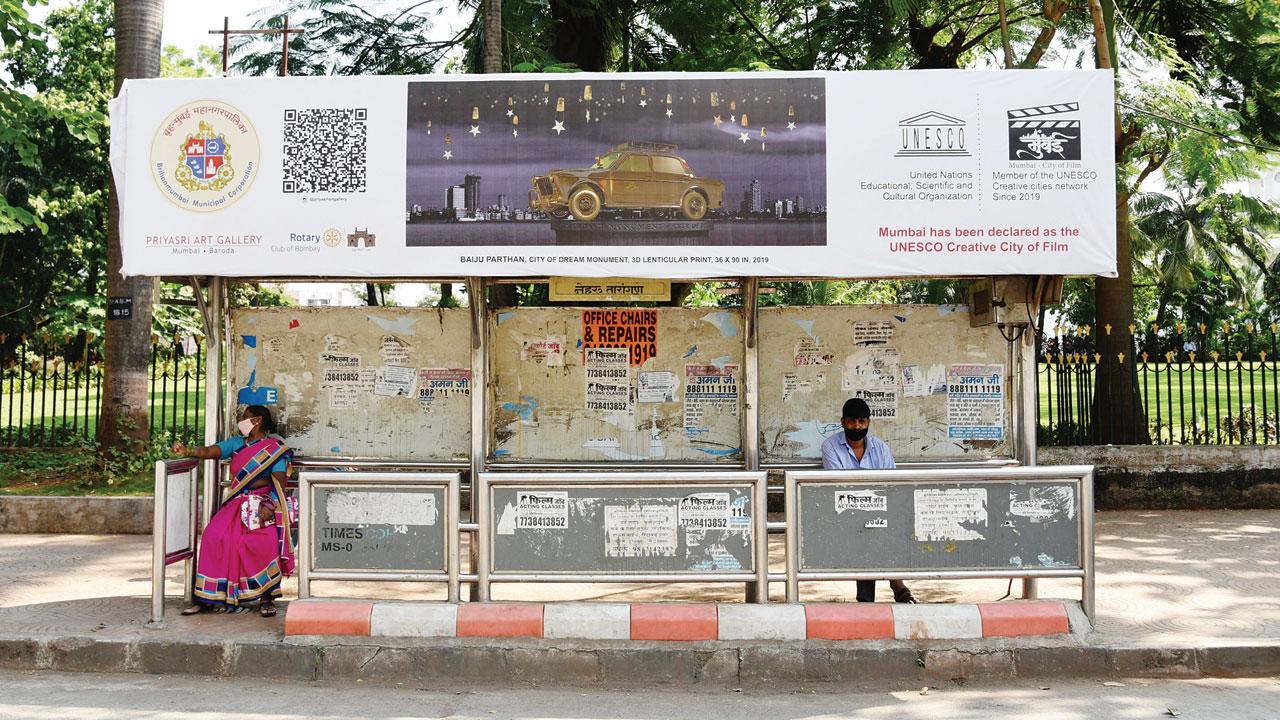 Art by Baiju Parthan at Dr Annie Besant Road
Artistic pause
"During the pandemic, there was a growing sense of disconnect within the art fraternity and many artists I worked with wrote to me about their uncertainties about the future. I undertook various initiatives to help them out and boost their morale, including digital art exhibitions and a charity art auction for the benefit of sanitation workers. At that time, I learned of Mumbai being designated as a UNESCO Creative Film City, which is a prestigious honour. We wanted to make more people aware about this but in a subtle way, considering the enormous toll the pandemic was taking on the city," she shares. At first, she was eager to take up billboards across the city that had no takers during the lockdowns. When that didn't work out, she turned her sights to the billboards mounted on bus shelters, which the BMC was ready to contribute for free. "We drove down the stretch and selected 15 bus shelters. In addition to artists, I also wanted to involve works by architects in a bid to involve them in the urban planning process," she adds.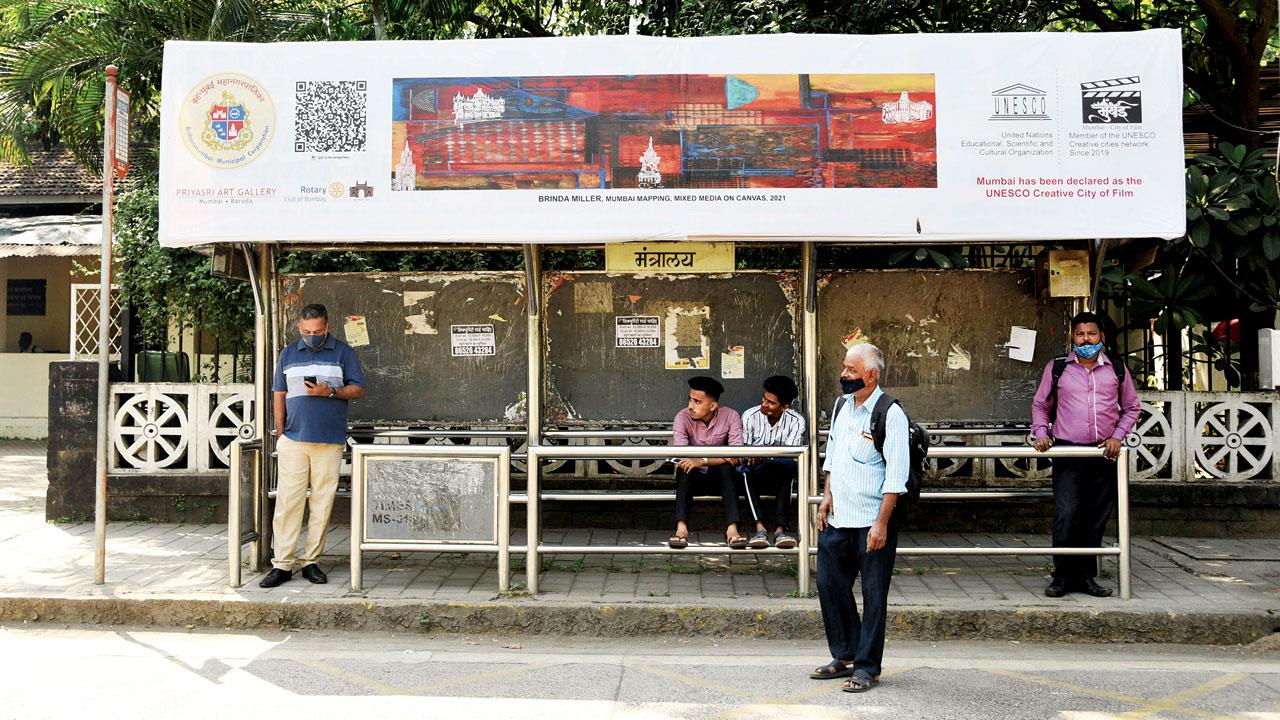 Art by Brinda Miller at Mantralaya
Art for all
"The piece I have shared is from my ongoing project, which is an inquiry into human loss. The project comprises letters I have written to my late mother about the things I see around me. This letter is from my diary, where I reminisce about those who our city has lost. In many ways, the letter is a prayer for them and for the city to return to the way it used to be. It felt apt, considering the times we find ourselves in," says artist Al-Qawi Nanavati.  She adds that what makes this project special is that it brings art to those who wouldn't typically venture into gallery spaces to experience it. Each billboard has an accompanying QR code that can be scanned to download and print the artwork.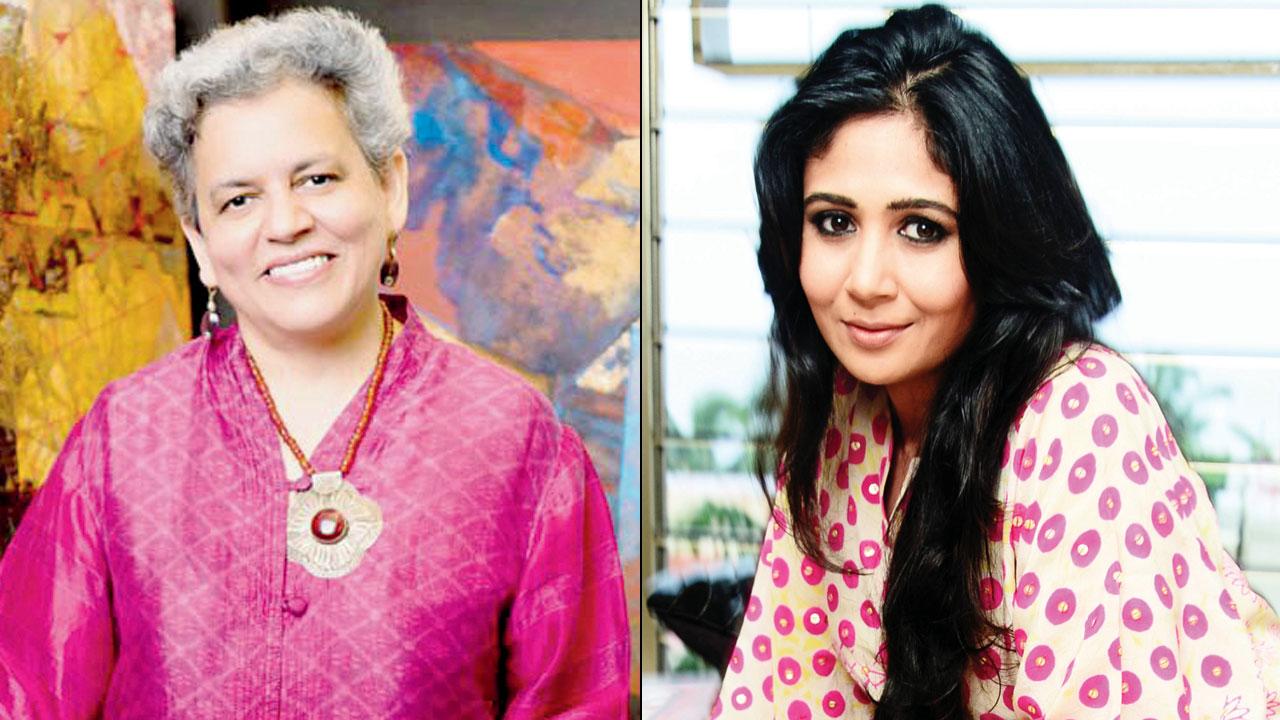 Brinda Miller and Priyasri Patodia
History has proven that during any calamity, art and culture have aided in restoring the peace and stability of society, Patodia points out. "This public art installation, interacting with every Mumbaikar on the street, will hopefully reinforce their indestructible, never-give-up spirit. Mumbaikars have persevered through various trials, including the current pandemic, but they have never given up fighting for peace, harmony and joy," she says. It is this spirit that architect Tanya Singh has commemorated through her piece, which has been from one of her ongoing projects in Bengaluru. "We've extracted the actual façade, which has doors of different shapes. Each door signifies the opportunities that exist, even in the darkest times. The door you choose, or the path you take, forms your life's story," Singh explains.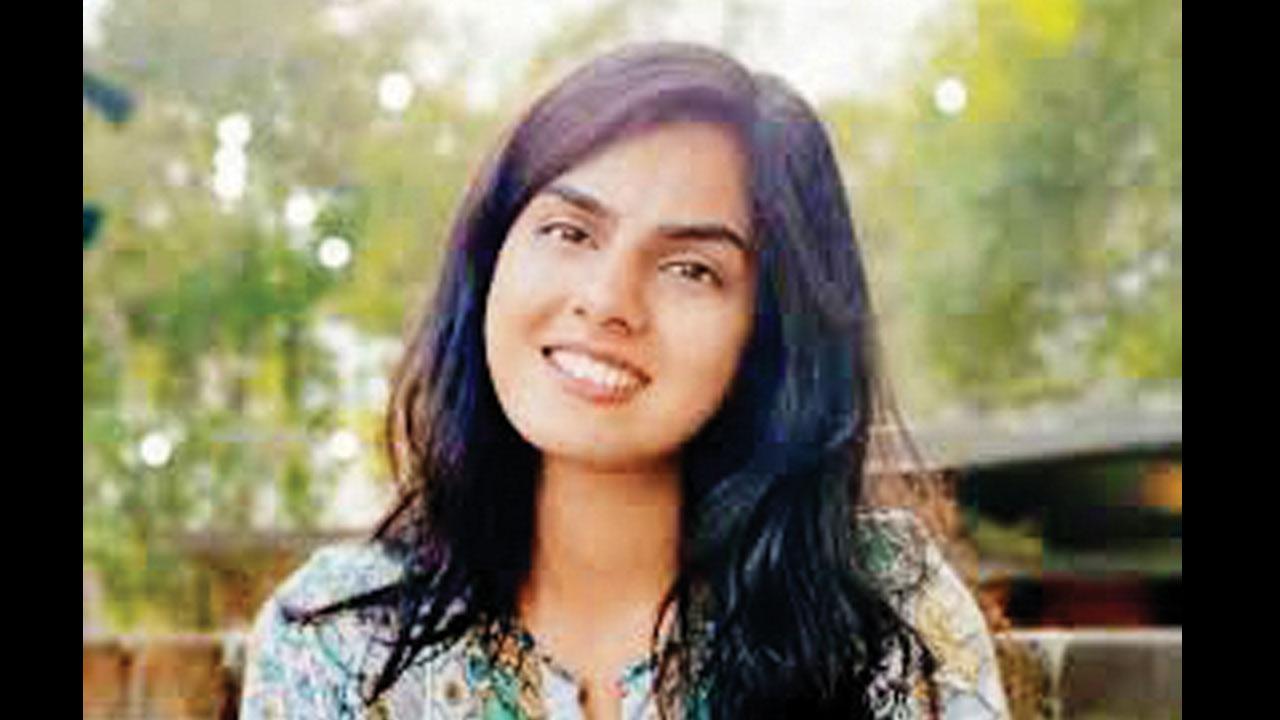 Al-Qawi Nanavati
Start something new
Considering that some of the names Patodia picked out are conceptual artists, the question of whether the art would resonate with those who came across it did arise. "The purpose of art isn't to be understood; it is to give you respite from the hectic pace of your daily life, if only for a few minutes. Besides, most historic art in India was not stowed away in palaces but intended to be enjoyed by all," she adds. Artist Brinda Miller, who is a vociferous advocate of art in public spaces, played an integral role in facilitating this project. "While internationally, every city has something to show as far as art in public spaces are concerned, India is lacking in this regard. This was a good, fun project and there's never been anything like this in Mumbai before. Hopefully, it's the start of much more to follow," she signs off.