As the government steps up efforts to beat plastic pollution, here's our guide to helping you make it an eco-friendly Ganesh Chaturthi at home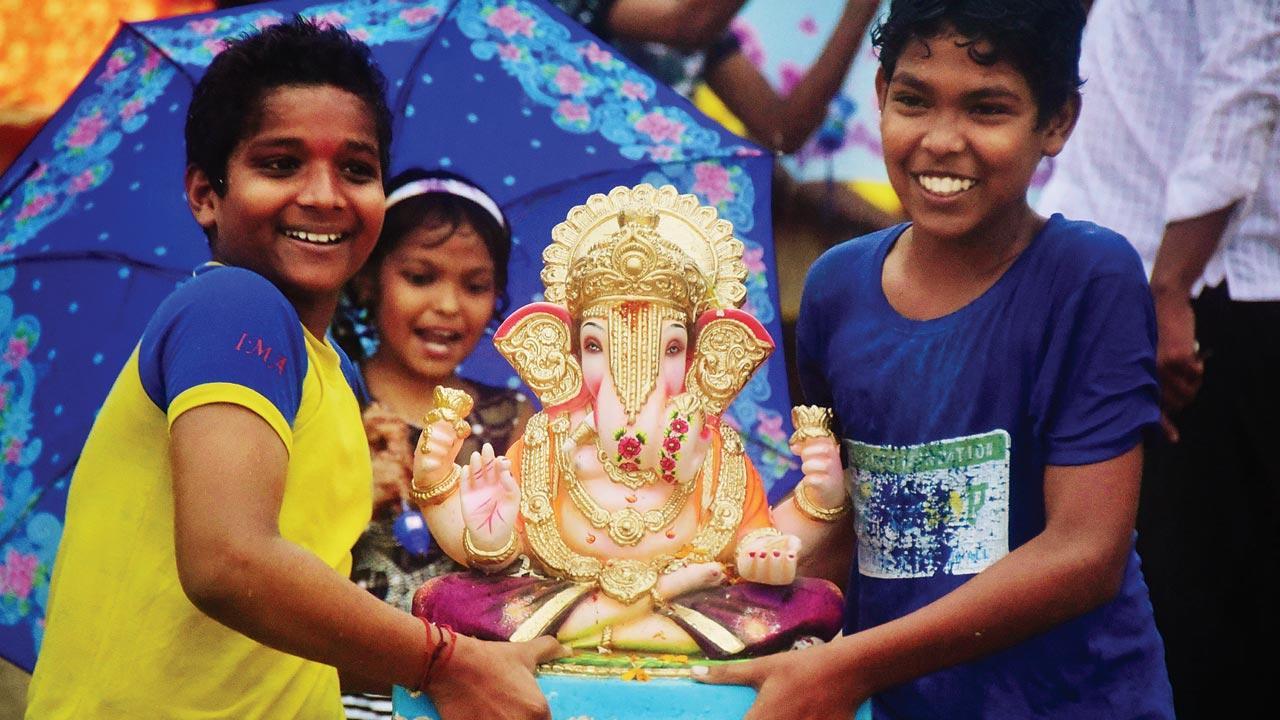 Kids carry Bappa home in pre-pandemic days
From plastic cutlery to wrapping films around sweet boxes and polystyrene (thermocol) for decoration, the recently notified Plastic Waste Management Amendment Rules, 2021, listed several single-use plastic items that often find their way into festive occasions, such as Ganeshotsav. With authorities moving to phase out these items, crafting experts and a chef share handy tips to celebrate Ganesh Chaturthi in an eco-friendly manner.
Paper chains
Method: Khemka and Podar suggest taking colourful paper or even old gift wrapping paper and cutting out strips, about six-inches long and half-inch wide. Turn a strip to make a loop and stick the ends together. Take another coloured strip, put it through the earlier loop and then stick the ends to form a chain. Continue adding more loops to get the desired length. Create several long chains and use them as the backdrop for the idol.
Crafters suggest looking at old, unused household items or the garden for décor ideas
Tea light-holder
Method: Re-use your old Diwali diyas or tea lights by sticking them in the middle of an old CD. Paste leaves at the back of the CD. Make a paste of chandan powder to make simple patterns on the leaves for a dash of colour. Place fresh flowers on alternate leaves and make a rangoli-style design, the duo tells us. These can be placed around the idol to add some glitter.
Marigold lamp
Shruti Singh
Method: Lucknow-based crafter Shruti Singh, who runs the Instagram page @dotsndesign, points to vibrant marigolds for a lit touch to your mandap. Take marigold flowers and make approximately 10-inch garlands. Now, take a sturdy cardboard, cut a circle out and paste any cloth on it or paint it. Make a hole in the centre to fix a bulb. Make small holes, equidistant along the diameter of the circle. Through each hole, loop in and tie a garland. Secure with a knot. Plug in the bulb and your hanging, marigold lamp is ready.
Décor to DIY for
Palak Podar and Khushboo Khemka
Mumbai-based sisters Palak Podar and Khushboo Khemka, who run a crafting and activity venture for kids called The Rainbow Tree (@the_rainbow_tree_creatives), urge us to take inspiration from material lying unused at home, such as CDs and old wrapping paper. The duo, who offer a DIY Ganpati mandap kit comprising a biodegradable MDF idol, share that one can also look into their balcony garden for ideas.
Food for thought
Sabudana kheer served in dried coconut shell
In order to host guests at home for chaturthi lunch or hand out naivedyam or bhog, Mumbai-based chef Reetu Uday Kugaji, a culinary expert and chef consultant, suggests:
. Bhog, prasad and naivedyam can be served on banana leaves, jackfruit leaves or palash leaves, or serveware made out of the same. These leaves add a nutritional value, along with their own aroma to the food. One can also use patravali; to avoid the use of bowls, get patravali with 
compartments.
. For beverages such as tea, coffee, taak, solkadi or sherbet and water, one can use areca leaf or bamboo tumblers, or kulhads.
. Sweet treats such as tandalachi kheer, banana sheera, shrikhand, basundi, sabudana kheer and kesari phirni can be served in kulhads or clay bowls. You may also serve them in disposable areca leaf bowls or clean and dried coconut shells. Use fresh betel or paan leaves to serve ukadiche modaks. Coconut rice and coconut ladoos can be served in clean and dried coconut shells, too.
Chef Reetu Uday Kugaji
Let's plant some modak magic
Pic courtesy/Upcycler's Lab
Eat your modak, but plant it too. This platform sells plantable modaks that are made of paper pulp and natural colour, and contain tulsi seeds. All you have to do is sow and water.
Log on to upcyclerslab.com
Cost Rs 285 for a set of five