A 40-year-old book centre in Nana Chowk has a rich collection of literature on the Mahatma, and conducts exams and events for students and jail inmates across Maharashtra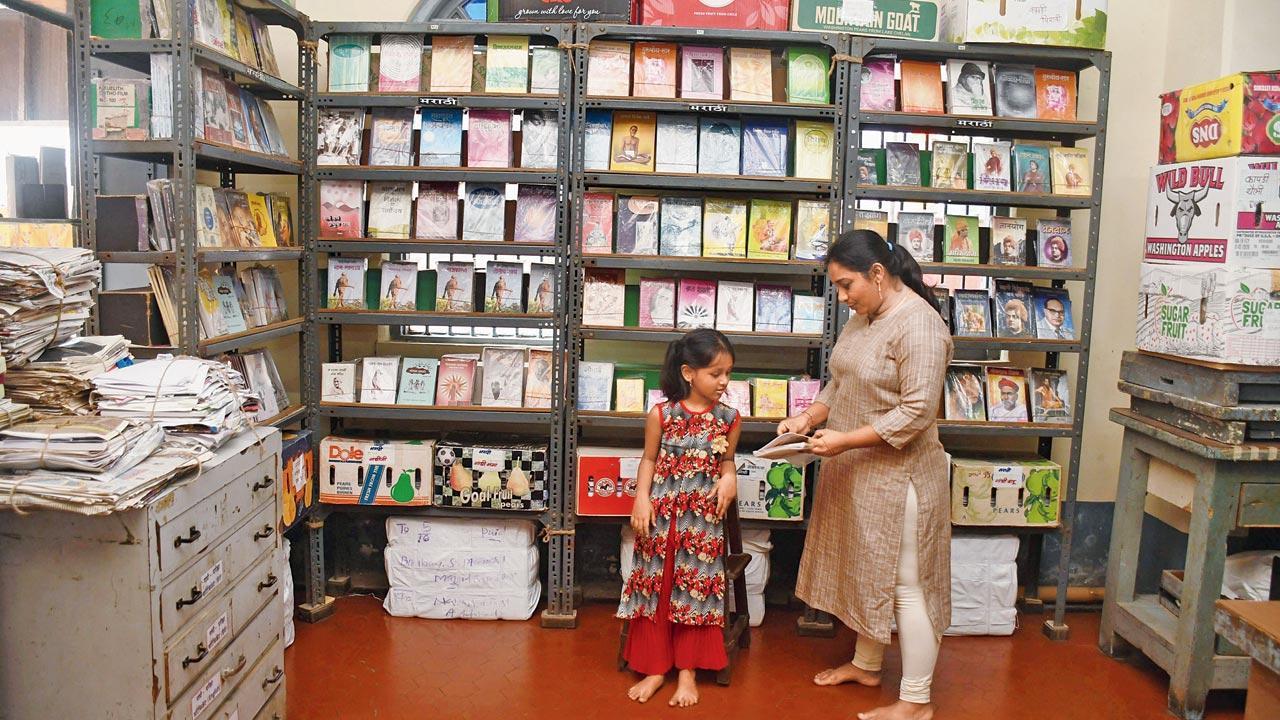 The bookstore has nearly 450 books on Gandhi and his follower Vinoba Bhave for sale, and on their website for free of cost
"Fifty per cent off", reads a huge poster hanging from the ends of two adjacent buildings
"This room documents the entire life of Gandhi's follower Vinoba Bhave"
At Gandhi Book Centre, 299, Tardeo Road, Nana Chowk, Grant Road West

When Mahatma Gandhi was asked to give a message to the people in Bengal, following the pacification of Hindu-Muslim riots, he had said, "My life is my message." For a young Tulisdas Kanji Somaiya, these four words weaved the path for a road he'd choose to walk on for the rest of his life.
It is 11 am when we reach Gandhi Book Centre, a two-storey bungalow at Nana Chowk. "Fifty per cent off", reads a huge poster hanging from the ends of two adjacent buildings. We meet 86-year-old Somaiya on the second floor. With the support of his walking stick, he walks out of his office-cum-home and leads us into an another room which has a museum-like set up. "This room documents the entire life of Gandhi's follower Vinoba Bhave," he tells us, adding that he was a part of his Land Gift Mission. "I have met him many times in my life. He tried following Gandhi's way of living, and in my eyes, I see no difference between the two. It was under Bhave's guidance that Sarvodaya Mandal came into being, followed by this bookstore." In his late 30s, Somaiya, who was an engineer, quit his job to join this mandal. "As a child, I would passionately read and follow Gandhi's work. I wanted to lead a life dedicated to social service just like him. So, I travelled India, visiting libraries and centres dedicated to Mahatma Gandhi. I had decided to spend my life at Sabarmati Ashram, but I returned to Mumbai for some family-related work. Just as I was about to return, I found myself sandwiched between a huge crowd trying to board a train at the Kurla Station. Amid the hassle to get in, I got pushed down, and ended up getting severely injured." For years to come, Somaiya was unable to use his left arm. "I was more or less handicapped," he tells us. That's when we started collecting books by Gandhi and Bhave, and opened up a store in 1982. "I am aware that it is impossible to match the scale of service they delivered, but I try doing it through spreading their words."
ADVERTISEMENT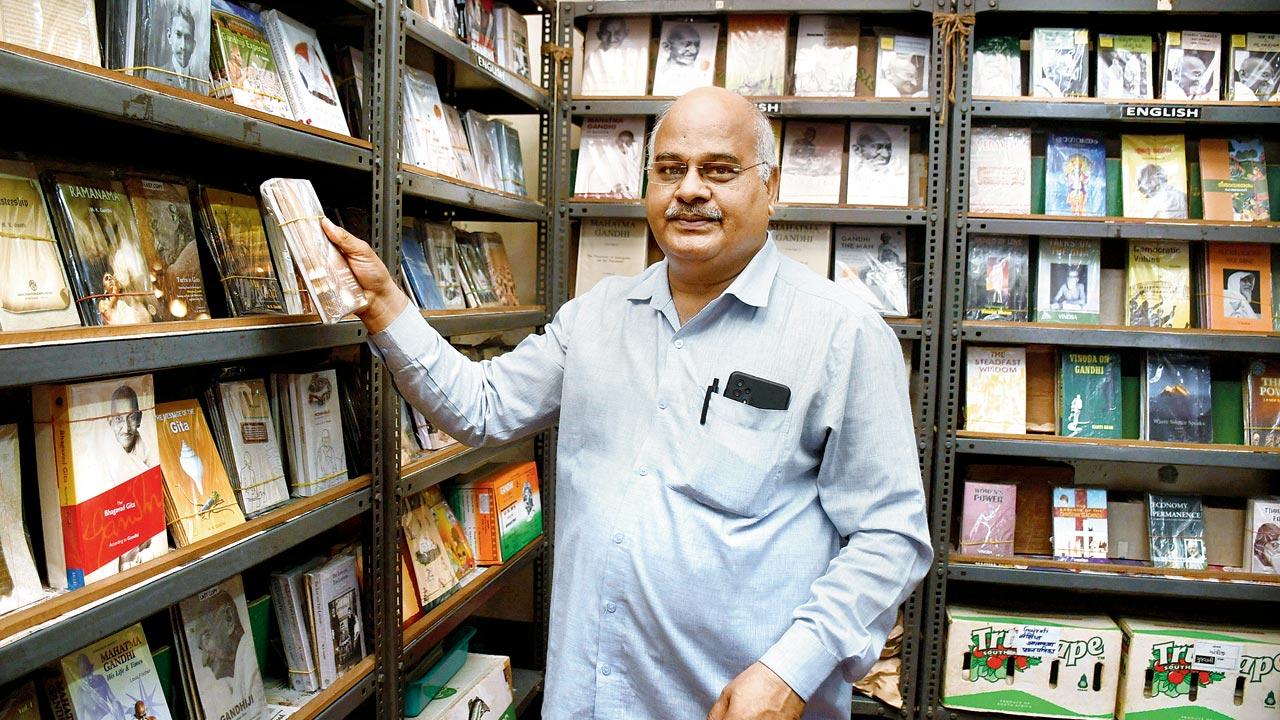 Premshankar Tiwari
We walk downstairs to the huge space that houses over 450 books on Mahatma Gandhi. On the pillars that hold the structure up are pictures of students and jail inmates giving exams, and reading books. "Till now, we have conducted exams based on Gandhian literature in 182 schools across Maharashtra. Kaka [as Somaiya is affectionately called] began this initiative as his way to serve the society," says manager Premshankar Tiwari. Once a lawyer, he turned to service, Tiwari has been working with the centre for over 22 years. "We have books for students across standards, right from students in fifth grade to post graduate students. Once they complete using the books, we make test papers and send them across. Over the past 15 years, we have also started visiting jails and giving lectures. We send the books, and conduct exams for them as well," he informs us.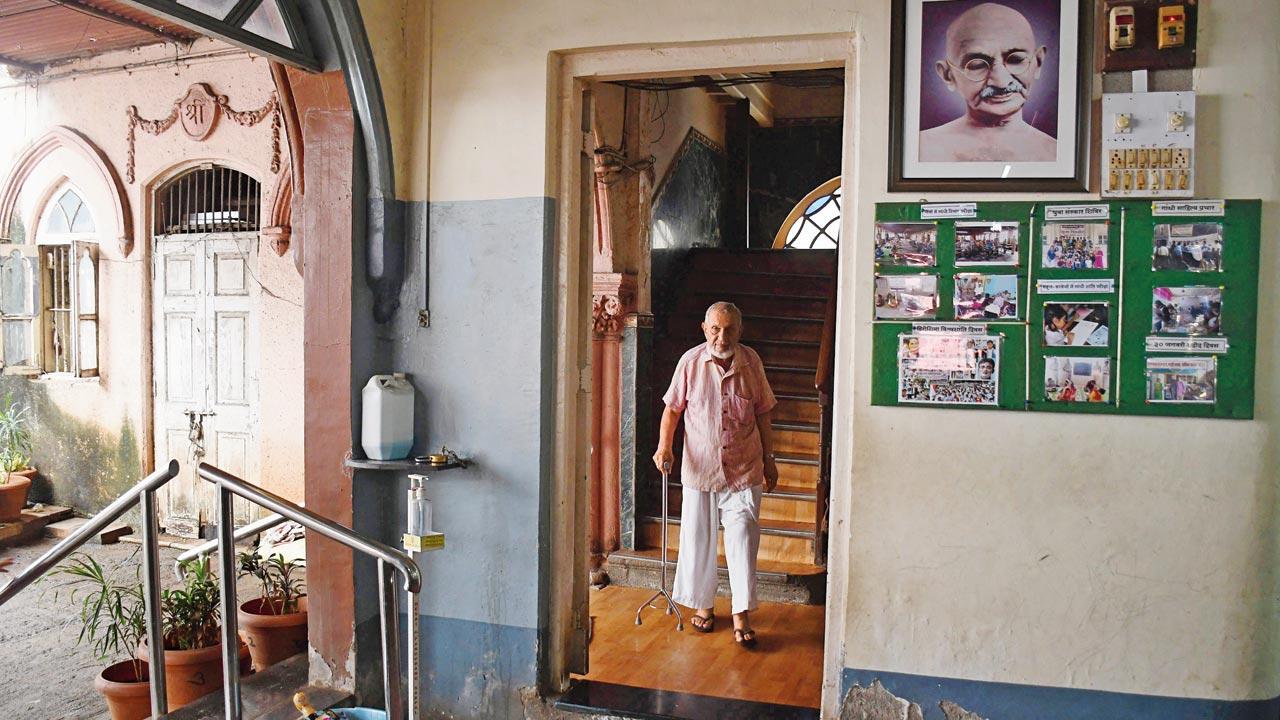 Tuslidas Somaiya on the second floor, dedicated to a small museum for Vinoba Bhave and his office-cum-home
Somaiya became part of Laxman Gole's life, a former prisoner, who is known widely for his journey of change from a criminal to a Gandhian preacher, and now a lecturer and author. "In 2007, kaka visited me in the jail," Gole tells us over a phone call from Karjat, "He gave me Gandhi's autobiography: The Story of My Experiments with Truth. I was not keen on the book in the beginning, but the title was inviting. Experiments with truth, that was exactly what I did after reading the book. In a few months, I confessed to all my crimes, and willingly accepted the sentences given to me. Only after I had taken the right actions did I write to Somaiya kaka, informing how one book given by him changed my view on the world for good, and forever. He's like a guru to me." After he was released from jail, Gole worked with Gandhi Book Centre for a few months under Somaiya. "Gole is now married and lives happily with his wife and two daughters. He delivers lectures on Gandhi's teachings across Maharashtra, and now probably knows more about Gandhi than I do," Somaiya smiles.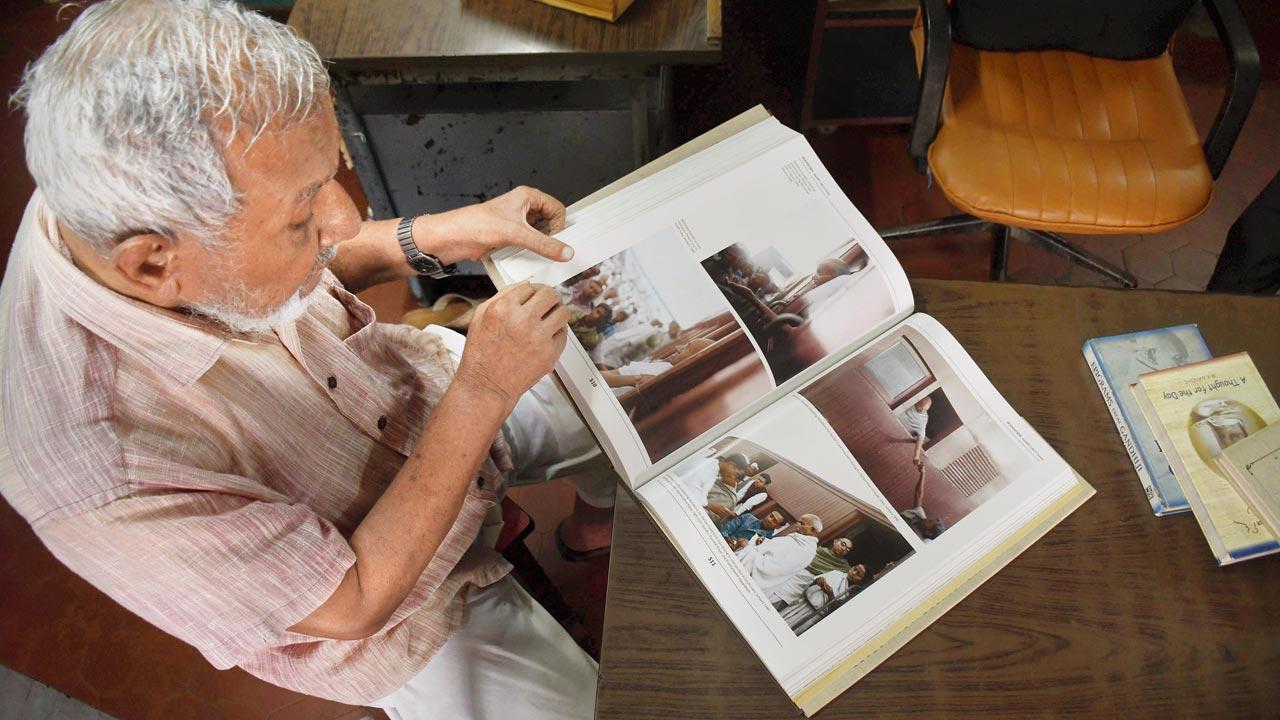 He peruses Gandhi's Life in Colour, a photobook that documents each stage of the freedom fighter's life in restored, colourful pictures. Pics/Ashish Raje
When we ask them how the book centre is faring in times of a digitally accustomed generation, Tiwari says, "Gandhi is immortal, and so is this book centre." He further tells us that because everything is now available online, they shifted their centre online as well. "Most books available in this bookstore for a cost, are available for free on our website. We have more than two lakh visitors from more than 180 countries monthly. The benefit of Google is that it takes one click to translate the text in your preferred language. We remain the top website among students and researchers interested in Gandhian literature even 
today," he says.
This year, the space is hosting events throughout the week to celebrate Gandhi Jayanti on October 2. Their first event is an open public lecture on October 1 at St Joseph's School Hall in Bandra West.
Time 11 am to 6 pm (closed on Sundays)
At Gandhi Book Centre, 299, Tardeo Road, Nana Chowk, Grant Road West.
Call 23872061 (50 per cent sale on books till October 7)
Log on to mkgandhi.org
Rare finds in store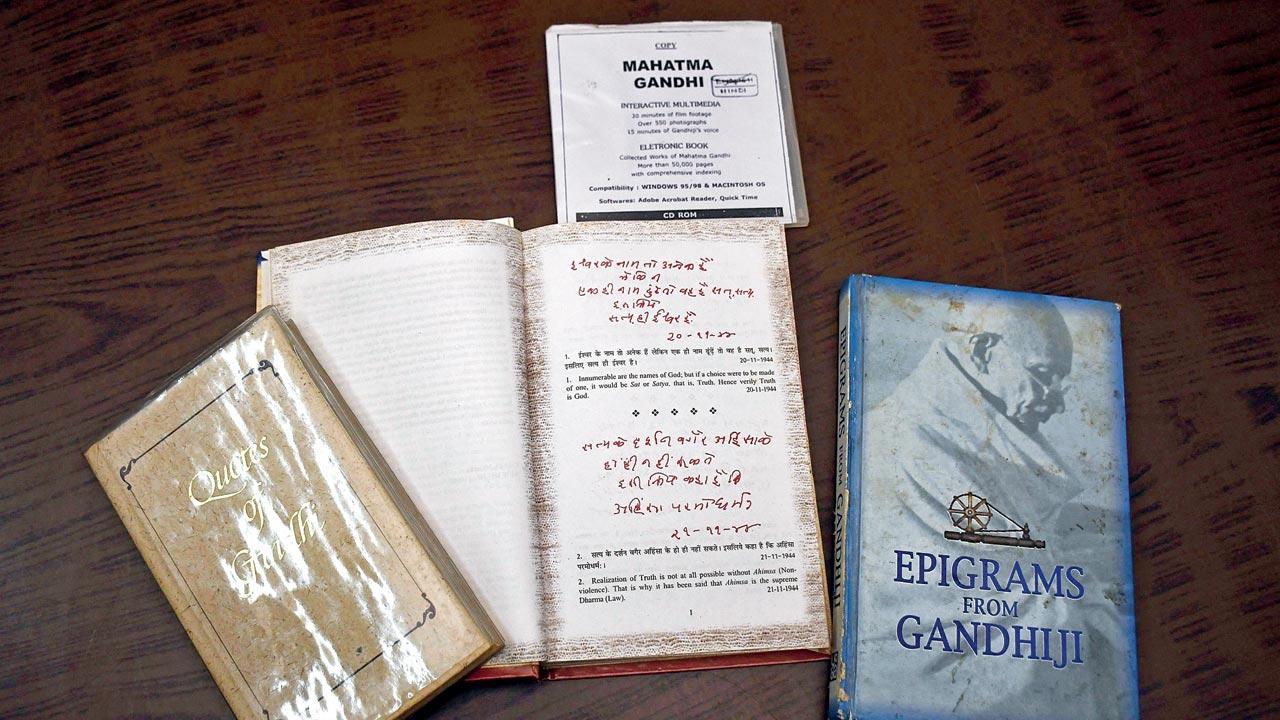 These books are currently out of print, and the store claims to be one of the few to still have the copies
1. Epigrams from Gandhi 
2. Thought of the Day (Thoughts by Gandhi are written in his handwriting)
3. Quotes of Gandhi
"Exciting news! Mid-day is now on WhatsApp Channels

Subscribe today by clicking the link and stay updated with the latest news!"
Click here!