The accused contacted members of gay community through an app and guaranteed them strong young men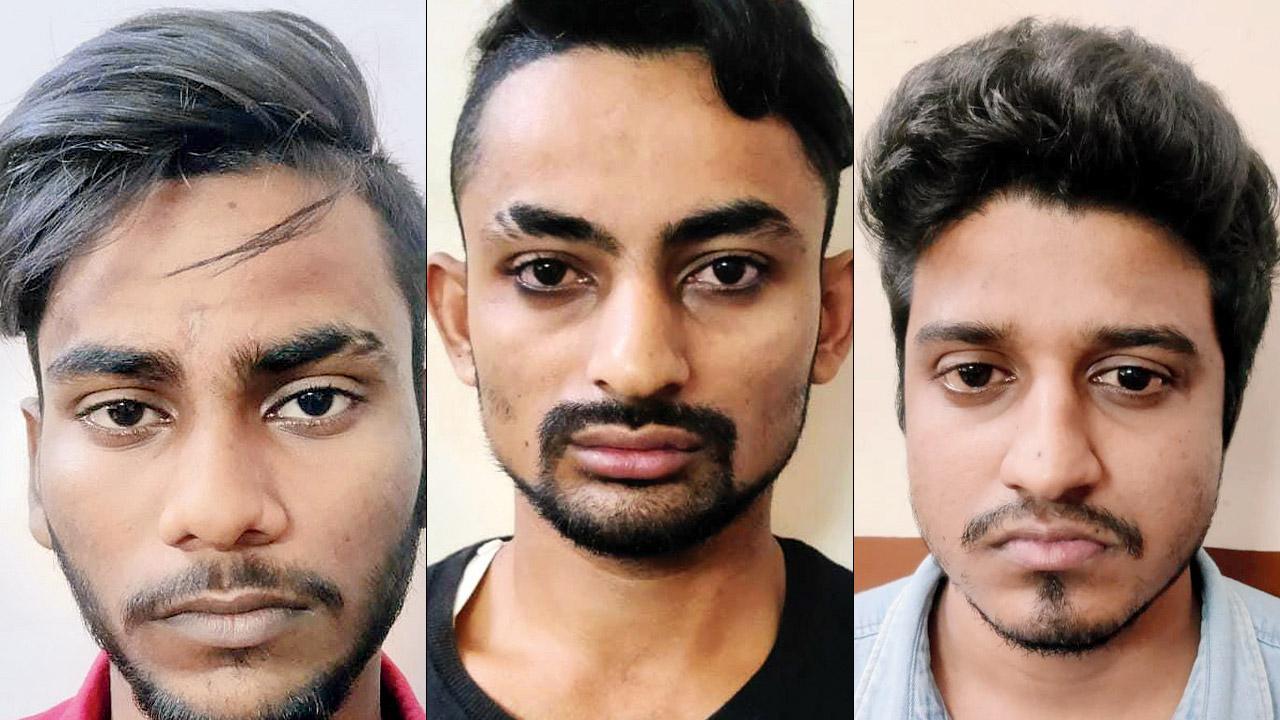 Imran Shafiq Shaikh, Irfan Furkan Khan and Ahmad Farooq Shaikh
The Malvani police have arrested three people and have exposed a gang that was allegedly running a gay sex racket through an online application for the past several months. According to police sources, the accused contacted the members of the gay community through the mobile application Grindr and guaranteed them strong young men for sex at affordable rates at their office or home, in the Malvani area. The arrested accused have been identified as Irfan Furkan Khan 26, Ahmad Farooq Shaikh, 24, and Imran Shafiq Shaikh, 24. Sohail and other unknown accused are still at large.
Victim assaulted, blackmailed
The racket came to light after a 23-year-old accountant, through the app, expressed his interest. The accused demanded Rs 1,000 for one hour. After everything was finalised, the victim reached the accused's office, near Mohd Rafique Ground, Malvani at around 9:30 pm. The accused Khan was appointed to have sex with the victim. However, he had expressed his inability as he was busy with some other work. Khan then reached out to another person. He also expressed his unavailability. Khan then reached out to his two other co-workers.
By then the victim had reached the accused's office and waited for his sex partner. In some time, all four men reached the office and expressed their desire to have sex with the victim. However, the victim refused the service. said an officer from Malvani police station.   The four accused, in a fit of rage, assaulted the victim, snatched his mobile phone, purse and other valuables. They also obtained the pin number of his debit card.
The accused then recorded a compromising video from their mobile phone, threatened him with posting it online and demanded money from the victim. The victim, a resident of Borivli, then narrated the incident to his family members, while the accused waited for him to return with money, on the adjoining road, outside the building.
When the accused saw the victim's family approach them, they fled.  The victim's family then filed a complaint at MHB police station. Since the incident took place in Malvani, the police sent them to Malvani police station.
Accused nabbed
Under the guidance of Deputy Commissioner of Police Vishal Thakur, Senior Inspector Shekhar Bhalerao and Hasan Mulani, along with their detection team, nabbed three accused, including the mastermind in the wee hours on Monday. Two accused are still at large, said another officer.
Looking at the modus of the accused, it is feared that more people have become victims of this gang. "We have booked all the accused under various sections of the Indian Penal Code. The arrested accused were produced before the Borivli metropolitan magistrate court on Monday and were remanded to police custody," said a police officer.