Bangur Nagar police hunt for two Cameroonian nationals to whom he had given the money; cops suspect duo absconded after figuring out notes were fake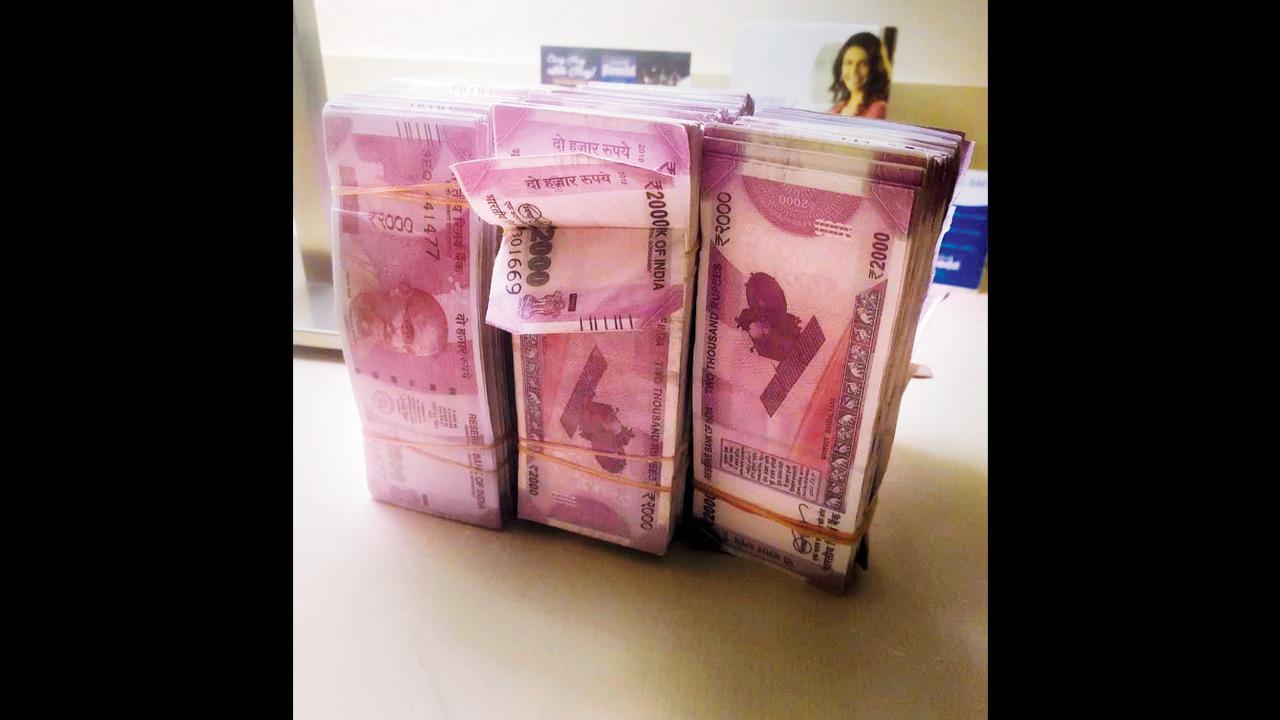 Fake notes that were seized from a hotel in Malad
The Bangur Nagar police have recovered Rs 39.64 lakh in fake currency from a hotel room in Malad, and arrested a city-based jeweller who printed the notes. Two Cameroonian nationals, accused in the case, are absconding.
Officers found bundles of fake notes of Rs 2,000 from a room in a hotel located at Mindspace, Malad West, on Thursday night. According to police sources, the Cameroonian nationals, Jhon Pacific and Frank Stephen, checked in at the hotel on Wednesday, but left the next morning without informing the hotel.
In the evening, the hotel management called jeweller Tarun Kachhawa, 29, who had booked the room for the duo, to ask whether to wait for them as it was time for check out. Kachhawa told them that they were not returning, following which the management asked the staff to clean the room. The cleaning staff found a bag full of money and informed the hotel manager, who called Kachhawa and was told to throw away the notes as they were fake.
The hotel informed the Bangur Nagar police, and a team of officers, including senior inspector Shobha Pise and inspector D Gund, arrived. Deputy Commissioner of Police Vishal Thakur (Zone XI) also reached the hotel. They seized the notes and detained Kachhawa for interrogation.
Also read: Mumbai Crime: Chhota Shakeel's brother, two others booked in extortion case

Deal to clean US bills
Kachhawa, who lives in Borivli and has a jewellery shop in Malad, was contacted by the duo through social media a couple of months back. They told him that they were also in the same industry and wanted to do business with him, said sources.
They told Kachhawa that they had $70 million ($7 crore), but the dollars have a special type of ink. To get rid of the ink, each dollar needs to be wrapped in a Rs 2,000 note for four hours, they told him, and promised a 20 per cent cut in the $70 million if he provided him with Rs 2,000 notes.
Pacific and Stephen arrived in Mumbai on August 6 and stayed at a hotel in Goregaon, and later moved to the Malad hotel. A trial to remove the ink was done at Kachhawa's jewellery shop, and the duo told him to arrange more notes fast. As he did not have that much cash, Kachhawa printed out about Rs 39.64 lakh in Rs 2,000 notes and gave them to the duo. However, they got suspicious and escaped, the sources said.
"We have registered a case under Section 489 (tampering with property mark with intent to cause injury) and 34 (common intention) of IPC against the trio. We arrested Tarun Kachhawa on Friday and he confessed. He has been remanded in police custody," an officer said. We are looking for the duo, he added.
The hotel's security-in-charge said, "Police have asked us to not speak on the matter."