A special team was formed under the supervision of Senior Inspector Pravin Patil and Inspector Sanju Bangar and CCTV footage from the area was scanned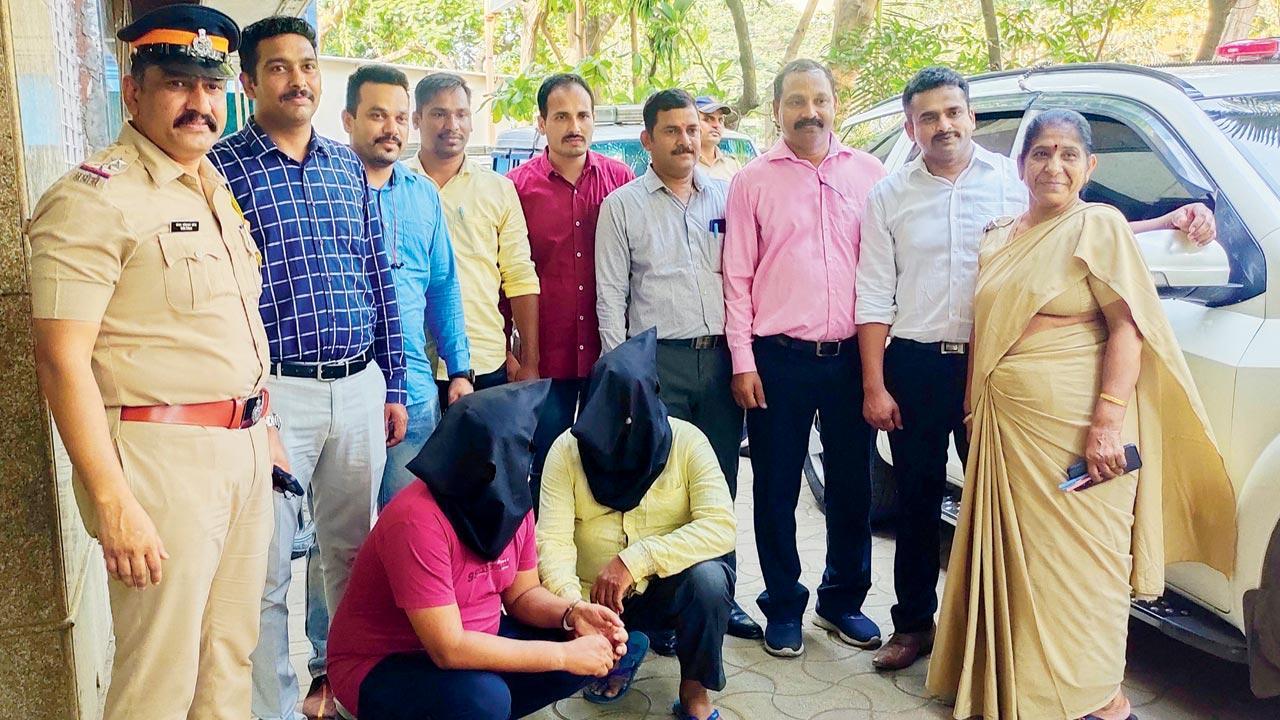 The burglars with Dahisar police officers
The Dahisar police solved a chain snatching and a burglary case with the help of CCTV footage that only captured the feet of the accused, not their faces. 
The first incident took place on May 10 at Ghartan Pada, Dahisar East when one accused snatched the gold chain of 75-year-old senior citizen Urmila Rane while asking for directions. Following a complaint, the Dahisar police started an investigation and checked CCTV footage near Rane's house. The CCTV footage, however, only showed the lower part of the accused's body. 
"As per the description given by the complaint, the accused was wearing a black shirt and black pants and had covered his face with a white mask. We checked more than 35 CCTV camera footage from the spot to the Dahisar Check Naka. In one footage, he was seen driving an auto towards Mira Road. With the help of the auto number, we traced and caught the accused from Dhaniv Baug in Nalasopara within 48 hours of the crime and recovered the stolen property," said DCP Somnath Gharge (Zone XII). The accused, Sandeep Dhanbar, 32, has several cases against him.
In a similar incident, Dahisar cops solved a burglary case and arrested two accused from Panvel, Navi Mumbai and recovered stolen goods worth R12 lakh only by identifying the pants and shoes of the accused. 
The accused—Anant Kamble, 53, and Dyaneshwar Bhangre, 37—had broken into the house of MRS Vilas Mahamundkar, 65, and stole valuables including cash and ornaments worth Rs 20 lakh on April 20. 
A special team was formed under the supervision of Senior Inspector Pravin Patil and Inspector Sanju Bangar and CCTV footage from the area was scanned. Here too, only the legs of the accused were seen. 
"After scanning more footage for days, we spotted them in a footage from Thane on the day of the incident. After we showed the footage to Thane and Navi Mumbai police, we learnt that the accused are habitual offenders with more than 25 burglary cases," said DCP Gharge. 
"We traced and caught the duo from Panvel and during the interrogation, we have recovered the stolen property worth about Rs 12 lakh," he added.