Twenty-year-old who lost wallet had kept his entire month's wages in it, to send to his kin in UP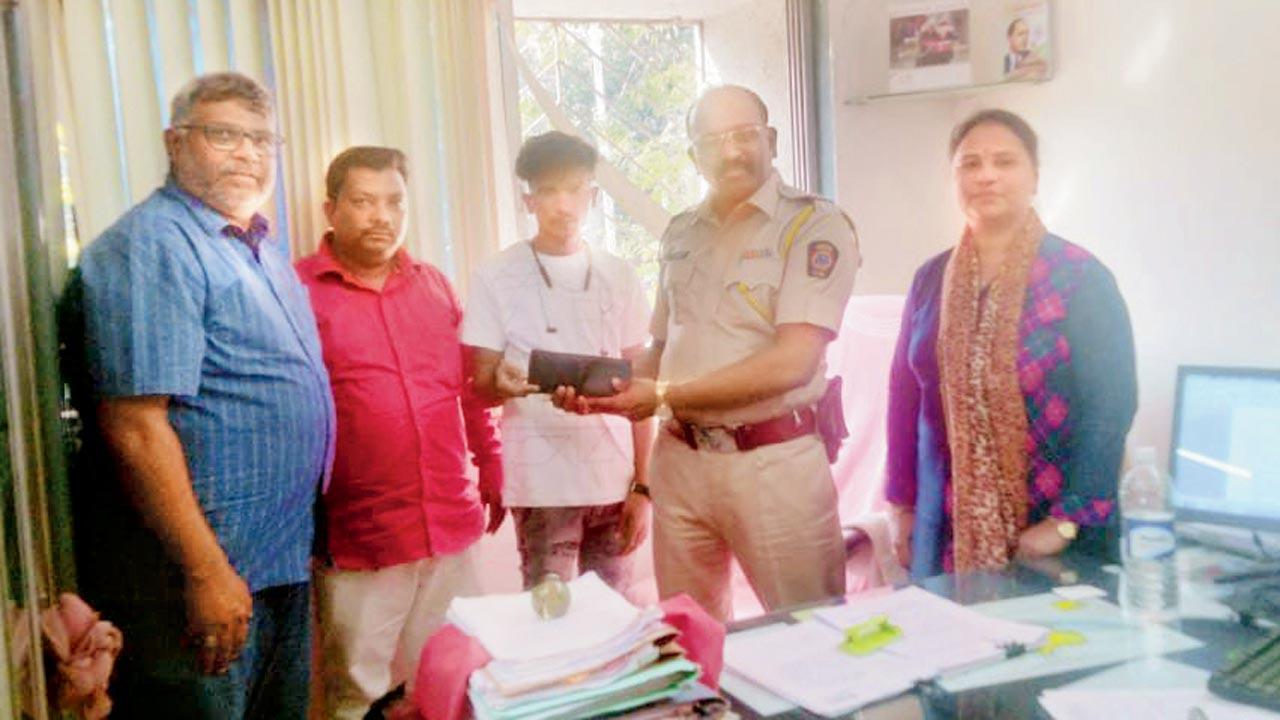 Saeed Ali Mohammad Yusufi (left) and Mujeeb Khan (in white) at the RAK Marg police station on Friday
A good Samaritan, Saeed Ali Mohammad Yusufi, who found a wallet containing Rs 12,000 in Wadala on Friday, managed to return it to its owner after carrying out a six-hour search.
Yusufi, 51, runs a mobile shop at Wadala while the wallet's owner, 20-year-old Mujeeb Khan, is a caterer. The latter had kept his entire month's wages in his wallet, intending to mail the currency notes to his family in Uttar Pradesh.
Around 12 pm, while Khan was on his way to work, the wallet fell down at a lane near a mosque in RAK Marg. Yusufi, on seeing the wallet, rushed to the religious site to find its owner whom he assumed would be there.
Yusufi told mid-day, "I announced that I had found a wallet. However, nobody came forward to claim it. On opening the wallet later, I found the cash and an Aadhaar card. I visited an Aadhaar centre to obtain the mobile number of the person. The address mentioned on the Aadhaar card was an Uttar Pradesh one and the centre's officials were of no help."
Also read: Mumbai: BMC has detailed guidelines for footpath railings, but only on paper
"Later, I found a SIM card in the wallet and visited an outlet of the telecom company. However, I learnt that this person had deactivated his account. After this, I asked many friends what to do. Some suggested that I party with the cash. I refused to do so. Others told me to donate it, but I didn't have the heart because it was someone else's money and I was worried that the wallet's owner would be in distress," Yusufi said.
On learning that there was an India Post Payments Bank card in the wallet, Yusufi immediately made his way to the post office at Wadala and after notifying officials there, he obtained Khan's mobile number. 
Yusufi said, "I called Mujeeb Khan, informing him that I had found his wallet, and he was overjoyed. He instantly told me he would give me a reward but I refused and told him to collect the wallet as soon as possible. I immediately contacted the RAK Marg police, told them the story and that Khan was on his way to collect the wallet."
Khan received his property in the presence of the police. "It took me six hours to find the person but after handing over the money, I felt happy," Yusufi said.
Senior Inspector Kumud Kadam of the RAK Marg police station said, "Yusufi came to us with the missing wallet and we handed it over to the person who had lost it." 
13
Day in Jan when the incident occurred Should Joshimath subsidence be declared as a national disaster?