mid-day gets in touch with agents who lead unsuspecting jobseekers to Myanmar and Thailand, with good job offers but make them work 16 hours a day at gunpoint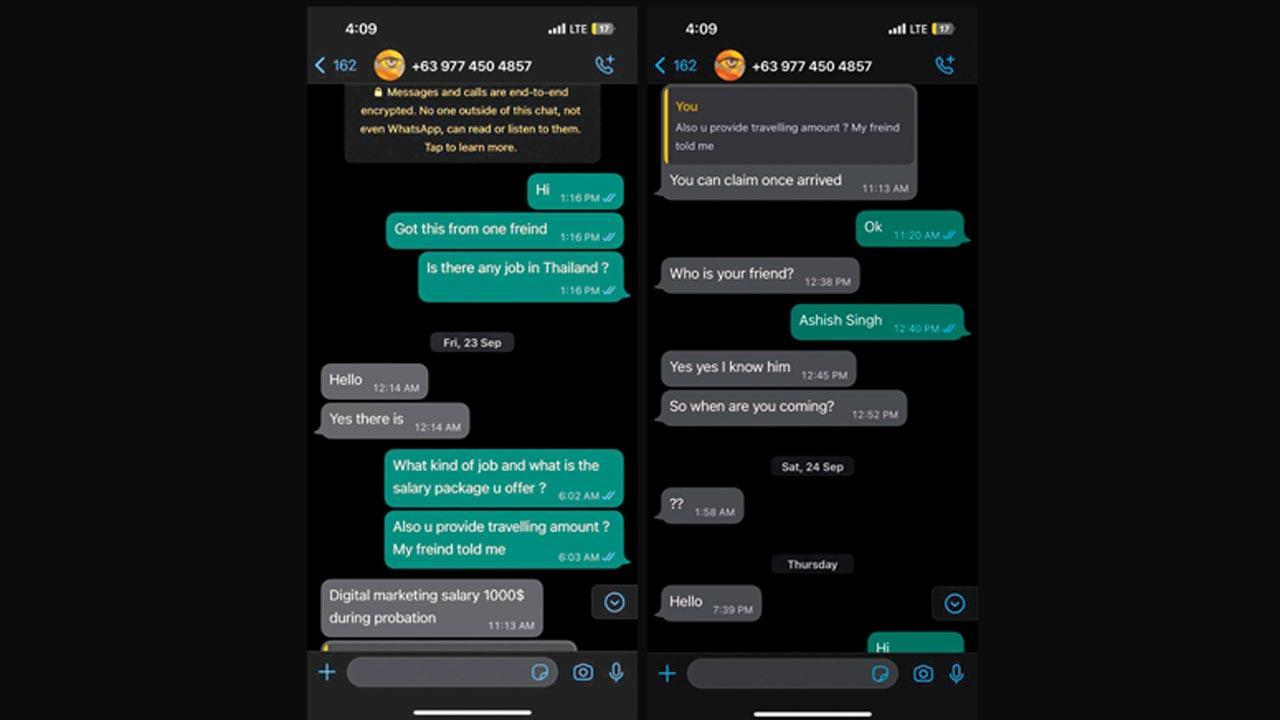 WhatsApp chats between mid-day's reporter and agents who offered a 1,000 US dollar salary for a digital marketing job
More than 300 job seekers, mostly from Tamil Nadu and Maharashtra including Mumbai, are currently being held captive in Myanmar. These aspirants were lured by agents with lucrative job offers and are now forced to work jobs related to cybercrimes for more than 16  to 17 hours a day at gunpoint. mid-day got in touch with some of these agents who promised the victims a decent job with a good salary, along with benefits. The benefits, as mentioned in the brochures of some of these agents, included an attractive annual bonus, housing allowance, filial piety fund, birthday parties, etc. 
The mid-day correspondent contacted at least five agents on WhatsApp by introducing himself as Deepak Singh. Three agents got back in touch and sought several details, such as qualifications and knowledge of English language, in a bid to win confidence.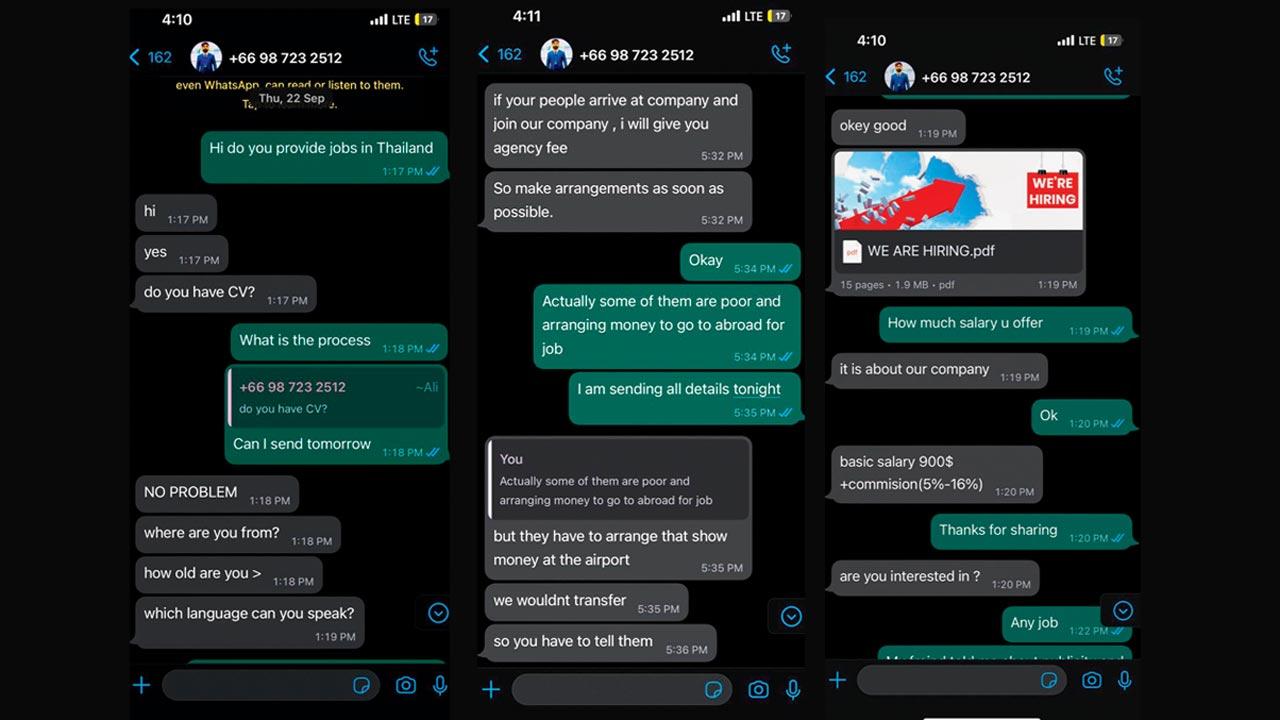 mid-day's chat conversation with one of the agents
mid-day had earlier reported how hundreds of job seekers, many of whom lost their jobs during the pandemic, have fallen prey to these agents. A number of them have been held captive in Myanmar and Thailand and are forced to engage in cybercrime.
Also Read: Mumbai: 1,500 Indians, UAE nationals forced into cyber fraud racket
Winning confidence
One of the three agents mid-day spoke to asked the correspondent to share his CV. He then sought to have a video interview over WhatsApp.
Another agent who is believed to be in Thailand, as the contact number was from that country, asked the correspondent to send the resume and asked what kind of job he was looking for. The correspondent responded saying he had worked at call centres and marketing jobs and also had some experience of working at construction sites. Hearing this, the agent recommended that he apply for a promoter job in Thailand.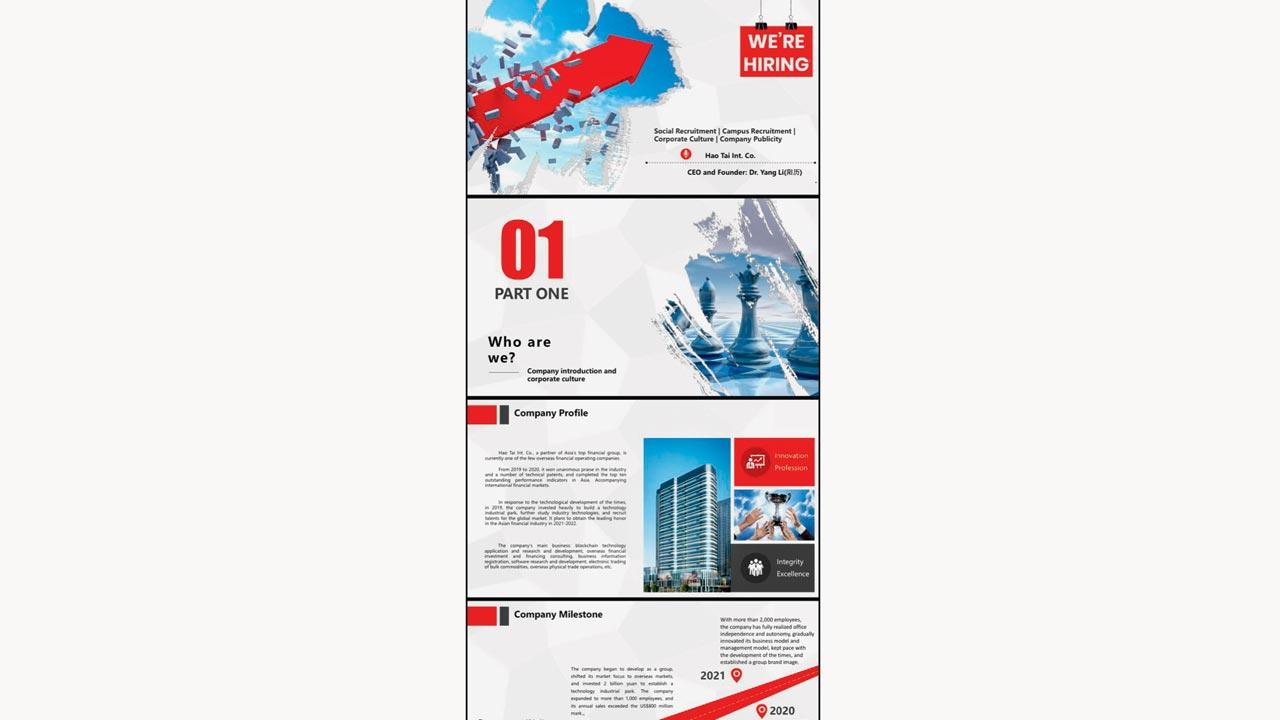 A brochure shared by an agent
When asked what the profile would involve, he said this was for a telecom company and added, "Your job is to attract and guide customers as long as you are attracting them to use our platform and recharge."
On the topic of salary package and travelling allowance, he said the package for freshers was 900 US dollars, which is approximately Rs 74,000, along with a commission of 5-16 per cent. He further added that the travel expenses would be reimbursed upon arrival at Thailand airport. 
In a bid to further understand how these agents operate, the correspondent asked if there were more such vacancies as there were others looking for jobs too. Hearing this, the agent asked him to introduce them and said, "If you bring all of them and join our company, then I will give you an agency fee as well. So arrange and come as soon as possible."
Two days later, the agent got in touch with the mid-day reporter asking if he was still interested in the job as he had not gotten in touch since. The correspondent responded saying he was busy arranging money for the group to travel to Thailand. The agent replied, "Arrange for them and show up at the airport. After arrival, we will transfer [the money]."
Brochure of lies
Another agent mid-day approached about jobs in Thailand, shared a brochure of a Thailand-based company named Hai Tai Int Co. The brochure talks about social recruitment, corporate culture, campus recruitment, and company publicity.
Part one of the brochure was about the company profile which stated that Hao Tai Int Co is currently one of the few overseas financial operating companies. Part two of the brochure mentions the achievements of the company. It stated that the group, with over 2,000 employees, established 13 branches, and achieved a monthly revenue of 15 million US dollars. 
In part three, they mentioned advantages of the industry. Here, they mentioned rewards such as cars, homes, and luxury goods such as expensive watches and ladies' purses. This was apart from project performance bonuses, birthday team plays, and organised tours. It also mentioned that there were provisions for housing allowance and a Filial Piety Fund to honour senior citizens dependent on the employees for their birthday.
The brochure also talks about promotion from staff to leader, senior leader, director, and then partner. It also mentioned paid holidays and statutory holidays where they fully fund travelling expenses for employees visiting their home countries. 
Five
No. of agents mid-day approached
3
No. of agents who responded to mid-day