The Narcotics Control Bureau (NCB) Mumbai said, the drugs were being smuggled from US, UK and Netherlands to Mumbai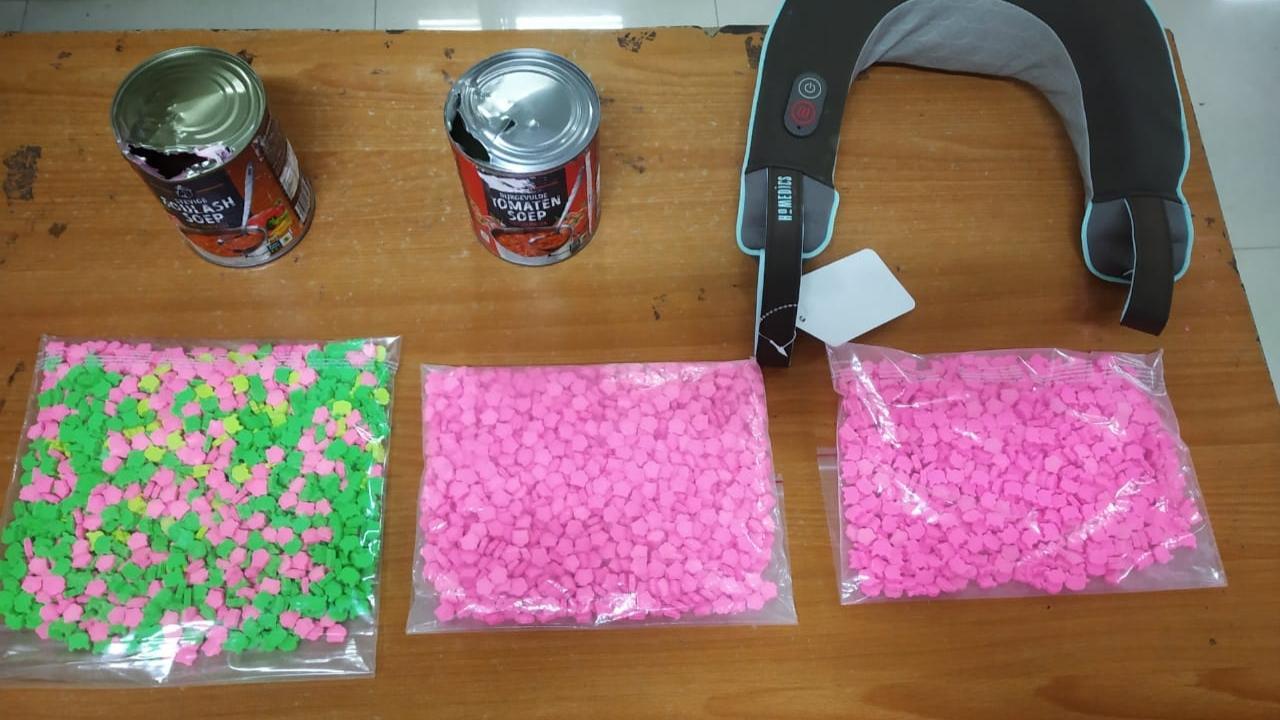 The seized consignment. Pic/NCB
In a series of successful operations, the Narcotics Control Bureau (NCB) in Mumbai has dealt a major blow to an international drug trafficking syndicate. The NCB seized a substantial quantity of drugs, including 1.403 kgs of MDMA (equivalent to 2917 tablets), 0.26 gms of LSD (24 blots), and 1.840 kgs of high-grade Hydroponic Weed. Two individuals have been apprehended in connection with the case, while investigations into others are still ongoing, the NCB Mumbai said on Friday.
Operation 1:
ADVERTISEMENT
Acting on crucial intelligence, NCB officials focused their efforts on an international syndicate engaged in smuggling various exotic drugs from Europe and the USA. On May 23, 2023, a suspicious parcel originating from the UK and bound for Pune was intercepted at the Mumbai Foreign Post Office. Upon inspection, authorities discovered 100 MDMA tablets and 24 LSD blot papers concealed within a portable audio system. Extensive investigative work revealed the involvement of an individual named S. Kashyap, who was also linked to illicit activities in certain areas. The NCB collaborated with the Maharashtra Anti-Terrorism Squad (ATS) to apprehend Kashyap on August 10, 2023. Further questioning of Kashyap unveiled his role in procuring drugs from a foreign handler in exchange for a commission. He was also implicated in the distribution of these drugs within the Pune region, shedding light on a broader network of criminals.
Operation 2:
NCB's proactive approach in intercepting parcel-based drug shipments led to the discovery of a Pune-based syndicate sourcing high-value party drugs from overseas. On July 4, 2023, a suspected parcel from the USA was intercepted at the Mumbai Foreign Post Office. Inside the parcel were four tin cans containing a total of 1.840 kgs of finely curated Hydroponic Weed. This discovery led to the identification and subsequent arrest of a receiver named Adnan F, who was involved in organizing parties where the illicit drugs were supplied for consumption. Another individual with ties to Adnan F was also identified and found to be engaged in multiple criminal activities, including an ongoing narcotics case.
Operation 3:
Responding to heightened screening measures, the NCB intercepted a parcel from the Netherlands to Mumbai on July 21, 2023. Upon inspection, the contents of the parcel revealed hidden compartments containing MDMA tablets cleverly disguised as household items. In total, 2817 MDMA tablets (1.363 kgs) were seized. The investigation led to the identification of Arjun G, a resident of Nallasopara, who had recently been arrested by another agency in connection with a different narcotics case. Further inquiries revealed that Arjun G had received multiple parcels prior to his arrest, indicating his involvement in the drug trafficking operation.
Throughout the investigations, a recurring pattern of parcel movement destined for Pune was observed. The Customs Mumbai department played a crucial role in identifying suspicious parcels, effectively aiding the NCB's efforts. The agency is now delving into the usage of the dark web and cryptocurrency to trace additional associates and assets linked to drug money.
"Exciting news! Mid-day is now on WhatsApp Channels

Subscribe today by clicking the link and stay updated with the latest news!"
Click here! Will the newly created special police commissioner post help Mumbai with better policing?