Cops claim racket allegedly run by Raj Kundra made Rs 8 lakh a day, and say they are investigating transactions of Rs 7 crore routed across the globe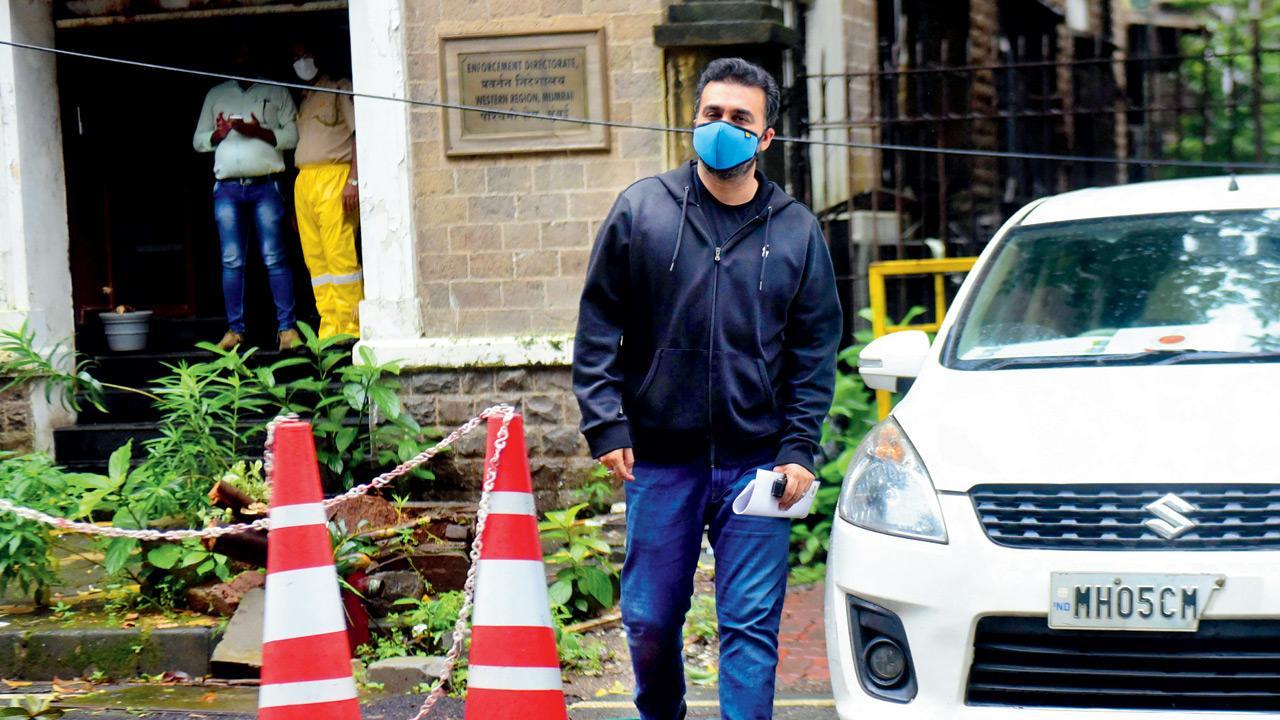 Raj Kundra
The Property Cell of the Mumbai Crime Branch, which arrested businessman Raj Kundra on Monday, has found that he established a porn business just a year-and-a-half ago and earned crores in a very short time. Considering the demand for the content, he had planned to make a porn hub with the help of his brother-in-law's London-based company, Kenrin Limited. He also had a Plan B, Bollyfame, in case the porn business came on the police's radar.
According to the Mumbai Crime Branch, Kundra's porn business flourished during the lockdown. "As he cannot upload these videos from India on an app called Hotshot, he provided the content to a foreign platform by sending videos via WeTransfer. All content was created in his office and sent to a London-based company called, Kenrin Limited, owned by his brother-in-law, Pradeep Bakshi," said Milind Bharambe, joint commissioner of police (crime).
Also read: Raj Kundra, UK-based kin 'masterminded' global porn racket: Police

Key WhatsApp chats
WhatsApp chats between Kundra and Bakshi, mentioned in the first charge sheet filed in April, indicate that he was aware that he was violating the law as the app Hotshot was taken down by Google Play Store in November 2020 and by Apple in June 2020, as the content went against their policies. In a WhatsApp chat with another arrested accused and his former personal assistant Umesh Kamat, Kundra shared the link of a news article that said cyber police are likely to summon heads of OTT platforms over the airing of porn content. After sharing the link, Kamat told Kundra, 'Thank god you planned BF (Bollyfame)' and Kundra responded saying, 'Till BF is up let's find out a way to sustain HS (HOTSHOT). Lets remove extreme bold for the time being'. Kamat responded, 'I doubt they can take down Alt Balaji', and then Kundra responded saying 'this isn't that serious, the OTT heads will be asked to take down the objectionable content, our lives doing well'.

Raj Kundra and Ryan Thorpe (right) were brought to the Property Cell's Byculla office on Tuesday after their custody hearing. Pics/Bipin Kokate
In another chat, Bakshi shared a PDF that said that Hotshot had been suspended from Play Store. Responding to it, Kundra said, 'That's fine plan B started max in 2-3 weeks new app will be live on iOS and Android it's a blessing'. In another WhatsApp group, a digital marketting professional identified as Rob told Kundra, 'Until then we can deactivate all the bold films and appeal again on the play store'.
The Crime Branch also believes that Kundra wanted to stop shooting movies and stick to live streaming by models and actors on BF.
Police also suspect that Kundra created Kenrin Limited and gave it to Bakshi. This is also because of WhatsApp chats between Kundra and Bakshi retrieved from Kamat's phone. Kamat was arrested in February. He has also worked with Kundra's Viaan industries as a managing director.
"The chats also indicate that Kundra was monitoring the activities of Kenrin and Hotshot, where the content was uploaded through WhatsApp groups, which have him as the admin," Kundra's remand application read. The application further said that the Hotshot app was developed by Armsprime Media Pvt Ltd under a build and transfer policy. The app was owned by Kundra and he sold it to Kenrin in December 2019 for $25,000.
Apart from Kundra, his IT head Ryan Thorpe was also arrested on Monday after a few hours of questioning. Both were produced before the Killa court and remanded to police custody till July 23.
What did Kundra earn?
Mumbai Crime Branch believes that Kundra initially earned Rs 2-3 lakh per day and later made Rs 6-8 lakh daily. "Documents of financial transactions run into thousands. We are analysing the details to get exact earnings. The same will be treated as proceeds of crime. So far, we have frozen Rs 7.5 crore in various accounts," Bharambe said.
Money trail
The Crime Branch claimed in court that they have found transactions worth crores between Viaan Industries and Kenrin. The transactions will be analysed the Crime Branch said.
It also alleged that Kundra is a key conspirator and people associated with him lured many aspiring girls into pornography on the pretext of giving them roles on OTT platforms. "There are many victims who have approached us and the case has been registered based on their complaints. We request other victims to come forward if they were lured into pornography by the accused," Bharambe added.
Senior Advocate Abad Ponda, who appeared for Kundra and Thorpe, argued against Section 67A of the IT Act being applied in the case. The section deals with sexually explicit acts. "Only the actual 'act of coitus' intercourse can be considered porn, rest all is just vulgar content, the same content is also shown on web series which are vulgar but not porn."
The Crime Branch said that it has followed all legal procedures and recovered sexually explicit videos as described in the law. "During searches in Kundra's office on Monday, we recovered some more videos, agreements and details of financial transactions indicating that he was running the Hotshot app and providing all the content," Bharambe added.
The case
The case came to light after the Property Cell conducted raids in a Madh island bungalow in February and arrested five people making sexually explicit videos by luring aspiring actors in the name of making OTT-based films.
The victims were forced to sign on a blank paper which later added details about agreeing to perform intimate, erotic, bold scenes including lip lock, smooch, topless/nude scenes for Rs 10,000 to Rs 20,000. The Crime Branch later arrested actor Gehna Vasisth who used to contact aspirants, shoot videos and give them to Kamat, the managing director of Viaan Industries. Kundra is the chairman and non-executive director of the company. After Gehna's revelations, Kamat was arrested and Crime Branch got to know of Kundra's direct involvement in the porn racket. So far, 11 people have been arrested, including Kundra and Thorpe. The other nine accused are on bail and a charge sheet was filed in April.