Constitutional experts, criminal advocates, psychiatrists slam new allegations about actor Sushant Singh Rajput's death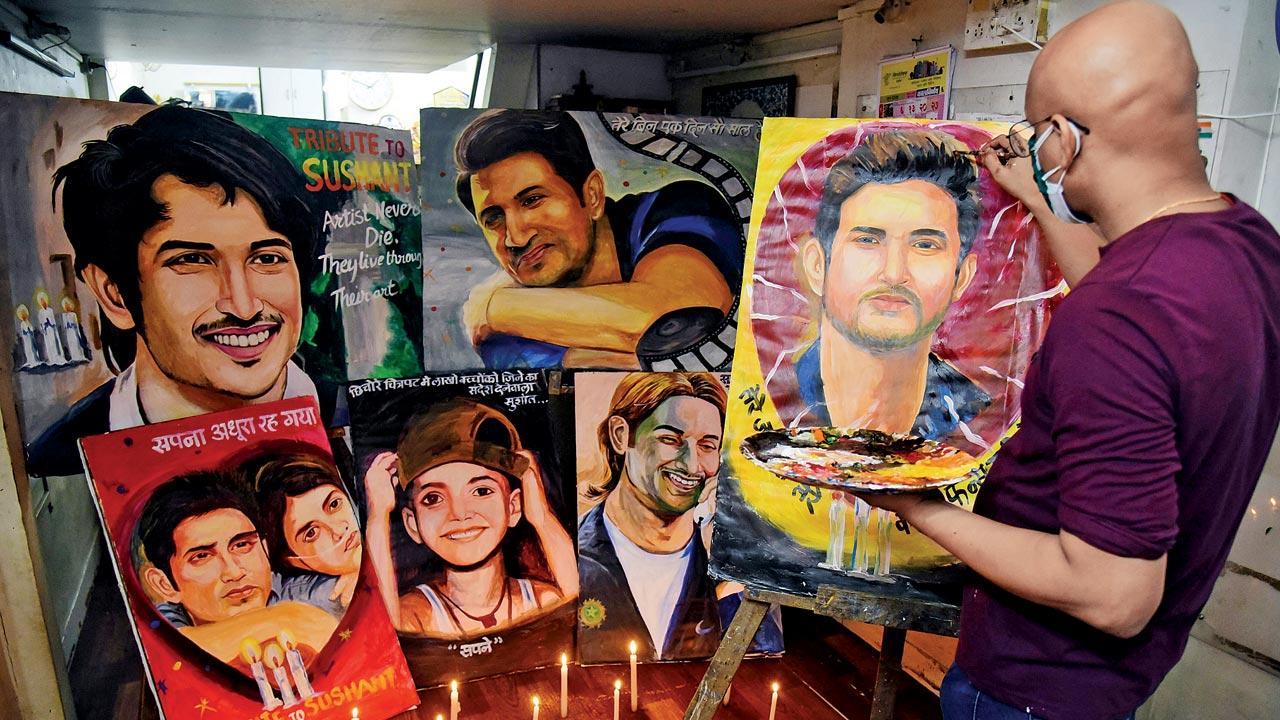 An artist creates a painting of late actor Sushant Singh Rajput on his first death anniversary at Lalbaug in 2021. File pic/Shadab Khan
Refrain from using the 'dead' as a tool for showcasing political differences and gains, as this does harm to the deceased's next of kin, adversely impacts the public perception of the criminal justice system and derails the criminal justice process.
Reacting to recent baseless claims concerning actor Sushant Singh Rajput's manner of death—by a person who was neither a subject authority nor had evidence to support his utterances—constitutional experts, criminal advocates and psychiatrists say such talk does not come within the ambit of freedom of speech and unsolicited statements in the public domain should be included within the scope of contempt.
Advocate Rajeshwar Panchal, who practises in the Bombay High Court, said, "The Indian Penal Code (IPC) and Code of Criminal Procedure (CrPC) enjoin a duty on a person who is witness to a crime to inform the police. If they fail to do so, it is a punishable offence. Therefore, if anyone fails to come forward when the investigation or trial is going on and instead, comes forward after they are over, such a person himself should be prosecuted. Such an act on his part amounts to interfering with administration of justice, besides a crime under the IPC." "Such an act also politicises the administration of justice and destroys the common people's faith in the justice delivery system and also leaves the family, kith and kin of the deceased with a feeling of the system having denied justice to them," he added.
Also Read: Sushant Singh Rajput death: Mumbai Police did not allow Bihar Police to investigate, says Ex-DGP Gupteshwar Pandey
Be cautious
Advocate Floyd Gracias, Supreme Court counsel, said, "Art 19 (1) (a) of the Constitution guarantees every citizen the right to freedom of speech and expression. However, the same is subject to reasonable restrictions under Art 19 (2). Citizens ought to be cautious as to the impact of their statements and ensure that the rights and freedoms of others are not infringed in any way, nor is the greater common good compromised."
"It is also imperative that due diligence, discretion and discernment be used while reporting news and stories so faith in the system at large is not diminished," said advocate Gracias.
Nexuses
Advocate Shreeprasad Parab, a constitutional expert, said, "As observed by the apex court in an earlier case, there exists a nexus between media trial v/s freedom of speech v/s right to a fair trial. Freedom of speech is not absolute and is coupled with restrictions, applicable to media trials, such as public order, defamation, incitement of offence, decency, morality, etc. Fair trial includes the impact of the news covered on the judicial officers and investigating team, who are ultimately humans with emotions. Criminal justice provides the presumption of innocence, and the burden of proof is always on the person who makes allegations, statements, unsolicited comments etc, which should not be taken lightly."
He added, "Freedom of speech as given under Art 19, is also linked with Art 21 (freedom of life and liberty). The right to privacy of the next of kin (Rajput's family in this case) cannot be violated by using the 'dead' person's circumstance of death as a medium of gaining undue mileage and publicity months after the investigating agency has shut the case and this does not give a licence under the ambit of freedom of speech to make any such unsolicited comments without any evidence, and, moreover, such act adversely impacts the public confidence towards the entire criminal justice process."
Doubtful claim
Advocate Dinesh Tiwari, who has been practising criminal law for two decades, said, "The manner in which the allegations are levelled in the matter of Sushant's death, that too by a junior staff, after an omnibus initial silence, raises doubt about authenticity of such claim. Such hopeless claims leave no doubt that such claims are required to be discarded with contempt. But it has the effect of eroding the confidence of the public in general in the investigating mechanism of the police as well as the criminal justice system. Therefore, it is high time that we disregard and discourage all such attempts made by some unconnected and unqualified persons. It also needs to be highlighted that such unwarranted claims raise anxiety in the next of kin of the deceased, who already suffer because of the untimely demise of their loved one."
Mumbai-based Ramon Magsaysay Award winner and psychiatrist Dr Bharat Vatwani said, "The fact that the Rajput matter has received so much press coverage reflects the fault lines within Fourth Estate outlets themselves. Nobody puts themselves, even for a minute, in the shoes of relatives. After a drawn-out controversy, the relatives had just about achieved emotional closure regarding the loss of their loved one and the plausible causation behind it. It is no small feat to overcome the loss of a young and healthy loved one."
"But now here comes the unfortunate over-blowing of the assertion of a single unknown, unimportant, irrelevant, insignificant person sky-high by the press. And the wounds within the psyche of the relatives lose their flesh once more, to start festering perhaps irreparably again.  My heart goes out to the relatives. This is not done, simply not done," said Dr Vatwani.
Psychiatrist Dr Harish Shetty, echoed similar concerns, saying, "In an atmosphere of angst and an era of fragile relationships where TV channels are competing for eyeballs and eardrums, the motivated statement that Rajput died of mysterious circumstances is mischievous. This should be investigated and the people behind it arrested. Many minds among the youth in India whose relationships hang by a thread are brittle and they will get severely distressed, leading to copycat self-harm behaviour."
"Death by suicides has increased by 17 per cent in the past two years across India. The situation is precarious. This statement again will reignite flames that have been doused by the CBI which stated that the death was due to mental health issues. Many TV channels are blowing this out of proportion with an irresponsibility that can be termed criminally destructive.  The families associated with the actor need to be provided psychosocial support as the wounds that were slowly healing have been stabbed by this statement," said Dr Shetty.