According to the complaint, a man visited a commercial building developed by the complainant and asked him to pay Rs 50 lakh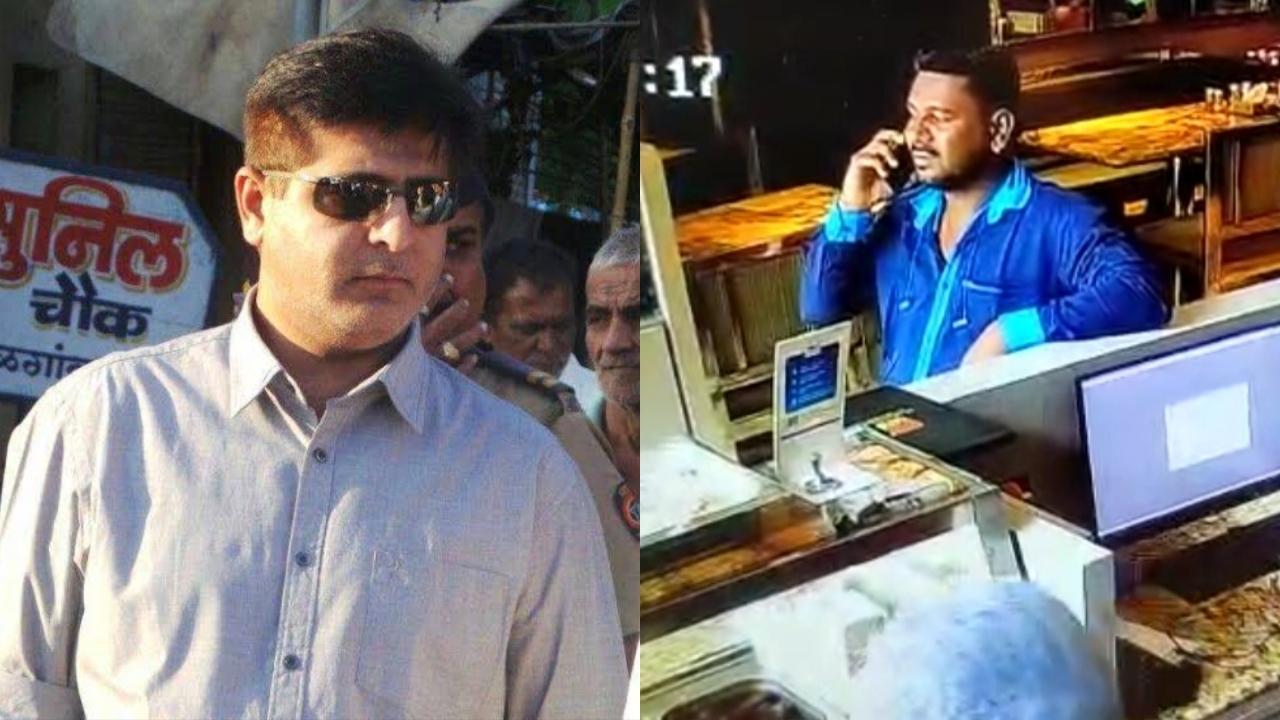 Omie Kalani (L) and CCTV grab of the man who came with the notice. Pics/ Navneet Barhate
Ulhasnagar cops have booked Omie Kalani, son of ex-MLA and strongman Pappu Kalani and one more for allegedly attempting to extort money from a developer.
According to the complaint, a man visited a commercial building developed by the complainant and asked him to pay Rs 50 lakh. He alleges that the building was developed after forging documents and will be demolished if the developer does not pay money to them. Team Omie Kalani has refuted the claim and said this is fabricated complaint to book someone from Kalani in criminal case. 
The complainant is 29-year-old Dhiraj Wadhariya, a developer, son of a ex-corporator, residing in Ulhasnagar. He developed a ground plus three-storey commercial building in Ulhasnagar which got occupancy certificate in July 2020. Wadhariya had applied to construct two more floors and had applied to revise the plan, but due to objections it was not approved. 
On December 1, Wadhariya received a call from one of the shop owners from his building that, a man has arrived at the building and had been told to receive a notice written on a letter pad mentioning 'Team Omie Kalani'. When asked about who has sent the notice, the man replied saying 'Team Omie Kalani' and dialled a number on mobile.
Also read: Mumbai: Liquor shops, bars in Dadar and nearby areas to remain shut on Dec 6
"The notice mentioned that, my father has done forgery in records and developed this illegal building and it needs to be demolished. The man gave the mobile phone to one of the shop owners. The man on the other end of the call identified himself as Thackrey and claimed he is talking from Kalani's bungalow" told Wadhariya in his statement to police.
Thackeray told shop owner to sign the duplicate copy as received and give it to man. But shop owner refused to sign and told he will just accept the notice. Wadhariya asked the man from where he has come man replied, "I have come from Team Omie Kalani's office and you should tell your father that, if he doesn't pay R50 Lakh to Omie Kalani, the building will be demolished", and man left from the building.
Dhiraj Wadhariya narrated the incident to his father who advised him to get complaint registered with police. Eventually, he visited police station and registered a complaint against Omie Kalani and a unknown person. An FIR was lodged against both under IPC action 385 (putting person in fear of injury in order to commit extortion) and 34 (common in tention) in Ulhasnagar police station.
Manoj Lassi, the official spokesperson of Team Omie Kalani refuted the allegations levelled by complainant. "This is an another attempt to frame someone from Kalani family by present government. Even last week they tried to do same but the attempt was foiled as we had evidences. The complainant alleges extortion has developed the building by forging documents and Omie Kalani's wife has repeatedly raised her voice against it. Hence, the complaint filed a police complaint to stop them from following the matter," he added.
Omie Kalani's wife Pancham Kalani was also elected as mayor in Ulhasnagar Municipal Corporation. Kalani family has a stronghold in the municipal corporation and Ulhasnagar area. Will Raj Thackeray`s MNS join hands with BJP ahead of BMC elections?