The girl was playing with a cousin near the pond when an iron gate placed against the boundary wall fell on her, crushing her to death. Her 6-year-old cousin had a narrow escape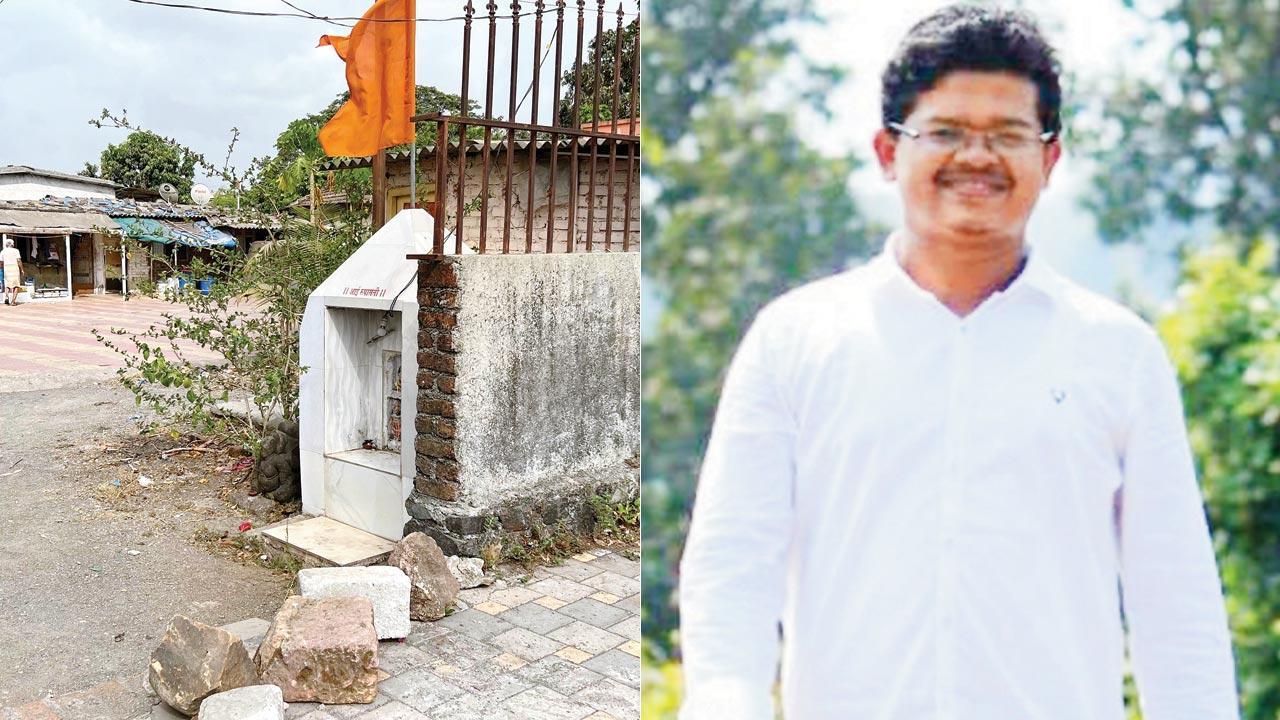 A precariously placed gate was removed from this spot; (right) Kunal Satish Patil, the junior engineer
A week after a five-year-old tribal girl was crushed to death under a heavy iron gate while playing near a pond in Vasai, the police on Thursday registered an FIR against a junior civic engineer. Following reports in mid-day on the dangers posed by the gates, which have come off the hinges, around Papdi talav, municipal authorities have removed a few of them. 
Locals said one gate still dangles from a rusty hinge on the dilapidated boundary wall at the pond.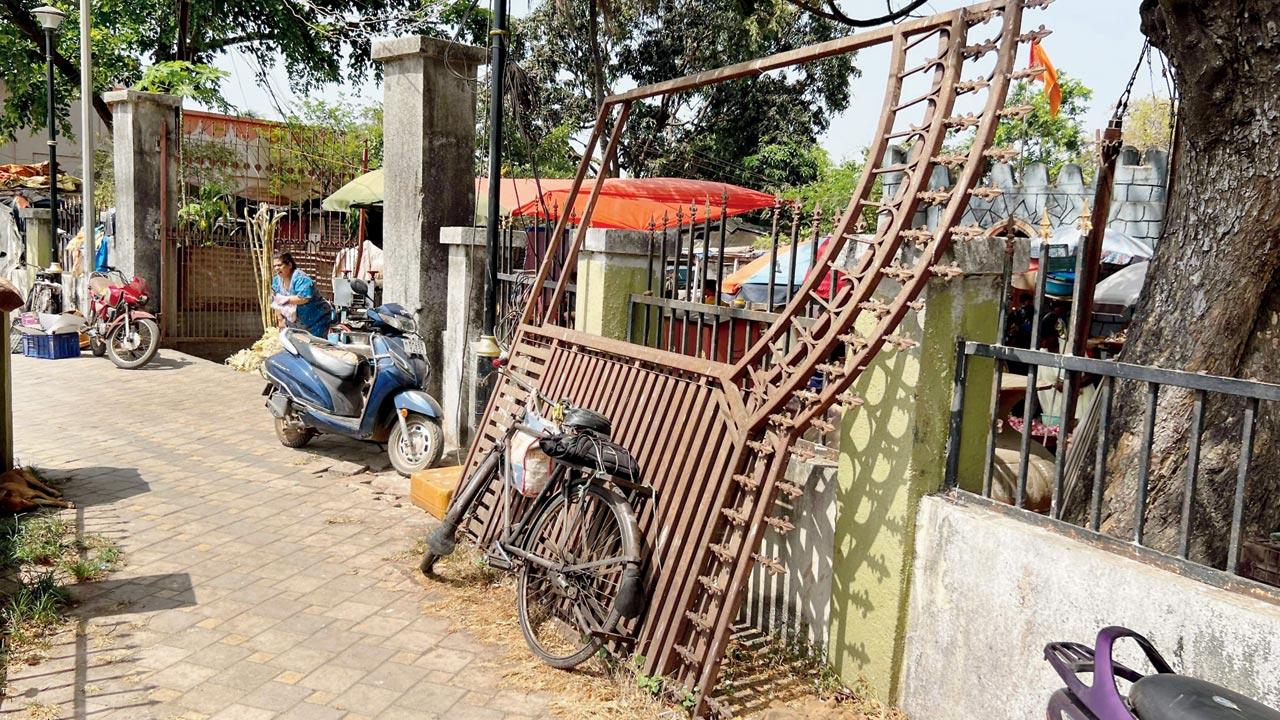 Many metal pieces like this were cleared out. Pics/Hanif Patel
"It is good that the civic officials have finally woken up after the tragedy and removed the iron gates which had been placed against the boundary wall. They have started working as it is always better to be late than never," said Sharad Dhamankar, uncle of victim Bhumi Mere.
Pointing to the precariously hanging gate, Dhamankar said, "Another disaster is waiting to happen. The civic officials should either repair this gate or remove it completely, else some other tragedy can take place." 
Bhumi, who lived with her mother and other relatives in a shanty in Lohia Nagar near Papadi-Umela Phatak, had accompanied her maternal grandmother Pushpa Narote to Papdi talav where many from her neighbourhood bathe and wash clothes, as there is no water connection in 
their tenements.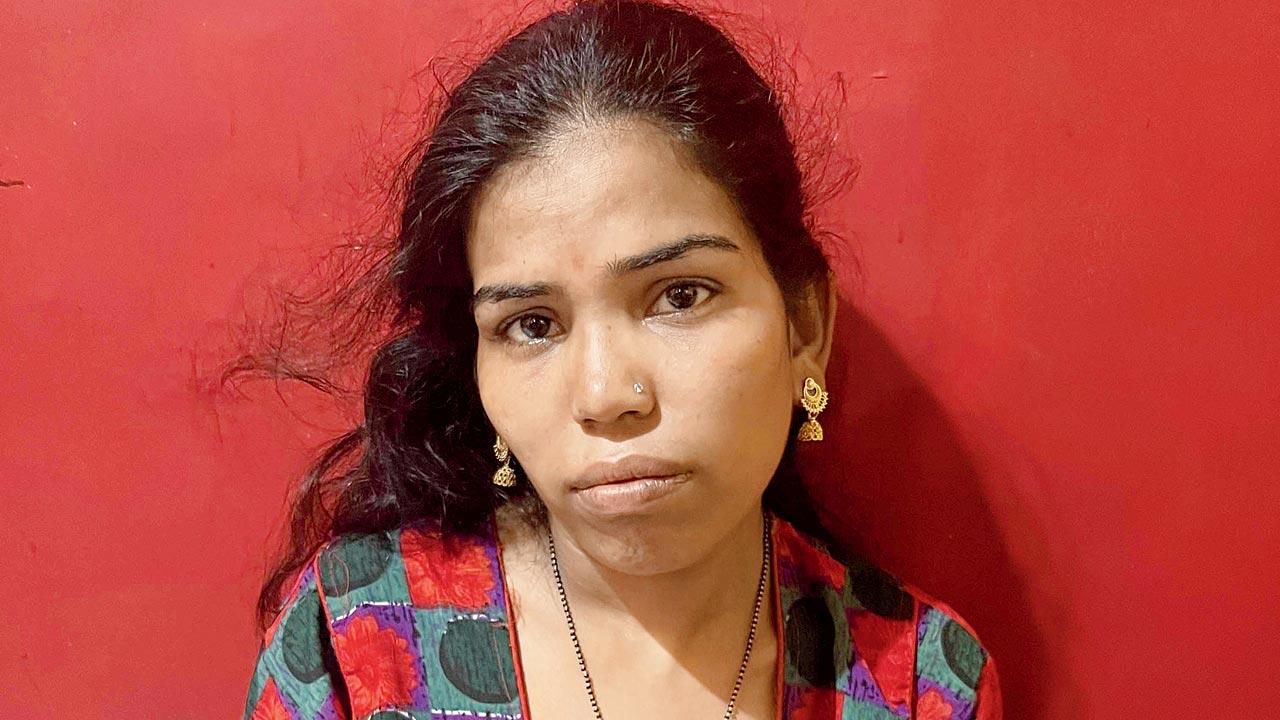 Sunita Mere, Bhumi's mother
The girl was playing with a cousin near the pond when an iron gate placed against the boundary wall fell on her, crushing her to death. Her 6-year-old cousin had a narrow escape.
"We questioned many civic officials and learnt that the contractor who was maintaining the pond had alerted junior engineer Kunal Satish Patil [of Vasai Virar City Municipal Corporation] regarding the iron gates at Papdi talav," said PSI Rahul Phad of Vasai police.
"We have been told by civic officials that the iron gates were kept off hinges by some miscreants who used hacksaw blades to cut them. These gates were lying unattended since 2019 but despite being alerted by the contractor, the junior engineer had not got them removed," said Phad.  
The first information report (FIR) was registered on a complaint by Bhumi's mother Sunita Mere, who came to Vasai from a drought-prone tribal village in Palghar taluka.
Senior PI Kalyanrao Karpe said the engineer has been booked for causing death by negligence and a few other charges under the Indian Penal Code. 
The cops will also seek Patil's explanation in the matter. "We are also checking the CCTV footage of the incident, if any," Phad said.
My baby is gone: mother
"I left the village in Palghar taluka to live in Vasai because there was a severe water crisis and we were not getting enough facilities to live life. Had I had any inkling that my lone child would die like this, I would have never come to Vasai," sobbed the bereaved mother Sunita.
"She [Bhumi] was my last hope because my husband is a drunkard and he never takes care of us. I worked hard so that I could give a better lifestyle to my daughter but she is no more. I can't believe that she is not with us now…," Sunita added. "Had the civic officials kept up their work, my baby would have been alive today. The police officers told me that the accused would be arrested. I thank you for consistently highlighting our plight…," she added.