An analysis report by Praja Foundation shows 1,528 of the 4,960 issues discussed by corporators from 2012-2021 were about naming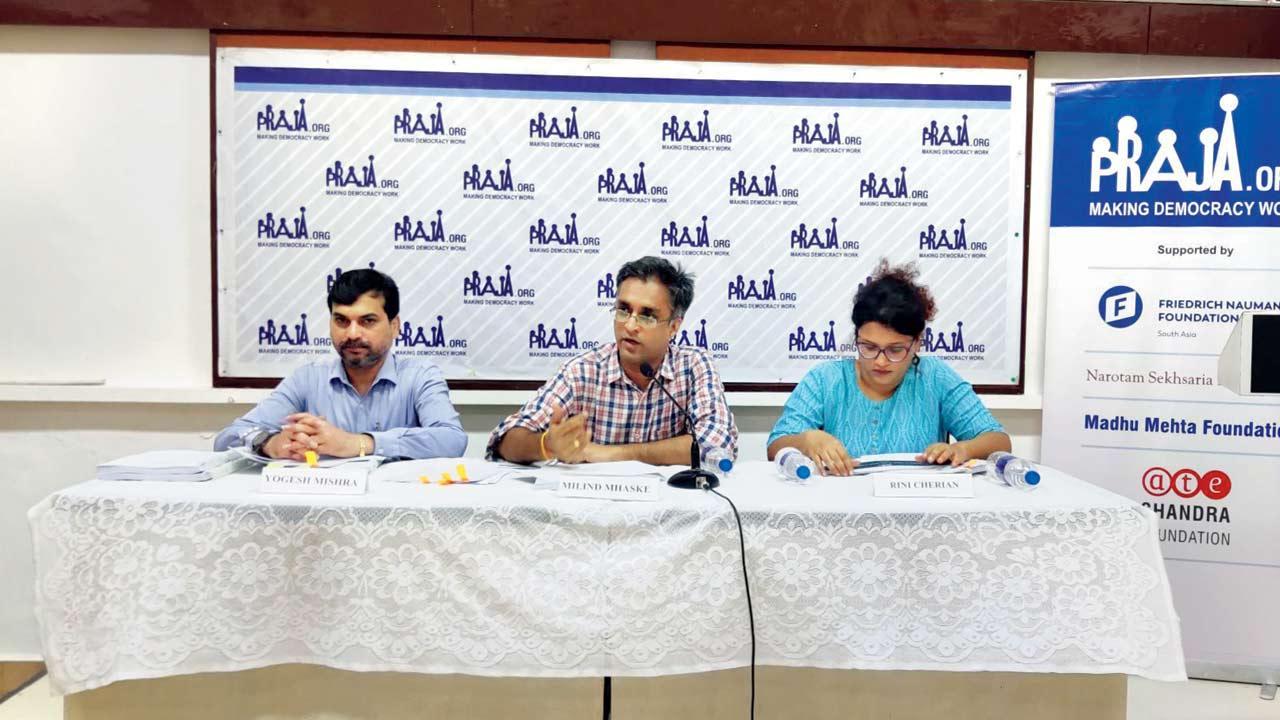 Members of Praja Foundation during a press conference on Thursday. Pic/Sameer Surve
One in every six questions raised at the ward committee meetings were about naming or renaming of public places, while the BMC took an average of 41 days to resolve a citizen's complaint, according to a report based on an analysis of the past 10 years. The 2022 report on Status of Civic Issues in Mumbai was released on Thursday by Praja Foundation, which works towards facilitating accountable governance.
Corporators discussed 4,960 issues between 2012 and 2021 at ward committee meetings, and 1,528 of them were regarding naming/renaming of public places, 1,645 on issues about roads, 570 about water supply, 823 about solid waste management (SWM) and 394 on drainage. At 522, Shiv Sena corporators asked the highest number of questions regarding naming or renaming of public places, followed by 444 from the BJP and 105 by the Congress.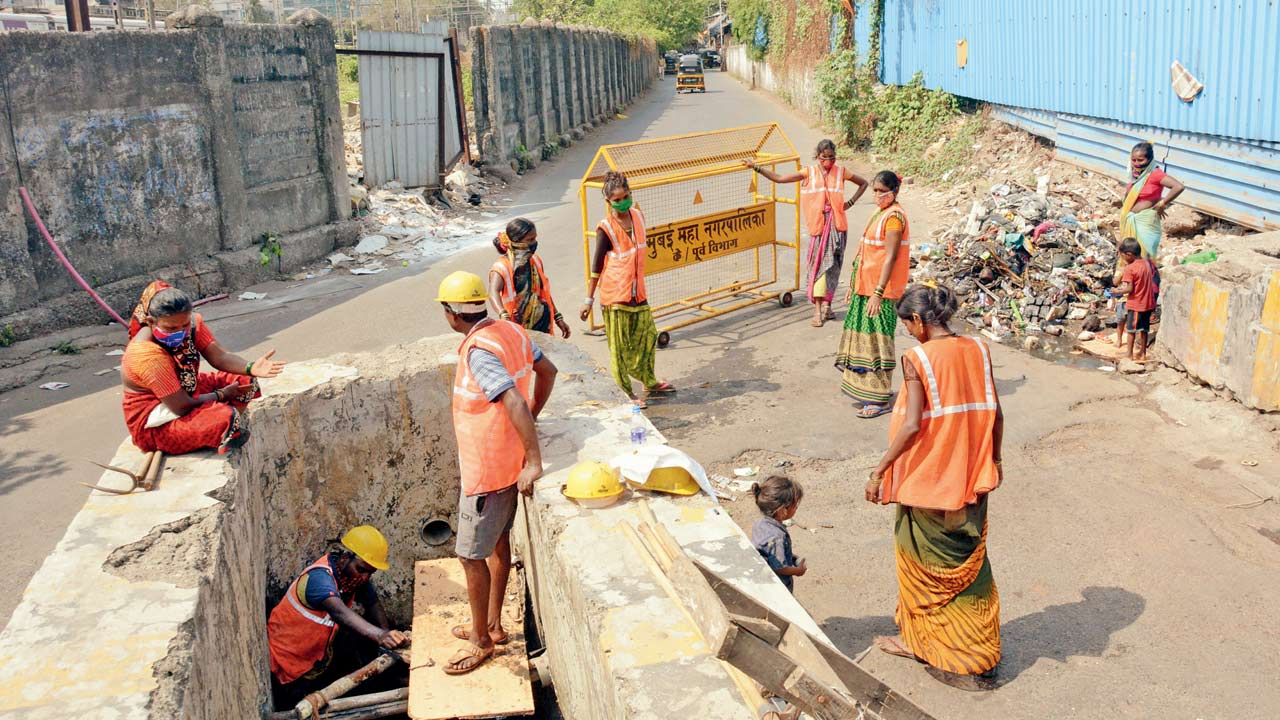 BMC contract workers clean a drainage in Andheri, in April 2021. Pic/Satej Shinde
During the period, the Brihanmumbai Municipal Corporation (BMC) received 9,50,283 complaints, and the highest (16 per cent) were of drainage-related issues at 1,50,831, and 96,360 (10 per cent) were SWM issues. Milind Mhaske, chief executive officer of Praja Foundation, said that the analysis has shown that the BMC resolved a complaint on an average of 30 days in 2019, but that rose to 48 days in 2021.
"G-North ward (Dadar, Mahim and Dharavi) takes 60 days to resolve a complaint, highest is the city," states the Praja report. P-North ward (Malad) takes 58 days and S ward (Vikhroli, Bhandup and Powai) took 52 days. "This is the past 10-year average," said Mhaske. The complaints from citizens increased consistently from 2015 to 2019, the report states. "The BMC received 67,835 complaints in 2015, and 1,28,145 in 2019. During the pandemic, the number of complaints fell. The BMC received 93,774 complaints in 2020 and 90,250 in 2021," it adds.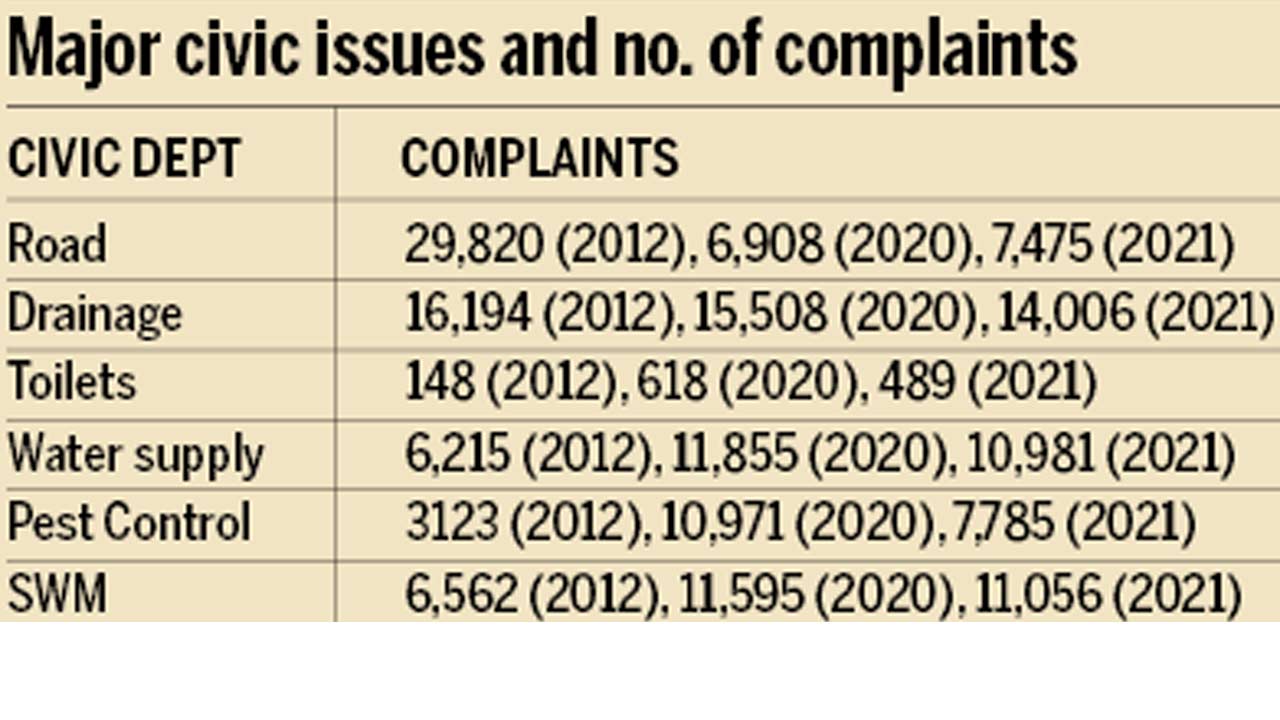 "Ward-wise analysis showed L ward (Kurla) got highest complaints at 74,078, followed by K-West ward (Andheri, Jogeshwari West, Versova) at 73,562, and K-East ward (Andheri, Jogeshwari East) at 66,660.  "Moreover, complaints per capita councillor constituency shows B ward (Sandhurst Road) (10,298), C ward (Kalbadevi, Bhuleshwar) (7,656), D (Grant Road, Malabar Hill) (6,444) and A ward (Colaba Fort) (6,070) have the maximum number of consolidated complaints from 2012 to 2021," said Yogesh Mishra, head of dialogue programme of the foundation. "The reducing number of complaints could be because citizens began to lose faith in the BMC's grievance redressal system," Mishra added.
The BMC promised 24-hour water supply to Mumbai. But the number of water and SWM-related complaints increased from 7 per cent to 12 per cent, from 2012 to 2021. On time taken for grievance redressal, civic chief Iqbal Singh Chahal told mid-day, "Some grievances take months or even years to resolve. Some grievances are resolved in two-three days. Therefore, taking an average is not appropriate."