Friends and family talk about the controversial speaker Dr Zakir Naik's early life and his rise as an internationally known preacher, dwelling on cornerstones that marked his ascent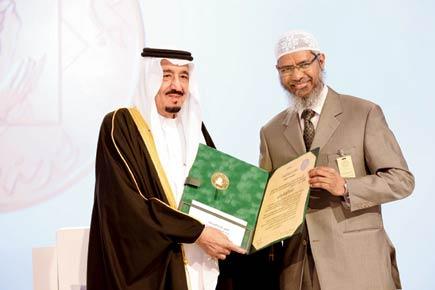 It was in school that the motorcycle-loving Naik, who had a stammer, began to be drawn towards the medical profession, says Manzoor Shaikh, a family friend who has been working with Naik's Islamic Research Foundation (IRF) for the past 21 years. He overcame the stammer while studying at St Mary's High School, Mazgaon, and he soon made Dr Christian Barnard, a South African cardiac surgeon who performed the world's first successful human-to-human heart transplant, his idol. This continued until his final year MBBS at Topiwala National Medical College and at the BYL Nair Charitable Hospital. But, all that changed one day when Naik attended a lecture by Ahmed Deedat, a South African Islamic preacher, and came away deeply impressed. "He wanted to change the world," says Shaikh.
Also read: 'My name is Zakir Naik and I do not inspire terrorists'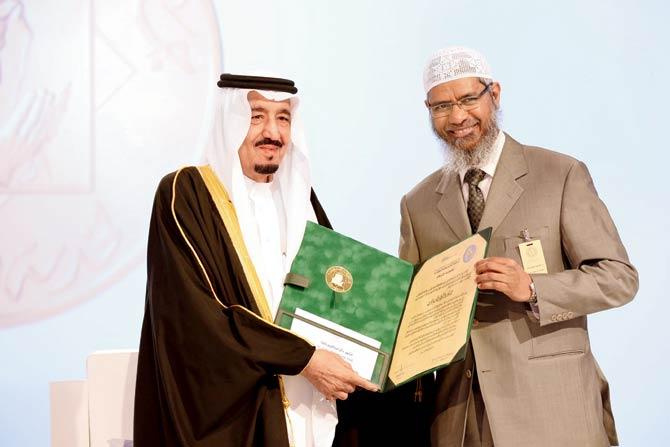 A picture released by the King Faisal Foundation in March 2015 shows Saudi King Salman bin Abdul Aziz presenting Zakir Naik, with the 2015 King Faisal International Prize for Service to Islam in Riyadh. Pic/AFP
Earlier this month, counter-terrorism units in India said that Nabris Islam and Rohan Imitaz — two of the six terrorists who attacked the Holey Artisan Café in Dhaka — were inspired by speeches made by Naik. Later, it emerged that Ayaz Sultan, leader of the Islamic State (IS) module in Malwani, who reportedly sneaked out of India to reach Syria, too, was influenced by Naik's speeches. It's after these revelations that Naik's speeches began to be probed by the government. After the Dhaka attacks, Naik's Peace TV was banned in Bangladesh.
Also read: Govt must act against Zakir Naik, probe his funding sources: Cleric

Manzoor Shaikh, a family friend who has been working with Naik's Islamic Research Foundation (IRF) for the past 21 years, says Zakir Naik started off wanting to be a surgeon. But, that changed after he attended a lecture by Ahmed Deedat, a South African Islamic preacher, which deeply impressed him. Pic/Bipin Kokate
His first debate
Shaikh says Naik continued to work at his father's clinic, practising medicine. His father, Abdul Karim Naik, was a psychiatrist. His heart, however, was never in his work. In 1989, Naik was invited to a debate organised at the Mumbai Marathi Patrakar Sangh. The subject was the views of eminent writer Taslima Nasreen on Islam. There were four journalists and the debate went on for hours. Naik's impassioned arguments caught everyone's eye.
The very next year, Naik addressed his first ever public lecture at the Saboo Siddik College in south Mumbai, where around 7,000 people - men, women and children - came to hear him. There were murmurs that Naik was the next Ahmed Deedat. "His popularity began to spread and he started being invited abroad for lectures by prominent Muslim groups in Saudi Arabia, Hong Kong, UK, Malaysia and several Arab countries," says Shaikh.
Till date, Naik, now 50, has delivered more than 2,000 public talks, with a majority of his followers being the youth.
In 1991, he established the IRF. Shaikh says, "I have been working with Dr Naik since 1995. When I had joined, IRF had been operating from a small office in Dongri. It was on the second floor of the building and had a library of literary works of Islamic scholars, and video cassettes of Islamic preachers, which were given to people free of cost. People returned them after reading or watching."
Family ties
He said Naik's father was a native of Ratnagiri in Konkan Maharashtra but Naik was born and raised in Mumbai. Naik is the youngest of five siblings, (three sisters and two brothers), Mohammed Naik being the eldest. Though Naik's followers number in crores, one of his sisters, Salva Naik, is vehemently opposed to his views. A source close to the family said, "She does not follow him and has had differences of opinion with him regarding his views on religion." Naik is married to Farhat Naik, who heads the women's wing of the IRF. They have two daughters and a son, Fareek Naik, who is in his twenties. Fareek studies in an Islamic school in Riyadh and wants to become an 'Alim' (Islamic scholar). He speaks fluent Arabic, English and Hindi, "Zakir bhai does not know Arabic but wants his son to learn what he could not," said Athar Khan, Naik's colleague at Peace TV, the channel that is currently under the scanner of security agencies.
Peace TV
Khan says, "I came in contact with Dr Zakir Naik during his preaching and lectures. I started working with him more than a decade ago and have also delivered lectures on Peace TV on several occasions. Dr Naik works really hard on his lectures, and preparations begin almost two months before the actual lecture. His content is verified by a dedicated team that comprises experts on Islam."
Naik has more than 1.4 crore followers on Facebook and some 20 crore viewers around the world watch his Peace TV sermons. The channel is not registered with the Indian Information and Broadcast Ministry, though some cable operators broadcast the channel. Naik said he had applied for a licence and had sought the government's permission to downlink Peace TV, but that was not granted.
Voracious reader
Mubarak Kapdi, Naik's brother-in-law and childhood friend, recalled Naik's youth before he became a preacher. "In his school days, he believed everything happened for a reason. It was this big 'why' that he asked about everything that pushed him towards books, which he devoured voraciously. He read all religious texts, including on Christianity and Hinduism and then started researching Islam," Kapdi said. "In those days, there was neither social media nor smartphones to advertise Dr Zakir Naik's lectures, so we used to put up banners and place advertisements in newspapers. After his research, he wrote a book, 'Muslims', which drew non-Muslims, too, to his public lectures. The youth were drawn by his power of persuasion, his research and satisfactory answers. He spoke extensively on the 'Quran and Sunnah' and 'Quran and Modern Science," he added.
Today, Dr Naik mostly spends his time outside the country, preaching and giving lectures on Islam. While social media has played an important role in boosting Naik's popularity, Naik is quick to admit that it has also given him bad publicity, with doctored clips of his lectures being put up, landing him in controversies.
Naik agrees that a section of Muslims do not agree with him, saying, "People have misconceptions about me. I am not against any Muslim group, I am just a messenger of peace."