City hospital helps Peter Esomba from Cameroon to reach city for proper treatment by coordinating with international embassies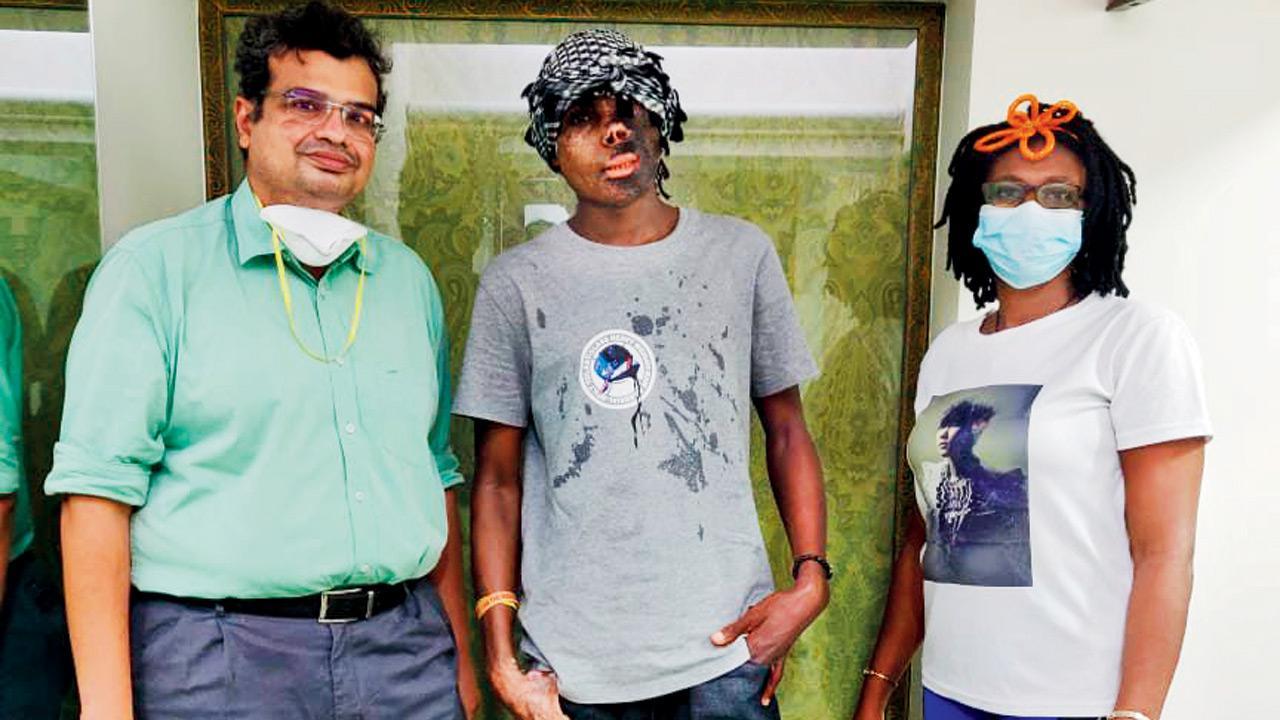 Peter Esomba and his sister, Blessing, with Dr Parag Vibhakar
A 31-year-old burns victim from Cameroon in Central Africa faced all odds owing to the pandemic and travelled 6,600 kms to reach Mumbai for proper treatment and quality healthcare that have given him a new lease of life. The authorities of Nanavati Max Super Speciality Hospital started the process along with the patient's family around April and coordinated with international embassies in China, Cameroon and Nigeria to ensure that he reaches the city on time. However, after two successful surgeries, he is now set to return home on June 30.
An oven blast at a Cameroon-based Coco factory led to deep burn injuries on 50 per cent of Peter Esomba's face and 80 per cent of his scalp. However, due to incessant local civil wars and scarce medical services, Esomba couldn't access quality healthcare for over five months. Eventually, after discussing the matter with family and friends, Esomba decided to come to Mumbai for treatment.
ADVERTISEMENT
"Fortunately, despite open wounds on the face and scalp, the patient didn't develop a serious infection. We immediately formed a team comprising plastic surgeons, neurosurgeons, anesthetists and critical care specialists and charted an elaborate plan of action," said Dr Parag Vibhakar, consultant plastic and cosmetic surgeon, Nanavati Max Super Speciality Hospital. However, loss of facial identification marks due to extensive burns and scarring meant Esomba failed to procure a passport.
"As the Cameroon Embassy is not present in India, we approached the Embassy of Cameroon in China. We apprised them of the patient's medical condition and requested to expedite his passport issuance," said Mangla Dembi, senior vice president and head operations, Nanavati Max Super Speciality Hospital. Esomba faced the second roadblock while procuring a medical VISA for India. Usually Cameroon residents approach the Indian Embassy in Nigeria for travel or medical Indian VISA. But as the border between Cameroon and Nigeria was shut owing to the pandemic, Esomba couldn't travel to complete his VISA formalities.
"We appealed to the Hon'ble Indian High Commissioner in Cameroon and requested his support on compassionate grounds. We appreciate the timely assistance by the Indian High Commissioner in helping the patient procure a medical VISA," Dembi added. After a month-long documentation struggle, Esomba and his sister Blessing arrived in Mumbai in May. "Our priority was to manage the open wounds on the patient's face and skull. His left eye had turned opaque due to loss of eyelids and prolonged dryness. Esomba also couldn't eat properly due to misshapen lips and mouth," said Dr Vibhakar.
In the span of two months, the team performed two important surgeries — first one to manage the facial wounds through skin grafting and second one to treat the skull wounds and restructure the left eye and lips. During his follow-up visits the team will perform complicated procedures such as corneal transplant and improve the nasal structure through skin grafting. "Esomba's recovery will take some time but we aim to revive his old appearance and reinstate his life," Dr Vibhakar added.
Esomba, who is preparing to fly back to his hometown on June 30, said, "After a lot of hardship, I felt relieved at Nanavati Max Hospital. I haven't lost hope and will resume my social and professional life as soon as I return home. I look forward to coming back to India and completing my follow-up surgeries."
June 30
Day Peter Esomba will be returning home
"Exciting news! Mid-day is now on WhatsApp Channels

Subscribe today by clicking the link and stay updated with the latest news!"
Click here!