On Monday evening, the Goa airport saw a barrage of agitated passengers, who had a lot to complain about as their SpiceJet flight kept getting delayed every hour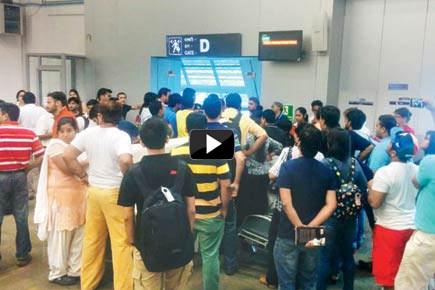 On Monday evening, the Goa airport saw a barrage of agitated passengers, who had a lot to complain about as their SpiceJet flight kept getting delayed every hour. Every new announcement also brought news of another delay.
Also Read: After changing three planes, fliers at Delhi airport asked to wait for 3 more hours
ADVERTISEMENT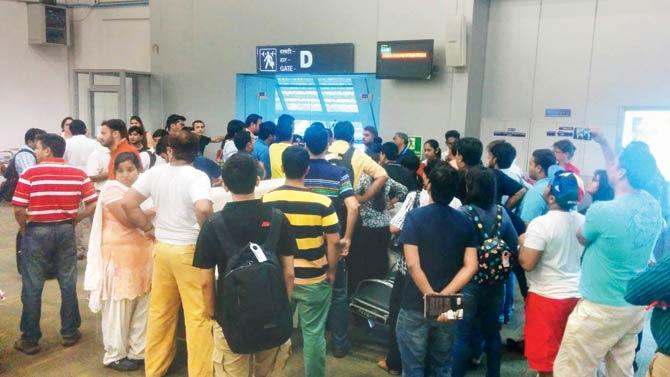 Passengers of SpiceJet flight SG 487 got agitated as they had to wait for over four hours for their flight to take off
SpiceJet flight SG 487, scheduled to depart at 5.45pm, got delayed by four hours. The flight, which would have otherwise flown passengers to Mumbai and Kolkata in a matter of hours, remained in the airport from around 4.30pm (boarding time) to 9.40 pm, after which it finally took off.
The passengers were provided with some food after almost three hours, that too after they created a ruckus by shouting and gathering around the crew members at the airport's Gate D, from where the flight was to depart. Hundreds of passengers, who were stranded at the Goa airport, demanded an explanation from the airline. They fumed when the airline officials, including the crewmembers had no response for them.
Read Story: Jet Airways plane delayed by over three hours as pilot arrives late
The passengers, who had already checked in for their flight, were initially informed that their flight was delayed by an hour and few minutes. The airline updated this information after an hour only to say the flight had been delayed once again.
It was then that the passengers demanded an explanation from the airline to which the airline officials kept assuring them for a solution as soon as possible. Around 8 pm, the passengers were assured that their flight would be taking off at around 9.15pm. However, they were left disappointed once again, since their flight got delayed by another 30 minutes.
Sahil Bongale, a passenger booked on this flight, was heading to Mumbai after a vacation. "They said the flight is delayed by an hour, and now they're saying three hours," he said.
Re-think on family time
Another passenger, Clifford Lopez, a Goa resident who was leaving for Singapore, had a connecting flight from Mumbai. He said, "I had planned to stay with my family in Mumbai, but it seems like I will have to re-think on that. The flight has been delayed indefinitely."
Also Read: From Jan to July, air passengers had 6,897 reasons to be unhappy
Madhav Gupta an IT professional, who reached the airport early since he had taken a train from Bangalore, was to fly to Mumbai. He said he would have reached Mumbai by train faster.
"I was informed about a delay of an hour and half. But now, I am told the flight will take off only at 8.45 pm. I do not know how much longer it will be for me to reach Mumbai. We are all absolutely clueless as to when the flight will take off," said Gupta. Other flights were reportedly delayed as well, however, they only faced a 30-minute delay.
SpiceJet says
mid-day reached out to SpiceJet for comment via e-mail, but they asked for more time and did not comment till the time of going to press.
"Exciting news! Mid-day is now on WhatsApp Channels

Subscribe today by clicking the link and stay updated with the latest news!"
Click here!